Teriyaki chicken and scallion kabobs with a side of sticky rice is a dinner everyone will gather for. They are quick to make and fun to eat.
Satay was supposedly invented by Indonesian street vendors as an adaptation of Indian kabobs. Spreading throughout the area and then the world, taking on different flavors and sides, this is a take on these delicious little sticks of grilled meats. Japanese call these little satay skewers yaki tori. One of the restaurants in my area has half-price yaki tori night, and I can't resist!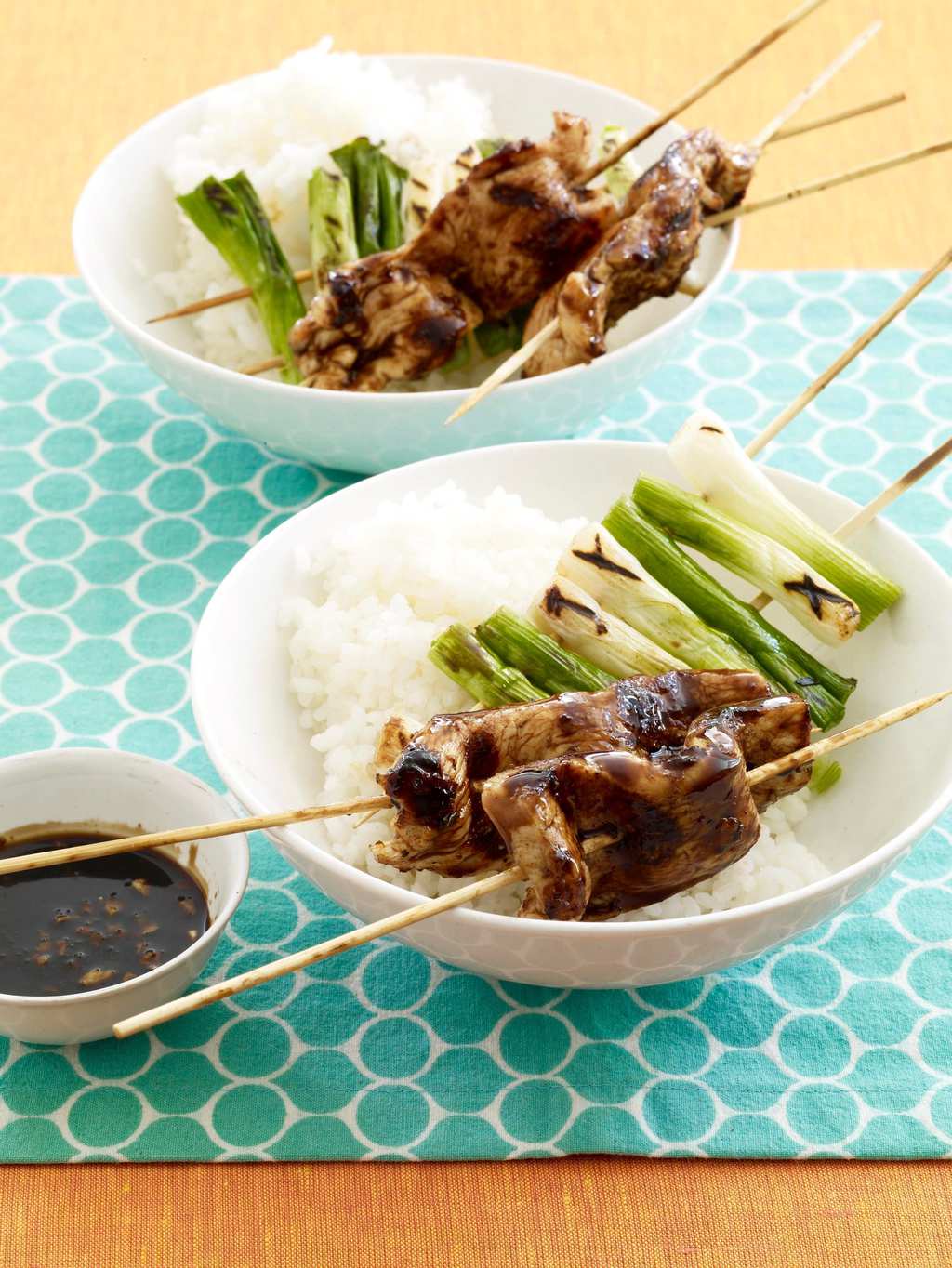 The little skewers are grilled as single ingredients and basted in a slightly sweet, salty, tangy sauce. All the wonderful flavors. I made my own version so I don't have to wait for half-price night. Bonus- these skewers are great as an appetizer at a party, or arranged as a party platter for a gathering. So versatile these little friends!
Teriyaki chicken is one of my favorite dishes, and so easy to make at home, I can enjoy it all the time!
This marinade and dipping sauce are my teriyaki version of a yaki tori sauce. I can usually find all the ingredients in my pantry, including the sticky rice (because I love that stuff!). You can grill these on an outdoor grill, grill pan on the stove or a grill griddler like this one.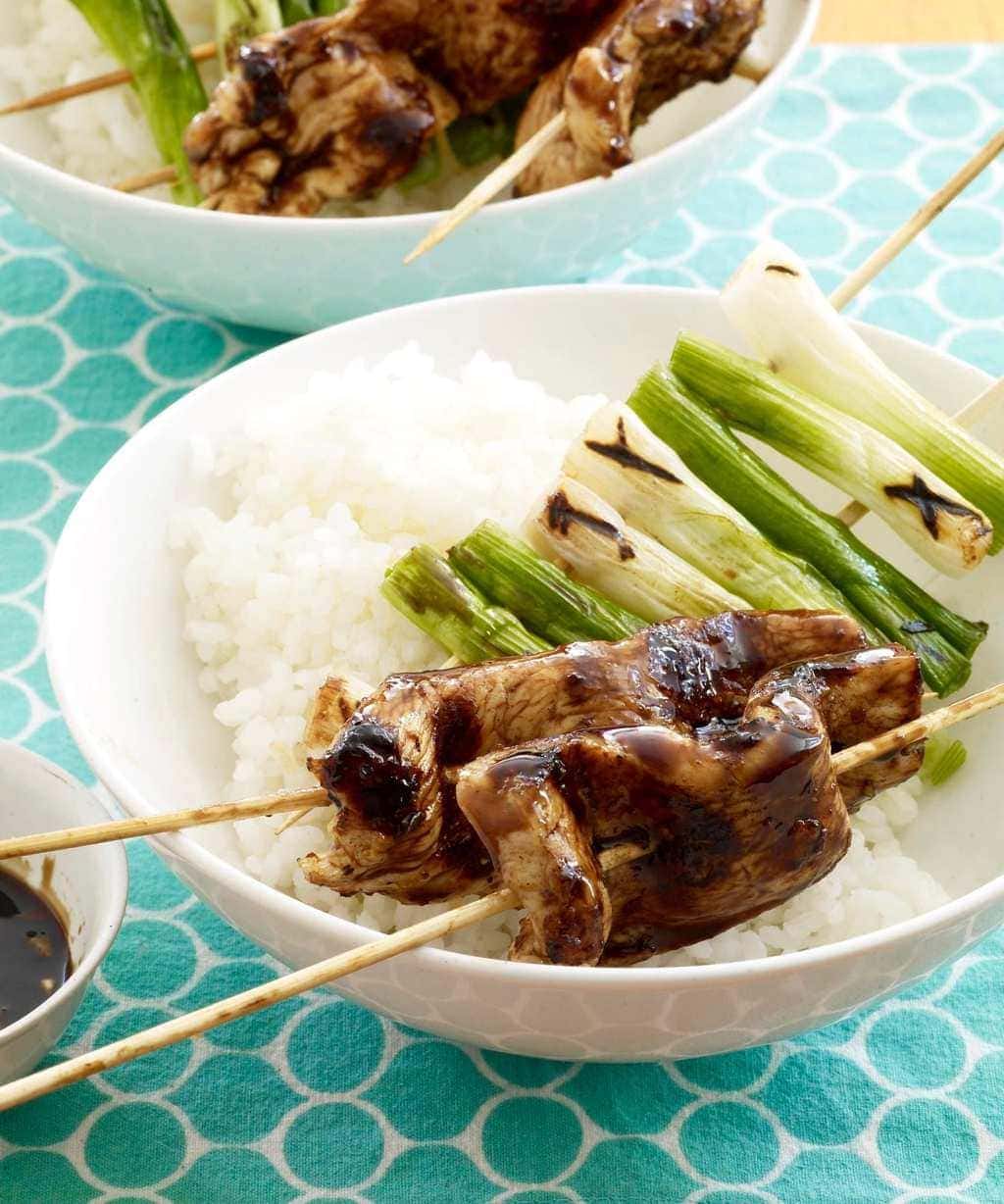 Remember Your Skewer Skills
Use bamboo skewers for foods that cook quickly. Soak them in water for at least 30 minutes so they don't burn on the grill.
To prevent large pieces of food from spinning around on the skewer when you turn it, thread them onto two thin ones, side by side.
Cook meat and veggies on  separate skewers so you can monitor how long they stay on the grill.
Brush thick or sweet sauces onto kabobs after you've taken the food off the grill. The sauce can easily burn over heat and ruin the flavor.
I've got these tips covered in this recipe! Meat and veggies separate, and everything cooks perfectly. Let me know how your teriyaki chicken yaki tori night goes, and please try to say that ten times, fast!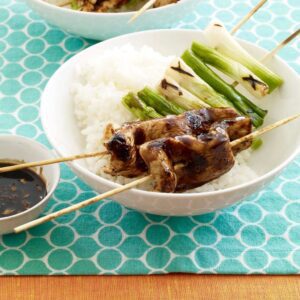 Teriyaki Chicken And Scallion Kabobs
Satay-style skewers with sticky rice makes a great Asian-inspired meal..
Ingredients
½

cup

low-sodium soy sauce

¼

cup

light brown sugar

2

tbsp

rice wine vinegar

1

tbsp

fresh ginger

grated

2 to 3

cloves

garlic

minced

1

tsp

sesame oil

1¾

lbs

boneless

skinless chicken breasts

2

bunches scallions

white and green parts cut into 1½-inch pieces
Instructions
In a small saucepan, bring soy sauce and sugar to a simmer. Cook 2 min. In a large bowl, stir together soy-sauce mixture, vinegar, ginger, garlic and oil.

Cut chicken into ¼-inch-thick strips (about 1½ inches wide). Reserve ⅓ cup soy-sauce mixture, then add chicken to the remaining mixture and marinate in the fridge for 1 to 2 hrs.

Heat grill to medium. Discard marinade, then thread 1 or 2 pieces chicken on each skewer accordion-style; thread scallions crosswise onto separate skewers. Oil grill grates and cook kabobs turning once, until scallions are soft (4 min) and meat is cooked through (8 to 10 min). Brush kabobs with reserved sauce.
Nutrition Facts
Teriyaki Chicken And Scallion Kabobs
Amount Per Serving
Calories 180
Calories from Fat 18
% Daily Value*
Total Fat 2g 3%
* Percent Daily Values are based on a 2000 calorie diet.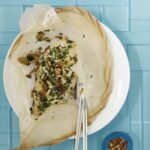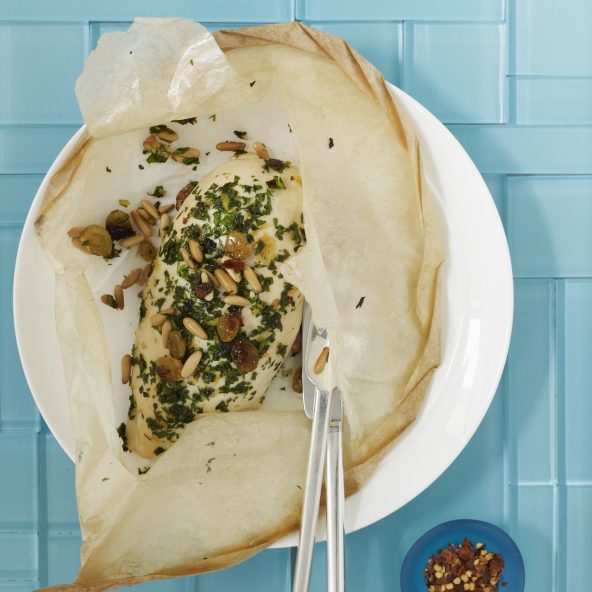 Another fun chicken meal to try is my
Chicken in Paper
. Packed with flavor and cooks in minutes. Children will love to help assemble and wrap this tasty meal.
This post may include affiliate links. For more information please see my disclosure agreement.
Recipe Tara Bench, Photographer Antonis Achilleos, Food Stylist Anne Disrude, Prop Stylist Christina Lane
Originally published Ladies' Home Journal 07/09