The combination of apple and cinnamon is classic.
Buttered popcorn is classic.
Why not class yourself up a bit with a double whammy: Apple Cinnamon Popcorn.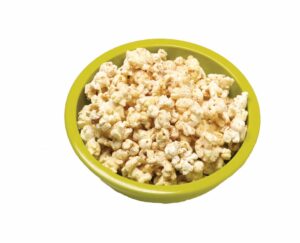 Recipe:
Apple Cinnamon Popcorn
Crispy apple chips are the secret here. Crush them into powder for this classic-flavored seasoning.
Makes 12 tbsp seasoning
1/3 cups (2 oz) freeze-dried apples or apple chips
2 tbsp confectioners' sugar
½ tsp cinnamon
Blend together apples, confectioners' sugar and cinnamon in a blender or food processor until powdery. Toss 6 tbsp mixture with 1 bag microwave popcorn or 8 cups of air-popped buttered popcorn. Store extra apple cinnamon mixture. Keep popcorn airtight up to 3 days.