---
Crunch and munch your favorite soda fountain treat! This chocolate malt popcorn recipe is easy and super delicious.
---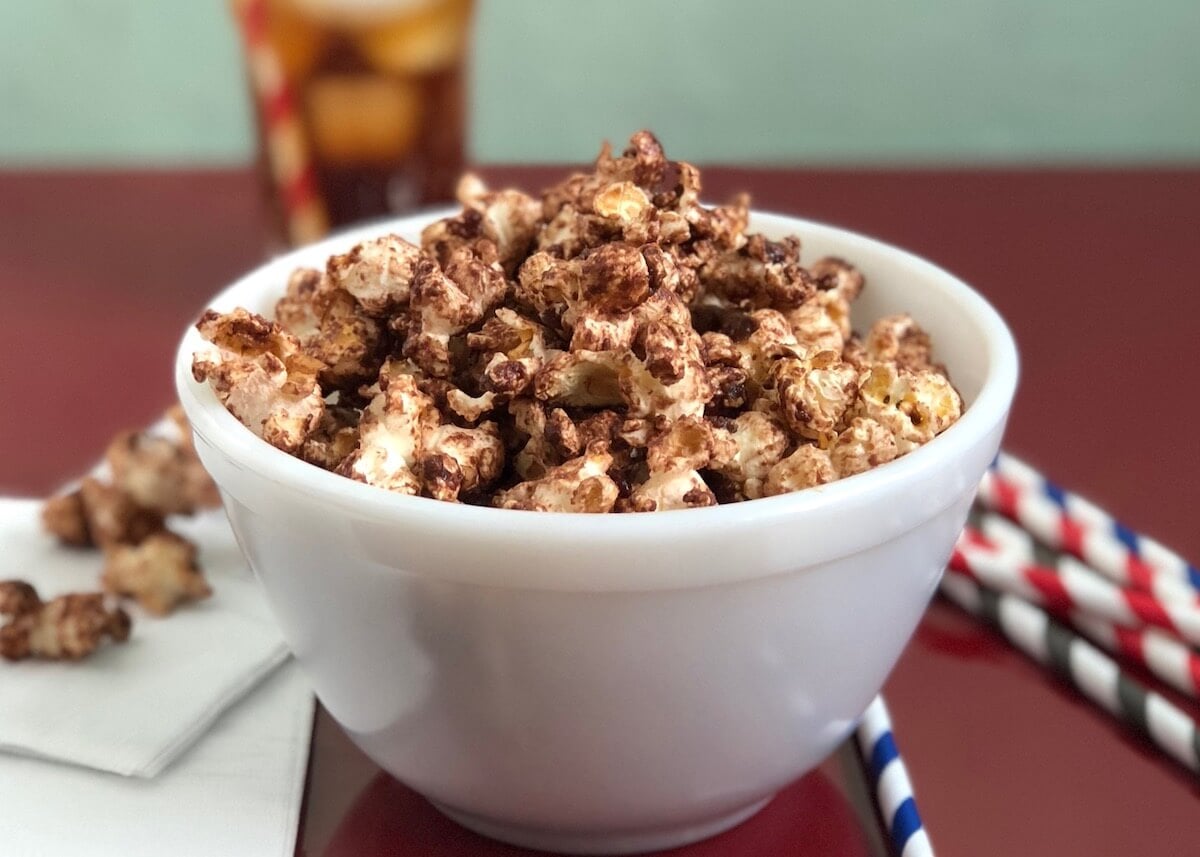 You know how good chocolate milkshakes are. Now you can get that tasty flavor on crunchy popcorn!
Just like a great chocolate malt, this snack has the perfect chocolate flavor with a hint of malted milk powder.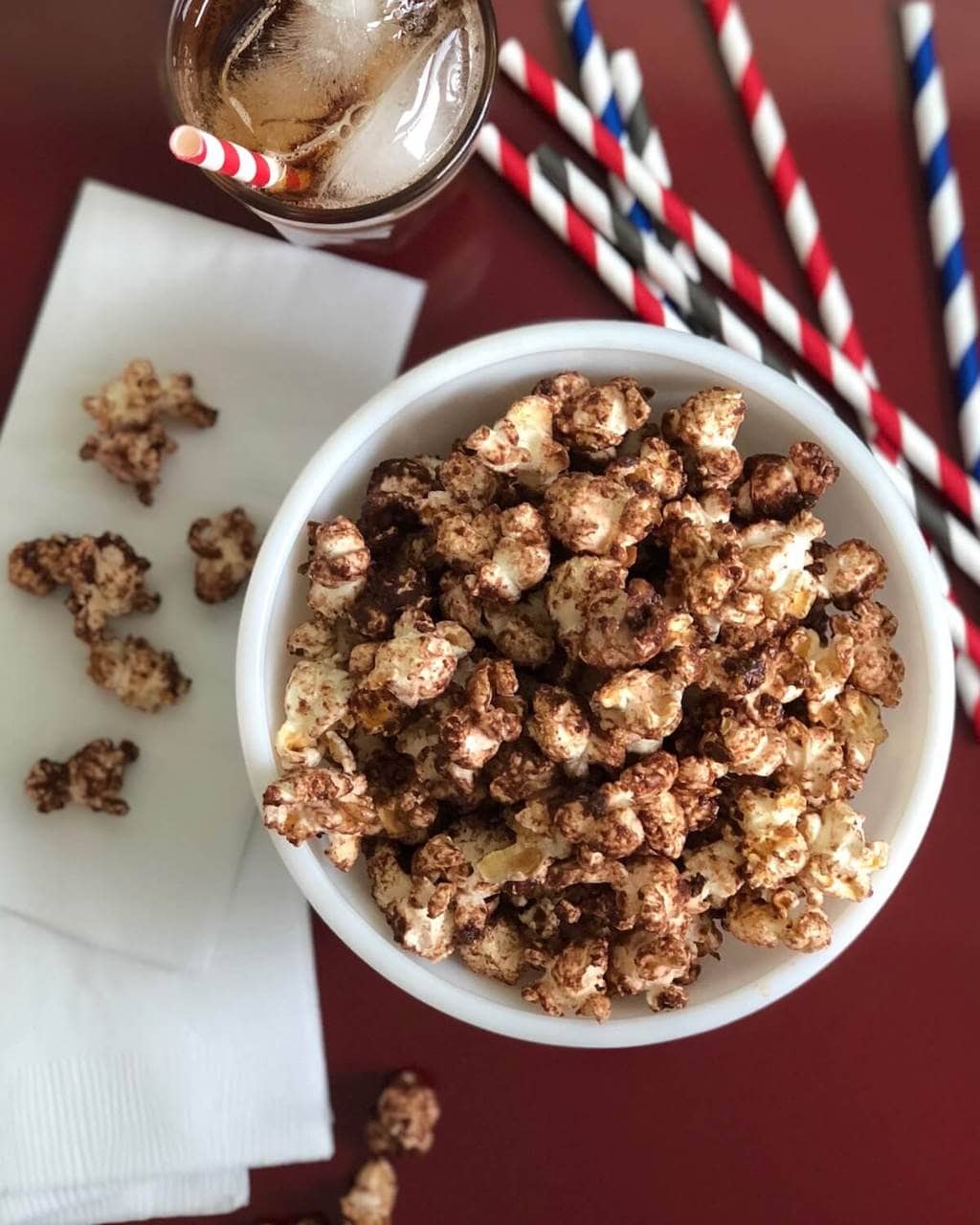 Recipes for popcorn:
I couldn't resist another easy, flavored popcorn recipe idea. I make the flavored mixes and keep them on hand. For parties, simply pop that corn and make a few flavors for the crowd.
Try my other popcorn snacks:
You can even make these microwave popcorn recipes!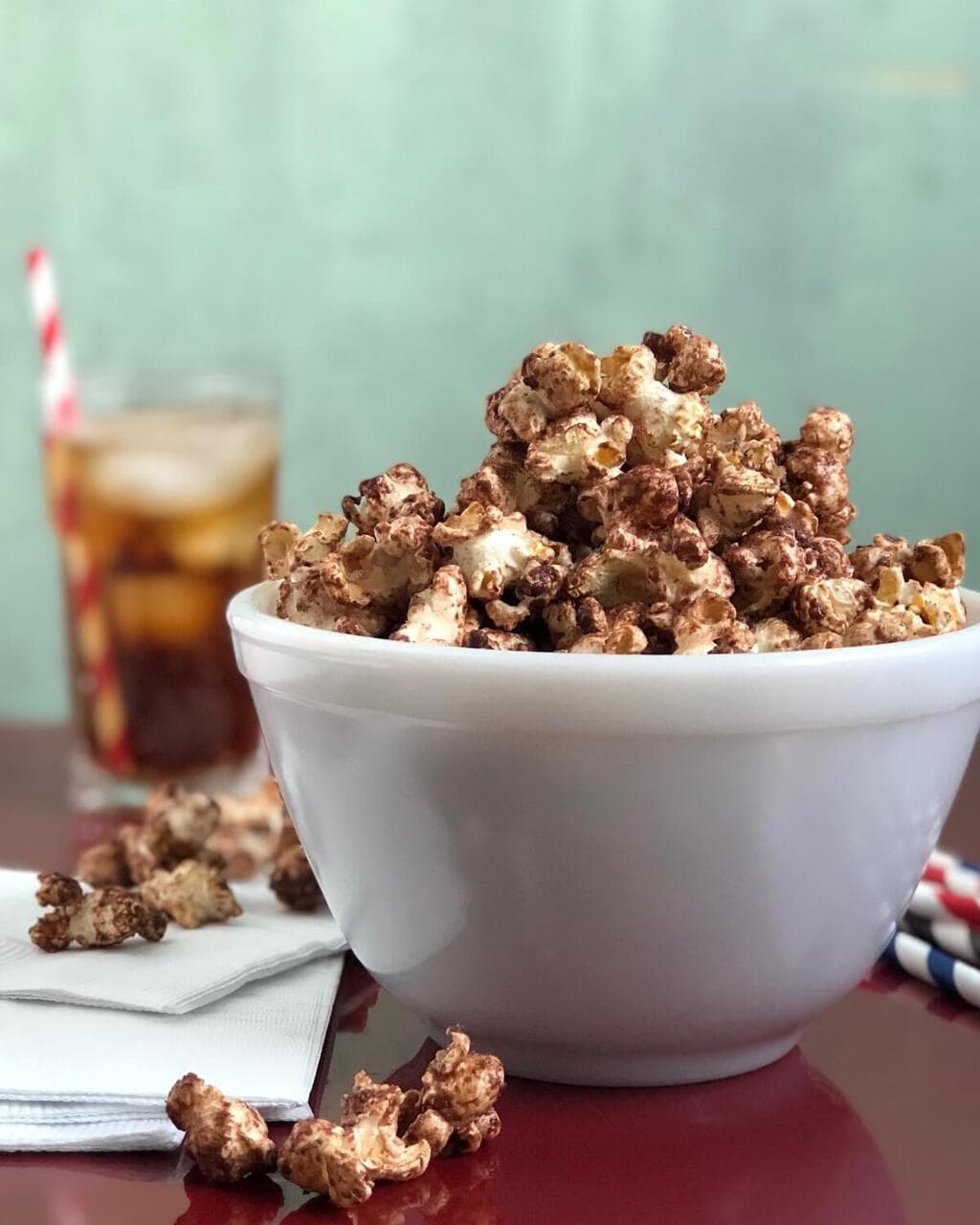 Simple Popcorn Toppings!
There are just 3 ingredients to the chocolate malt popcorn topping.
I used unsweetened cocoa to give the popcorn a rich chocolate flavor. Feel free to use Dutched cocoa or regular. Dutched cocoa will be darker and a bit more flavorful.
For a milk chocolate flavor, like a true chocolate malt shake, I used regular unsweetened cocoa.
Mix in some confectioners' sugar, a.k.a. powdered sugar, for sweetness. It's a fine powder so it mixes really evenly with the cocoa and sweetens every bite.
The last ingredient for the popcorn topping is malted milk powder. The exact same kind you'd use for an ice cream malt! It gives the popcorn a caramel milk flavor. Yum!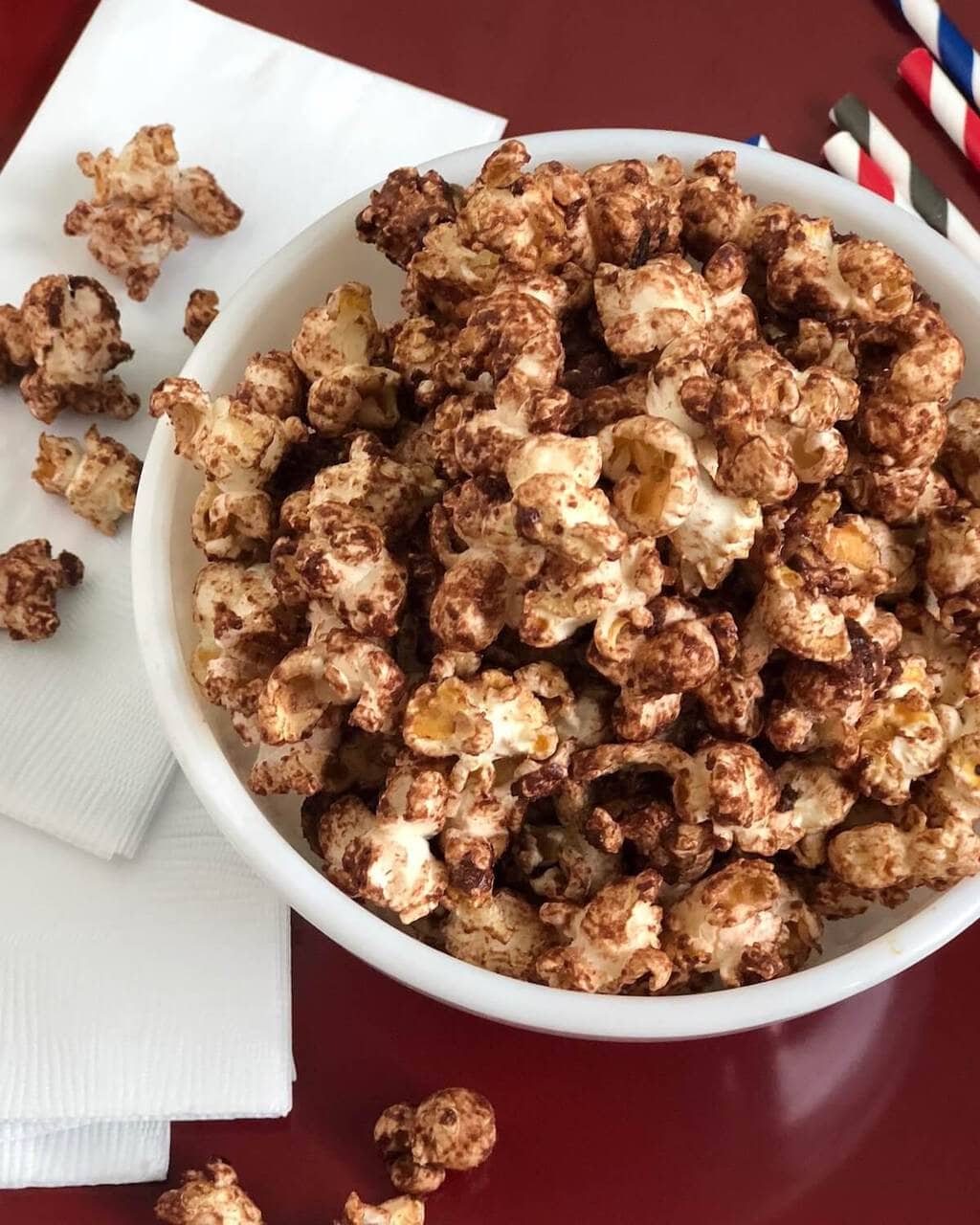 Flavored popcorn recipe:
What kind of popcorn should you use for flavored popcorn? Any kind!
I love freshly popped corn that I toss with melted butter, but in a pinch microwave popcorn is delicious.
Try this air popper for popping corn at home.
The popcorn topping sticks to hot, freshly buttered popcorn best, so have your topping ready before you make the popcorn.
If you're using microwave popcorn, get the butter flavor variety. It isn't as dry as the "light" kind so the flavor mixture sticks much better.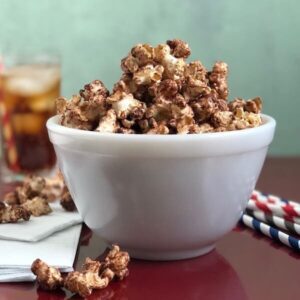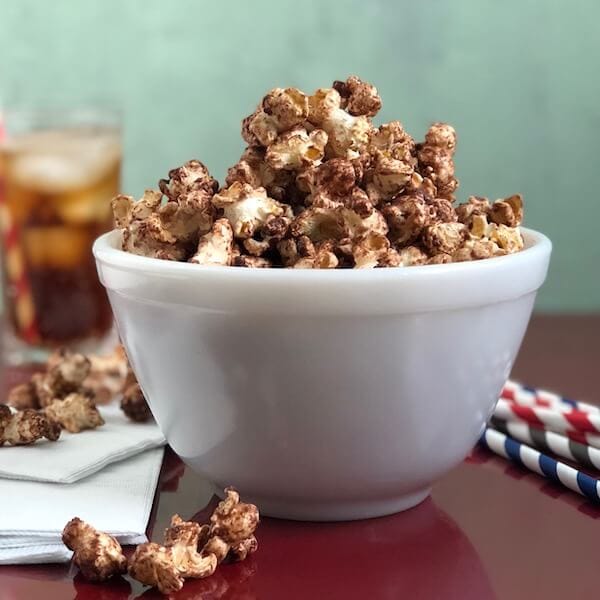 Chocolate Malt Popcorn
Perk-up your popcorn by tossing it with this sweet, chocolatey mix. Have your soda fountain treat crunchy! A chocolate malt popcorn recipe that is easy and super delicious.
Ingredients
6

tablespoon

confectioner's sugar

3

tablespoon

unsweetened cocoa

6

tbsp

malted milk powder

Popped, buttered popcorn

8 cups per batch
Instructions
Mix together the sugar, cocoa and milk powder.

Use 5 tablespoon of cocoa mixture for every 1 bag of butter-flavor microwave popcorn, or 8 cups of hot, buttered air-popped popcorn.

Store extra cocoa mixture in an airtight container for up to 3 weeks.
Notes
The mixture sticks to hot, buttered popcorn best.
Use butter flavor microwave popcorn or air popped popcorn drizzled with butter.
Nutritional analysis is calculated using microwave popcorn
Nutrition
Calories:
46
kcal
Carbohydrates:
10
g
Protein:
1
g
Fat:
1
g
Saturated Fat:
1
g
Cholesterol:
1
mg
Sodium:
17
mg
Potassium:
62
mg
Fiber:
1
g
Sugar:
8
g
Vitamin A:
9
IU
Vitamin C:
1
mg
Calcium:
15
mg
Iron:
1
mg
Newest recipes from Tara Teaspoon!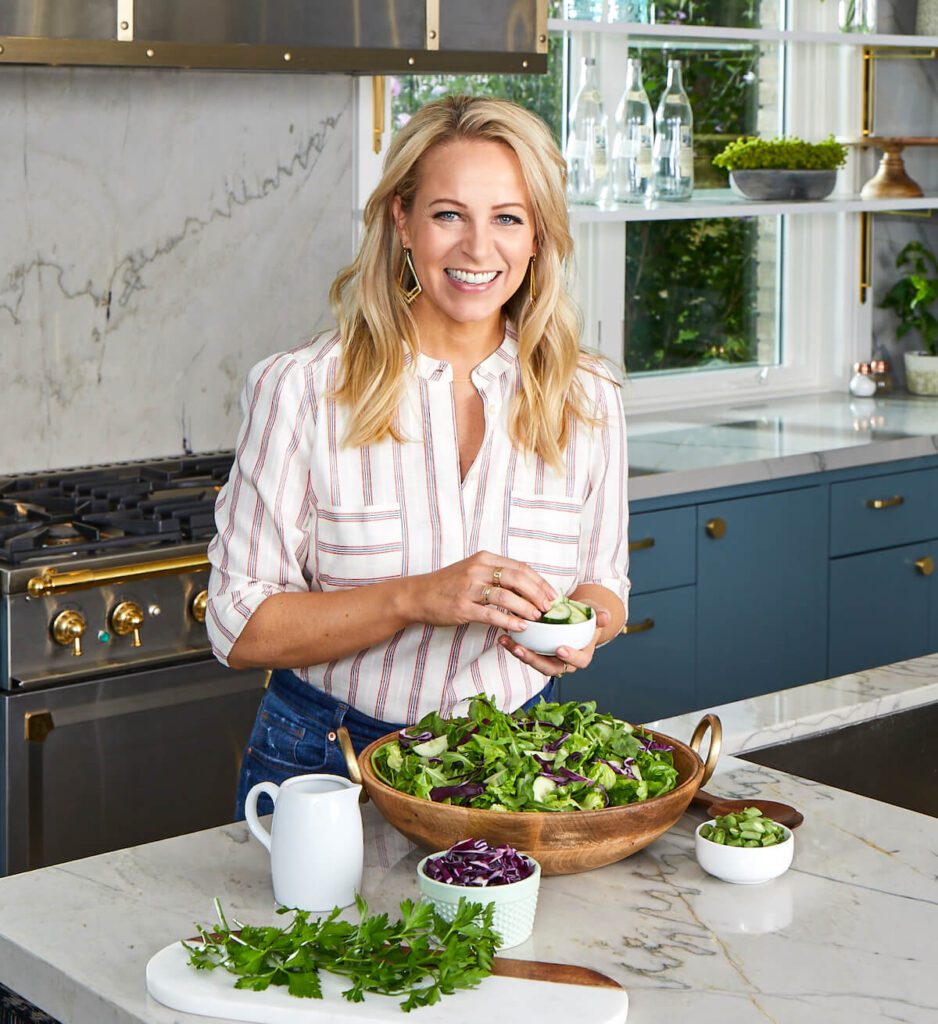 About Tara Teaspoon
I've been in the food publishing business for over 20 years, creating recipes & food-styling for magazines, books, television & advertising. Order my new cookbook & stick around for amazing things to eat.