You know how good chocolate malt milkshakes are? How about putting that deliciousness on crunchy, buttery popcorn? Done and done!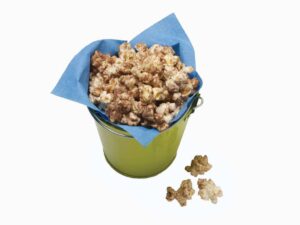 Recipe:
Chocolate Malt Popcorn
Perk up your popcorn by tossing it with this sweet, chocolatey mix.
Makes 15 tbsp
6 tbsp confectioners' sugar
3 tbsp unsweetened cocoa
6 tbsp malted milk powder
•Mix together sugar, cocoa and malted milk powder. Toss 5 tbsp mixture with 1 bag of butter flavor microwave popcorn or 8 cups of hot, buttered air-popped popcorn. Store extra cocoa mixture. Keep popcorn airtight up to 3 days.