---
The broth for this rich Mushroom Ravioli Soup is steeped with dried porcinis and shallots, served with mushroom, ricotta and Parmesan dumplings. The entire dish is impressive and completely comforting.
---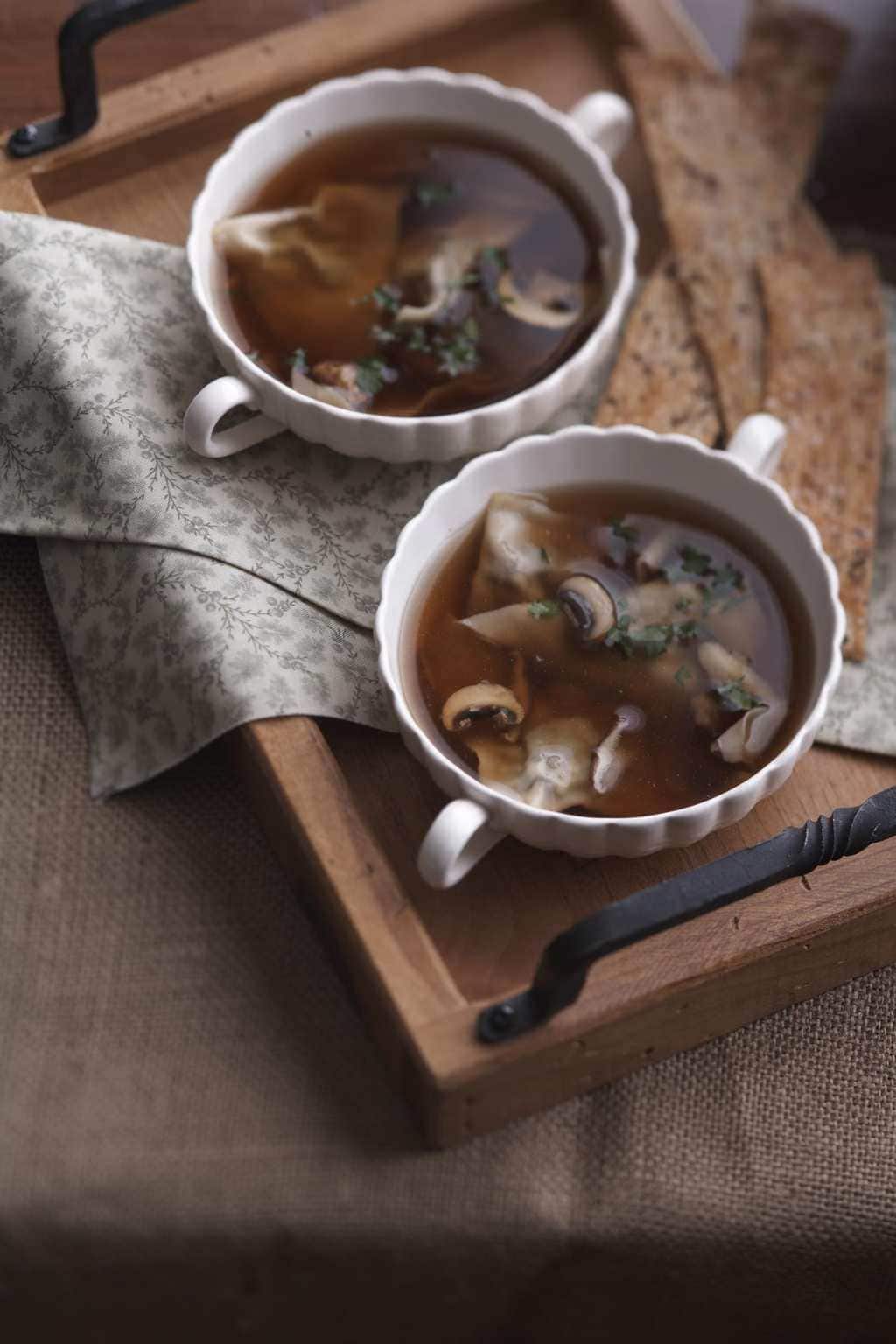 Here in New York City we have had a little snow. 26.8 inches to be exact. That's just under the 2006 record of 26.9 inches! Incredible. We may still be digging out.
The mayor cancelled alternate side parking for an entire week! That doesn't mean much to most of you, but for those in the city who own cars, it's a welcome relief. The snow plows push the snow onto the parked cars so it's piled higher than the car. I'm very glad I don't have to dig one out.
Also, there are giant slush lakes and 4-foot glaciers of plowed snow on every street corner. I'm still emotionally getting over being fully splashed by a car with heavy, wet, grayish-brown road-snow yesterday while trying to maneuver the slush lakes.

Let's just make soup. It's emotionally healing. Haha.
The beef broth for this soup is steeped with shallots and dried porcini mushrooms. Dried porcinis are not hard to find in larger markets. Sometimes they are in the produce section hanging on an end panel.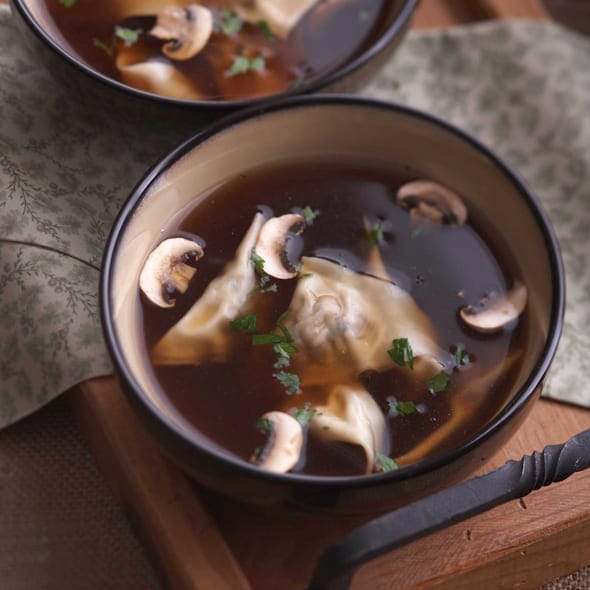 To strain all the bits from the broth I used cheesecloth. If you've never used it, cheesecloth might sound intimidating. It's not! You can find it here so you have it on hand. One key is to get the cheesecloth wet before using it. It can be very absorbent dry, so by getting it wet with water you prevent it from soaking up all the delicious broth you just made. It simply acts as a very fine mesh to catch any little bits your strainer won't.
The dumplings are easy to make with wonton wrappers. They are filled with the porcinis, other wild mushrooms, Parmesan, ricotta and herbs. Oh dear! They are tasty. The entire soup takes some time and love. But the dumplings and broth can be frozen separately so it can be two meals! Enjoy and stay warm.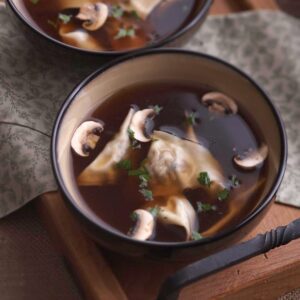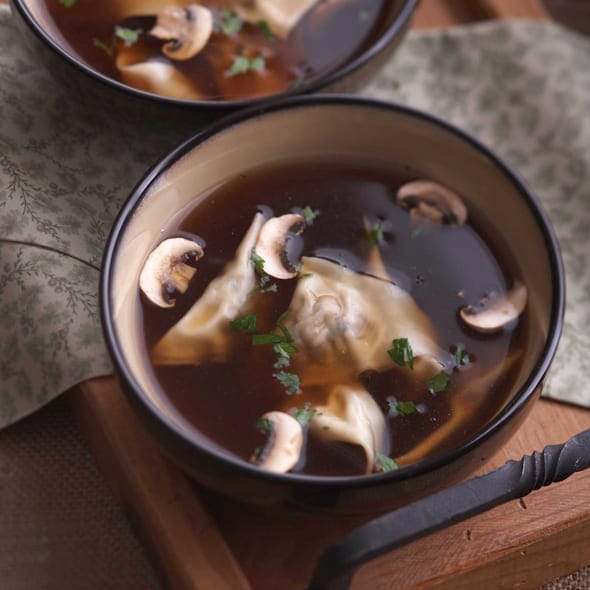 Mushroom Ravioli Soup
The broth for this rich Mushroom Ravioli Soup is steeped with dried porcini's and shallots, served with mushroom, ricotta and Parmesan dumplings. The entire dish is impressive and completely comforting.
Ingredients
4

cans

(14 oz each) beef broth

2

medium shallots

1 coarsely chopped, 1 finely chopped

1

oz

dried porcini mushrooms

6

oz

assorted mushrooms

such as cremini, shiitake or oyster

2

tablespoon

unsalted butter

1

clove

garlic

minced

½

cup

part-skim ricotta

3

tablespoon

grated Parmigiano-Reggiano

3

tablespoon

chopped fresh flat-leaf parsley

plus more for garnish

1

teaspoon

fresh thyme leaves

chopped

1

pkg

(12 oz) square wonton wrappers
Instructions
In a large pot, combine 5 cups water, the broth, coarsely chopped shallot and porcini mushrooms; bring to a boil over medium-high heat. Remove from heat, cover and let stand 30 minutes. Lightly moisten cheesecloth with water, fold into a double layer and place in a fine mesh sieve set over a large bowl. Pour mushroom stock through cheesecloth; remove and slice porcini mushrooms (discard shallot). Rinse pot and return strained stock to pot; set aside. Finely chop porcini mushrooms.

While stock is standing, trim and clean assorted mushrooms, slice and reserve 1 cup. Finely chop remaining mushrooms.

For ravioli filling: In a medium nonstick skillet, melt butter over medium-high heat. Add porcini and chopped mushrooms, remaining shallot and the garlic. Sauce, stirring occasionally, until shallots are translucent and mushrooms are softened, about 6 minutes. Remove from heat and transfer to a bowl. Let cool slightly, about 10 minutes. Stir in cheeses, parsley and thyme, salt and pepper to taste.

For ravioli: Place 1 tablespoon filling on one side of each wonton wrapper. Brush two opposite edges with water and fold over to form a triangle. Press firmly to seal.

For soup: Bring stock to a boil; add reserved mushrooms and the ravioli. Cover and cook until just tender, 3 to 4 minutes. Ladle into bowls and garnish with parsley, if desired. (Freeze soup and uncooked ravioli separately in airtight containers up to 1 month. Save ravioli in single layers separated by waxed paper.)
Notes
Wonton wrappers can usually be found in the produce section of your grocery store.
Nutrition
Serving:
1
g
Calories:
170
kcal
Carbohydrates:
25
g
Protein:
7
g
Fat:
4
g
Saturated Fat:
2
g
Cholesterol:
12
mg
Sodium:
789
mg
Potassium:
220
mg
Fiber:
1
g
Vitamin A:
195
IU
Vitamin C:
1.9
mg
Calcium:
72
mg
Iron:
1.8
mg
I love soup during winter months. If you do, too, try one of my most popular recipes, Chicken Tomato Bisque, or Sausage and Greens Soup. Happy cooking.
Make a delicious soup recipe today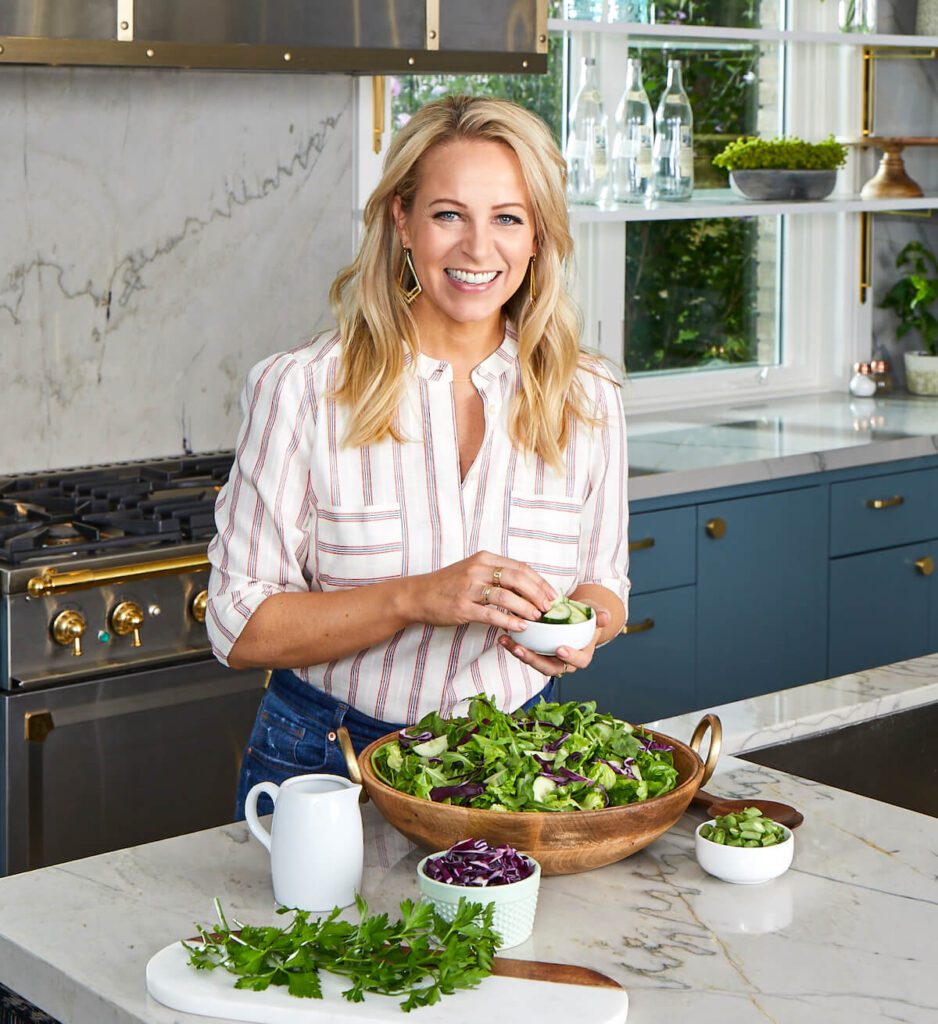 About Tara Teaspoon
I've been in the food publishing business for over 20 years, creating recipes & food-styling for magazines, books, television & advertising. Order my new cookbook & stick around for amazing things to eat.
Recipe and Food Styling Tara Bench. Originally published in LHJ 2/08. Photography Blaine Moats