---
The most impressive cake you'll bake all year! This rainbow cake looks like it comes from a bakery, but this layered treat, decorated with every beautiful color, is easy to make at home!
---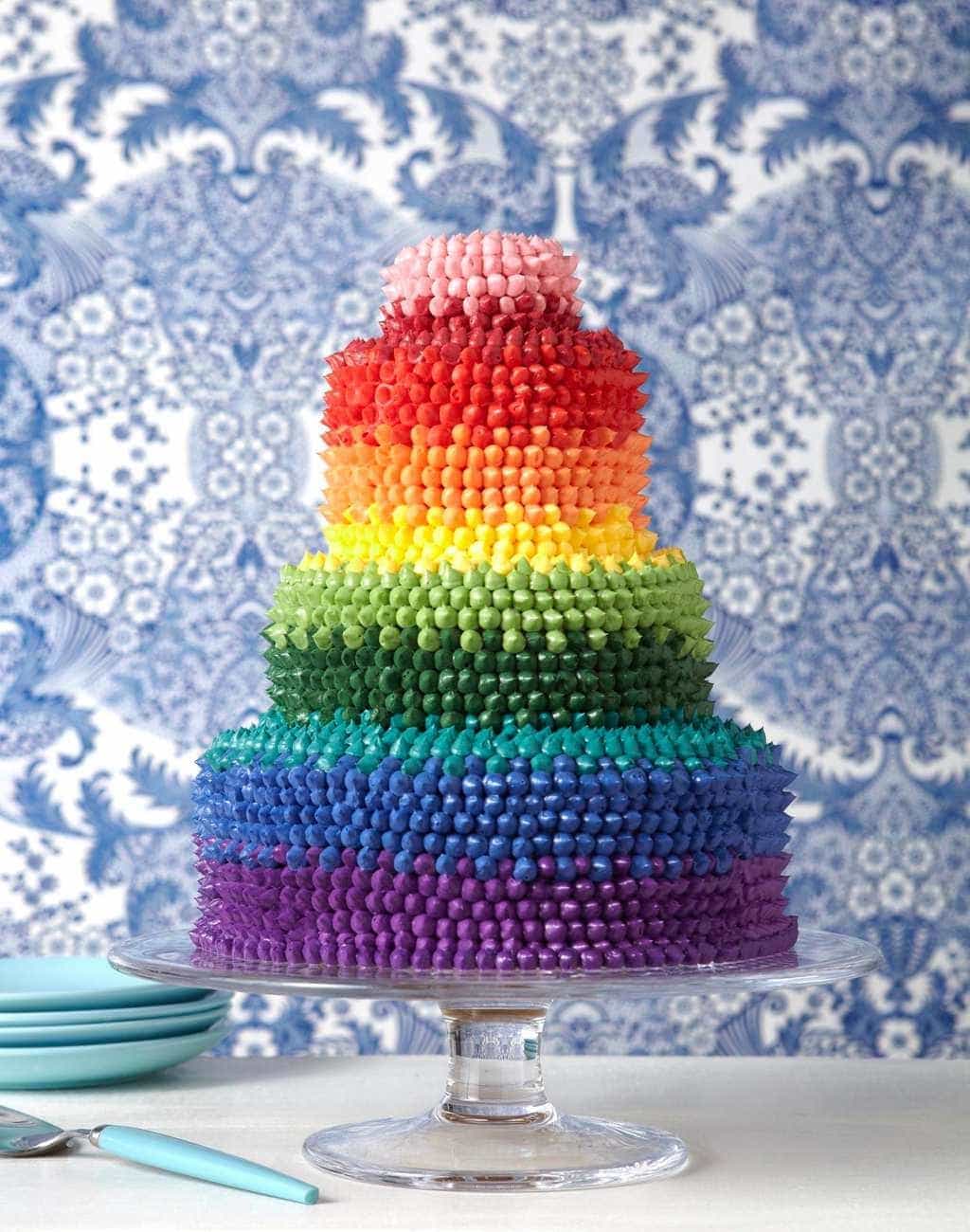 Brighten your next party with a rainbow cake that will WOW your guests. I know what you're thinking..."A tiered cake? I can't do that!" Au contraire, I say! You can.
I bake so much for my job, so I have every size cake pan you can imagine. But I know you may not. When you see a stacked, graduated cake you don't even bother because it would mean purchasing all the different pans.
REVELATION!
Standard 8-inch pans, a small saucepan, an empty tomato can and a cupcake paper are all you need to make the different-sized layers!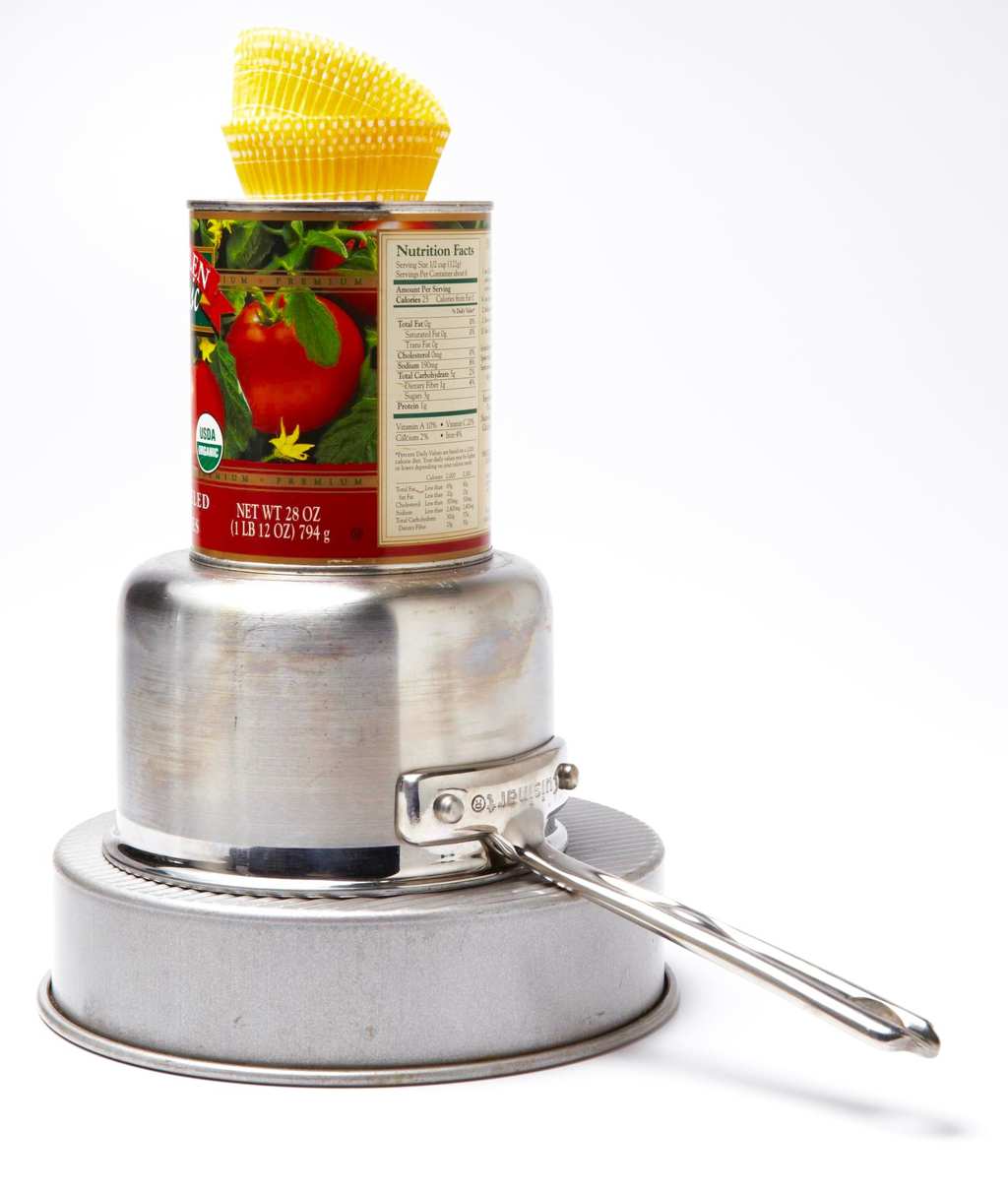 I bake cakes in these!!
Make sure your saucepan is oven-safe. Most small saucepans are 6 to 7 inches in diameter–this is perfect for that tier. A 28-oz can is about 4 inches in diameter and paper removed and washed, makes a great cake pan! For the tiny topper I used a standard cupcake. And I know you have cupcake papers at home.
I took my inspiration for the rainbow cake decoration from a design Rise & Shine Bakery in Austin, Texas made, which sadly no longer exists. You could decorate your layers any way you'd like. The full recipe instructions are below with a link to my Meringue Buttercream (double batch). I like using a meringue buttercream so that I get smooth, glossy piping and it can chill in the fridge for even a few days. (A confectioners' sugar frosting gets crusty after that long)
The vibrant colors come from gel paste food coloring. It comes in a lot of intense shades. You'll need to use a fair amount to get these vibrant frosting colors. I also bought multiple #12 plain tips so I could have one for each color when piping.
Feel free to make your own cake. I used 2 cake mixes. YES! Only 2 cake mixes for this party cake. I like to fill my cakes with layers of raspberry or apricot jam. It's usually quite universally accepted as delicious. Instagram or tweet your Party Cakes using the hashtag #tarateaspoon. I'd love to see them!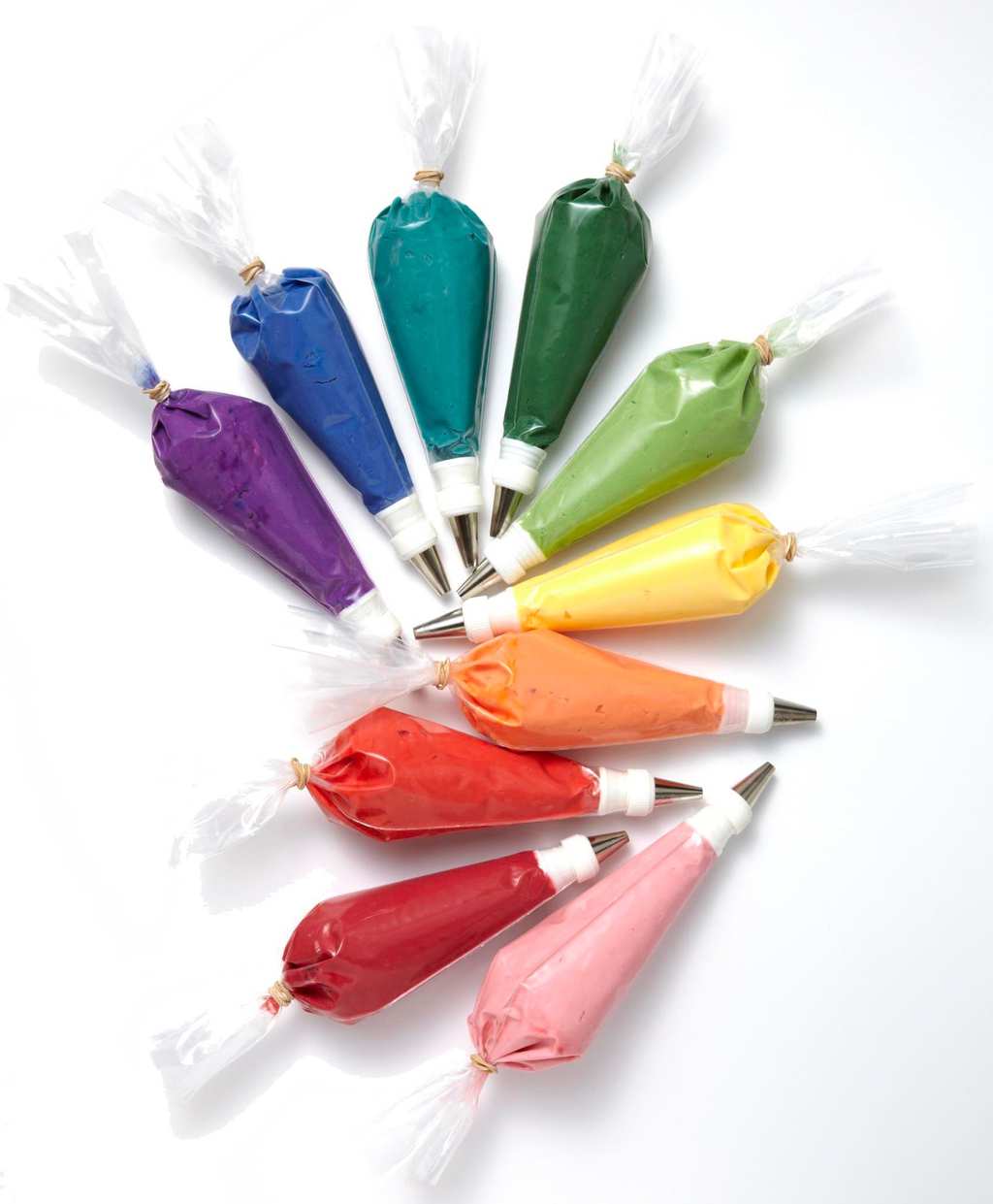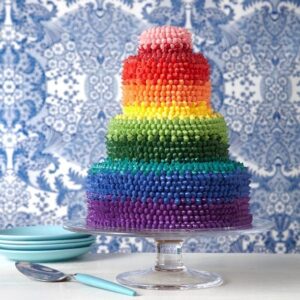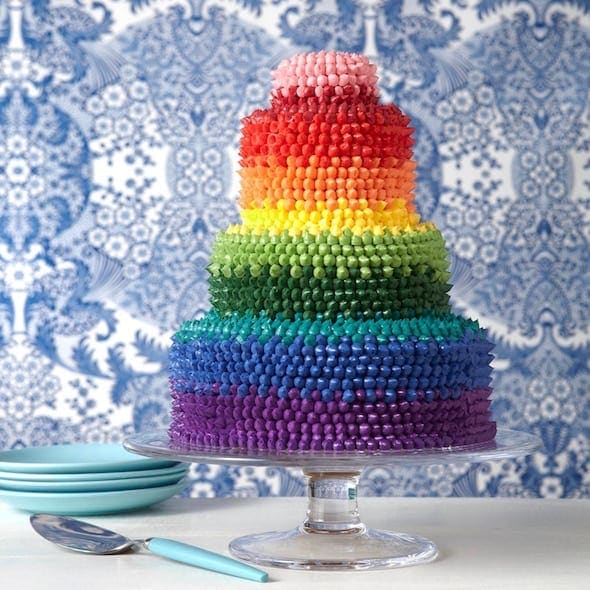 Party Rainbow Cake
Bake the layers a day ahead and chill them in the refrigerator, which makes them much easier to stack and decorate.
Ingredients
2

boxes

cake mix

batter prepared

1

jar

seedless raspberry or apricot jam

1

recipe

Meringue Buttercream Double Batch

Gel paste food colors
Instructions
You'll need 2

8-inch round cake pans

, 1 6-inch-diameter oven-safe saucepan, 1 clean 28-oz tomato can (label removed) and 1 cupcake pan. Line the bottoms of the cake pans, saucepan and tomato can with parchment and coat with cooking spray. Use 2 ½ cups cake batter in each cake pan, 2 cups in the saucepan and 1 ½ cups in the tomato can. Fill a cupcake paper in the cupcake pan half full of batter.

Bake cakes at 350ºF until tops spring back when touched. Cupcake with bake in about 18 min, 8-inch cakes in about 30 min and the tomato-can and saucepan cakes in 40 to 45 min. Allow to cool and remove from pans.

Wrap cooled cakes in plastic wrap and chill 5 hr or overnight. When you're ready to decorate, remove parchment, trim domed tops and slice each cake into two layers.

Reserve about 3 cups buttercream for assembling cake layers. Divide remaining frosting among 10 bowls (I used about 1 cup each for the purple, blue and teal, ¾ cup each for the greens and yellow, and ½ cup each for the reds, orange and pink) and tint with food coloring.

Assemble cake starting with the 8-inch layers. Spread a bit of jam and a little of the white buttercream on each layer. Stack the 6-inch layers and the layers from the can on top, repeating the jam and buttercream. Place cupcake on top and coat the entire cake with a thin layer of buttercream, smoothing the sides to create uniform edges. Chill until cold, 20 to 30 min.

Transfer cake to a serving platter to decorate. Place colored buttercream in piping bags fitted with a coupler and a

#12 plain tip

(I bought multiple tips but you can also wash one between colors). Starting at the base with purples and blues, pipe dots around the entire cake in rows. Finish with reds and pink on top.

Keep cake chilled until ready to serve. When buttercream is cold, cake can be loosely wrapped in plastic and will keep, chilled, for up to 2 days.
Notes
Don't have graduated, layered cake pans? Explore your kitchen and pantry for various cans and pans.
Cake recipes for any occasion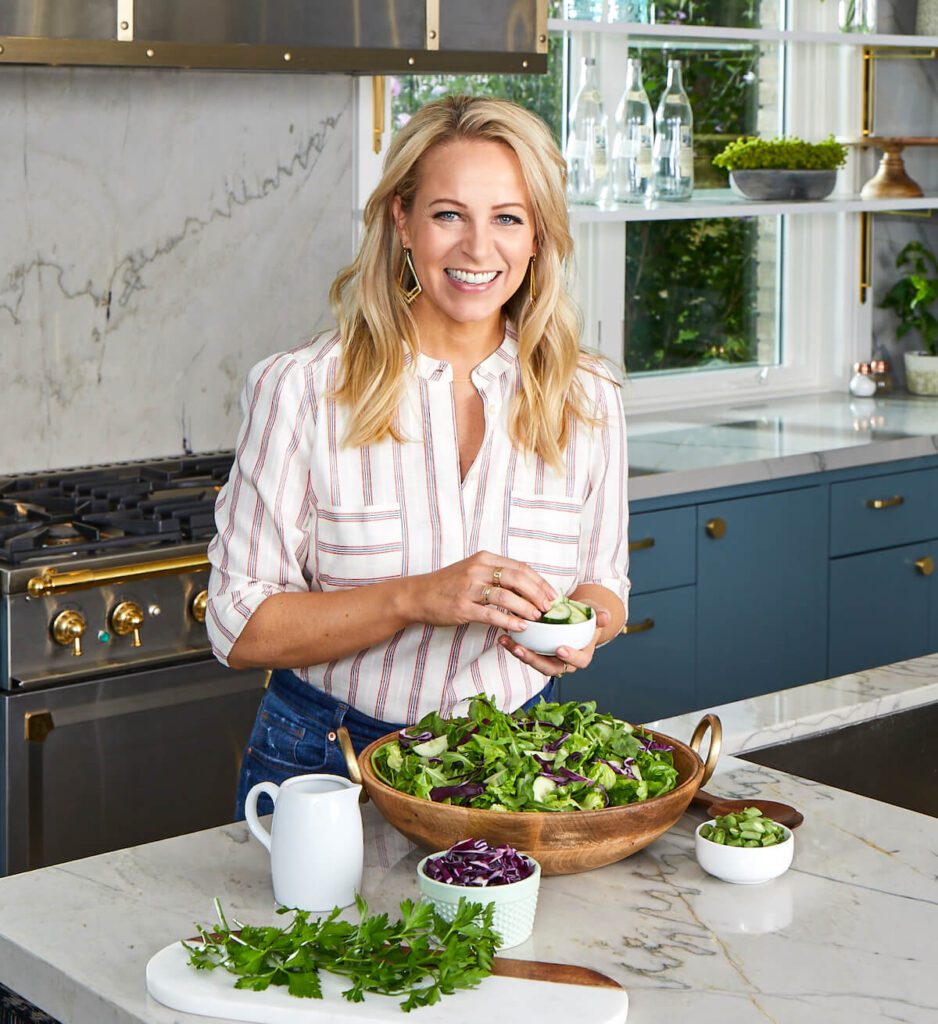 About Tara Teaspoon
I've been in the food publishing business for over 20 years, creating recipes & food-styling for magazines, books, television & advertising. Order my new cookbook & stick around for amazing things to eat.
Recipe and food styling: Tara Bench. Photography: Peter Ardito. Prop styling: Courtney DeWet