---
Whoopie Pies for Halloween are the most delicious chocolate cake cookies with silky, buttery filling, decorated with holiday sprinkles.
---
I love cake. Cake and meringue buttercream. My reason for making whoopie pies is that I can then hold that piece of delicious cake right in my hand! No fork needed. Fork free! #Goals.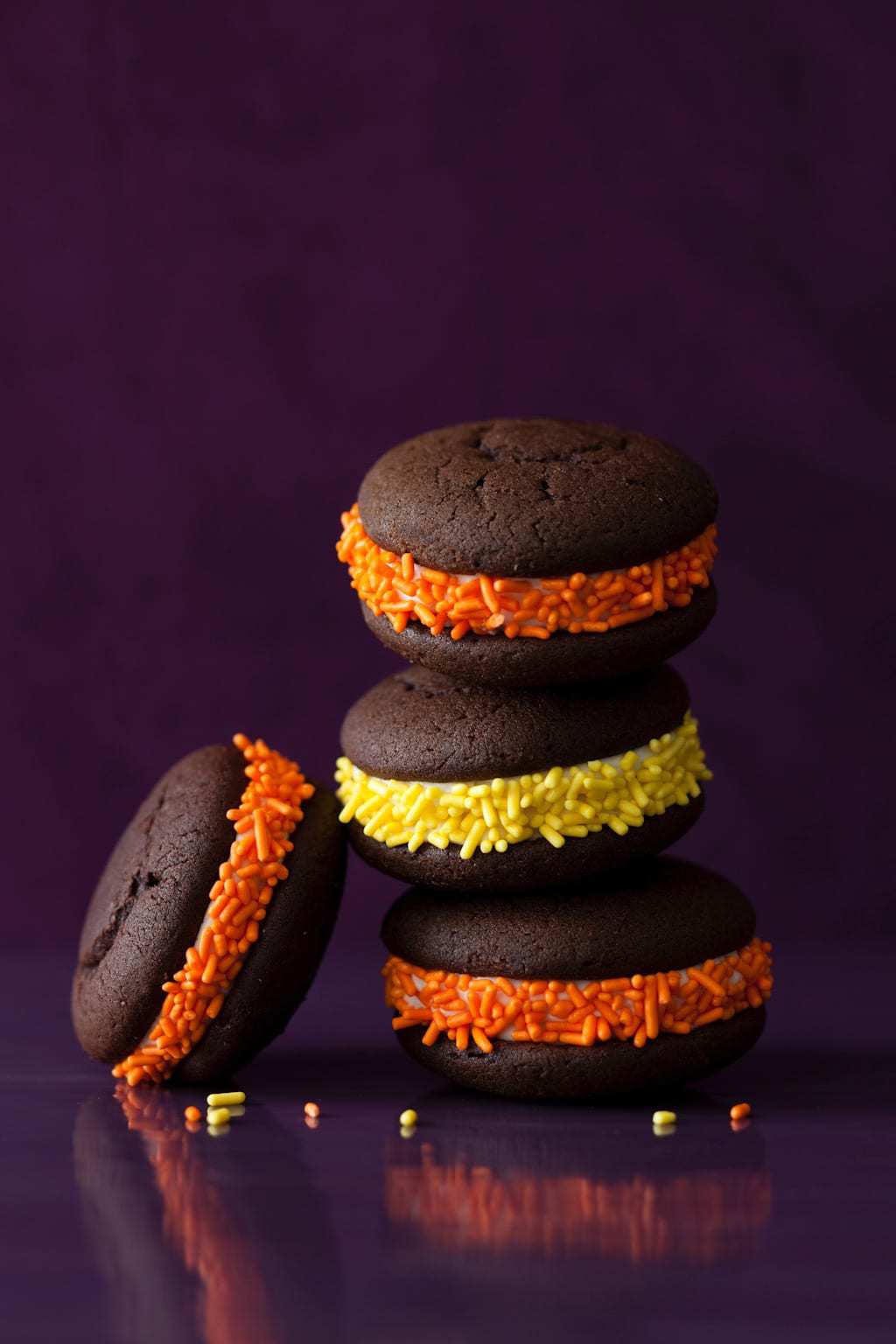 Raise your hand if you know what a whoopie pie is. If your hand is in the air you are probably one of my readers from the East Coast or you've seen them in magazines, bakeries or cookbooks over the last few years. They originated in the east, and are a staple treat in Maine. Typically filled with a marshmallow fluff based cream, I find a meringue buttercream is more delicious and less cloyingly sweet.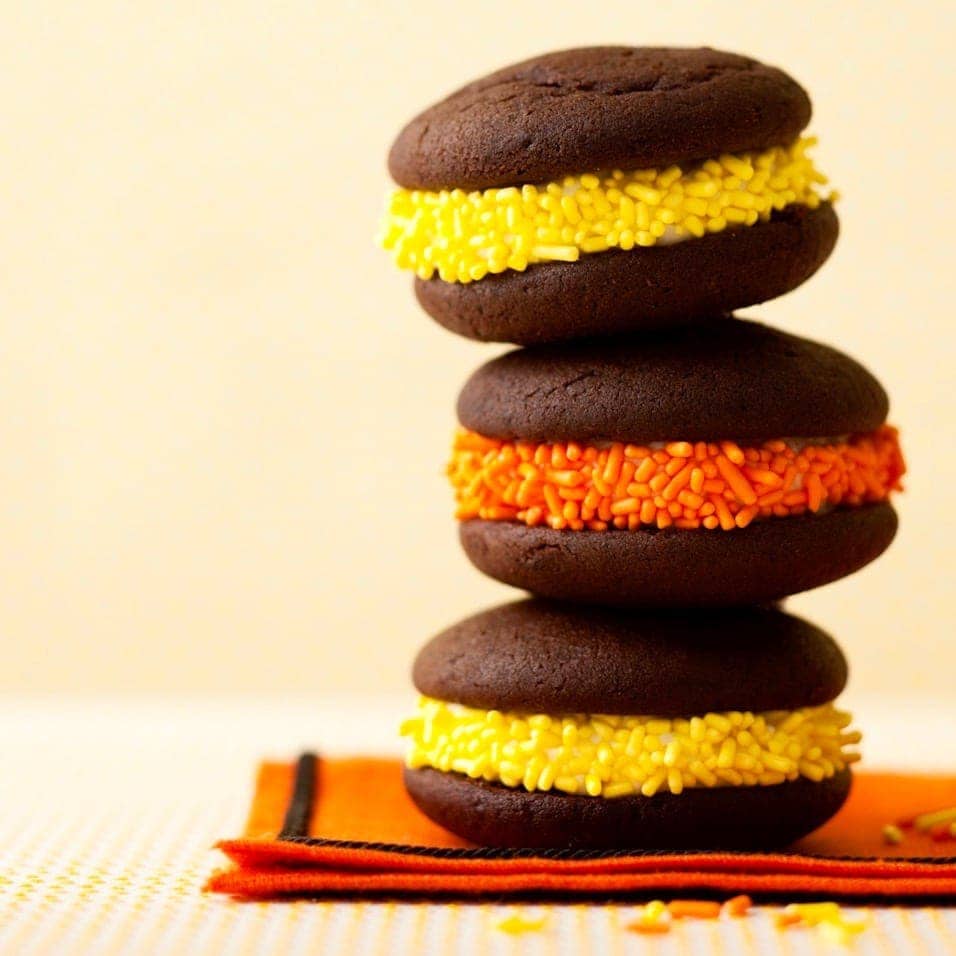 Traditionally they are chocolate. A soft, cake-like cookie with the soft white filling. But you may have seen other flavors. They're all delicious!
I really love making the traditional chocolate flavor, and decorating them with seasonal sprinkles. They're always the hit at a party. Plus they are super easy to transport, AND I'll keep going...they freeze like a dream! So you can make them ahead. (I suggest waiting to decorate with sprinkles until after they have thawed from the freezer)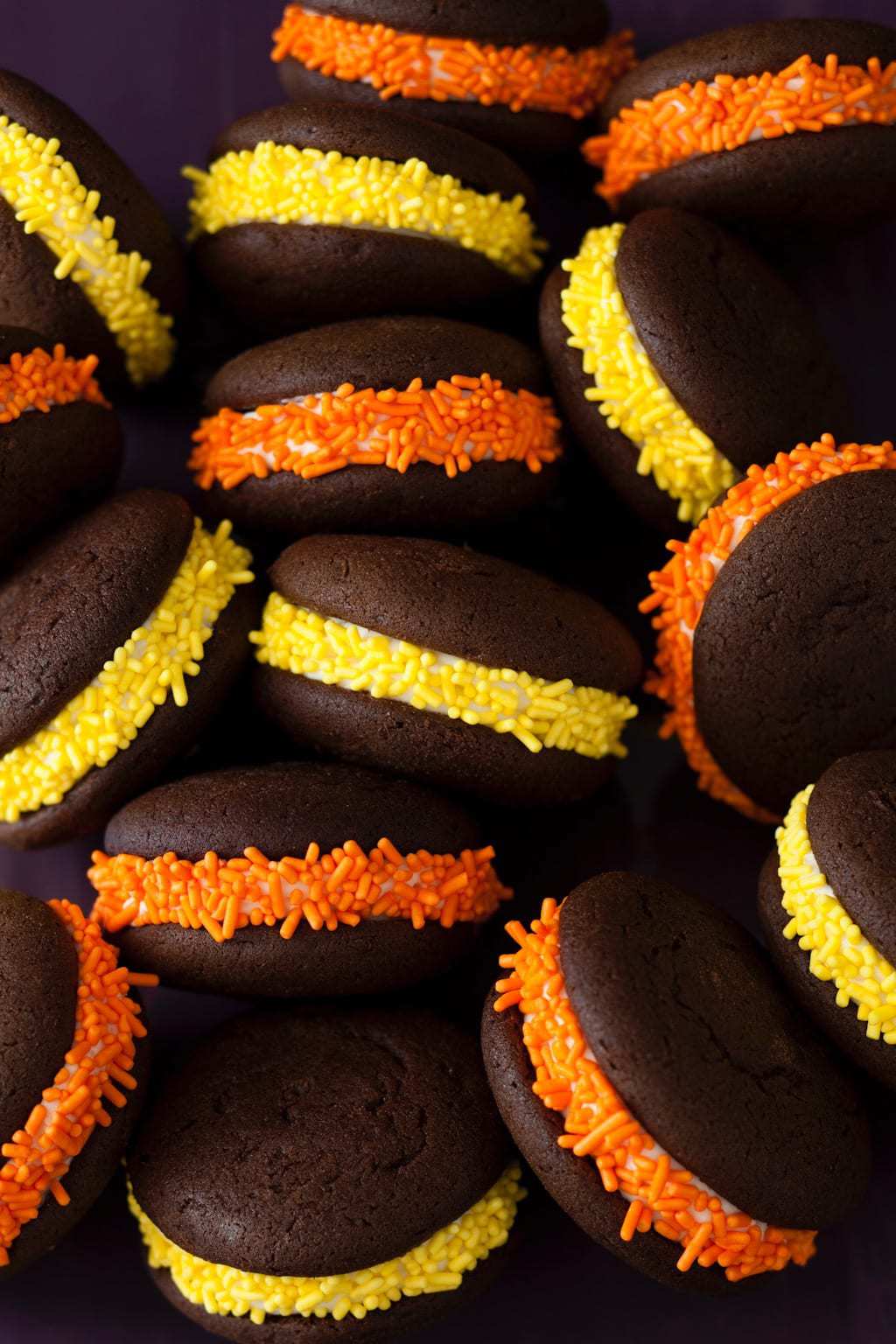 For the filling I make a meringue buttercream. If you are new to this delicious miracle of a creation, pop on over to that page to read what it's all about. It's easy to spread, but for whoopie pies for Halloween or other holidays, I like to transfer it to a piping bag with a large plain piping tip. Kabam! You pipe a little dollop on the bottom of one cookie, sandwich it with another one and you have a perfect frosting surface around the edges for the sprinkles.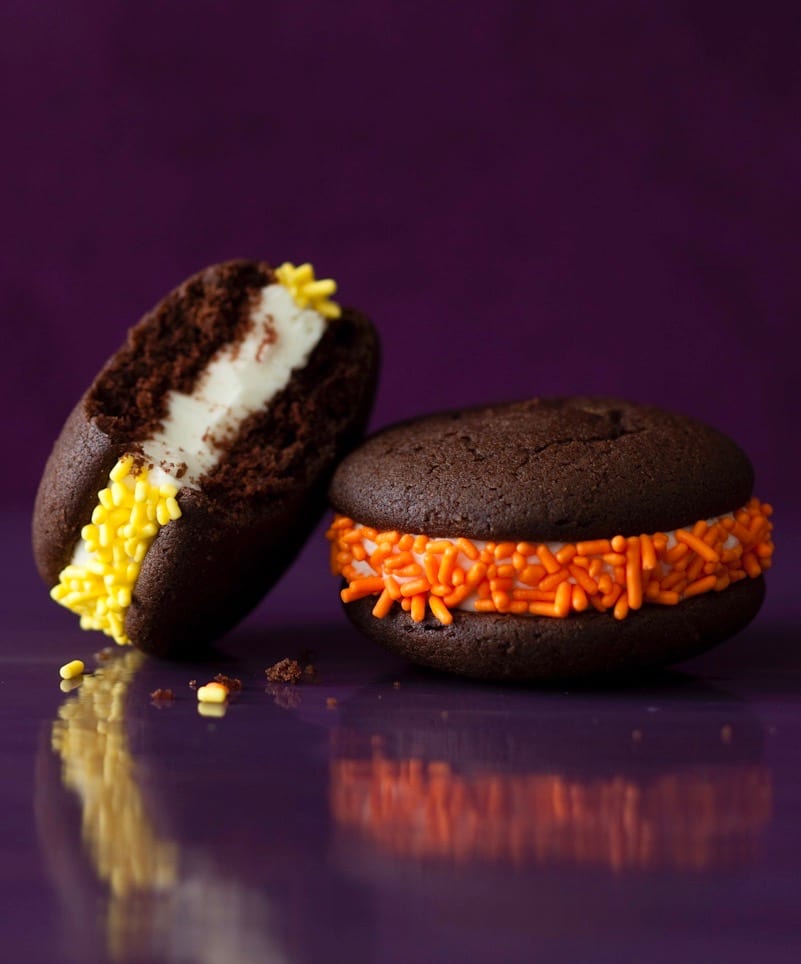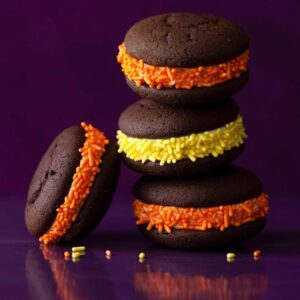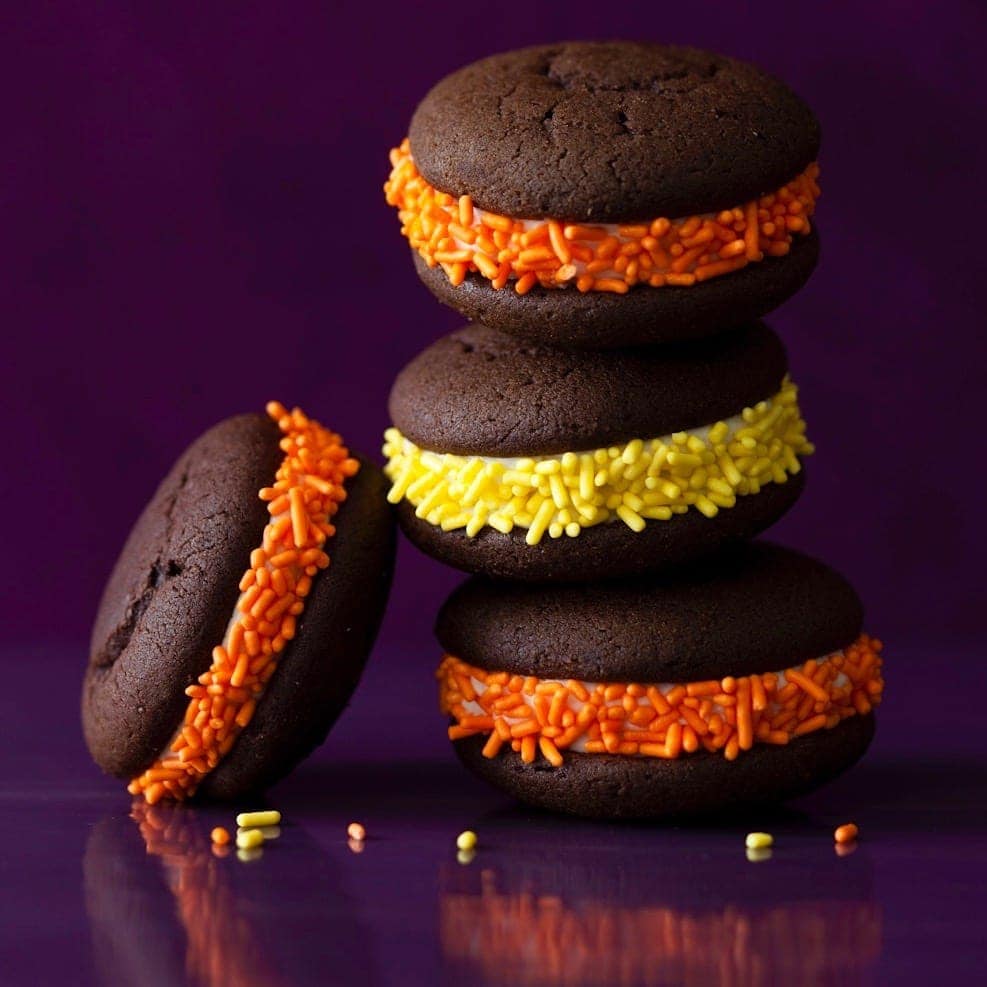 Whoopie Pies for Halloween
Traditionally they are chocolate. A soft, cake-like cookie with the soft white filling. But you may have seen other flavors. They're all delicious!
Ingredients
¾

cup

unsweetened cocoa powder

1⅔

cups

all-purpose flour

1½

teaspoon

baking soda

½

teaspoon

salt

¼

cup

unsalted butter

softened

¼

cup

vegetable shortening

½

cup

granulated sugar

½

cup

packed light brown sugar

1

egg

1

teaspoon

vanilla extract

1

cup

milk

⅓

cup

sprinkles

each orange and yellow
Instructions
Heat oven to 375°F. Line three baking sheets with parchment. Dip a 1½-inch round cookie cutter in extra cocoa and tap onto parchment to create a cookie outline; repeat to make outlines 1 inch apart on all the baking sheets' set aside. Whisk together cocoa, flour, baking soda and salt; set aside.

In a mixing bowl beat together the butter, shortening and sugars until smooth, about 2 min. Add egg and vanilla and beat until fluffy, 2 min. Stir in half the flour mixture, then the milk, and beat to combine. Add remaining flour mixture and beat together, scraping down sides of bowl.

Transfer batter to a piping bag fitted with a coupler or a ½-inch plain tip. Pipe onto parchment, filling the outlines with mounds about ½ inch high. Bake, one sheet at a time, until cookies spring back to the touch, 10 to 12 min. Cool on baking sheets 10 min, then transfer to a wire rack with a metal spatula and let cool completely.

Spread about 1 tablespoon buttercream on flat sides of half the cookies and sandwich with remaining cookies. Cover edges with sprinkles. Can be made up to 1 day ahead and stored chilled. Bring to room temperature before serving.
Notes
Make ahead. Freezable. Easily transported. Beautiful. And did I say delicious?!!
Nutrition
Calories:
94
kcal
Carbohydrates:
15
g
Protein:
1
g
Fat:
4
g
Saturated Fat:
2
g
Cholesterol:
10
mg
Sodium:
95
mg
Potassium:
54
mg
Fiber:
1
g
Sugar:
8
g
Vitamin A:
64
IU
Calcium:
16
mg
Iron:
1
mg
Spooky & Fun Halloween Recipes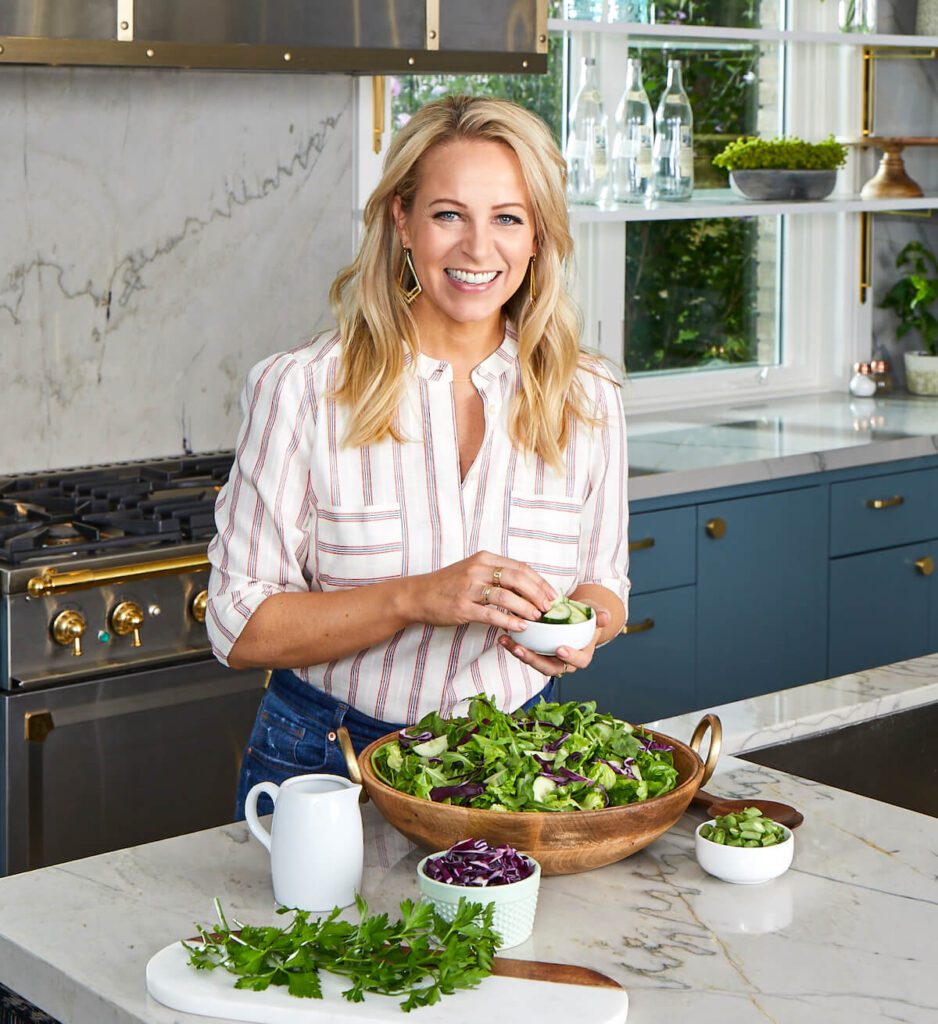 About Tara Teaspoon
I've been in the food publishing business for over 20 years, creating recipes & food-styling for magazines, books, television & advertising. Order my new cookbook & stick around for amazing things to eat.
Recipe Tara Teaspoon & Khalil Hymore, Photographs Kate Sears, Prop Stylist Gerri Williams, Originally published LHJ Oct 2010