This absolutely perfect Spring Daisy Cake has flowers in white and yellow dancing all over the top. Simple piping and delicious layers make it a darling celebration cake.
Take it from me, you need daisies in your life. And when they come in the sugary, sweet form of fondant flowers, layer cake and frosting, it's even better. You know the drill: make this for the next special occasion, or a Wednesday. Whichever is sooner.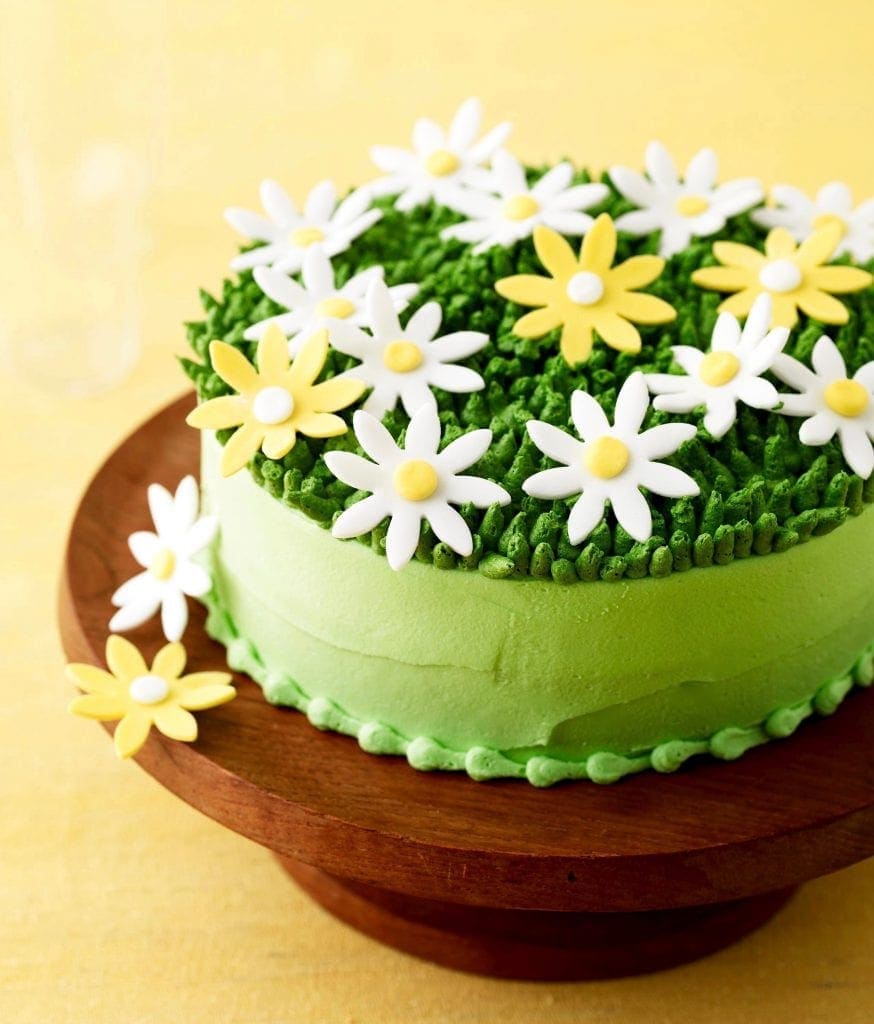 This post includes affiliate links. For more information please see my disclosure agreement.
Sunny yellow and white daisies make this cake super adorable. You can even use a cake mix if you want to keep it simple. Of course you can use canned frosting. But oh my, I don't recommend it when buttery vanilla frosting is just a few whips of a mixer away!
All you'll need for this cake:

• Prepared white fondant (I get mine here).
• Gel-paste food coloring in yellow and green. I like lemon yellow and leaf green, with a touch of forest green for the top.
• Cornstarch, for working with fondant.
• Plunger flower cutters.
• 2 8-inch round cake layers, from a mix or use my Perfect Yellow Layer Cake recipe
• 1 recipe Fluffy Vanilla Frosting
• Plain piping tips, numbers #5 and #12
Rolling fondant is easy. The secret is to use cornstarch, instead of flour on the surface and rolling pin. Since fondant is a sugar paste and not a flour dough, you don't want to incorporate that ingredient into it. Cornstarch is easily dusted on and off and leaves no taste behind.
My flowers are cut with plunger cutters made especially for fondant. I used an 8-petal flower cutter for the daisies. I love this simple set. They make the perfect shape and don't have indentations on the top like some of the cutters you see.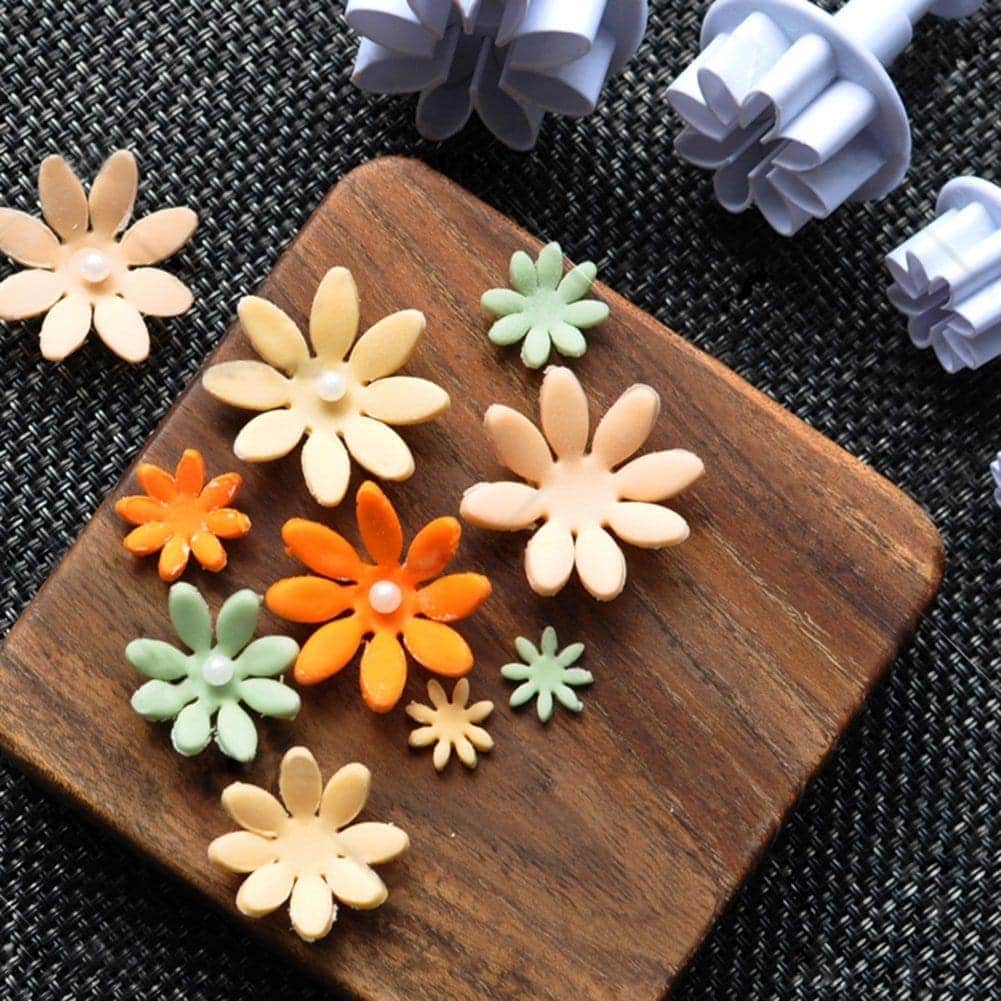 Use plain piping tips to make the green "grass" on top and the border on the bottom of the cake. So easy! No fancy tips or techniques.
Make this absolutely perfect Spring Daisy Cake for a special occasion, or just a Wednesday! It will make everyone's day.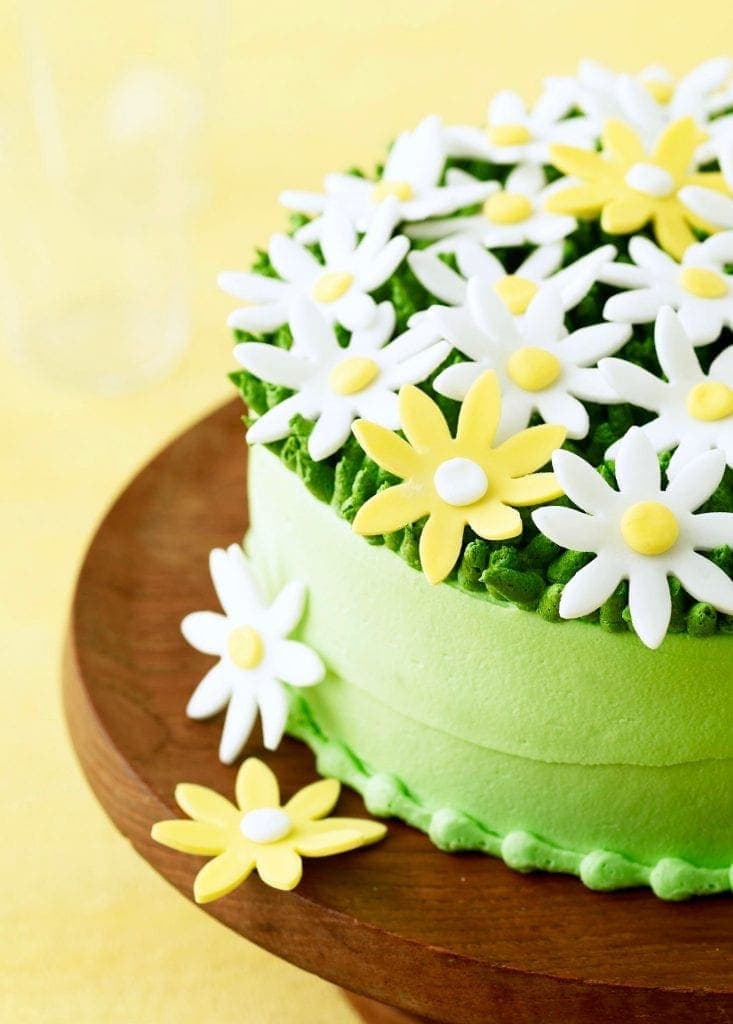 You could of course make chocolate cake for the layers, spice cake, carrot cake…get creative. It's really the simple and fun decorations that make this the most happy cake around.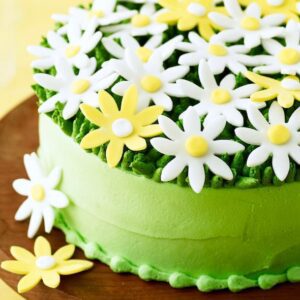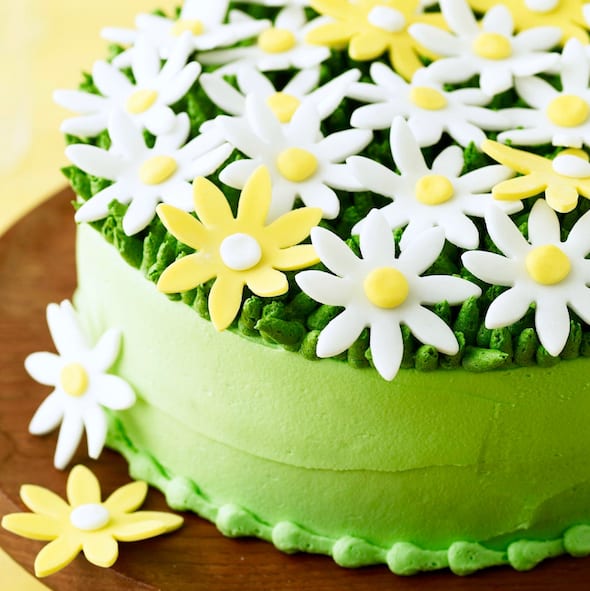 Spring Daisy Cake
Ingredients
½ 1

lb

8 oz box prepared white fondant

Gel-paste food coloring

yellow and green

Cornstarch

2 8-

inch

round cake layers

from a mix or Perfect Yellow Layer Cake

1

recipe Fluffy Vanilla Frosting
Instructions
Divide fondant in half and knead yellow coloring into one half, using a light dusting of cornstarch to prevent sticking. Working with one color at a time, roll both white and yellow fondants into thin sheets, about ⅛ inch thick. Cut out small flowers.

Here

is a great set of plunger cutters.

Knead scraps together to soften and make small balls; moisten with water and press a ball into the center of each flower. Dry flowers overnight on a wire rack to give them shape. Note: While working with one piece of fondant, you should always keep the other piece covered to prevent it from drying out.

Trim domed tops from cakes and place one cake on a serving platter. Color 2 cups frosting dark green and the remaining frosting light green. Cover cake layer on platter with light green frosting about ¼ inch thick, then top with second cake. Ice entire cake with light green frosting. Use extra frosting in piping bag with a #5 plain tip to create a border on the bottom edge.

Use dark green icing in a piping bag with a #10 or #12 plain tip to pipe grass points on the top of the entire cake. Top with fondant flowers.
Some great cake finds from my friends I've seen this week:
Dairy Free AND Gluten Free Chocolate Cake from Whitney Bond
Berry Chantilly Cream Cake from Modern Honey
Whole Wheat Honey Cake from Bless This Mess
 
Recipe & Food Styling Tara Bench. Photographs Kate Mathis. Originally published Ladies' Home Journal 4/09.