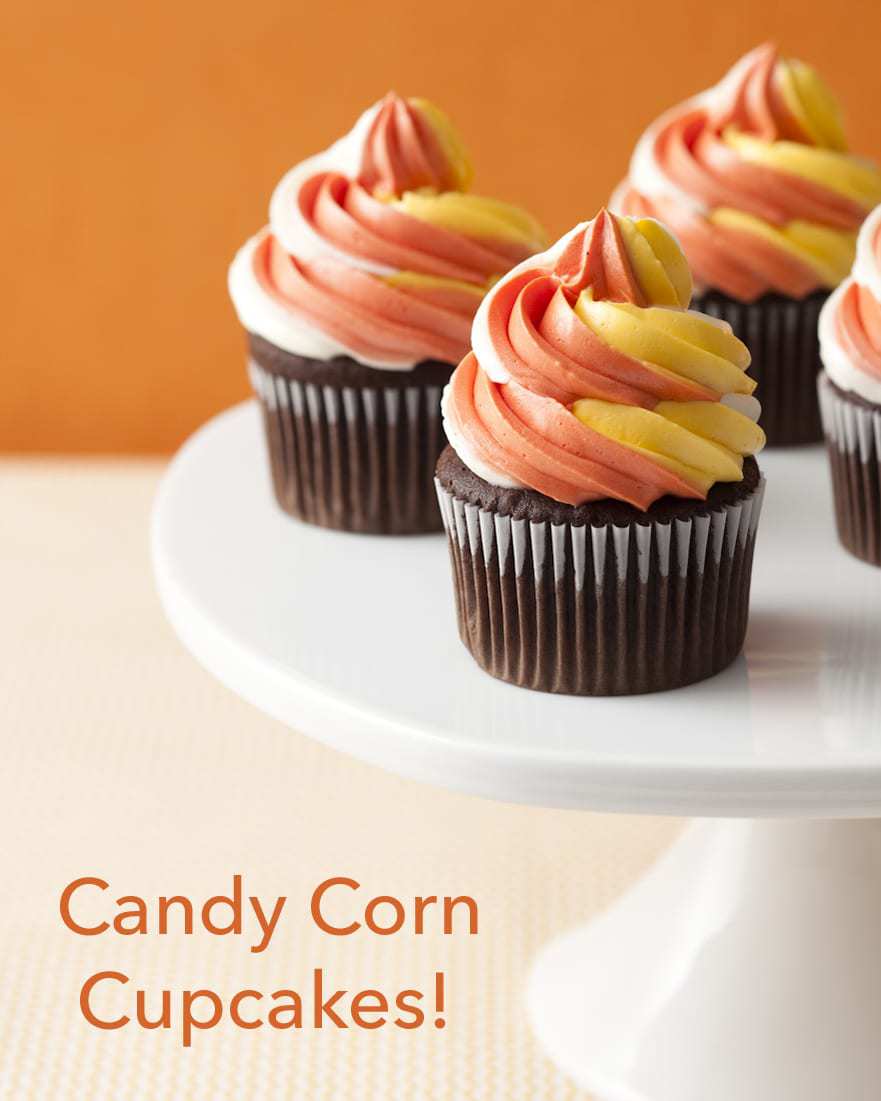 I know people who like candy corn. I try not to judge them, and just love them for who they are–but it's hard.
For those of you in my camp who don't love the wonderfully iconic Halloween candy, but, like me, survive off of several sugar fixes a day, I created a solution in the form of a cupcake.
It's a Halloween Miracle!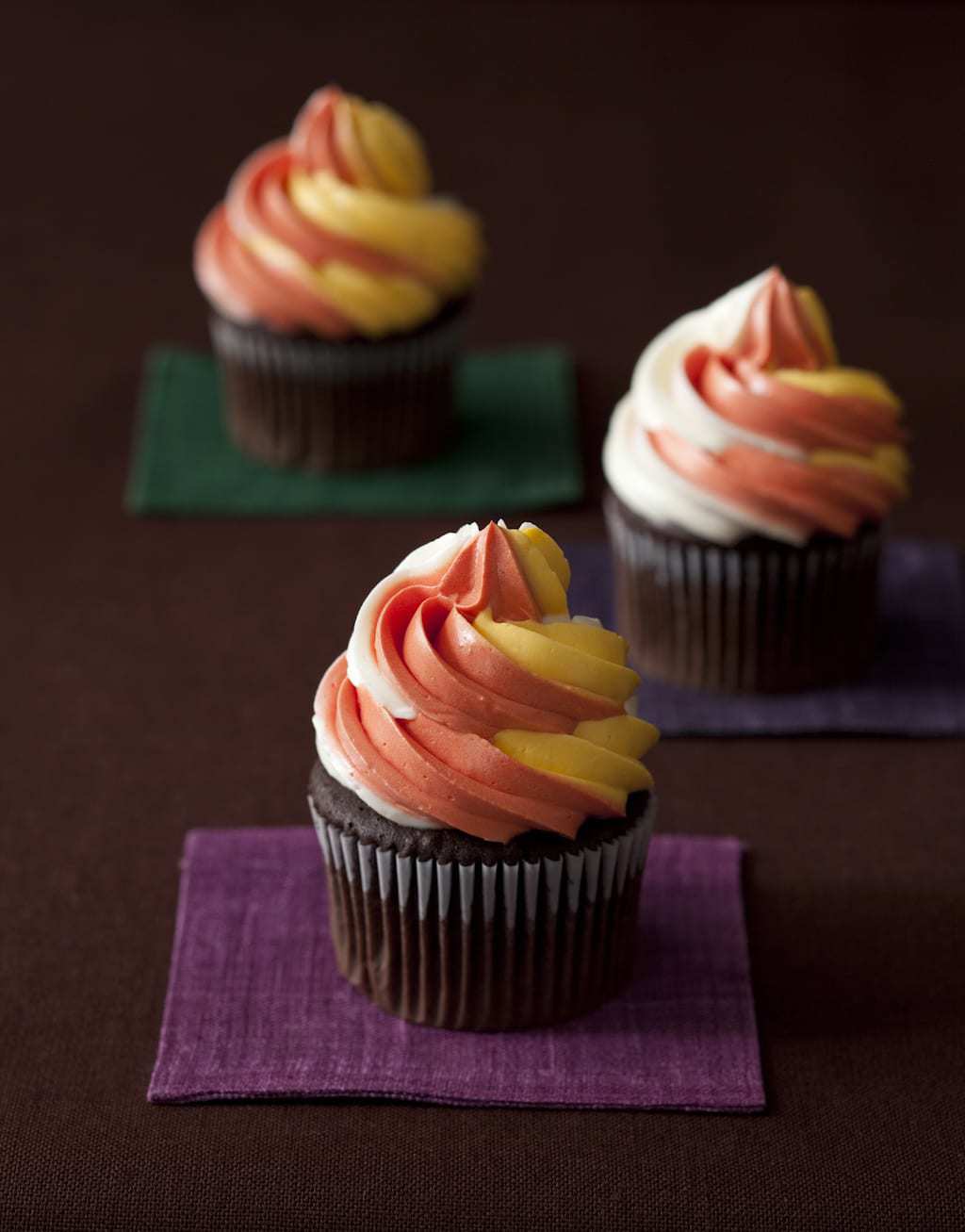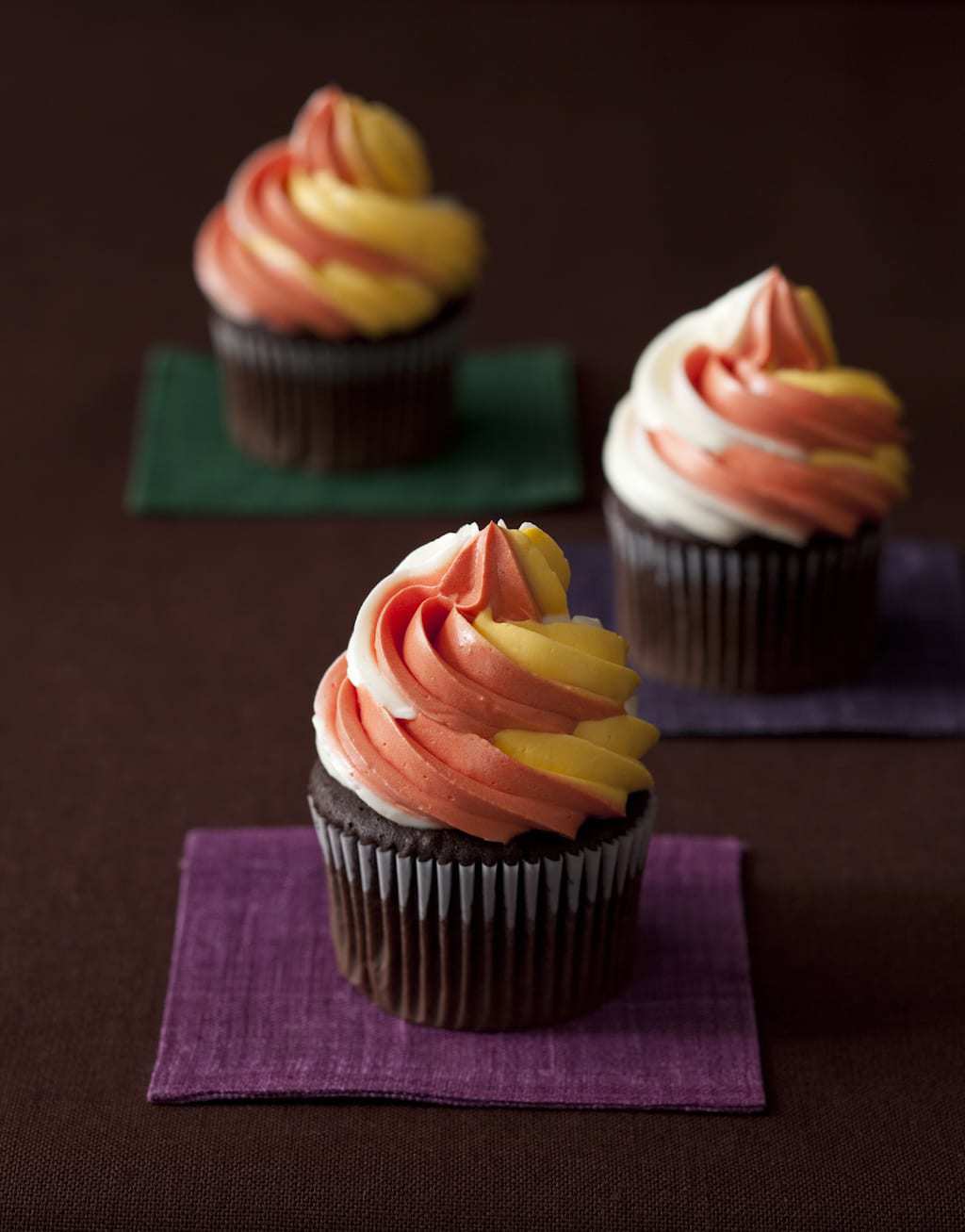 Recipe:
Candy-Corn Twist Cupcakes
Work Time: 1 hr    Total Time: 1 hr
Meringue Buttercream (recipe below)
Orange and yellow gel paste food coloring
20 baked standard size cupcakes
Divide buttercream into thirds. Color one-third orange and one-third yellow. Fit a large piping bag with a #826 open-star tip. Spoon orange, yellow and white buttercream into the piping bag side by side (not on top of one another).
Pipe onto a plate until all three colors appear, then pipe swirls onto each cupcake. Cupcakes can be refrigerated up to a day.
Makes 20
Meringue Buttercream
Whisk together 5 large egg whites and 1 1/4 cups sugar in the heatproof bowl of an electric mixer over a pan of simmering water until sugar has dissolved, about 5 min. Test by rubbing the mixture between your fingers–you shouldn't feel any sugar crystals.
Transfer bowl to the mixer stand with the whisk attachment and beat on high until mixture cools and stiff peaks form, 10 to 12 min.
Reduce speed to medium high and add 1 tsp vanilla extract and 4 sticks unsalted, softened butter a little at a time. (Buttercream may curdle but will become smooth as you continue to beat it.)
Use within a few hours or refrigerate up to a week. Before using, bring to room temperature and beat on low until smooth.
Makes about 5 cups
Recipes and Food Styling by Tara Bench
Originally published in Ladies' Home Journal, Oct 2010
Photography Kate Sears
Prop Styling Gerri Williams
Let's just all get along this Halloween.
Tip: No, you don't have to use Meringue Buttercream for these cupcakes. If you're insane and decide not to make this most delicious frosting (too judgy?), feel free to use your favorite frosting in it's place. Meringue Buttercream is rich, but tastes light and airy, smooth and not too sweet. Sometimes referred to as "crack" in cupcake-lover circles–it takes a mixer and a bit of time, but colors well with gel paste dye and is ideal for piping.