---
These chocolate marshmallow cookies have a Valentine's surprise right inside. Use your favorite Valentine's sprinkles to make them the cutest treat of the day.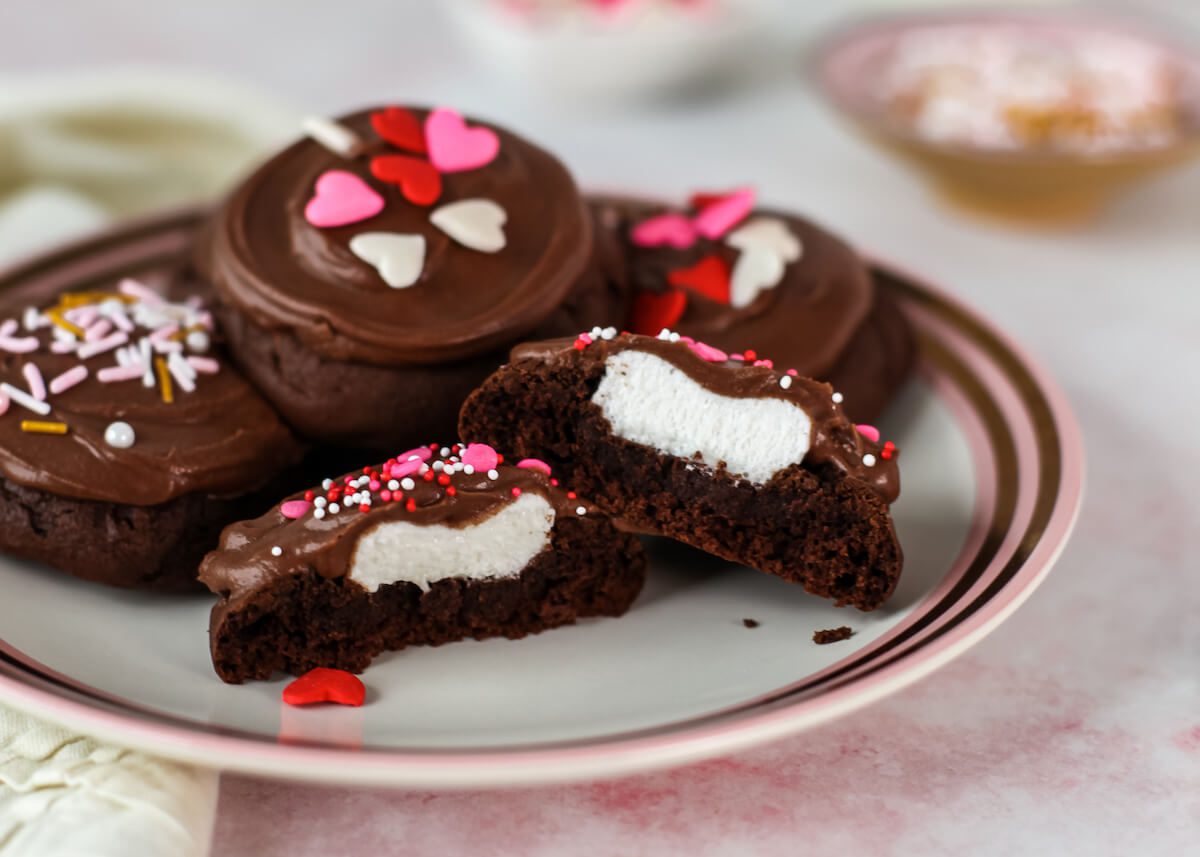 Valentine's Day cookies are a chocolate-lover's dream, and make kids and adults super happy!
I called them chocolate surprise cookies when I was little, and I have a Peppermint Marshmallow Surprise Cookie version too.
If you love Valentine's treats, you'll think my Valentine's Strawberry Cake Roll is amazing too!
Jump to:
Surprise Cookies with Valentine's Sprinkles
I loved these cookies when I was little. My mom would make them for our family for holidays. I was always so delighted by the surprise melty marshmallow under all of that yummy chocolate frosting.
I knew I had to recreate my favorite holiday cookie for Valentine's Day. To give them a festive touch, I added Valentine's sprinkles on top of the chocolate frosting.
These Valentine's Chocolate Cookies are unlike any other Valentine's treat you've had before. The cookie base tastes like a brownie, and there's a melty marshmallow under a milk chocolate icing.
The marshmallow adds a fun and unique texture to a classic chocolate cookie.
Use standard sized marshmallows. Mini marshmallows are too small, and giant marshmallows are too big.
I cut the standard size marshmallows in half crosswise with a pair of clean kitchen scissors.
How to make this Chocolate Marshmallow Cookie Recipe
Making these Chocolate Marshmallow Cookies is easy and fun. If you have kids at home they will love to join in.
Start by making a simple dough. Cream the butter and sugar together until it is light and fluffy. This will give the cookies their airy texture. Next, add the wet ingredients, followed by the sifted dry ingredients, and mix until combined.
The dough will be a little soft, so make sure you use a cookie scoop to plop them onto the baking sheet. I've found that a #40 size cookie scoop is the perfect size for these cookies. They'll spread a bit in the oven, so leave about 2 inches of space between each cookie.
Bake the cookies for 8 minutes, or until they're firm.
The key to this recipe is to bake the cookies twice. Yes, that's right!
After they come out of the oven the first time, place a marshmallow half on top of each cookie, pressing them into the hot surface a little bit. I like to cut the marshmallows in half while they're in the oven, so that I can quickly press the marshmallows on top of each cookie once they're out.
Put the cookies back in the oven to bake for another two minutes.
Let the cookies cool completely before you frost them.
Make the frosting by melting the butter with the cocoa powder, and whisking that mixture into the confectioners' sugar, milk, and vanilla.
You'll need about one tablespoon of frosting to top each cookie and completely cover the marshmallow. Swirl the frosting as desired and decorate with sprinkles.
Serving and Storing
These cookies can be stored in a single layer in an airtight container for up to two days.
You can also freeze the baked and frosted cookies, but the sprinkles may get a little wet as they thaw.
Let me know how it went!
Scroll to the bottom of the page to rate ⭐⭐⭐⭐⭐ and comment on this recipe. Leaving comments helps other too!
Tasty cookie recipes!