These hot chocolate cookies with marshmallows and peppermint sprinkles taste like a mix between a cup of peppermint cocoa and chewy frosted brownies. How can you pass them up for a winter treat?
---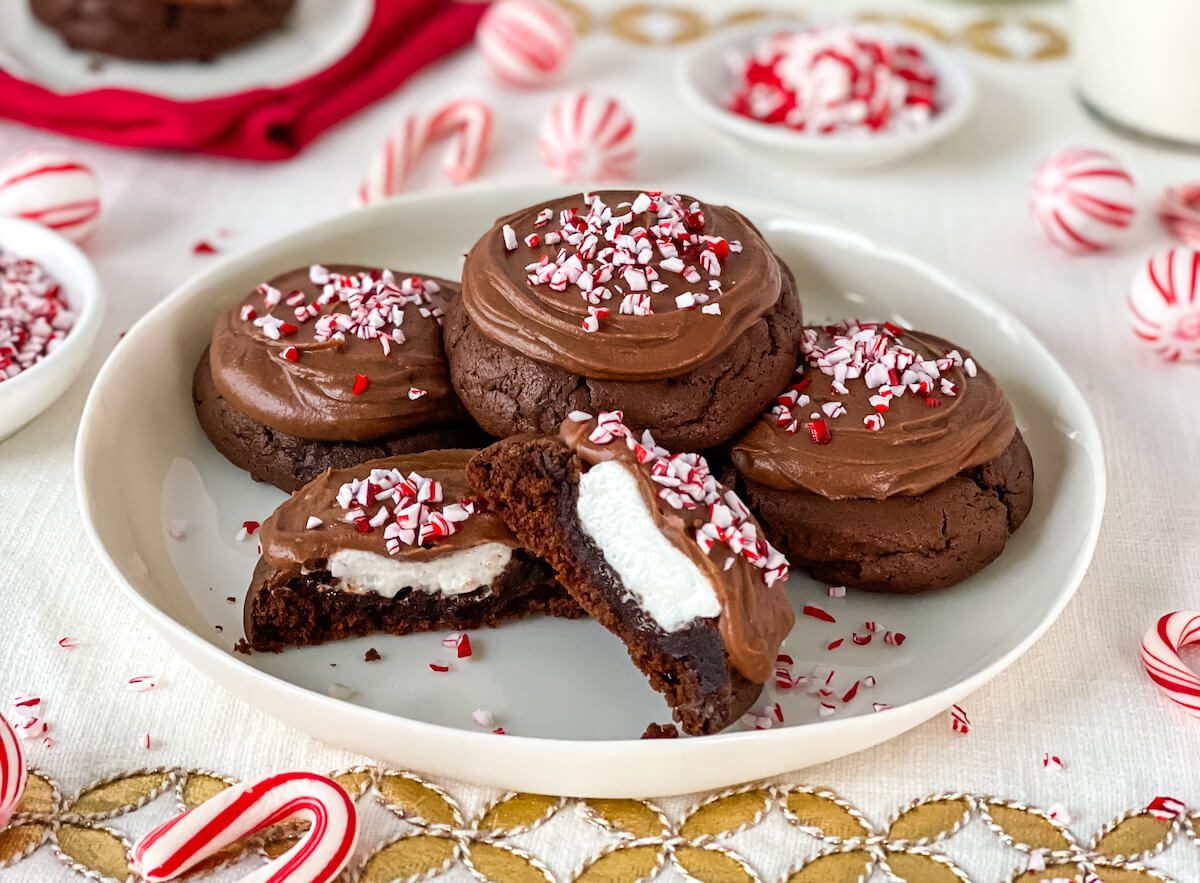 Peppermint Hot Chocolate Cookies
These festive cookies are my holiday variation on my classic surprise chocolate marshmallow cookies.
I grew up with these fun treats and always thought it was great that mom hid a melty marshmallow under frosting so no one knew it was there!
Adding a little sprinkle of candy cane makes these chocolate peppermint cookies turn into hot chocolate marshmallow cookies! The hidden marshmallow is like the topping of your favorite hot chocolate beverage.
Plus the texture of the cookie is like a brownie, so all around these peppermint hot chocolate cookies can't be beat.
I use pre-crushed peppermint candy to make the sprinkle look extra beautiful.
Jump to: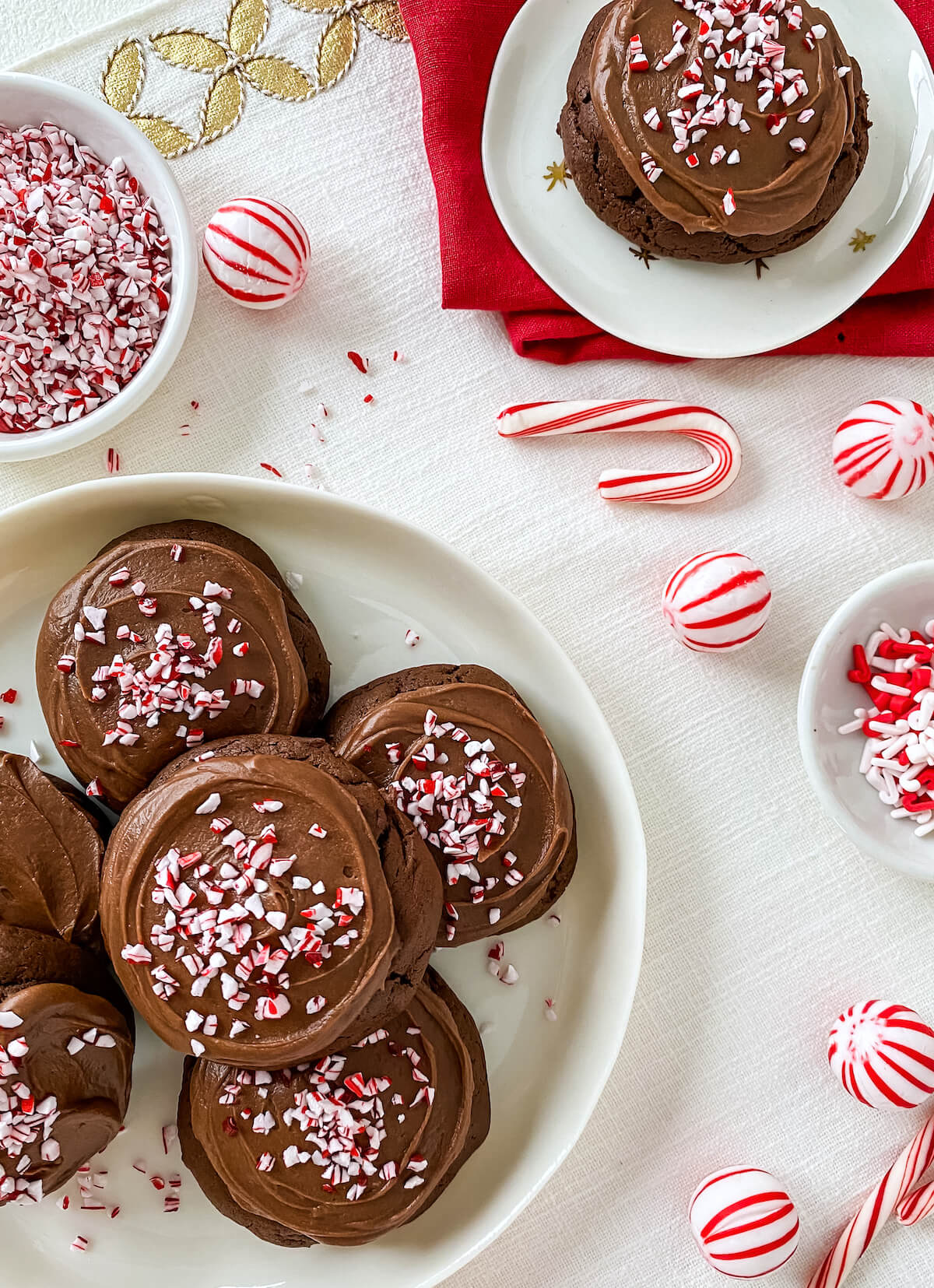 Hot Chocolate Cookies With Marshmallows
Take a peak inside these chocolate peppermint cookies and you'll find half a marshmallow hiding under the frosting!
What a treat! The soft, brownie-like chocolate cookies holds the melty marshmallow just like a cup of hot chocolate. The smooth frosting and peppermint sprinkles add holiday flare.
These cookies are like Mississippi Mud Cake in cookie form! The combo of a chocolate base, marshmallow center and chocolate frosting are what Mud Cake, or hot chocolate dreams are made of!
The kids will love having a solid, edible treat that is just like their favorite hot chocolate drink at the holidays.
How to Make Hot Chocolate Peppermint Cookies
Making these peppermint hot chocolate cookies is not hard, but you will end up with a beautiful and impressive holiday cookie! Just remember to hide that marshmallow topper for fun surprise cookies!
Use the classic creaming method to aerate the butter and sugar. Those air pockets will help with some of the leavening.
Add the vanilla and eggs, then stir in the dry ingredients. It's very simple, and a great recipe to get the kids helping.
Bake the cookies twice!
Partially bake the cookies then add the marshmallows. Bake again for about 2 minutes until the cookies are done and the marshmallows are just soft.
If you added the marshmallows at the beginning they would melt completely. If you didn't bake them at all they would be too firm and not soft. This is the perfect method to get a great marshmallow surprise cookie.
Basic ingredients
Use simple pantry staples to make these cookies.
I use unsalted butter so I can control the amount of salt in my cookies and frosting.
Use regular unsweetened cocoa, not Dutch-process, for a nice milk chocolate flavor.
You'll start by making the dough. The process is very similar to making a drop cookie: sift the dry ingredients and set aside. Cream the butter and sugar, then add the eggs and vanilla. Stir in the dry ingredients.
You can use a hand mixer or a stand mixer.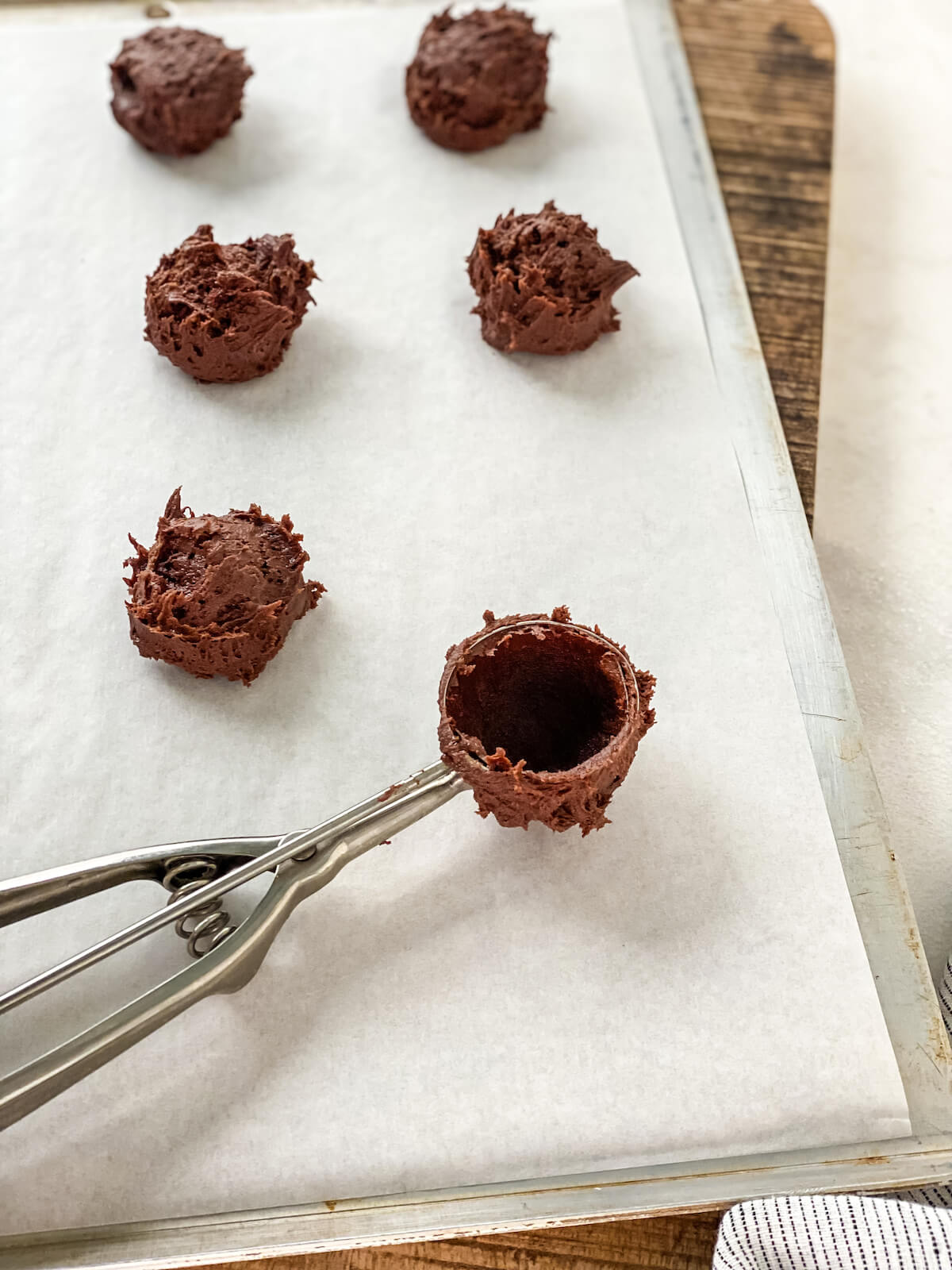 Use a cookie scoop to shape dough into balls and place on a baking sheet. I think these come out perfect when I use a #40 size cookie scoop. That's about 1 ½ to 2 tablespoons. Give them about 2 inches of room to spread out in the oven.
Bake for about 8 minutes, or until they're firm. Then place the marshmallows on top before baking again.
Place the marshmallow halves on top, pressing them into the hot cookie just a little. Then quickly put them back in the oven to bake another 2 minutes.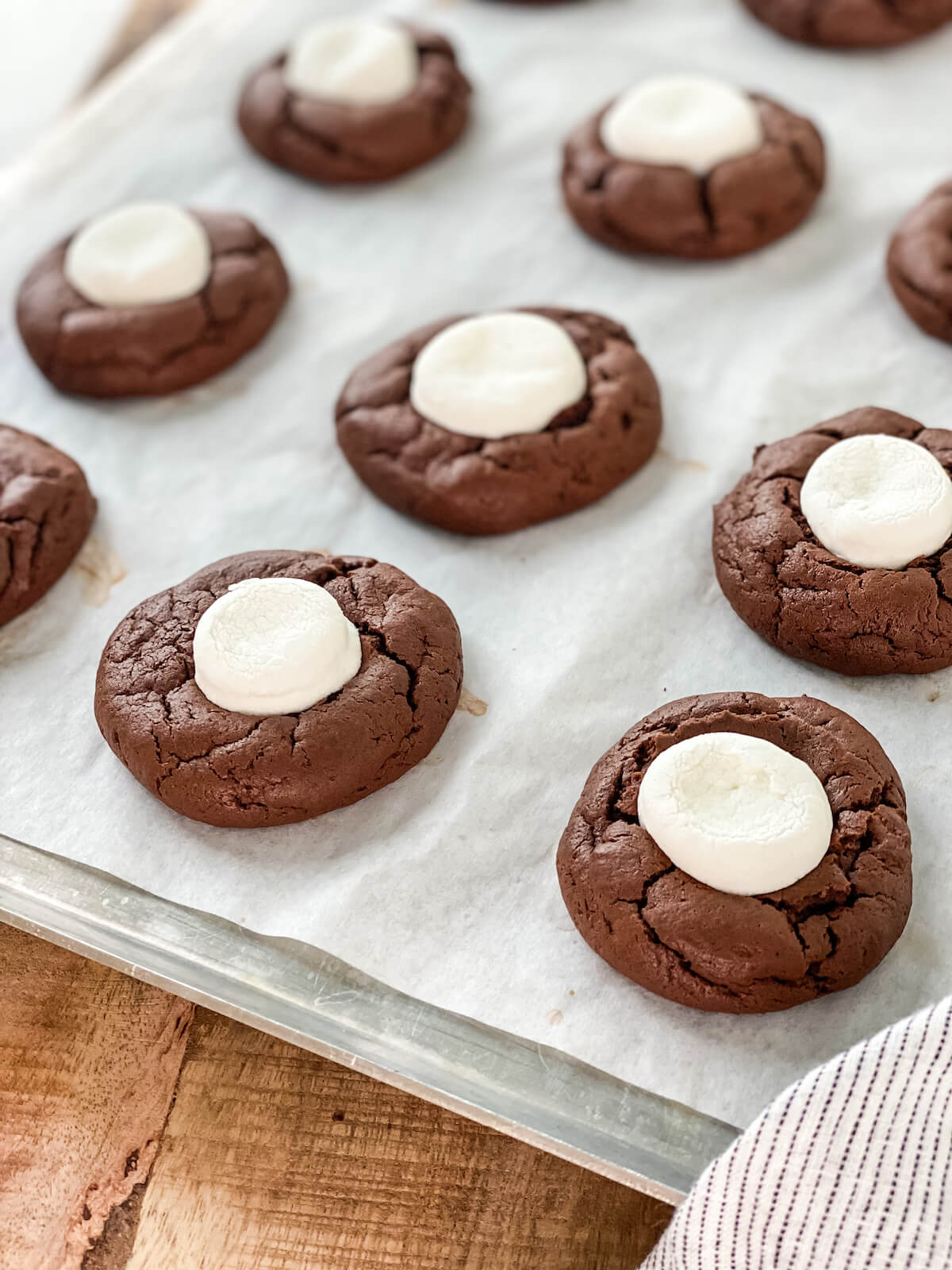 Once the cookies are completely cool you can frost them.
Use about 1 tablespoon of frosting to cover the marshmallow. Swirl the top as desired. Just add a little more frosting if your marshmallow isn't covered. Remember: it's a surprise!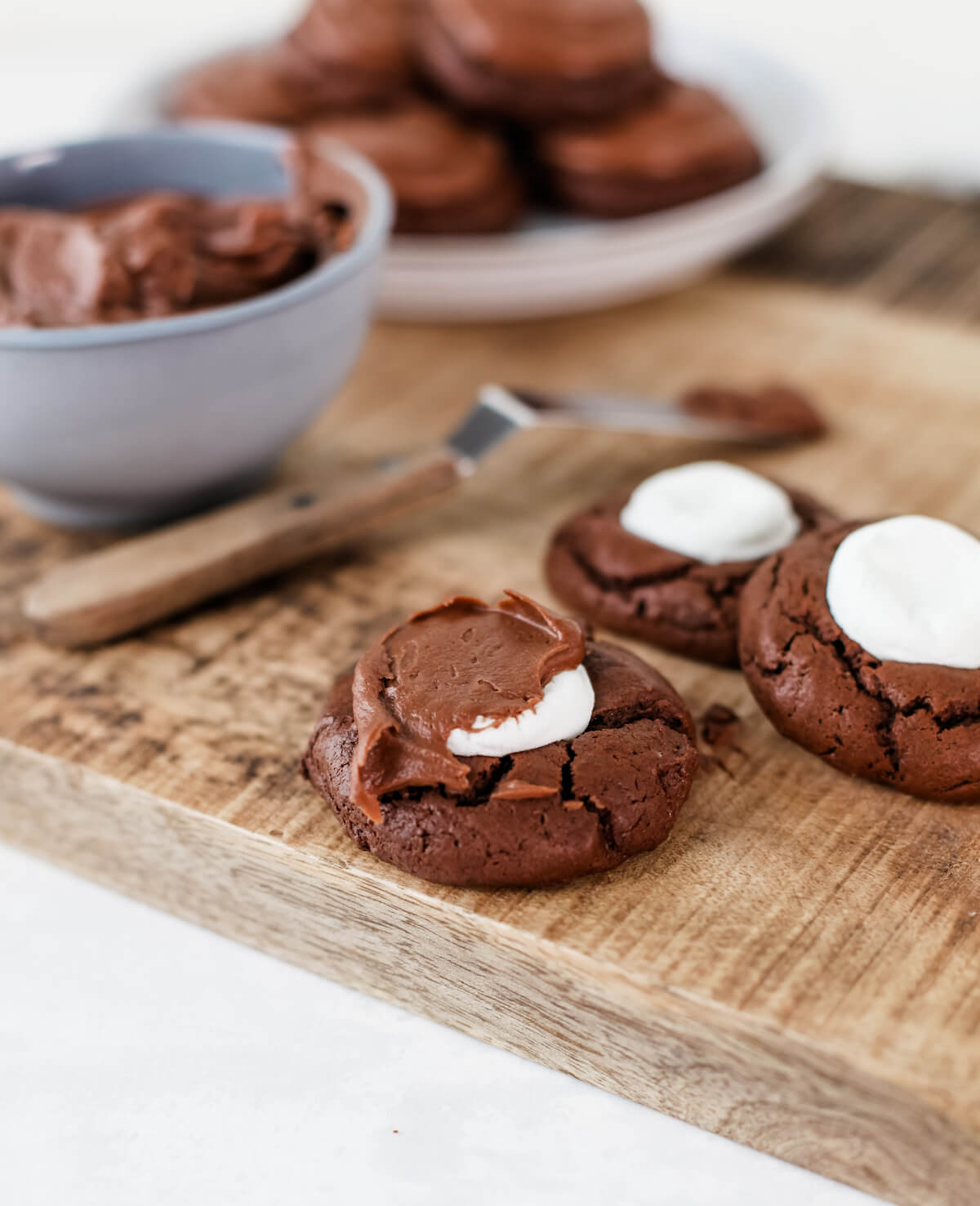 Use crushed peppermint candy from a package instead of crushing your own!
More Hot Cocoa Cookie Toppings
I love these cookies because they are so easy to dress up and down. You can make them with festive sprinkles, or leave them plain for a more classic look.
Instead of crushed peppermint, you can simply add red and green sprinkles to make Christmas marshmallow surprise cookies.
Try other things too:
Colored sprinkles
Crushed toffee bits
Chopped nuts
Mini chocolate chips
Gold or silver sprinkles
Valentines or Halloween sprinkles
Flaked sea salt
Let me know how it went!
Scroll to the bottom of the page to rate ⭐⭐⭐⭐⭐ and comment on this recipe. Leaving comments helps other too!
Tips
Make sure your hot chocolate cookies with marshmallows are exactly as you like with these helpful FAQs and answers.
Can I make Peppermint Hot Chocolate Cookies Gluten Free?
I always use Cup4Cup all-purpose gluten-free flour in my gluten free baking. You can swap it for the all-purpose flour in these cookies for a great result.
How to store hot chocolate peppermint cookies:
These cookies are best baked fresh and not frozen. Once frosted store the cookies in a single layer in an airtight container for up to 3 days.
Try these stackable snap containers for storage, or a baking sheet with a lid.
Cookie Classics To Try:
Tasty cookie recipes!