---
Eerie Eyeball Cake is looking right at you! It's no trick, just a delicious treat with chocolate ganache and homemade candy eyeballs.
---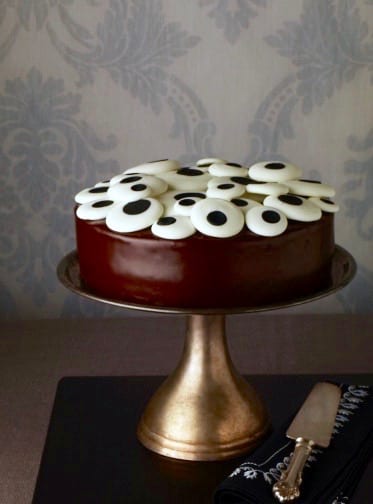 You'll have to agree this is an eye-catching Halloween dessert (haha!). With piles of eyeballs atop a chocolate ganache cake. I dare say no one can escape the stare. It's eye candy.
Ok I'll stop.
These days you can find candy eyeballs at any baking and craft store. Those little black and white, hardened royal icing bits that adorn anything from Spooky Muddy Buddies to Halloween candy bark. The thing is, those cute eyeballs are always so small, and I wanted a PILE of giant ones on my eyeball cake.
It's easy enough to make royal icing with a little meringue powder. (I typically don't use fresh egg whites for food safety reasons). Back in the day when those little candy eyeballs weren't as accessible, I'd make my own. So I knew I could make them again, and make them big!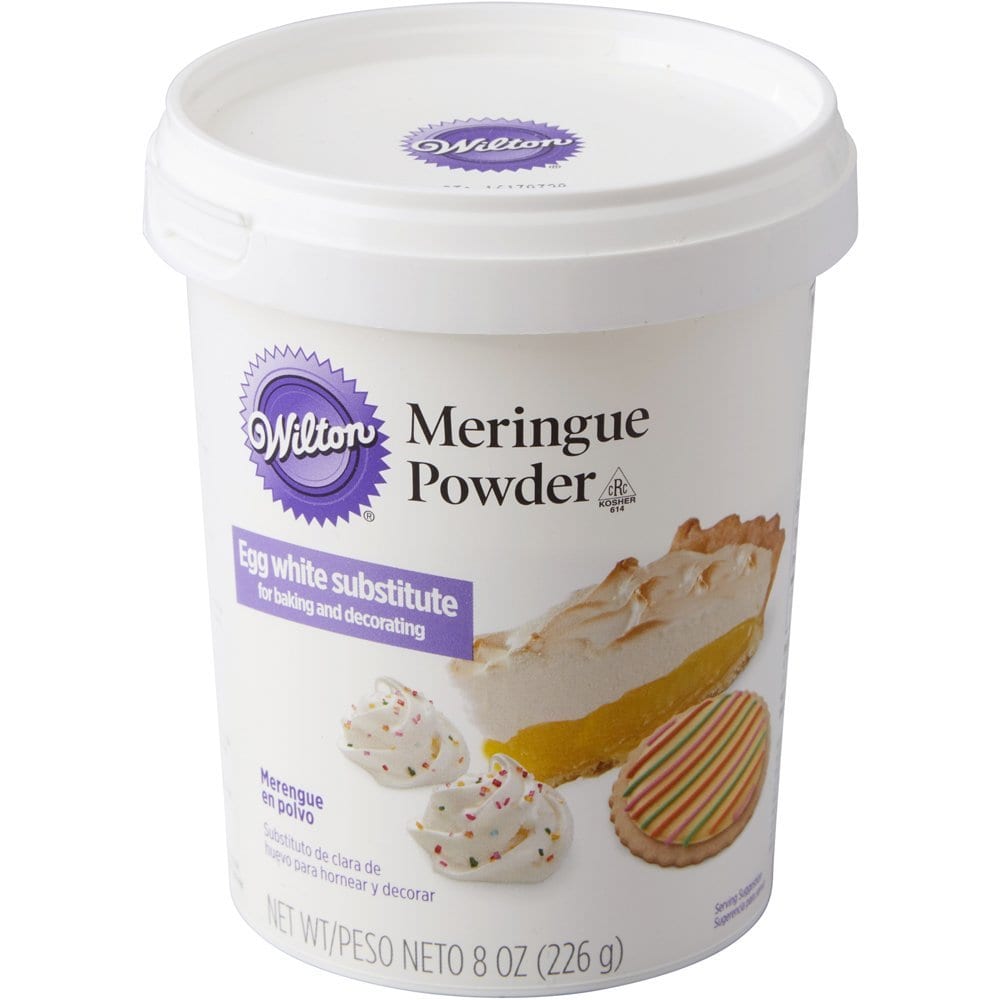 You need some intense black food coloring for the inside of those eyes. I use the gel paste. And a few simple piping bags and tips. I used a ½ inch plain coupler (or tip) to dollop the white icing circles onto the parchment, and a #5 plain tip for the black icing centers.
You can make royal icing different consistencies depending on what you use it for. For flooding (that smooth look on the top of cookies like my Spooky Spiral Cookies) you want the royal icing to be the consistency of cold honey. I know! That sounds strange, but if you can imagine it, it makes sense! It's stiff enough to keep a general shape and outline, but after about 15 seconds all the lines settle into a smooth situation.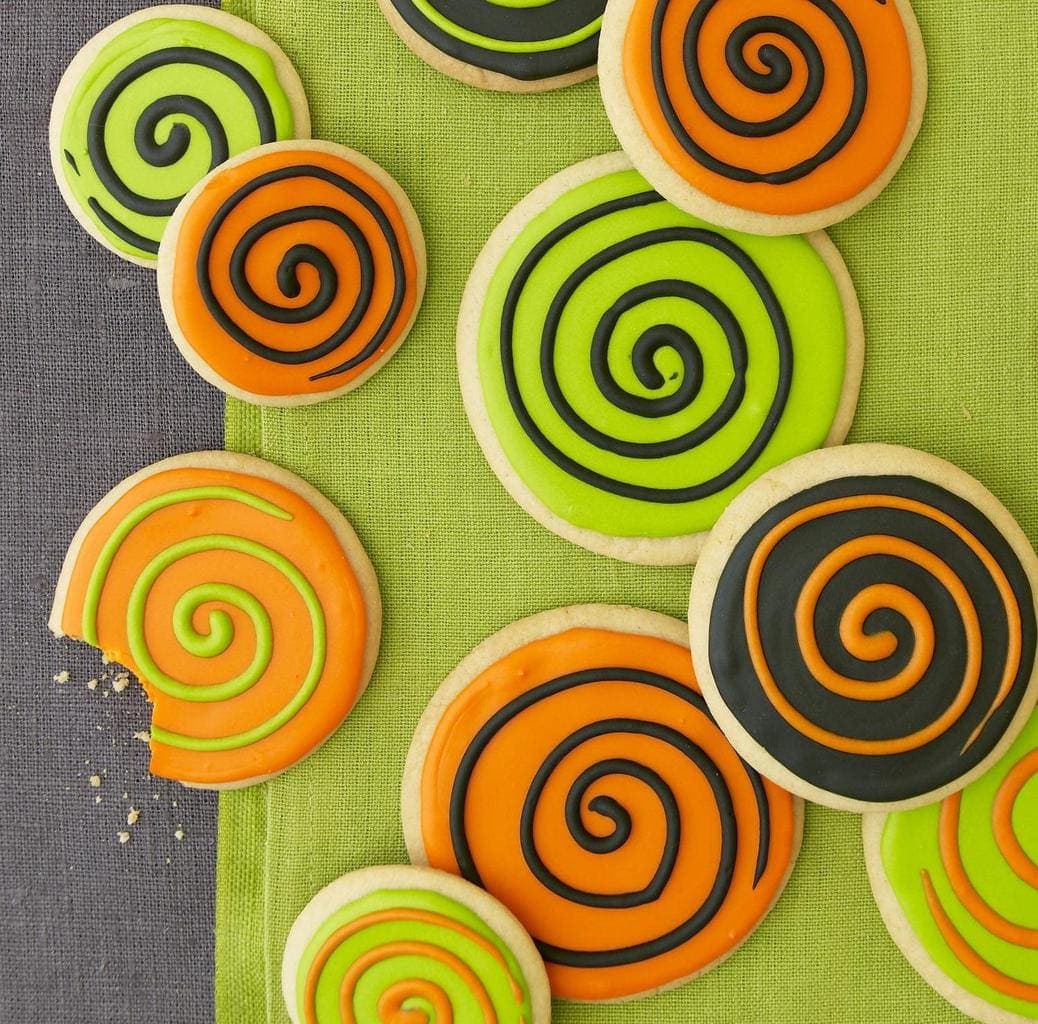 Plan ahead for this eyeball cake! These creepy, giant candies take about 48 hours to completely dry!
For my eyeball cake candies I wanted the royal icing to be a little thicker than that. I needed it to hold a little dimension but still have a smooth look. I slowly beat the icing until it was the consistency of soft whipped cream. Do my descriptions help? You can envision it! I use this consistency for decorative cookie decorating like on my Skeleton Cookies.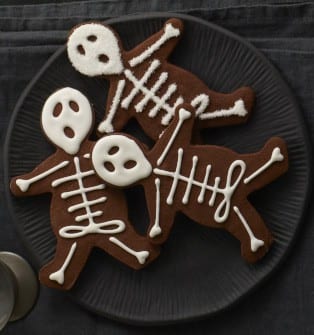 This consistency allows me to pipe the eyeball circle with a little height to it, but soft enough that when I pipe the black in the middle, it eventually settles into one smooth surface.
Make sure you're royal icing is the right consistency. Too thick and the eyeball candies will be bumpy, but too runny and the black and white icings will start to run together. You'll also end up with flat eyes!
You've got it! Royal icing win and you have giant eyeballs ready to dry...for a while!
I kind of like the fact that this recipe makes you plan ahead. Cakes are always easier to work with and frost when they have chilled in the fridge overnight. So you can make your eyeball candies, make your cake, and wait a day or so to finish the dessert.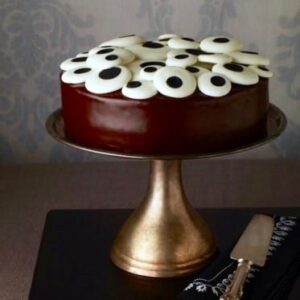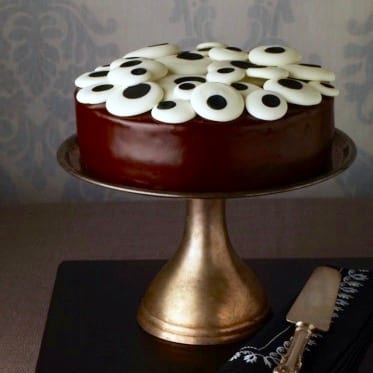 Eerie Eyeball Cake
It's easy to make giant candy eyeballs to decorate this ganache covered cake. Make an eerie eyball cake this Halloween.
Ingredients
1

teaspoon

Super Black gel paste food coloring

3

cups

heavy cream

24

oz

2 pkgs semisweet chocolate chips

2

prepared 9-inch round cakes

from a mix or your own recipe
Instructions
To make eyeballs, line a baking sheet with parchment. In a small bowl tint ½ cup of the Royal Icing black with the gel past food coloring. Transfer to a piping bag fitted with a #5 plain tip. Wrap tip in a damp paper towel so the icing doesn't dry.

Put remaining icing in a piping bag fitted with an open coupler or ½-inch plain tip. Pipe various-sized white circles onto parchment. While icing is still wet, pipe a black "pupil" into the center of each white circle. Allow eyes to dry completely, about 48 hr.

When ready to assemble and build the cake, make chocolate ganache. Heat heavy cream to steaming and pour over the chocolate chips in a mixing bowl. Let stand for 2 to 5 minutes then stir until smooth.

Chill half the ganache in a separate bowl over an ice bath, stirring occasionally until spreadable like frosting, about 20 min. Trim domed tops from cakes. Transfer 1 cake to a 9-inch cardboard cake round; set on a wire rack over a rimmed baking sheet. Spread with a layer of chilled ganache, then a second cake. Frost entire cake with an even layer of chilled ganache, squaring of sides and top.

Use remaining soft ganache to pour over the cake. (Gently reheat ganache for just a minute over a pot of simmering water if it has solidified too much. Don't get it hot, just smooth). Pour ganache over cake, letting it drip down the sides. Use a spatula to spread ganache if necessary. chill cake until firm; transfer cake to serving plate and decorate with candy eyeballs.
Notes
Eerie Eyeball Cake is looking right at you! It's no trick, just a delicious treat with chocolate ganache and homemade candy eyeballs.
Nutrition
Calories:
534
kcal
Carbohydrates:
31
g
Protein:
5
g
Fat:
44
g
Saturated Fat:
26
g
Cholesterol:
85
mg
Sodium:
28
mg
Potassium:
366
mg
Fiber:
5
g
Sugar:
21
g
Vitamin A:
903
IU
Vitamin C:
1
mg
Calcium:
74
mg
Iron:
4
mg
Spooky & Fun Halloween Recipes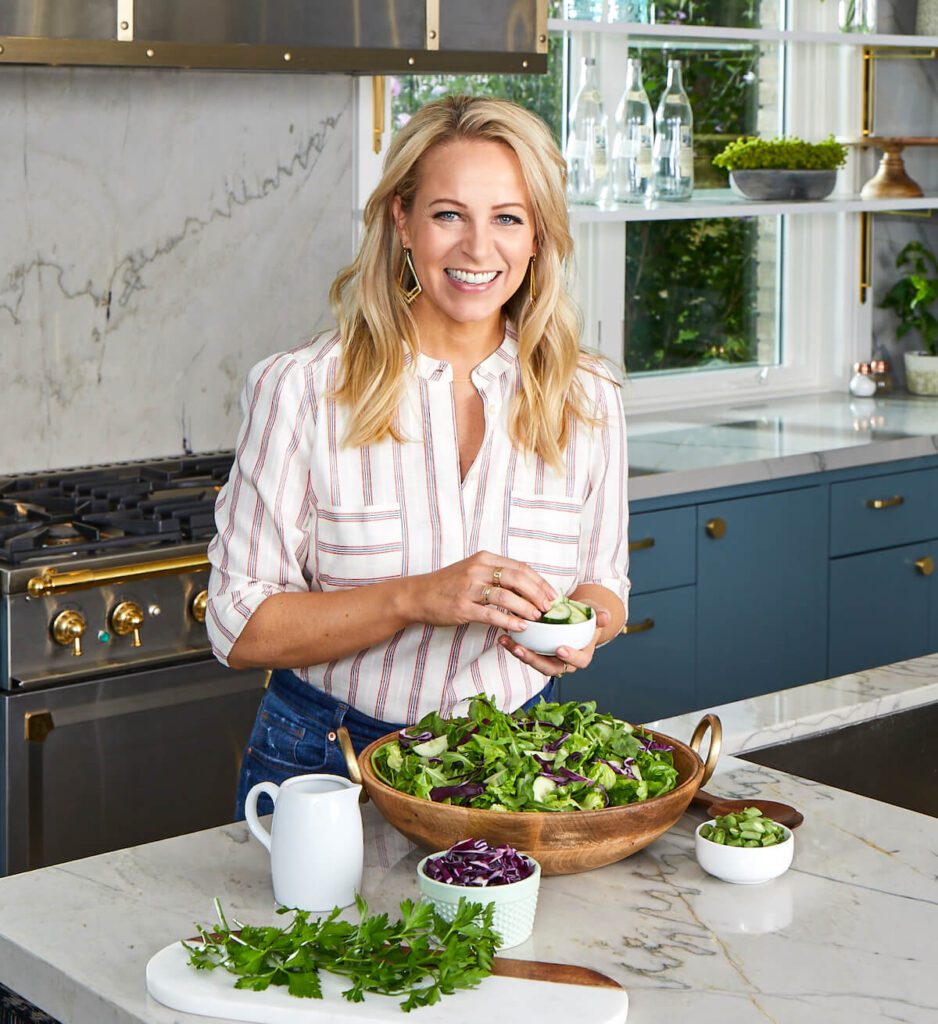 About Tara Teaspoon
I've been in the food publishing business for over 20 years, creating recipes & food-styling for magazines, books, television & advertising. Order my new cookbook & stick around for amazing things to eat.
Recipe by Tara Teaspoon & Hilary Merzbacher. Eerie Eyeball Cake photos by William Brinson. Prop styling Michele Faro. Originally published in LHJ 10/12.