Mozzarella sticks reindeer snacks are the cutest Rudolph lookalikes this side of the North Pole. Toasty and cheesy, they make the best holiday nibbles for those little hands.
The one and only Rudolph the Red-Nosed Reindeer! I sure like that guy. Luckily there's not just one Rudolph in this bunch. You'll want to snack on several of these bites, red noses and all.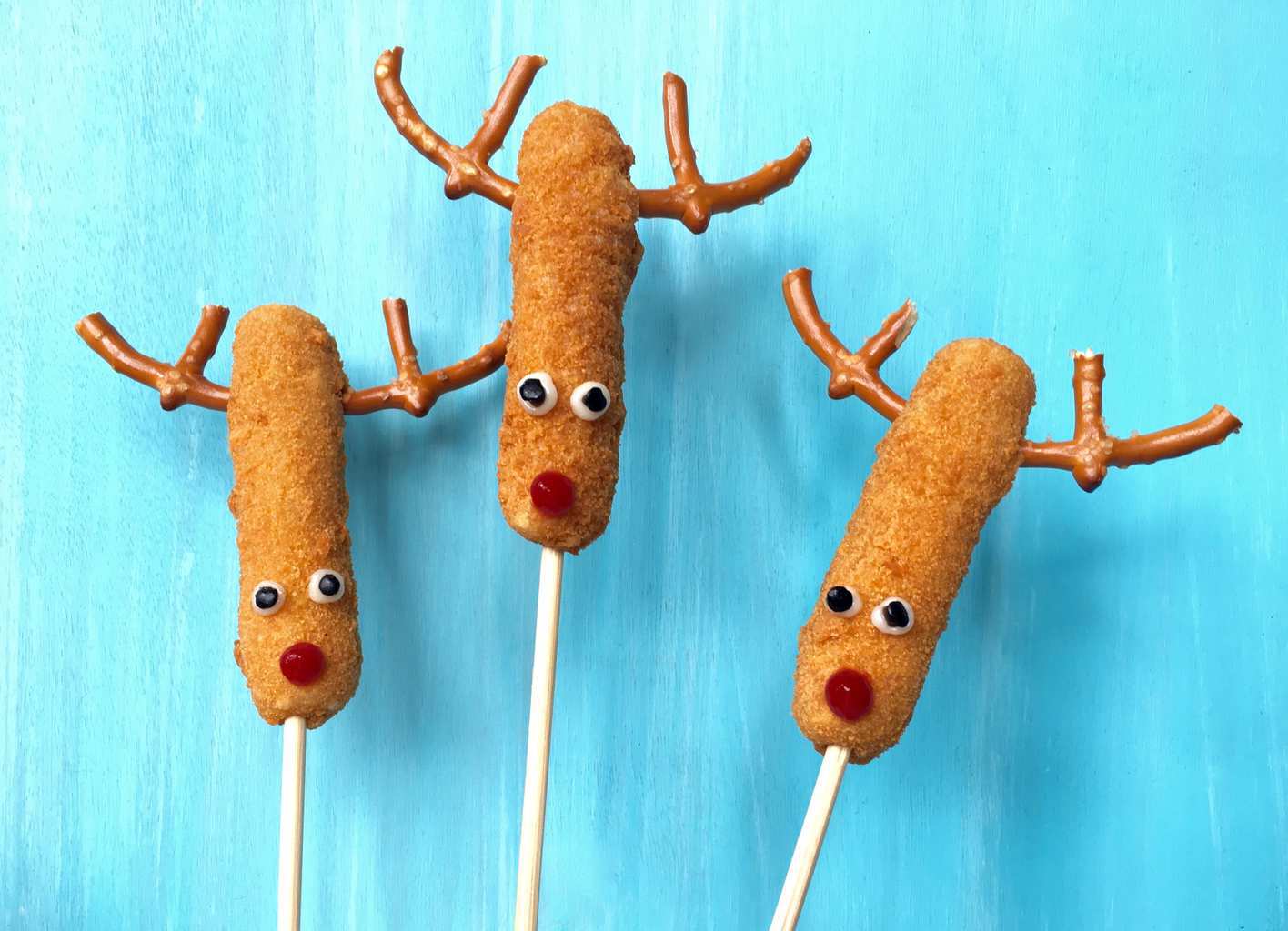 I actually love cheesy mozzarella sticks. Dipped in marinara they have my snacking heart. Farm Rich Mozzarella Sticks are perfect for these tasty reindeer. I baked them according to package directions, all the while snapping some pretzel twists to create mini antlers. Add the antlers right when the sticks come out of the oven. I use the large pretzel twists because I they make the best shape, but you can use the minis too if you'd rather.
Make mozzarella sticks reindeer for your holiday parties!
While the cheese sticks are in the oven, I also prepare some little plastic bags filled with ketchup and mayo. You only need about a tablespoon in each bag. I snip a tiny corner off each and use the mayo for the eyes and the ketchup for the Rudolph-red noses.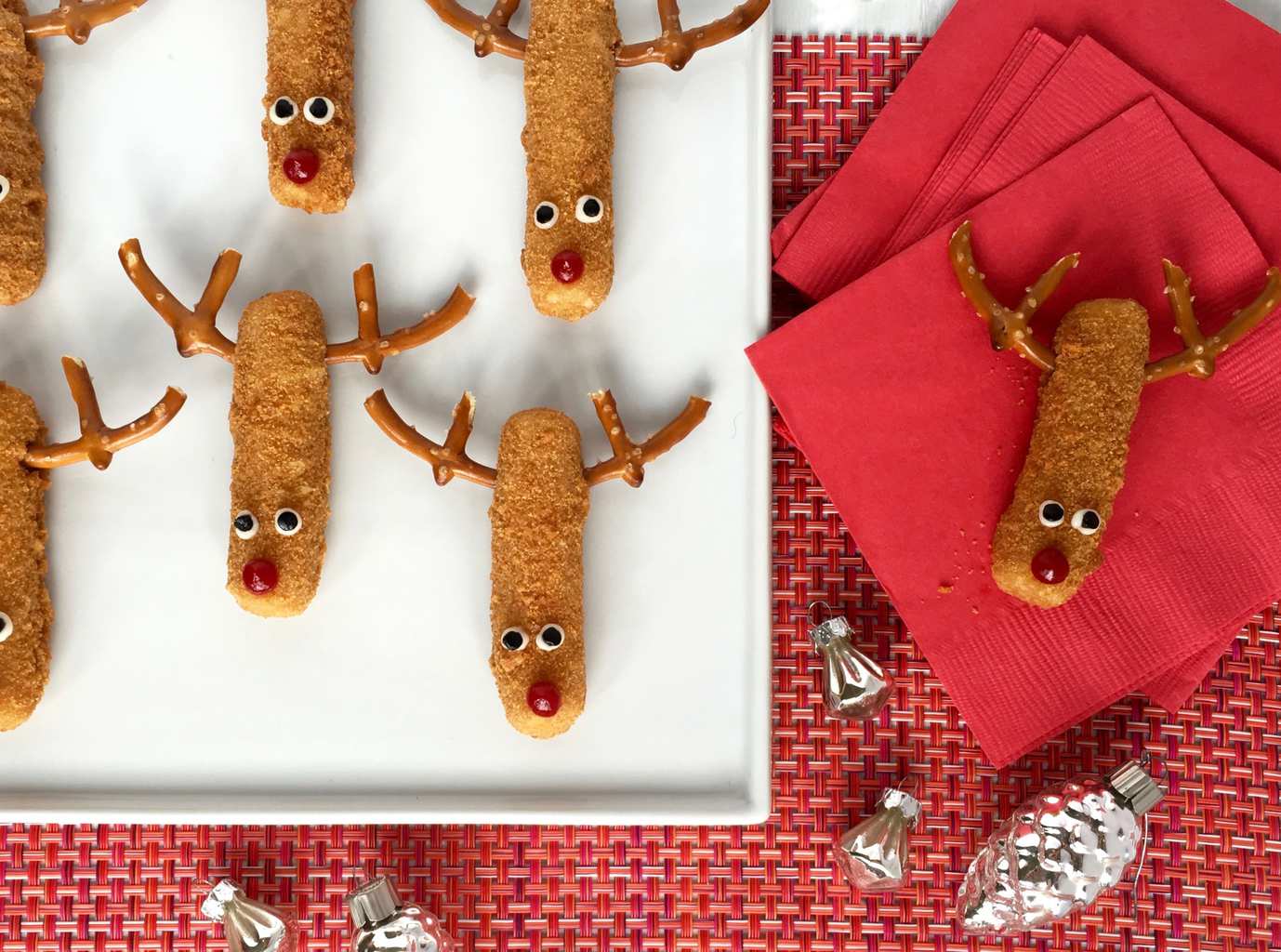 I make the little edible eyeballs from black olives. My favorite trick: using a drinking straw to cut olive eyes! Just cut the eyeball with the straw and then blow just a bit to pop it out of the end. Love it!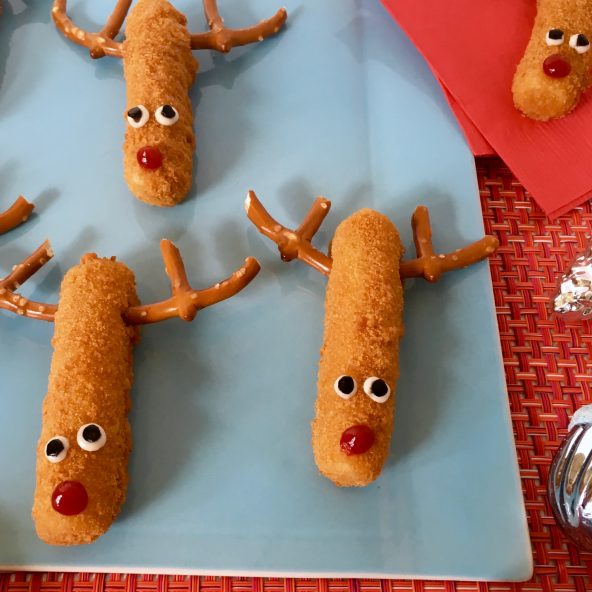 Mozzarella Sticks Reindeer Snacks
Ingredients
1

pkg Farm Rich Mozzarella Sticks

1

bag large pretzel twists

Mayonnaise

Ketchup

Black olives

Bamboo Skewers

optional
Instructions
Bake Mozzarella Sticks according to package directions.

Meanwhile, break pretzel twists into small pieces to make antlers for each cheese stick. Fill the corner of two small plastic bags with mayonnaise and ketchup. Snip a tiny corner from each.

Cut black olives with a drinking straw to make little eyeballs.

When mozzarella sticks are cooked, insert pretzel antlers and bamboo skewers, if using. Pipe mayonnaise on for eyes and top with black olive circles. Add a ketchup red nose. Serve warm.
I am a huge fan of Farm Rich snacks. I develop a lot of recipes and hacks for their site and it's fun to see what tasty snacks you can create from their products. Check out a ton of my other hacks, inspiration and recipes for entertaining and holidays on the site here!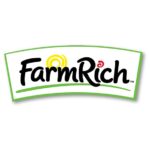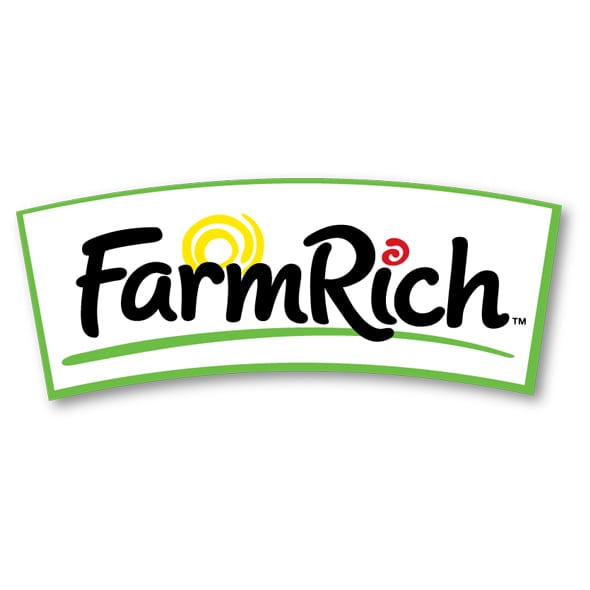 You can also try more mozzarella stick recipes by browsing here for 5 Mozzarella Stick snack hacks!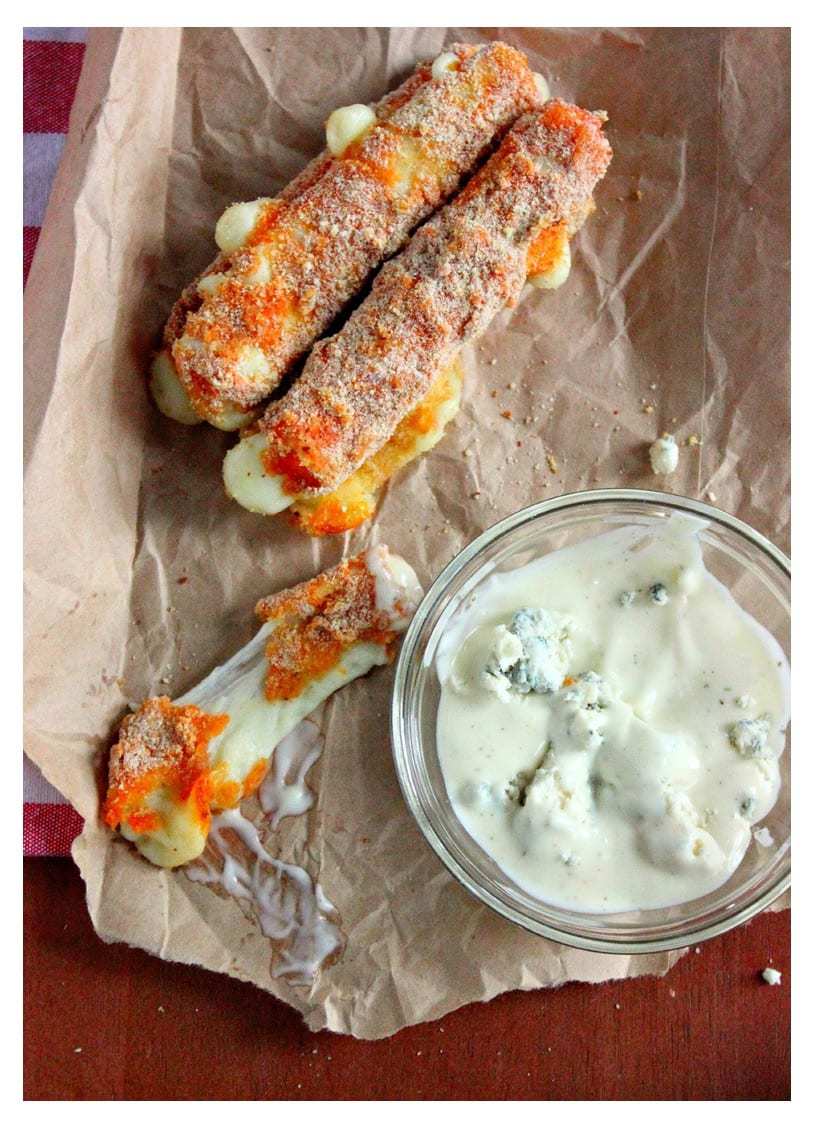 This post may include affiliate links and is sponsored. I do not feature sponsored products I don't fully recommend. For more information please see my disclosure agreement.