These little treats are like chocolate haystacks candy with a fruity, granola twist! Dark chocolate covered pomegranate clusters have toasted coconut and granola to add a nutty, crunch.
I love chocolate haystacks and make a white chocolate version that is so good. Toasted coconut covered in chocolate is the best. How about pomegranate clusters? I love those too. Check this out!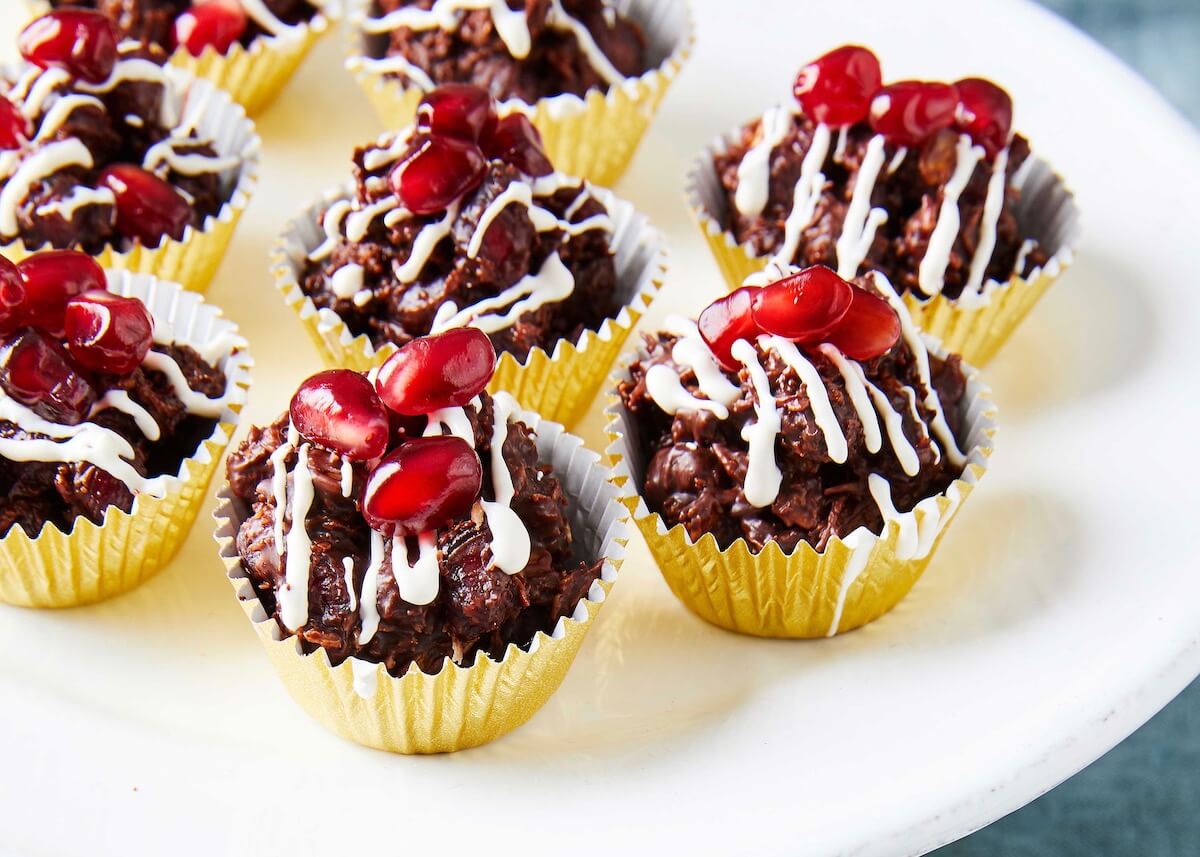 Make festive candies for Valentine's, Thanksgiving, Christmas, or New Year's parties. These pomegranate clusters are fantastic anytime during pomegranate season.
Easy pomegranate chocolate clusters with granola
Pomegranate chocolate clusters are a fun chocolate treat, but they are just simply fruit and chocolate. To make my clusters more like haystacks candy, but with a healthy twist, I added granola and toasted coconut.
Fresh pomegranate arils, or seeds, are great covered in chocolate. They make fun nibbles, an after-meal treat, or a party snack.
To make pomegranate chocolate clusters the arils first have to be patted dry. As with any melted chocolate treat, you don't want liquid mixed in with your chocolate.
Once the arils have been dried, they can be folded into the melted chocolate in one step. Then spoon into portions and chill. So easy!
What kind of granola should I use?
You can use store bought or homemade granola for these chocolate candies.
If your granola has large chunks or nuts in it, you'll want to chop it so everything is much smaller. A loose granola is ideal. You don't want the entire chocolate cluster to be one piece of granola.
I like to purchase granola that has no nuts so I don't have to chop anything.
If you use granola with nuts, make sure to alert your guests if they have nut allergies.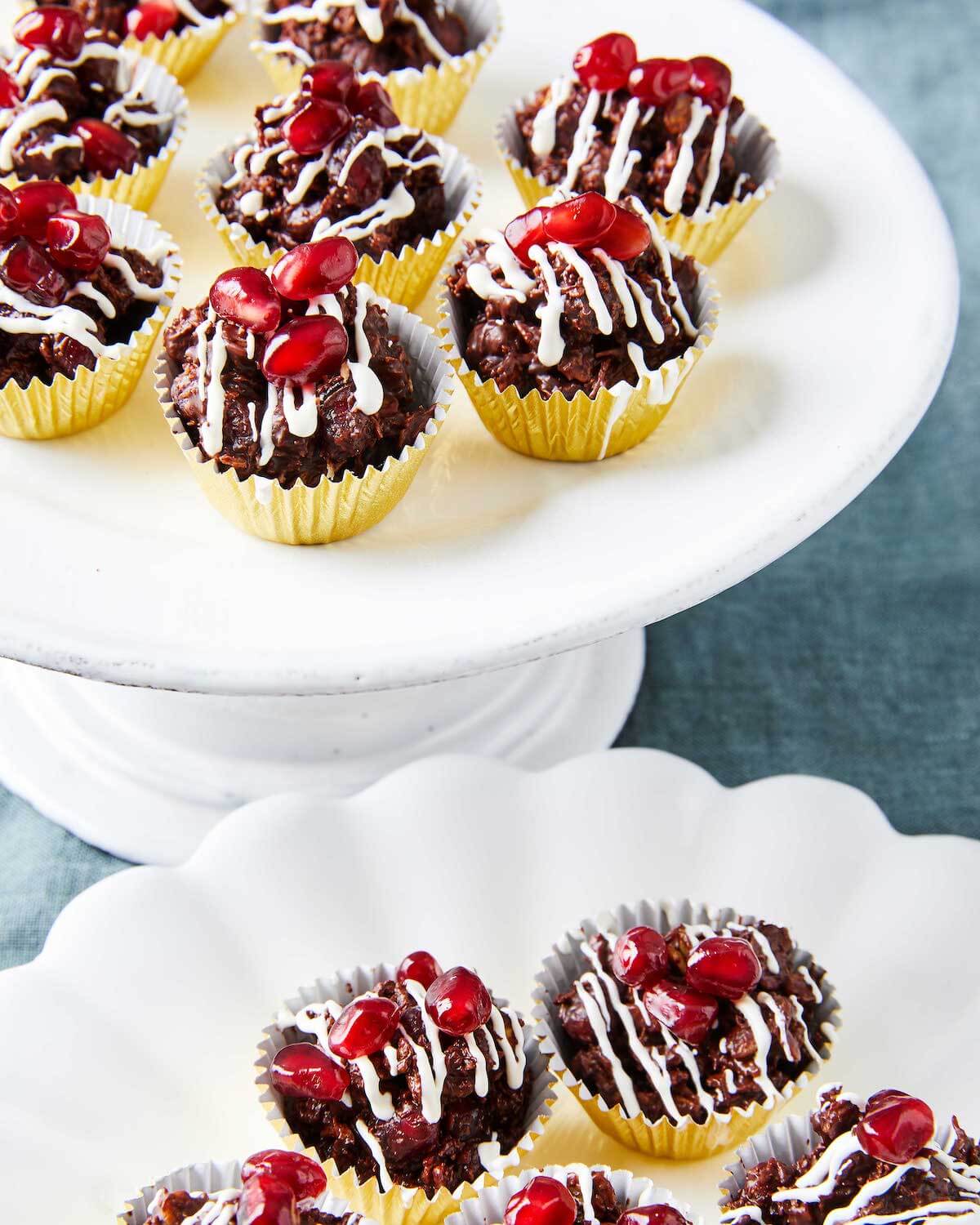 Make dark chocolate covered pomegranate clusters
Using dark chocolate on these clusters is super flavorful, and I love how the slight tang and fruitiness of dark chocolate goes so well with the juicy pomegranate arils.
Use bittersweet or semi-sweet chocolate depending on your preference. Choose a bar of high-quality chocolate for the best flavor.
You can absolutely use milk chocolate, or even white chocolate on these clusters.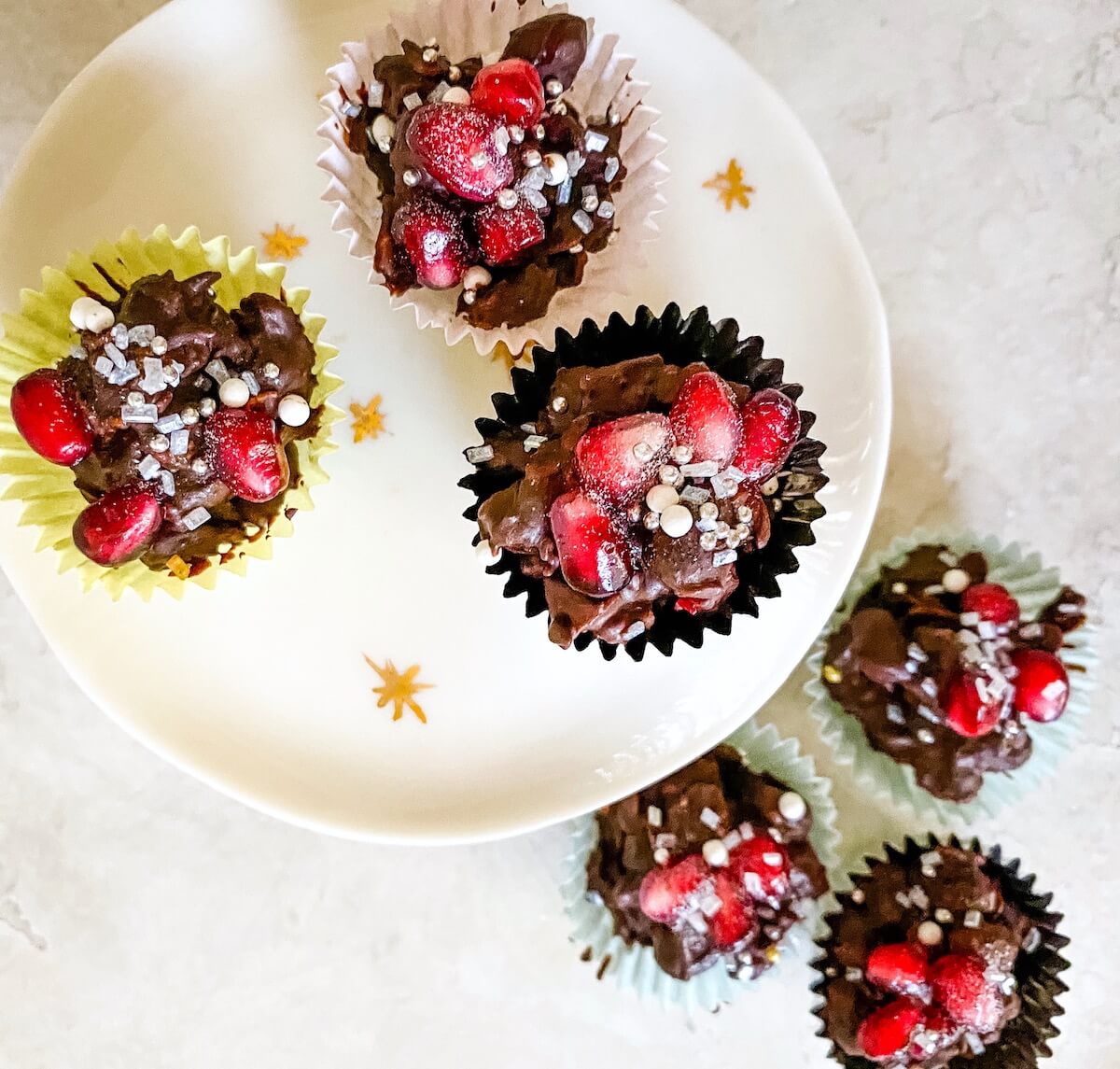 Pomegranate FAQs
Can you freeze pomegranate seeds?
Pomegranate seeds, called arils, are packed with juice. Their tender membranes burst easily releasing the tart and sweet juice. These arils are best refrigerated and not frozen. If frozen, pomegranate arils will change consistency and get soggy.
If you don't mind the soggy texture you can freeze pomegranate arils. Otherwise, store them in an airtight container with a piece of paper towel for up to a week.
Are these healthy chocolate granola clusters?
These pomegranate candies are not pure chocolate and fruit! I added toasted coconut and granola. The granola adds fiber and a bit of healthy bulk to the chocolate clusters.
If you use a dark chocolate the fat content is reduced as well. You can consider these chocolate clusters a healthy treat compared to other desserts.
How long do pomegranate seeds last?
When you pull pomegranate seeds or arils from the pith the seeds will last in the fridge for about a week.
Store them airtight with a paper towel to wick away any excess moisture.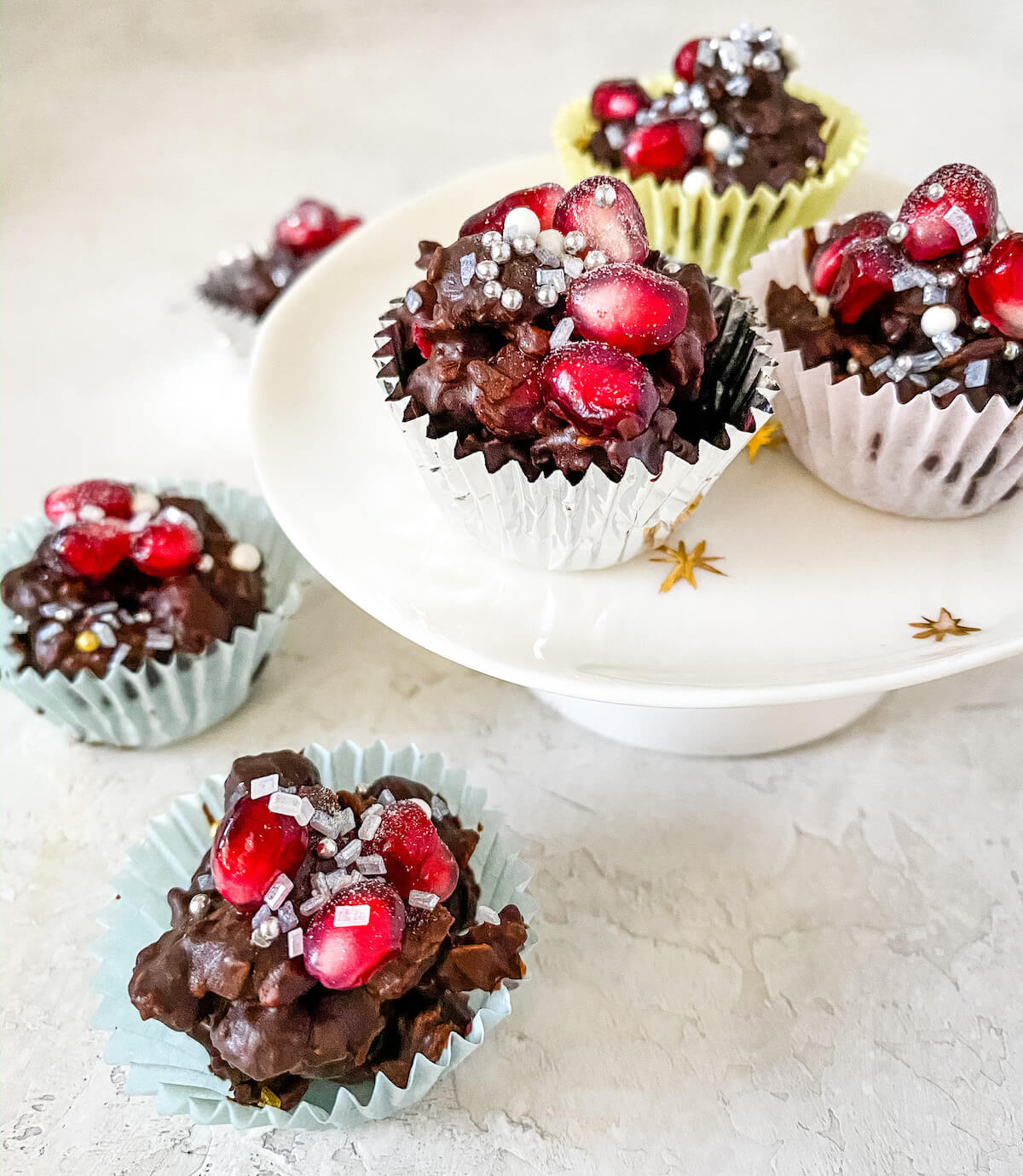 Try my other recipes with pomegranate.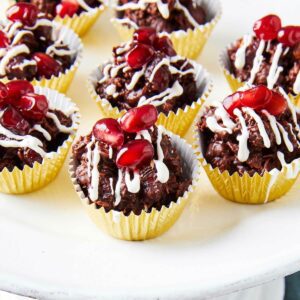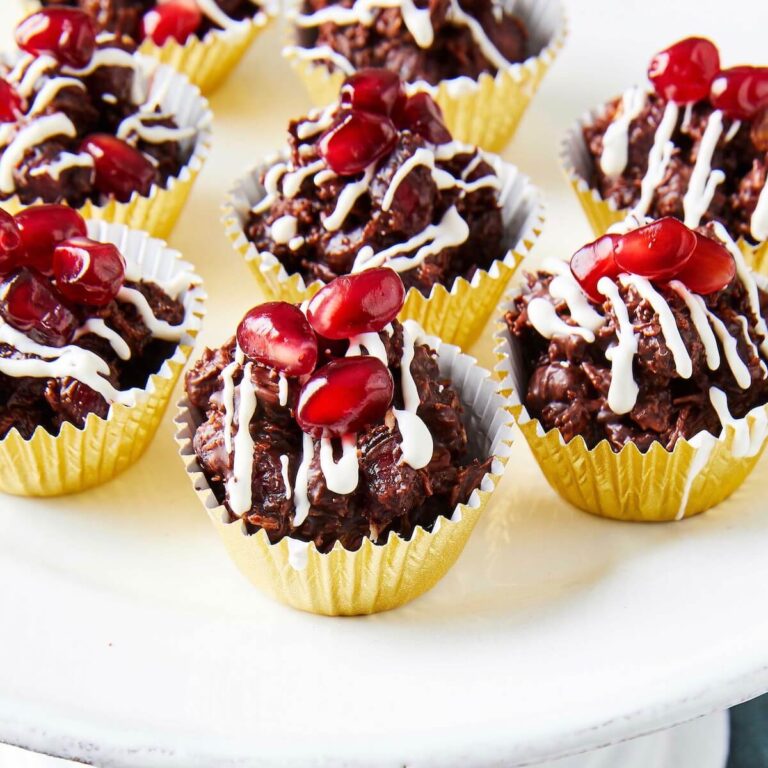 Pomegranate Chocolate Covered Granola Clusters with Coconut
Dark chocolate covered pomegranate clusters have toasted coconut and granola to add a nutty, crunch.
Ingredients
¾

cup

POM POMS Fresh Pomegranate Arils

½

cup

unsweetened finely shredded coconut

½

cup

granola, broken or chopped into small pieces

4

ounces

(¾ cup) dark chocolate

chopped into small pieces

2

ounces

white chocolate

melted and cooled to room temperature

Mini foil candy cups
Instructions
Spread the POM POMS Fresh Pomegranate Arils on a paper towel to let the moisture wick off.

Heat oven to 350°F. Spread the shredded coconut in an even layer on a small baking sheet. Bake the coconut until lightly toasted, 5 to 6 minutes. Remove from oven and let cool.

In a microwave-safe bowl, melt the dark chocolate in 20 second intervals, stirring each time. When partially melted, remove from microwave and stir until all the lumps are gone. Set aside to let cool just to room temperature, about 15 minutes.

Gently stir ½ cup of POM POMS Fresh Pomegranate Arils, coconut and granola into the chocolate. Spoon a tablespoon of the mixture into each of the foil cups.Chill 10 to 20 minutes until set.

Drizzle with melted white chocolate and top with remaining ¼ cup POM POMS FreshPomegranate Arils. Chill until set and serve.

Store inthe refrigerator in an airtight container up to a week, and serve cold or roomtemperature.
Notes
Choose high-quality chocolate for these clusters for the best taste.
You can swap the dark chocolate for milk chocolate or white chocolate.
Nutrition
Calories:
69
kcal
Carbohydrates:
7
g
Protein:
1
g
Fat:
4
g
Saturated Fat:
3
g
Cholesterol:
1
mg
Sodium:
5
mg
Potassium:
72
mg
Fiber:
1
g
Sugar:
4
g
Vitamin C:
1
mg
Calcium:
11
mg
Iron:
1
mg
Newest recipes from Tara Teaspoon!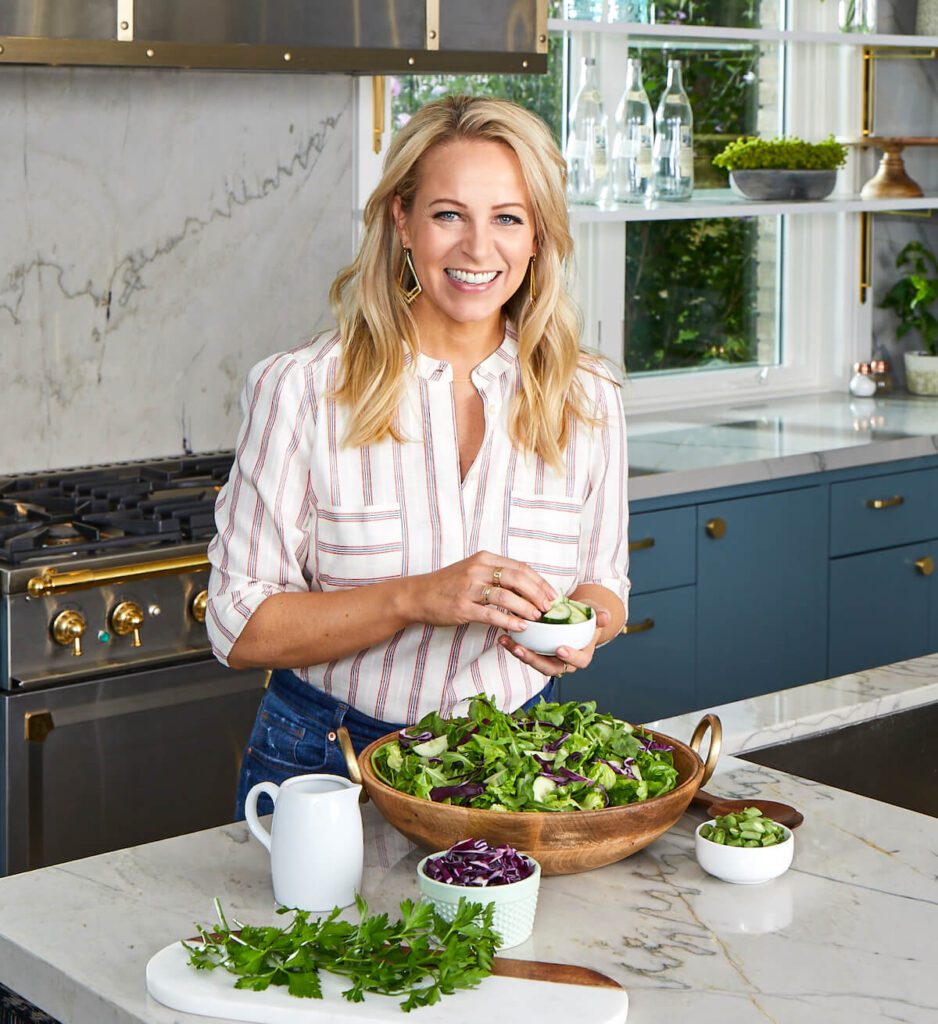 About Tara Teaspoon
I've been in the food publishing business for over 20 years, creating recipes & food-styling for magazines, books, television & advertising. Order my new cookbook & stick around for amazing things to eat.