Mushroom Squash Tart with a creamy cheese filling, topped with delicious vegetables, in a buttery crust, is a crowd-pleaser. Serve it with dinner, or as an appetizer while you carve the meat!
I'd be happy with almost anything in a buttery tart crust. It just makes everything that much more delicious, and gorgeous. I like eating gorgeous things!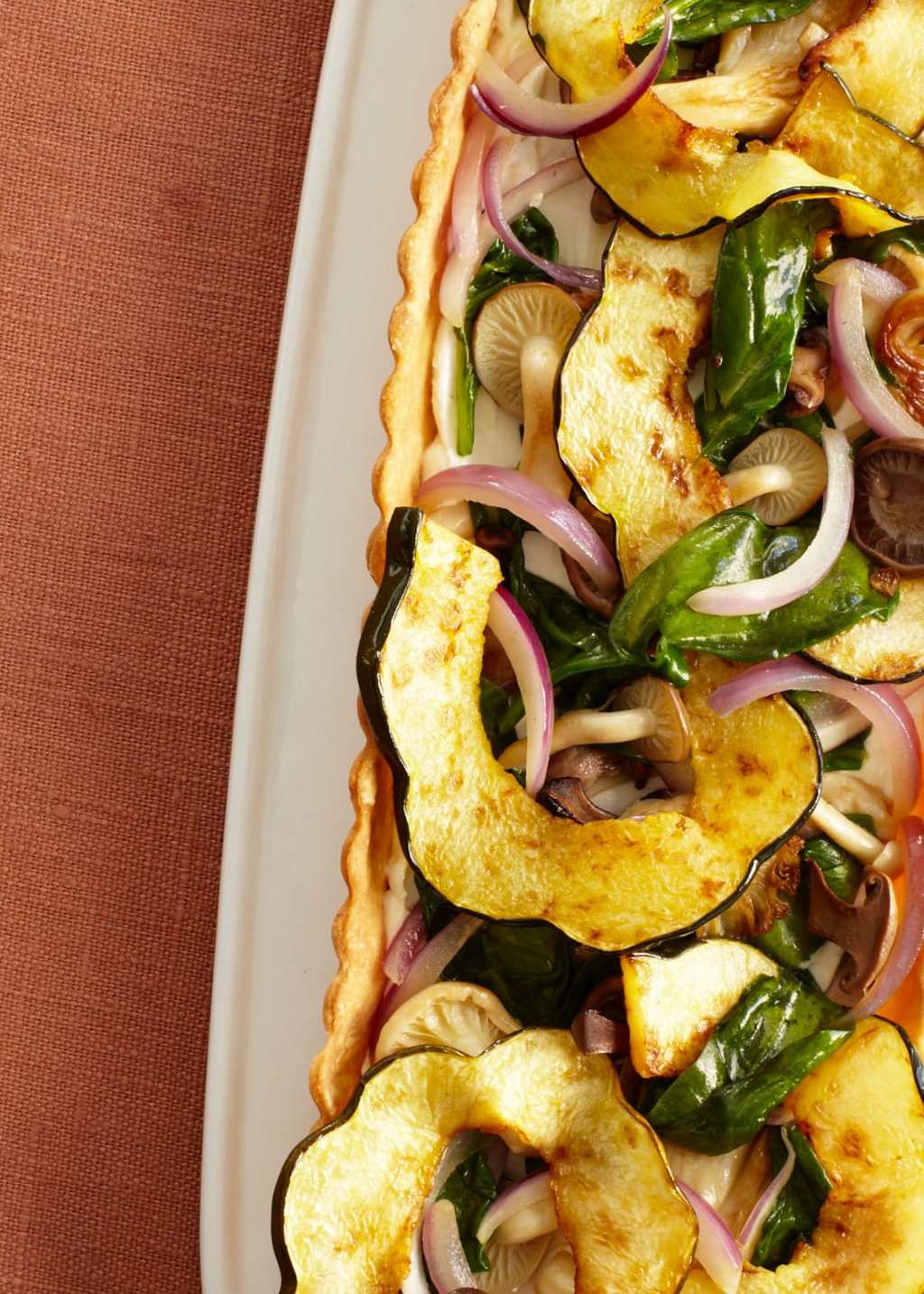 The tart shell is a basic crust, pressed into a removable-bottom tart pan. I use one like this. It's a rectangle shape, but you could use a round tart pan as well, like this one. The removable bottom allows you to slip the metal rim off the tart once the crust is baked, leaving you with a beautiful scalloped edge.
A secret for getting your Mushroom Squash Tart out of the pan? A bowl!
Here's a trick for removing the rim. Set the tart on top of an overturned bowl. The rim can be gently nudged off and will come off, leaving your tart on it's base. Lift the tart off.
For rectangle tarts like this one, use two cans. Two little tomatoe paste cans work like a charm, but other food cans will do as well!
You can run a spatula under the base to release the entire tart if you want, or just place the base on your serving platter. (However when I do this I sometimes lose the bottom because someone thinks it's disposable!)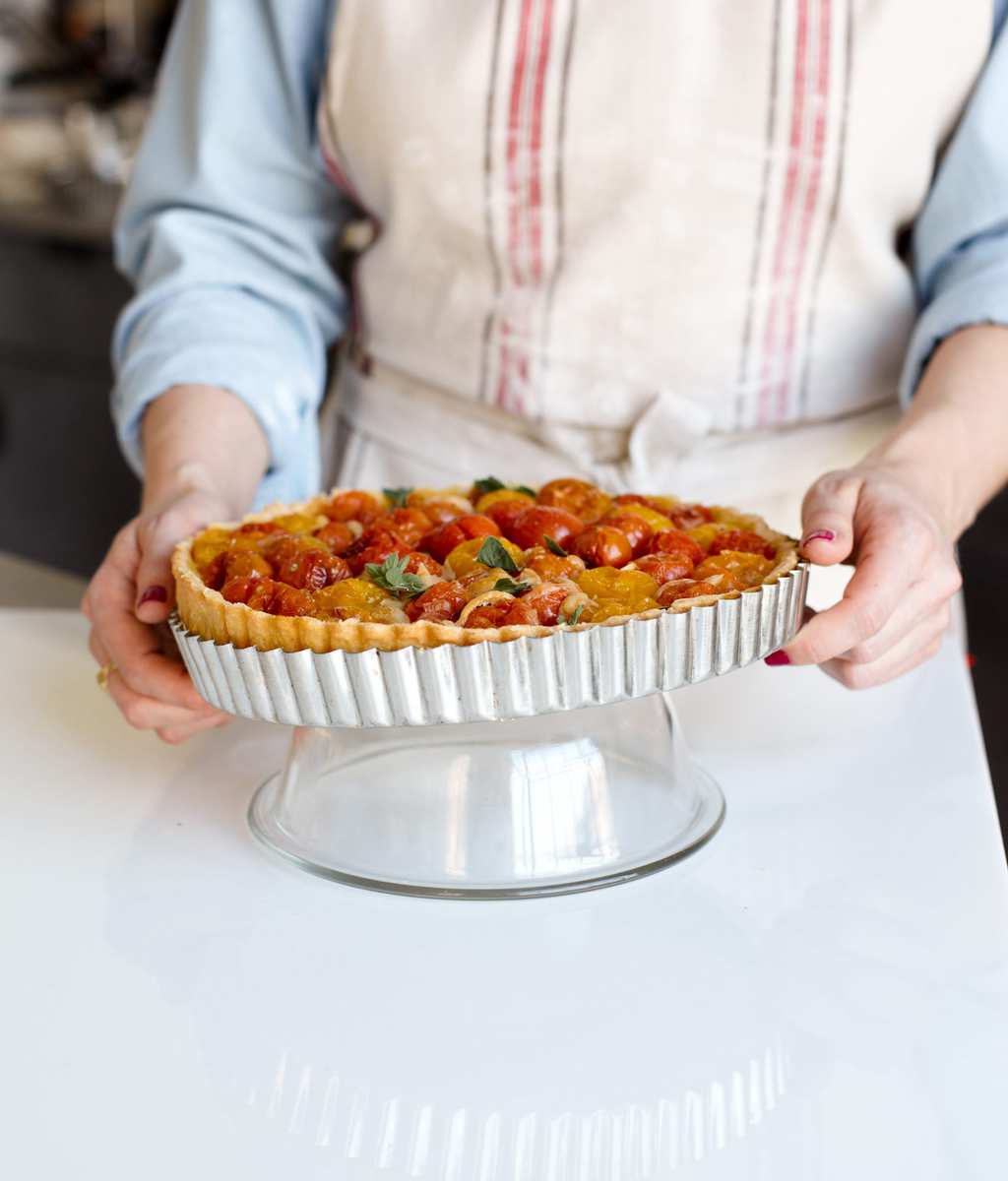 The delectable filling for this tart starts with a creamy mixture of goat cheese and ricotta. Blended together with other flavors it becomes the luscious base for the sauteed mushrooms and squash.
Mushrooms, squash, red onions and spinach mix together for a flavorful combination. I use a mix of mushrooms, really whatever I can find at the market when I go. Shiitake, Enoki, button, even Hen of the Woods, Chanterelle and Oyster are all great options.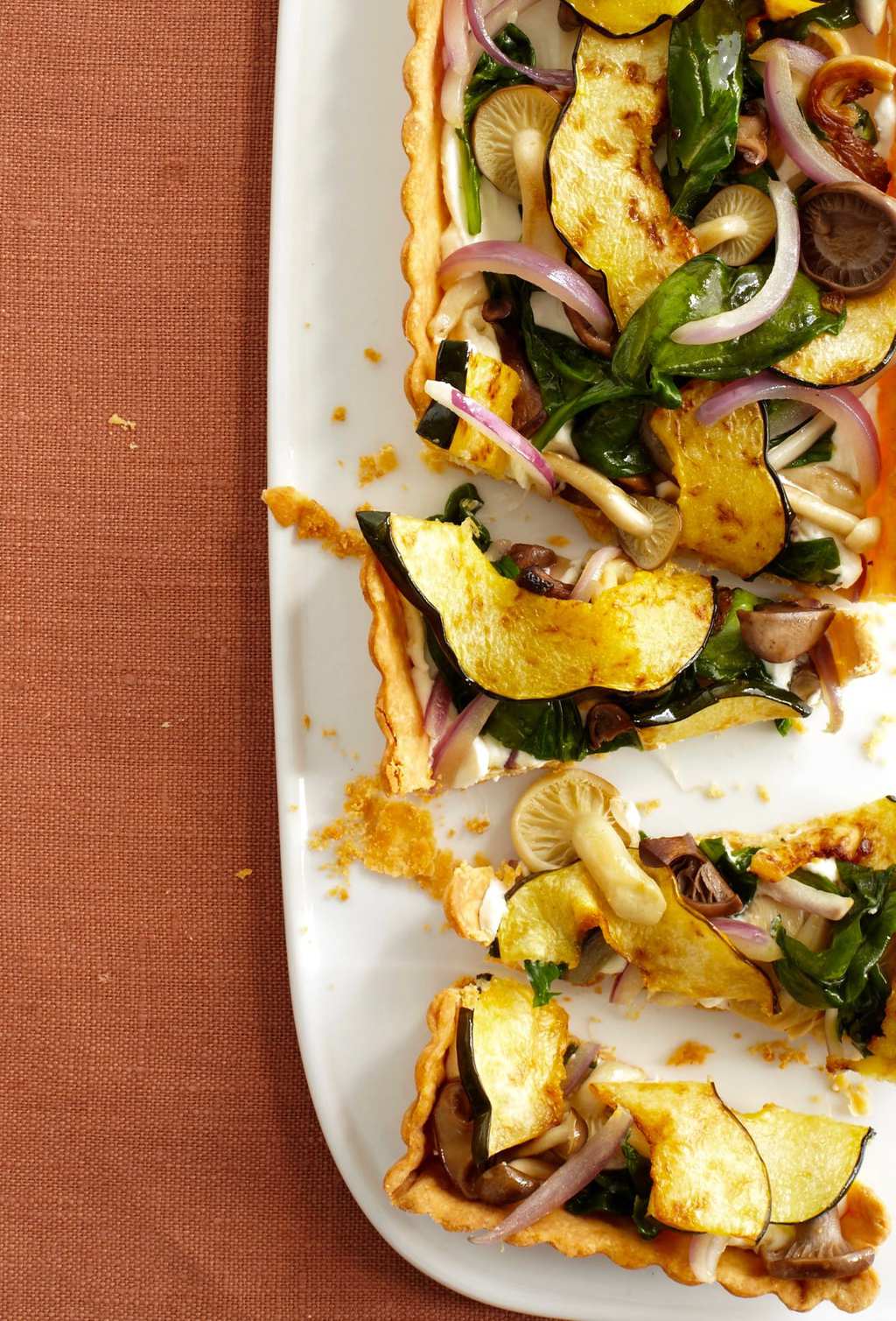 And if you didn't know it, you can eat acorn squash skin! Wash it before you slice and once cooked the skin is just tender enough to eat with the sweet squash insides. It also gives a beautiful contrast to the squash on the tart, so it's pretty! The tart can be enjoyed while the veggies are just warm, or at room temperature.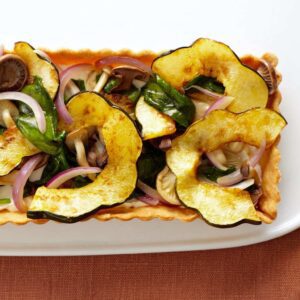 Mushroom Squash Tart
Make this gorgeous tart in any standard-size tart pan - rectangle or round. Serve with dinner or as an appetizer while you carve the meat.
Ingredients
1

recipe Tart Crust

½

acorn squash

skin washed, seeds removed

4

tbsp

olive oil

1

lb

assorted mushrooms

sliced

1

tsp

kosher salt

¼

tsp

ground black pepper

½

small red onion

sliced root to tip

3

oz

baby spinach

¾

cup

6 oz goat cheese

¼

cup

part-skim ricotta

1

tbsp

white wine vinegar

1

tsp

sugar
Instructions
Bake tart crusts and cool.

Cut squash into ⅜-inch-thick slices, coat with 1 tbsp olive oil and set aside. Heat 1 tsp oil in a large skillet over medium-high heat; sauté mushrooms, ½ tsp salt and pepper until golden and soft, 5 min. Transfer to a bowl and stir in onion and spinach, set mixture aside.

In the same skillet cook squash, turning once, until golden and just tender, about 8 min. In a food processor blend goat cheese, ricotta, vinegar, sugar and ½ tsp salt until smooth (alternately blend well with a hand mixer). Spread half the cheese mixture into the bottom of each tart shell. Top with mushroom mixture and squash slices. Serve warm or at room temperature. Can be chilled up to 6 hr; bring to room temperature before serving.
Nutrition Facts
Mushroom Squash Tart
Amount Per Serving
Calories 270
Calories from Fat 81
% Daily Value*
Total Fat 9g 14%
* Percent Daily Values are based on a 2000 calorie diet.
Enjoy more delicious recipes by browsing the recipe index page. Or try these favorites that use delicious ricotta cheese just like the Mushroom Squash Tart: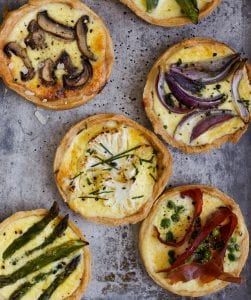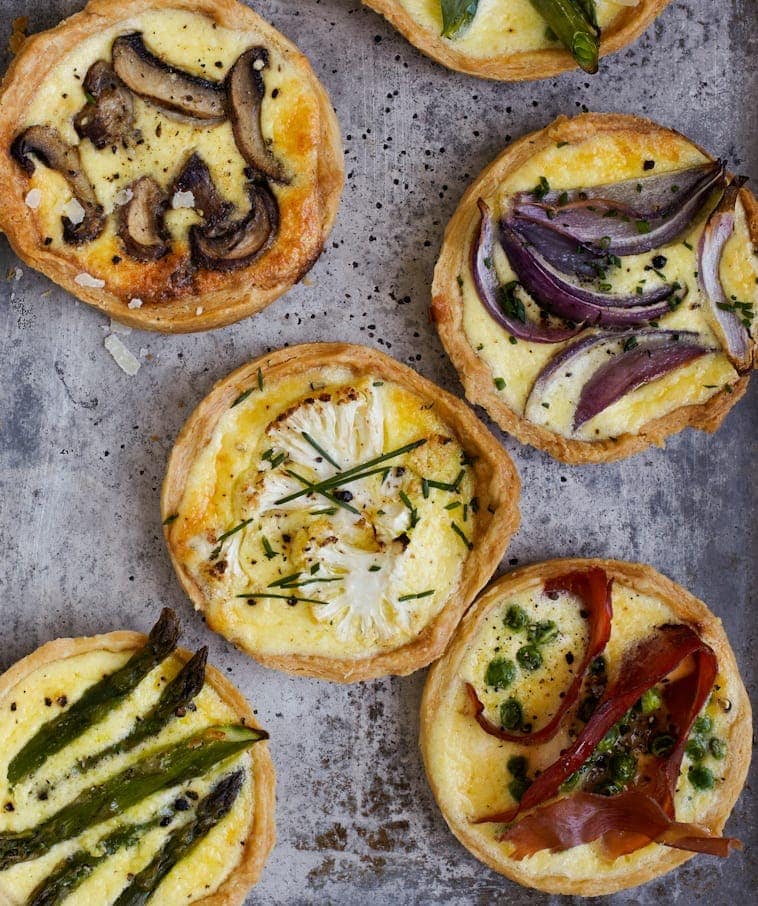 Vegetable Ricotta Tarts use my favorite tart crust as well! They are awesome for brunch or even a light dinner with salad.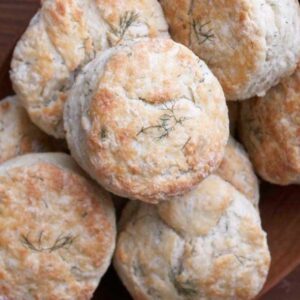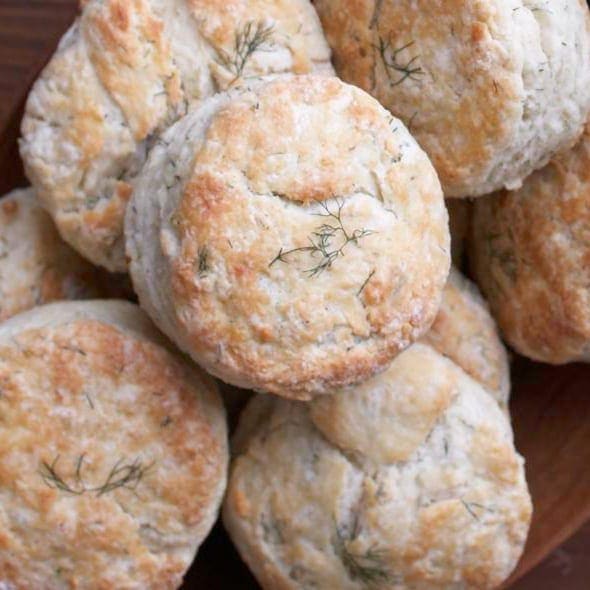 Dill Ricotta Biscuits are tender and tasty, perfect alongside soup or pot roast!
Recipe Tara Bench & Megan Weiss
Photographs Raymond Hom
Food Styling Sara Neumeier
Prop Styling Penelope Bouklas
Originally published Ladies Home Journal Nov 2011