This recipe for sweet and sour chicken tastes just like your favorite restaurant, but it's homemade! Skip the takeout and bring this Chinese classic to your own kitchen.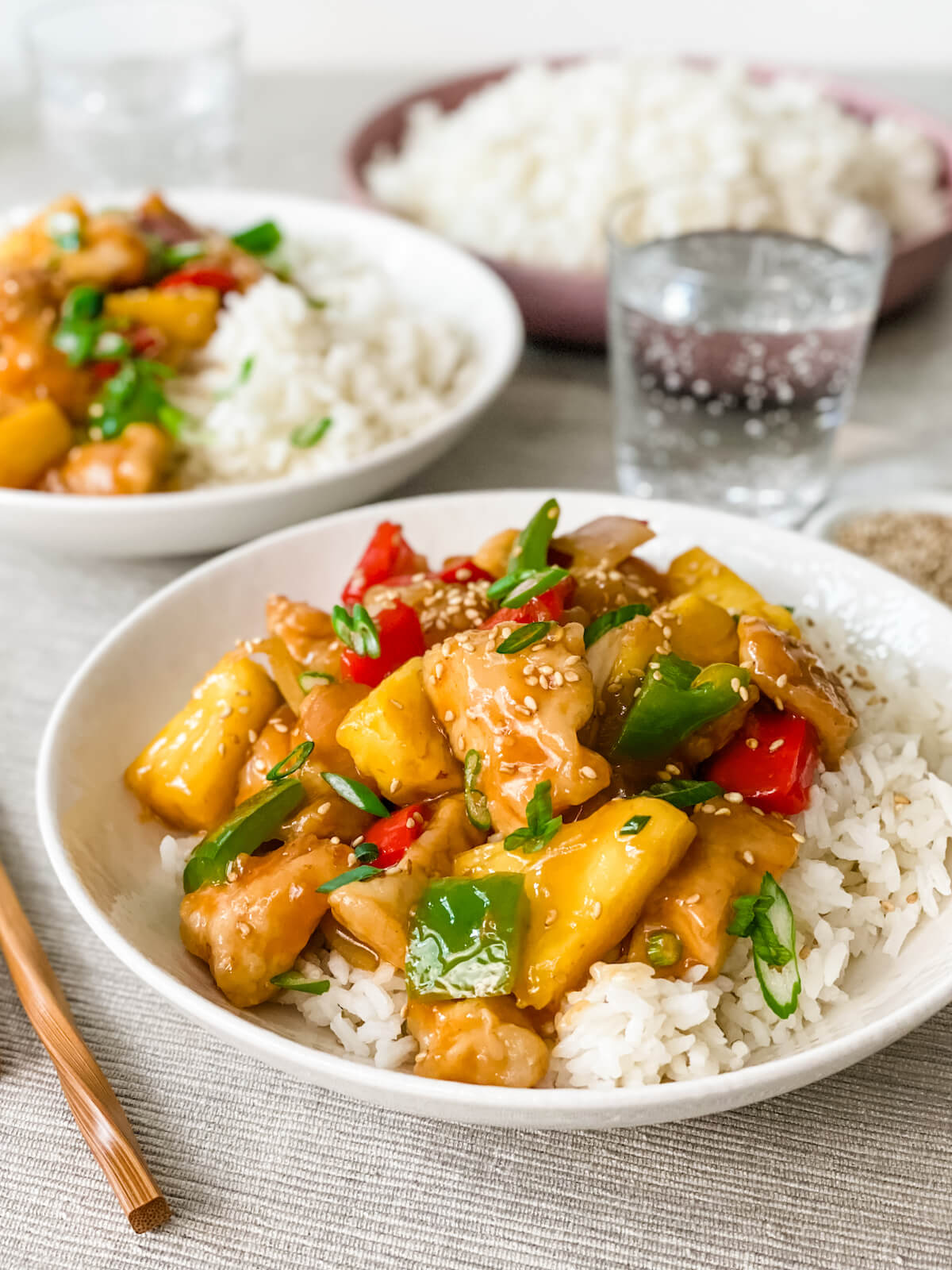 Jump to:
I worked for years to create the perfect Chinese sweet and sour chicken recipe — and no, I'm not exaggerating in the slightest when I say that!
Sweet and sour chicken has a fun, bright colored sauce with perfectly balanced tangy and sweet flavors. Figuring out the ingredient ratios in the sauce required some trial and error, but the end dish was well worth the effort!
Ingredients like hoisin sauce and Worcestershire sauce add so much depth to this dish and truly make it taste like a restaurant copycat.
Keep reading to learn my top tips and tricks for making homemade sweet and sour chicken!
Tip: Love Chinese food? Try my easy cashew chicken recipe next!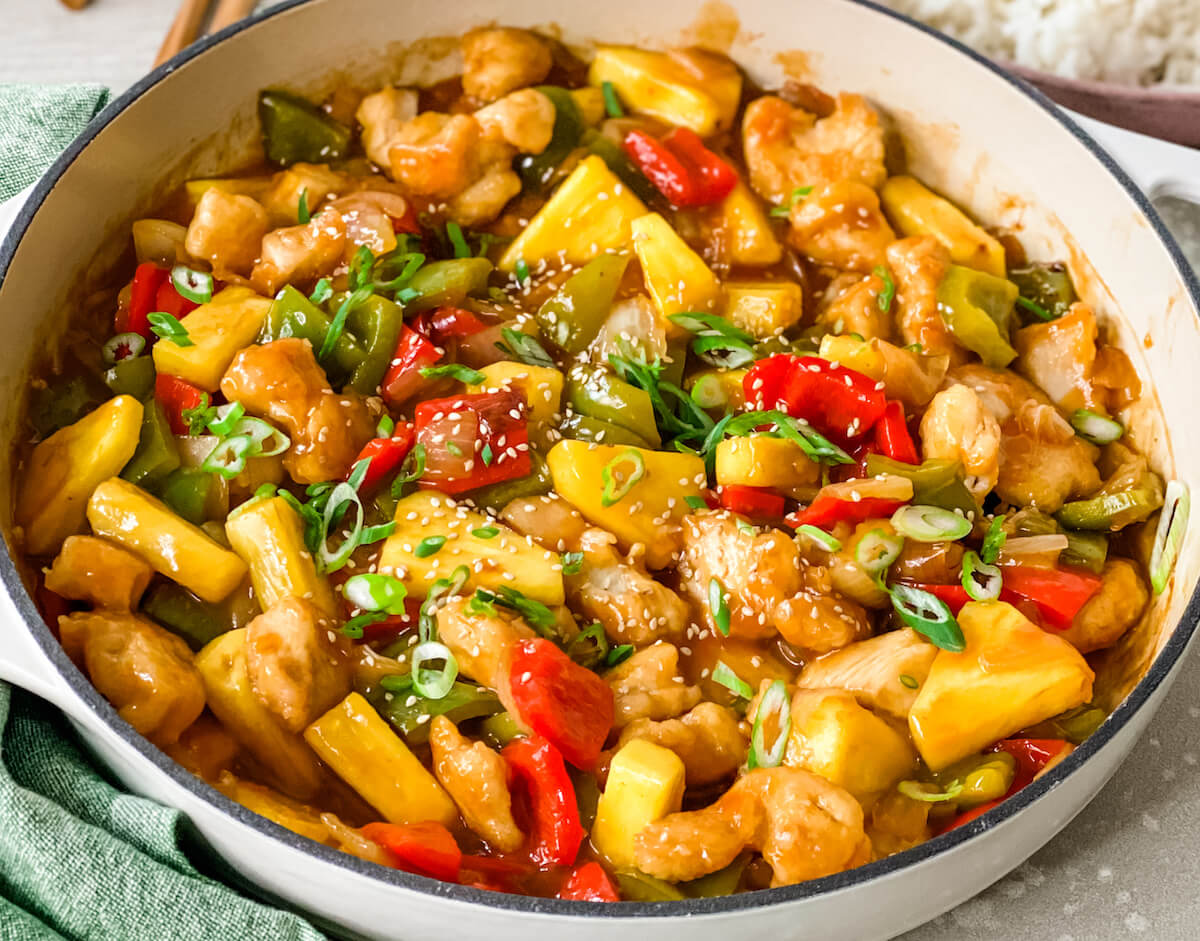 Ingredients in This Recipe
Because the chicken is cooked in a skillet rather than deep fried, this recipe is more like a sweet and sour chicken stir-fry. Don't worry, it still tastes like your favorite restaurant takeout!
To help the chicken crisp up in the oiled skillet, I like to toss it with a little cornstarch. I add roughly diced onion and bell peppers to my chicken, as well as fresh pineapple chunks.
The sweet and sour sauce for the chicken was the toughest part of this recipe to nail down. In the end, I used a combination of the following:
Cornstarch
Granulated sugar
Rice wine vinegar
Sesame oil
Hoisin sauce
Worcestershire sauce
Soy sauce
Ketchup
Garlic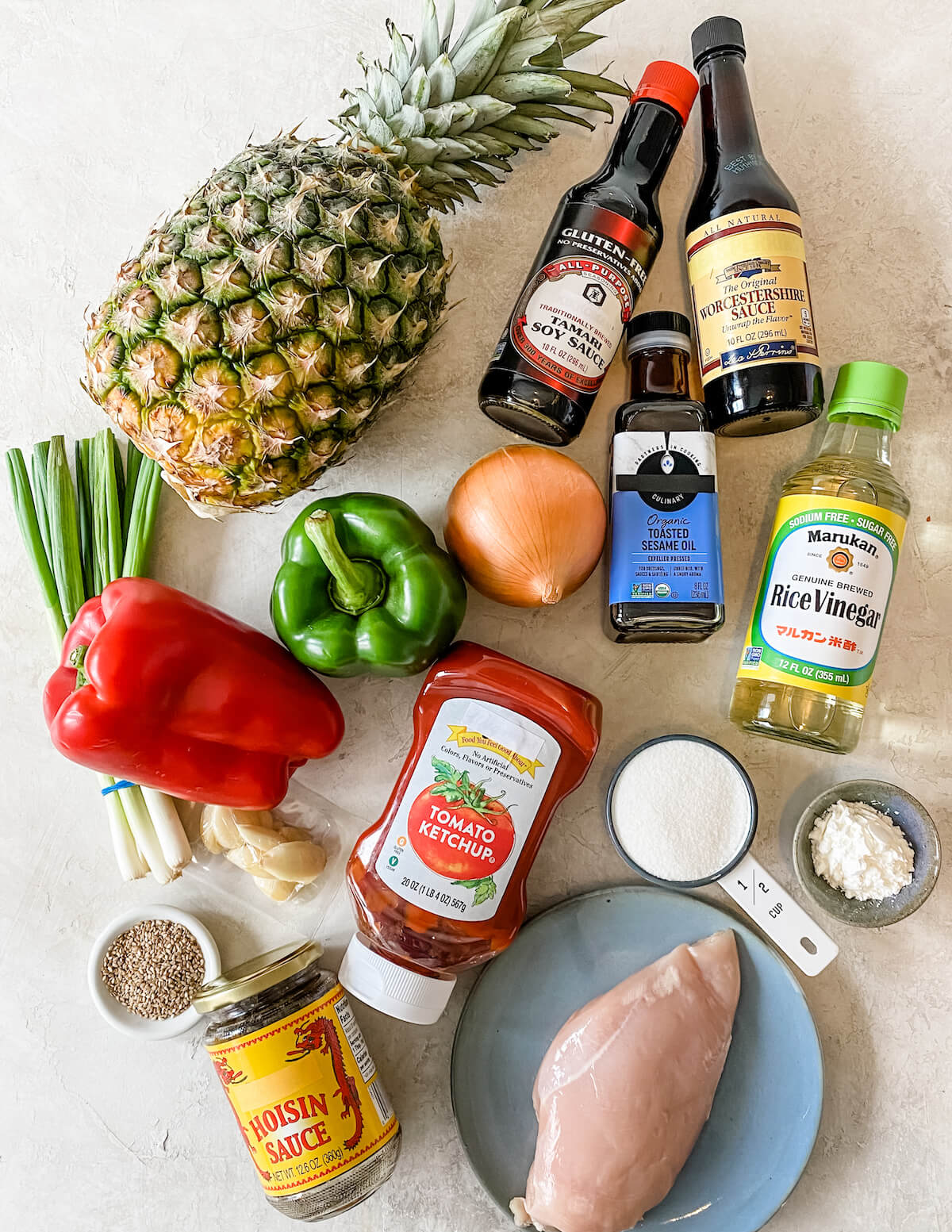 Can the Cornstarch Be Substituted?
You could use a similar thickener, such as arrowroot starch, if you're opposed to using cornstarch.
I don't recommend omitting the starch entirely as it's necessary to thicken the sauce and make it super glossy.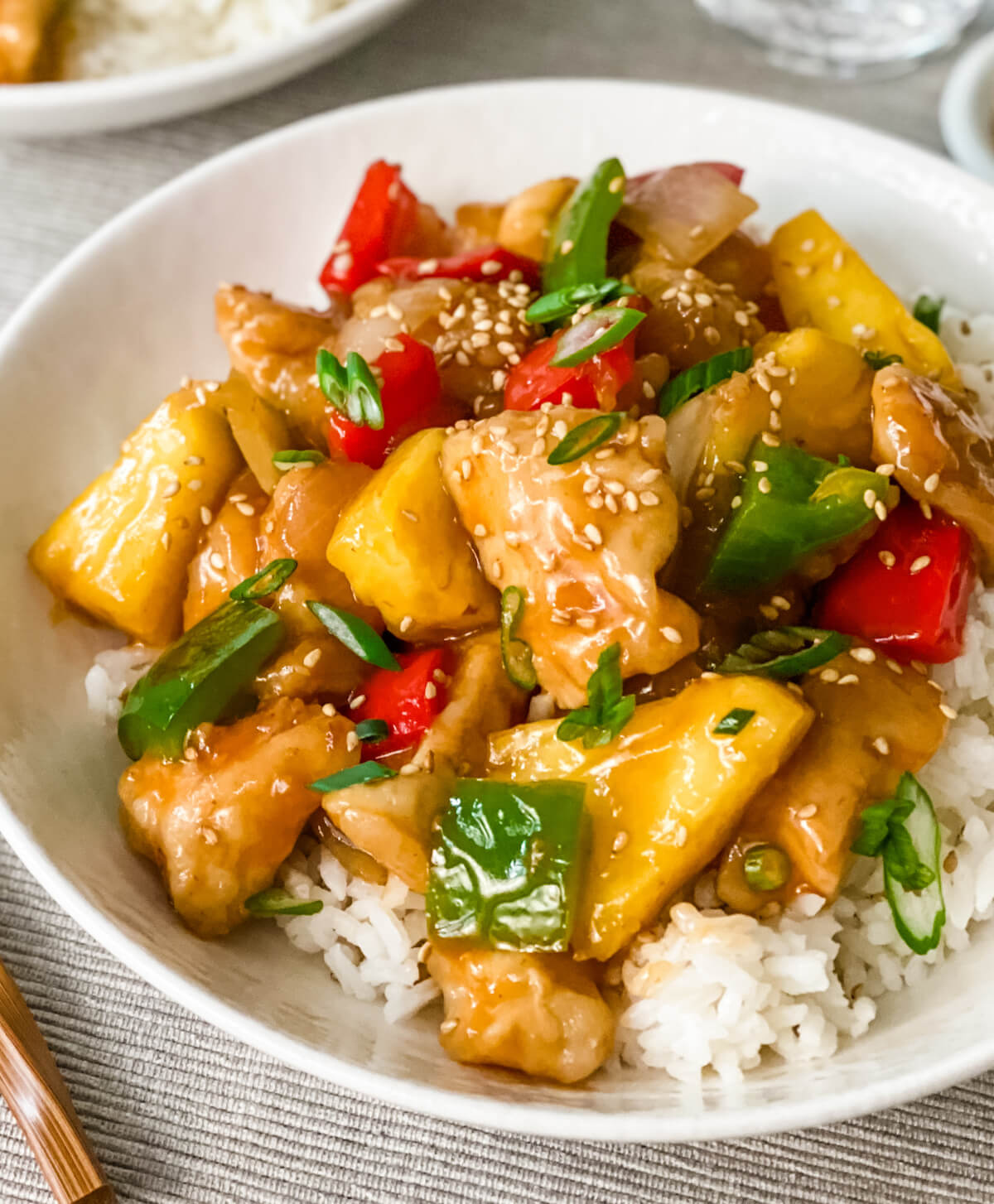 Can the Pineapple Be Omitted or Substituted?
If you don't like pineapple in your chicken, you may omit it. Just note that the sweet and sour flavor won't be as pronounced without it.
If you don't have fresh pineapple or it's not in season, you may use canned pineapple chunks that have been packed in water. Be sure to drain them thoroughly before using!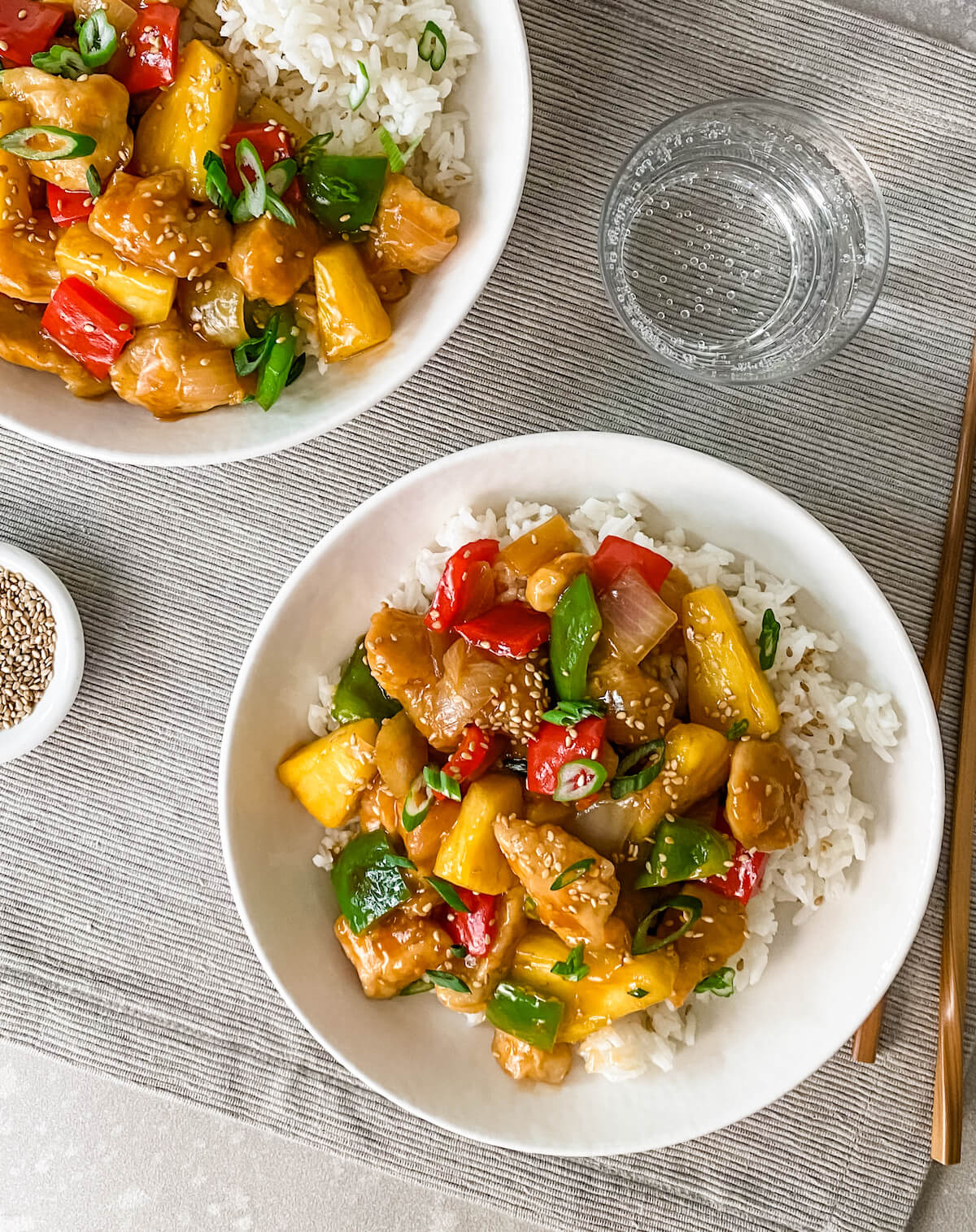 How to Make Chinese Sweet and Sour Chicken
My goal when creating this recipe was to make it as easy as possible. I think I can safely say I achieved that!
This recipe takes less than an hour to prepare, and it's as easy as whisking together a sauce and stir-frying some chicken and vegetables!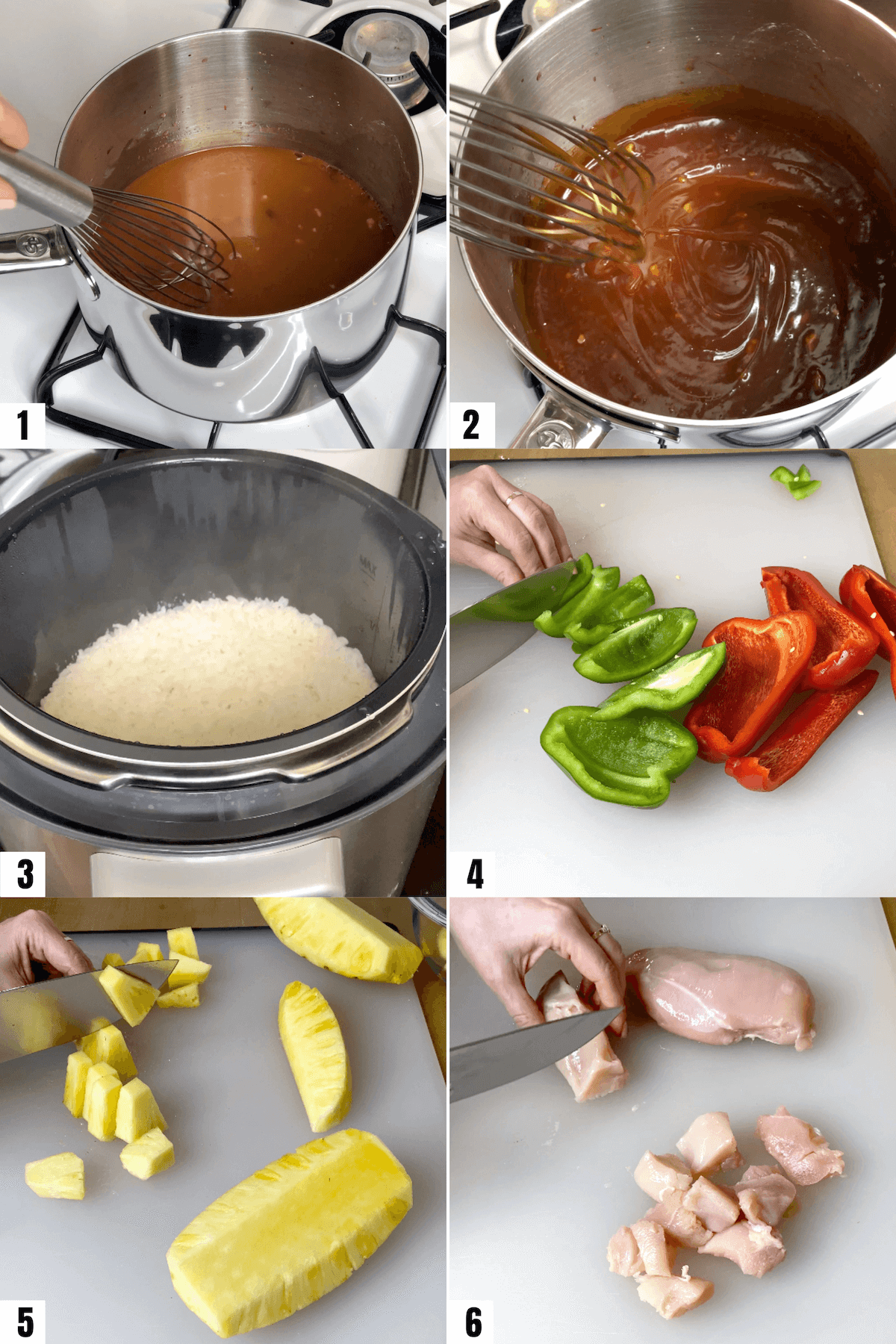 Make the sweet and sour sauce: Combine all of the sauce ingredients in a saucepan.
Place over medium-high heat and bring to a boil. Reduce heat, then cook until the sauce is just thickened and translucent.
Make the rice and set aside.
Cut the onions, and bell peppers into 1-inch pieces.
Cut the pineapple into chunks, or drain a can of pineapple chunks.
Cut the chicken (or pork) into 1½-inch pieces and season with the kosher salt.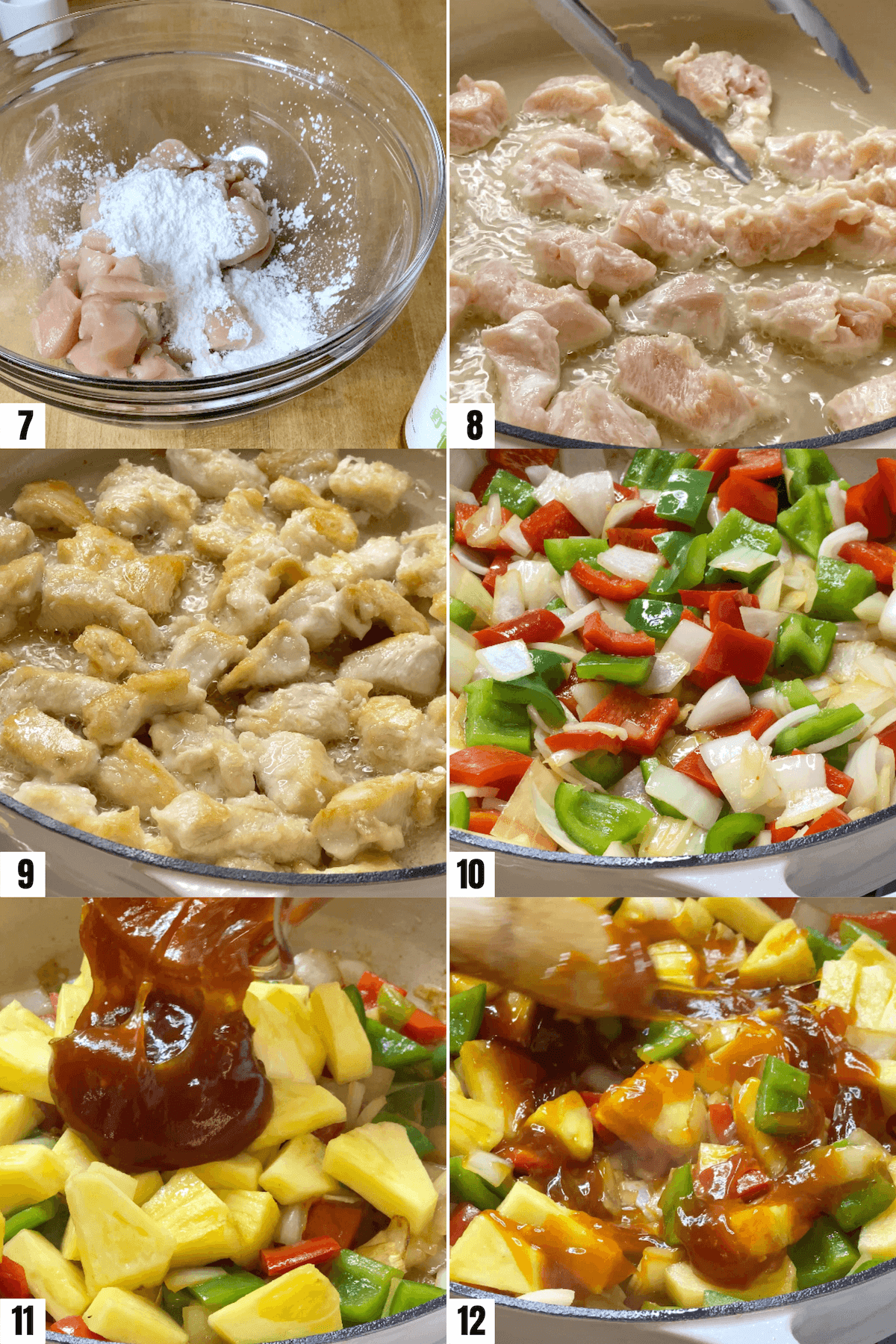 T

oss chicken

with the vinegar, salt, and cornstarch.

In a large, high sided skillet, heat some oil over medium-high heat.
When hot, carefully add the chicken and cook until it's just turning golden and is cooked through.
Drain all but 2 tablespoons oil from the skillet and add the onion and bell peppers. Cook until the onion is becoming tender and soft.
Add the pineapple and sweet and sour sauce.
Stir in the chicken and serve.
I love serving my Chinese sweet and sour chicken over a bed of steamed rice, garnished with sliced scallions and sesame seeds.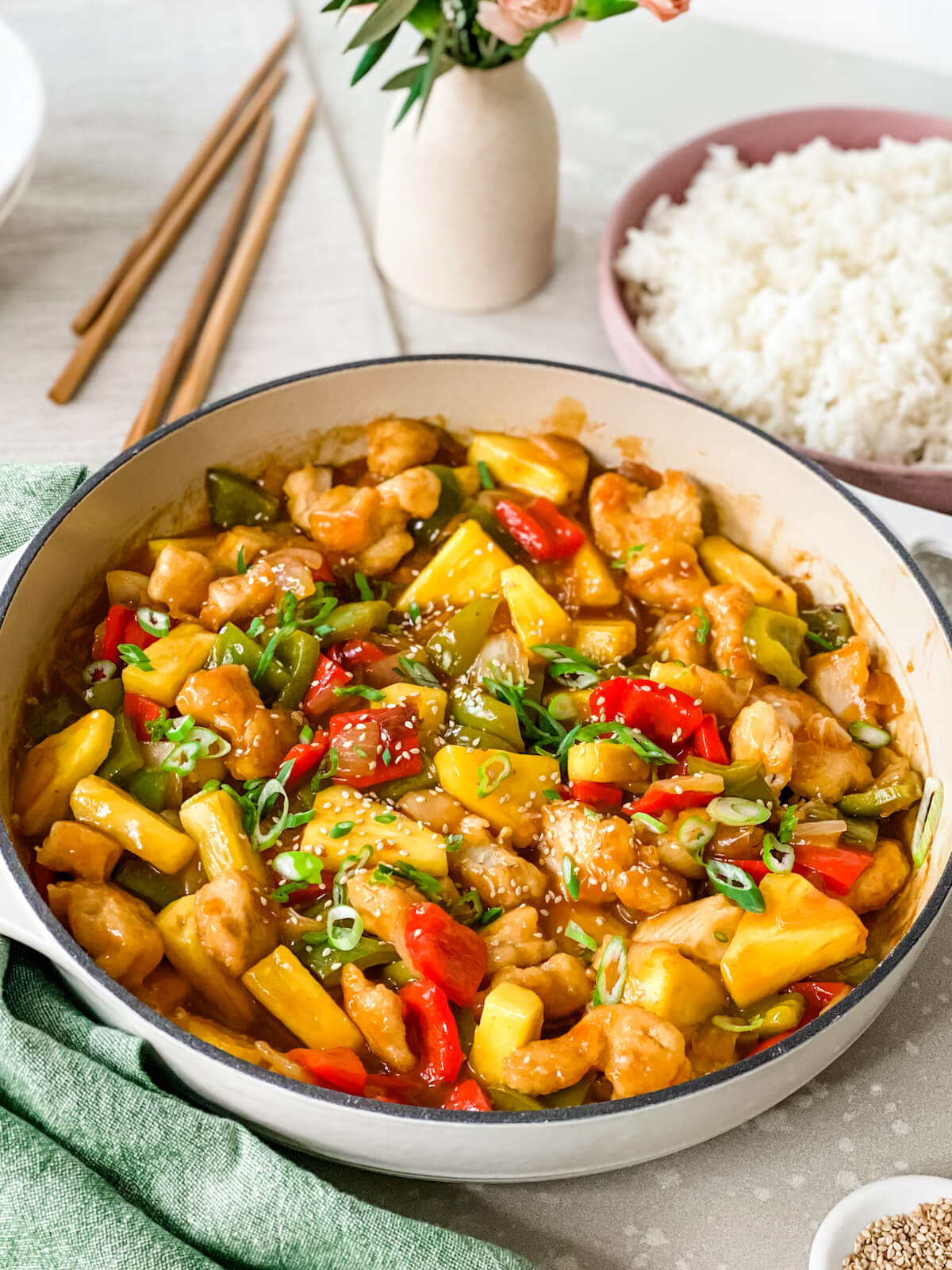 Recipe Substitutions to Try
This is a very straightforward recipe, so feel free to play around with the chicken and veggies to use up whatever you have on hand!
Chicken: Use diced pork tenderloin to make sweet and sour pork. Or, make it vegetarian by using firm tofu (be sure to adjust the cook time if using tofu).
Veggies: Substitute the bell peppers for another tender vegetable like bok choy, yellow squash, zucchini, or broccoli.
Sauce: I don't recommend substituting or omitting any of the sauce ingredients. However, you may use less sugar if you prefer your dish more on the sour side. Try the recipe first as written, though!
Tips for the Best Ever Sweet and Sour Chicken
Use a neutral-flavored oil, such as canola or avocado oil.
The oil may splatter as the chicken cooks. Consider using a splatter screen to protect your hands and stovetop. Or cook in a deeper, high-sided pan.
Be careful not to overcook the vegetables. You want them to be crisp-tender, just like at a restaurant!
Let me know how it went!
Scroll to the bottom of the page to rate ⭐⭐⭐⭐⭐ and comment on this recipe. Leaving comments helps other too!
More Asian-Inspired Dinners: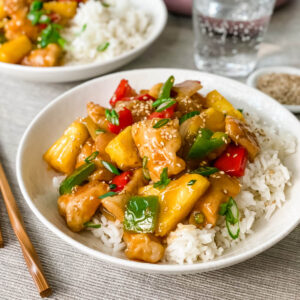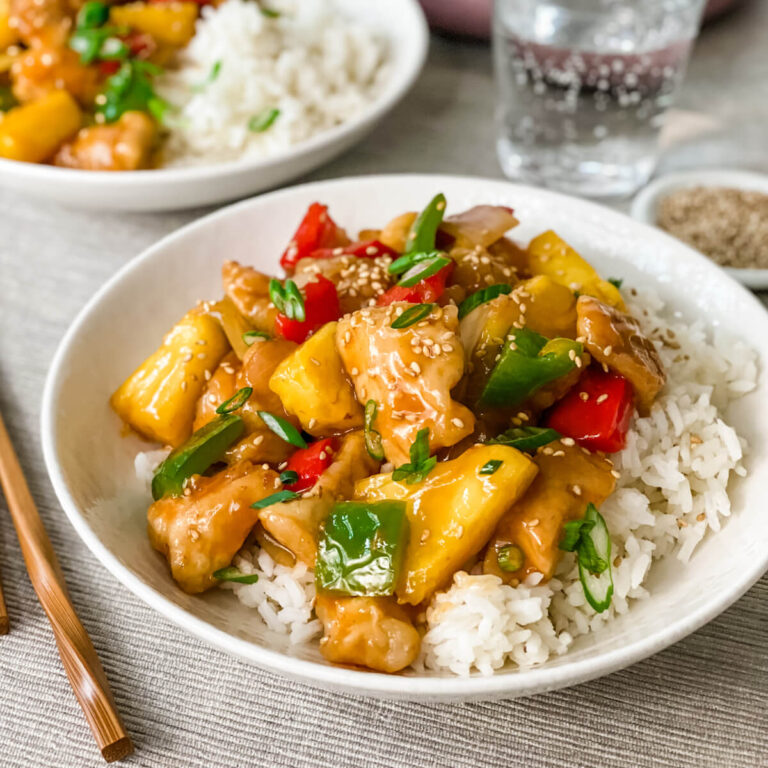 Sweet and Sour Chicken
Authentic tasting sweet and sour sauce with chicken and veggies, that is just like your favorite take-out.
Ingredients
Sweet and Sour Sauce
2

tablespoons

corn starch

½

cup

granulated sugar

¼

cup

rice wine vinegar

½

teaspoon

sesame oil

¼

cup

water

1

teaspoon

hoisin sauce

1

teaspoon

Worcestershire sauce

2

teaspoons

soy sauce

¼

cup

ketchup

1

clove

garlic, minced
Chicken and Veggies
1

pound

boneless, skinless chicken

thighs or breasts

1

teaspoon

kosher salt

1

tablespoons

rice wine vinegar

¼

cup

cornstarch

½

cup

canola or avocado oil

1

cup

large diced onion

1

cup

large diced red bell pepper

1

cup

large diced green bell pepper

1½

cups

large diced pineapple

or canned pineapple chunks

2

scallions

thinly sliced

Cooked white rice

for serving

Sesame seeds

for garnish
Notes
VEGGIES:
You can swap some of the bell peppers for other tender vegetables like bok choy, broccoli florets, cauliflower, yellow squash or zucchini.
CHICKEN:
You can swap the chicken for pork tenderloin or firm tofu. Adjust cooking time for tofu because it won't take as long.
Nutrition
Calories:
409
kcal
Carbohydrates:
38
g
Protein:
16
g
Fat:
22
g
Saturated Fat:
3
g
Polyunsaturated Fat:
3
g
Monounsaturated Fat:
14
g
Trans Fat:
1
g
Cholesterol:
72
mg
Sodium:
687
mg
Potassium:
420
mg
Fiber:
2
g
Sugar:
26
g
Vitamin A:
1004
IU
Vitamin C:
75
mg
Calcium:
31
mg
Iron:
1
mg
My new delicious and easy chicken recipes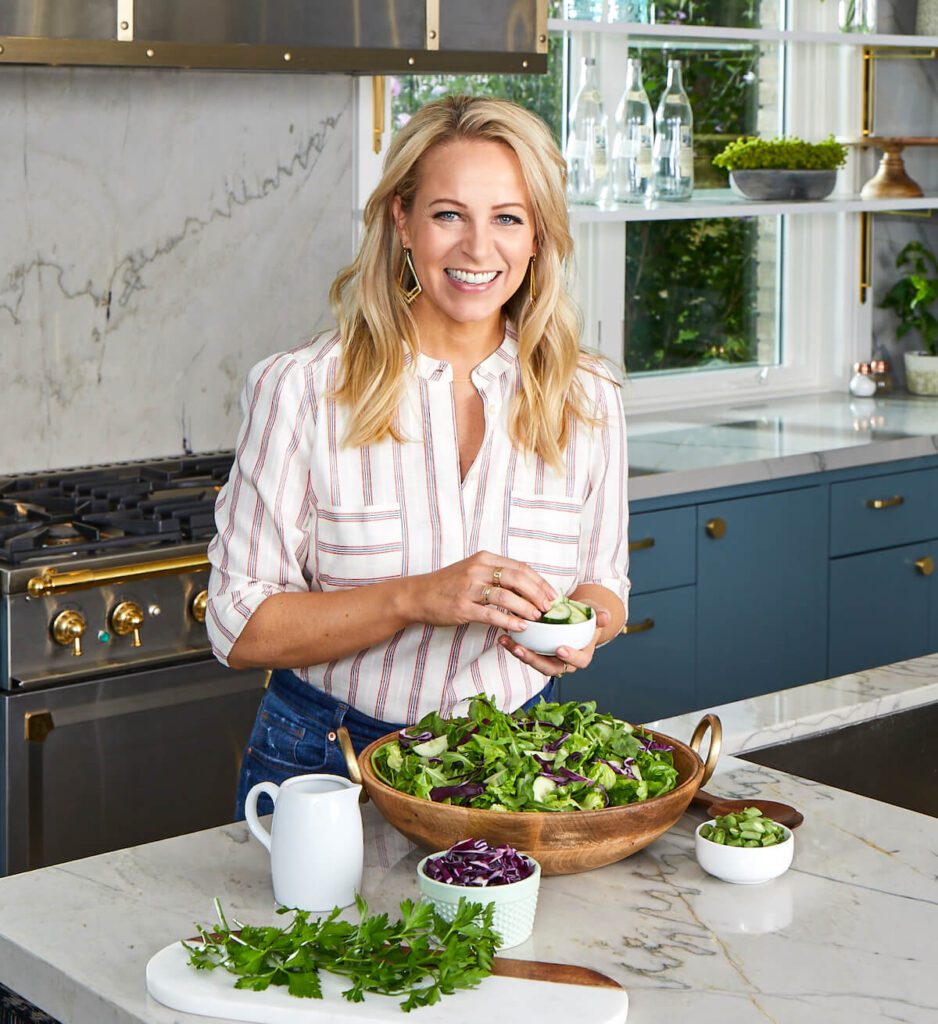 About Tara Teaspoon
I've been in the food publishing business for over 20 years, creating recipes & food-styling for magazines, books, television & advertising. Order my new cookbook & stick around for amazing things to eat.