Sweet potatoes with cinnamon meringue is my decadent improvement on a Thanksgiving classic side dish. I replaced the typical marshmallow topping with a fluffy, smooth, spiced meringue.
Side dishes at Thanksgiving are the best! As a kid I would meticulously spoon gravy into the crafted crevice of my mashed potatoes. I'd assemble perfect bites made from stuffing and cranberry sauce. Buttery green beans were the perfect savory veggie, but king of them all were the marshmallow-topped sweet potatoes.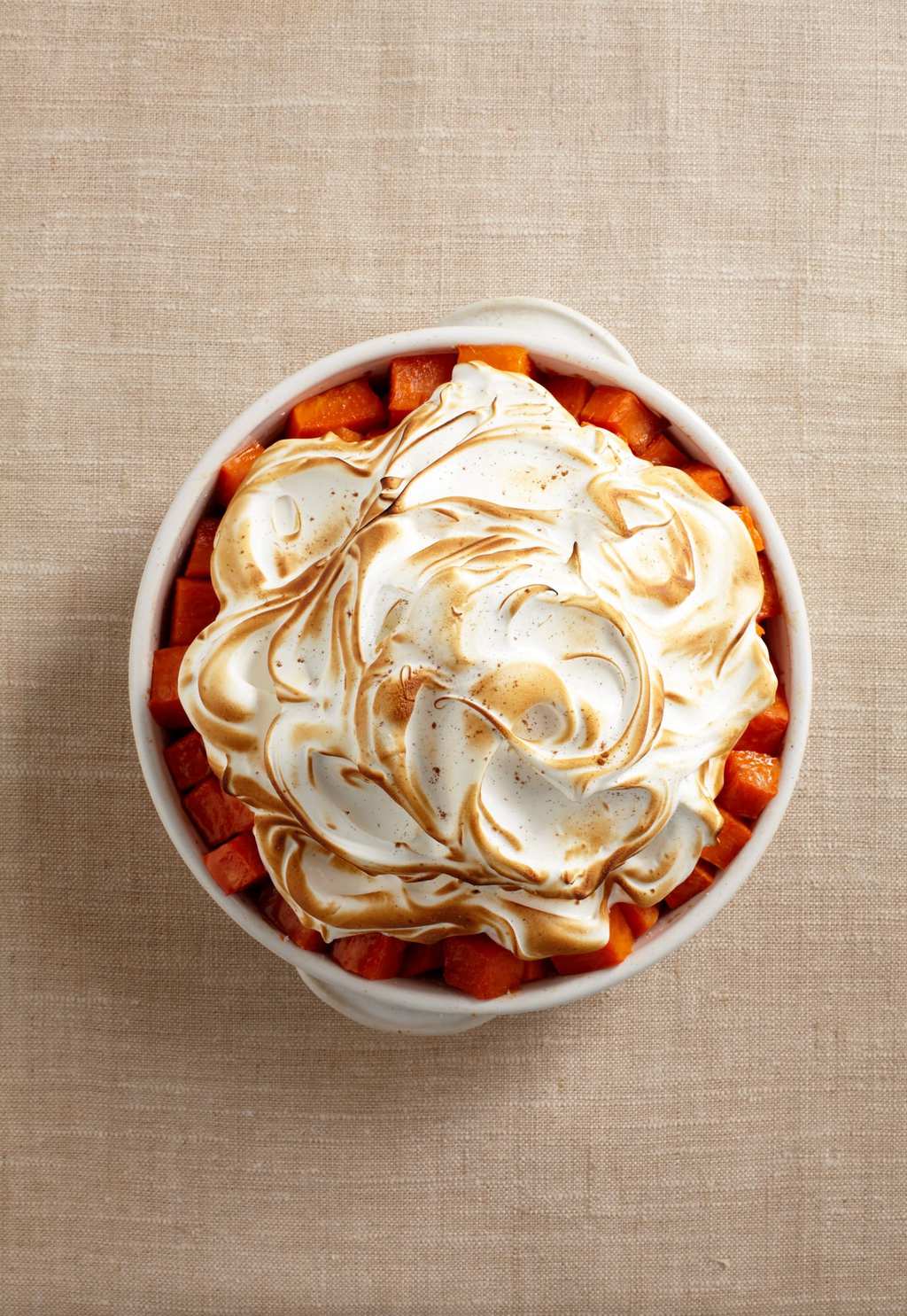 It was a strategic battle to beat my brothers to the crispiest bits of toasted marshmallow and bite into the brown sugar smothered sweet potatoes. It was dessert…before dessert!
Toasted cinnamon meringue takes over for traditional marshmallows on these fancy sweet potatoes!
To this day I still like that hit of sweet with the other savory favorites at Thanksgiving. I just wanted to spruce it up a bit. Keeping the potatoes just as simple and tasty, I simply roasted them. Then they get coated with a touch of brown sugar and salt, to bring out the savory flavor.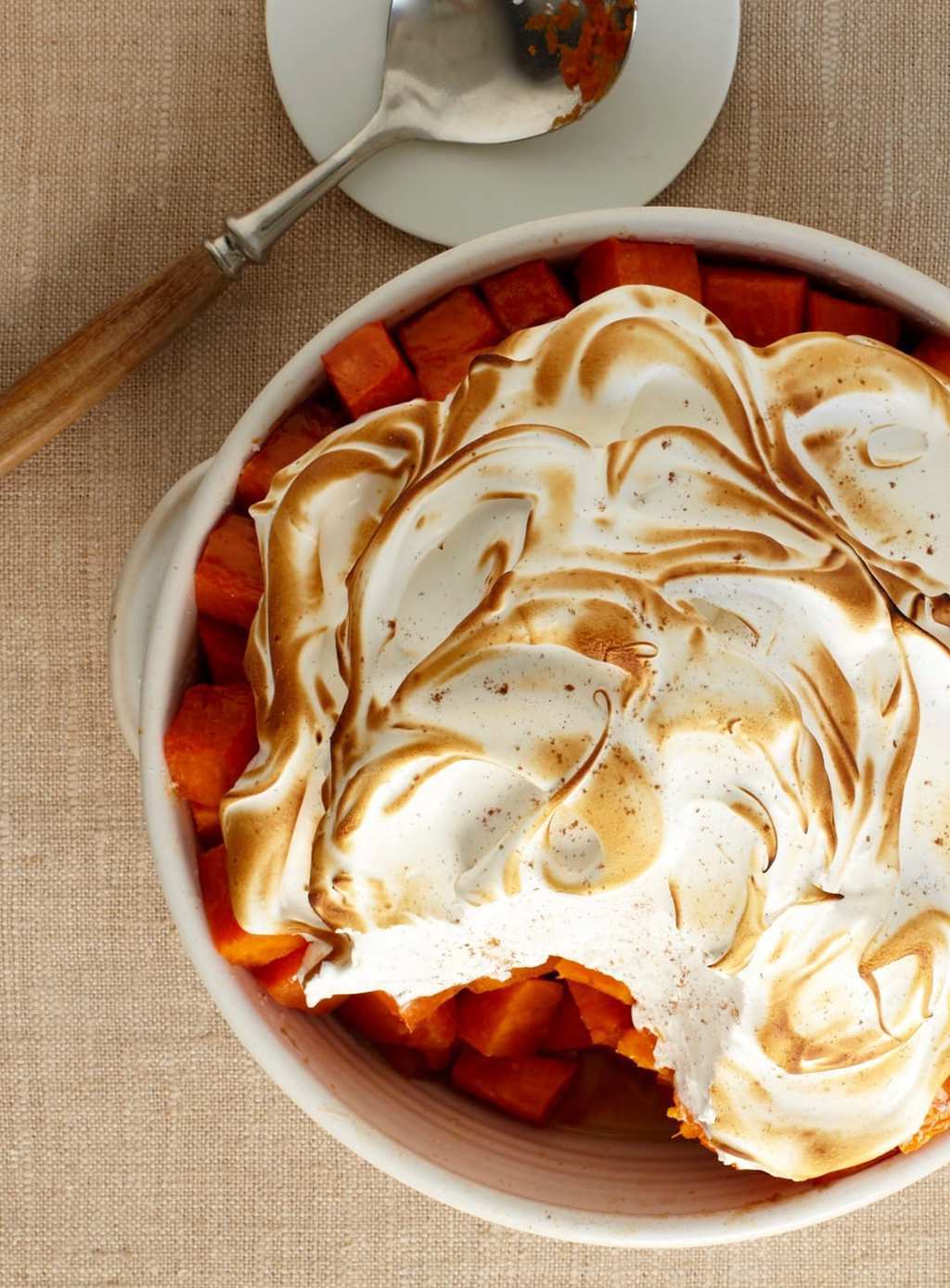 The topping switched from simple marshmallows to a luxurious, silky, cooked meringue. Not at all hard to make. It's whisking on the stove and then beating to pillowy peaks. Cinnamon takes it one step further, to give each bite of this Thanksgiving-worthy side a festive feel.
You can place the finished dish under the broiler to get a toasty top on the meringue, or flash it with a cooking torch. I use one like this. The toasted top tastes just like mom's crispy-topped marshmallows. So good!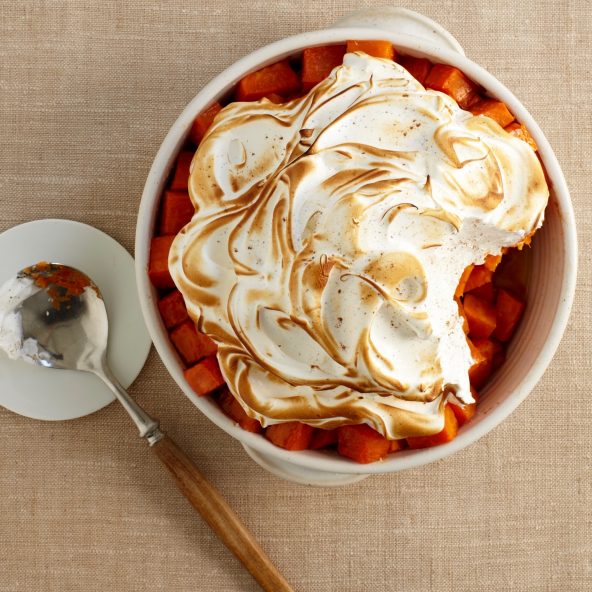 Sweet Potatoes With Cinnamon Meringue
I improved a classic Thanksgiving side dish by replacing the typical marshmallows with sweet, fluffy meringue.
Ingredients
3

lbs

sweet potatoes

½

tsp

kosher salt

¼

cup

light brown sugar

3

egg whites

room temperature

¾

cup

sugar

Pinch

of cream of tartar

1

tsp

cinnamon
Instructions
Pierce potatoes a few times with a fork. Roast in a 400°F oven until tender, about 50 min. Let cool enough to handle, then peel and dice. Toss with salt and brown sugar and arrange in a 2-qt baking dish. Bake, covered, until heated through, about 25 min.

While potatoes heat make meringue: In the bowl of an electric mixer combine egg whites, sugar and cream of tartar; set bowl over a pan of simmering water. Whisk until sugar is dissolved and mixture is hot, about 3 min.

Transfer to mixer and whip on high until stiff peaks form, about 7 min. Stir in cinnamon.

Heat broiler to high or prepare a kitchen torch. Spoon meringue over potatoes and toast under the broiler or with a kitchen torch.
Nutrition Facts
Sweet Potatoes With Cinnamon Meringue
Amount Per Serving
Calories 190
* Percent Daily Values are based on a 2000 calorie diet.
Make your holiday dinner even better with more great recipes like these: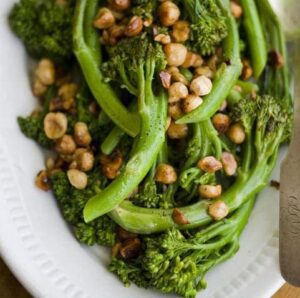 Baby Broccoli with Hazelnut Butter is special enough for your Thanksgiving or Christmas table. The delicious toasted nuts simmered in melted butter are a decadent addition!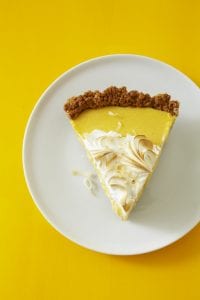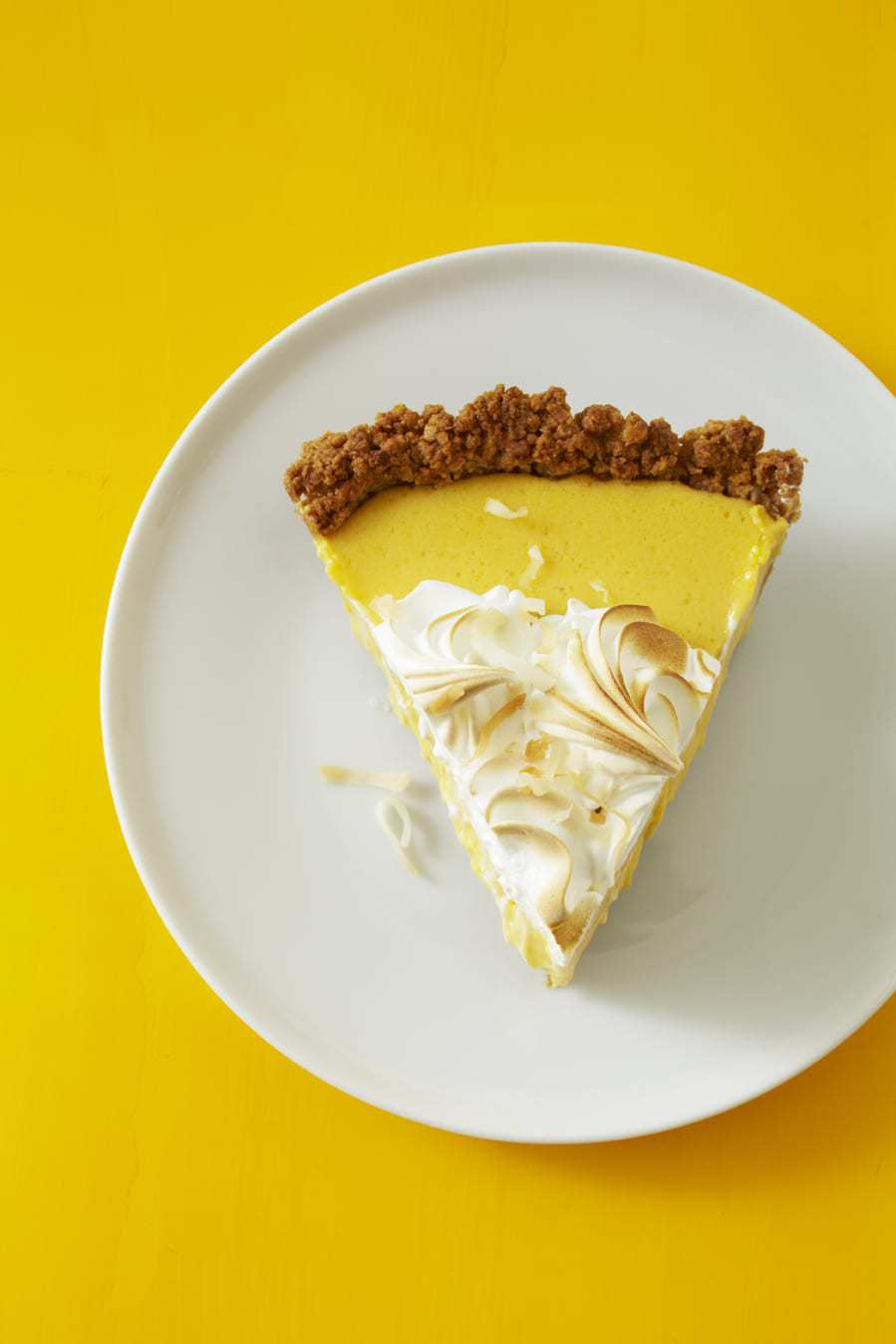 Mango Cream Pie with Coconut Crust and a meringue topping is a luscious dessert.
Recipe Tara Bench and Megan Weiss
Photography Raymond Hom
Food stylist Sara Neumeier
Prop Stylist Penelope Bouklas
Originally published Ladies' Home Journal Nov 2011