Adding bacon to recipes for breakfast is the best way to start the first meal of the day. Find a great selection of my favorite ways to cook bacon for breakfast.
No one I know would pass up bacon for breakfast. And when mixed into hash browns, cheddar biscuits, or cinnamon rolls, bacon is even more special.
Find bacon breakfast ideas you'll love, including my bacon granola and bacon mushroom bread pudding.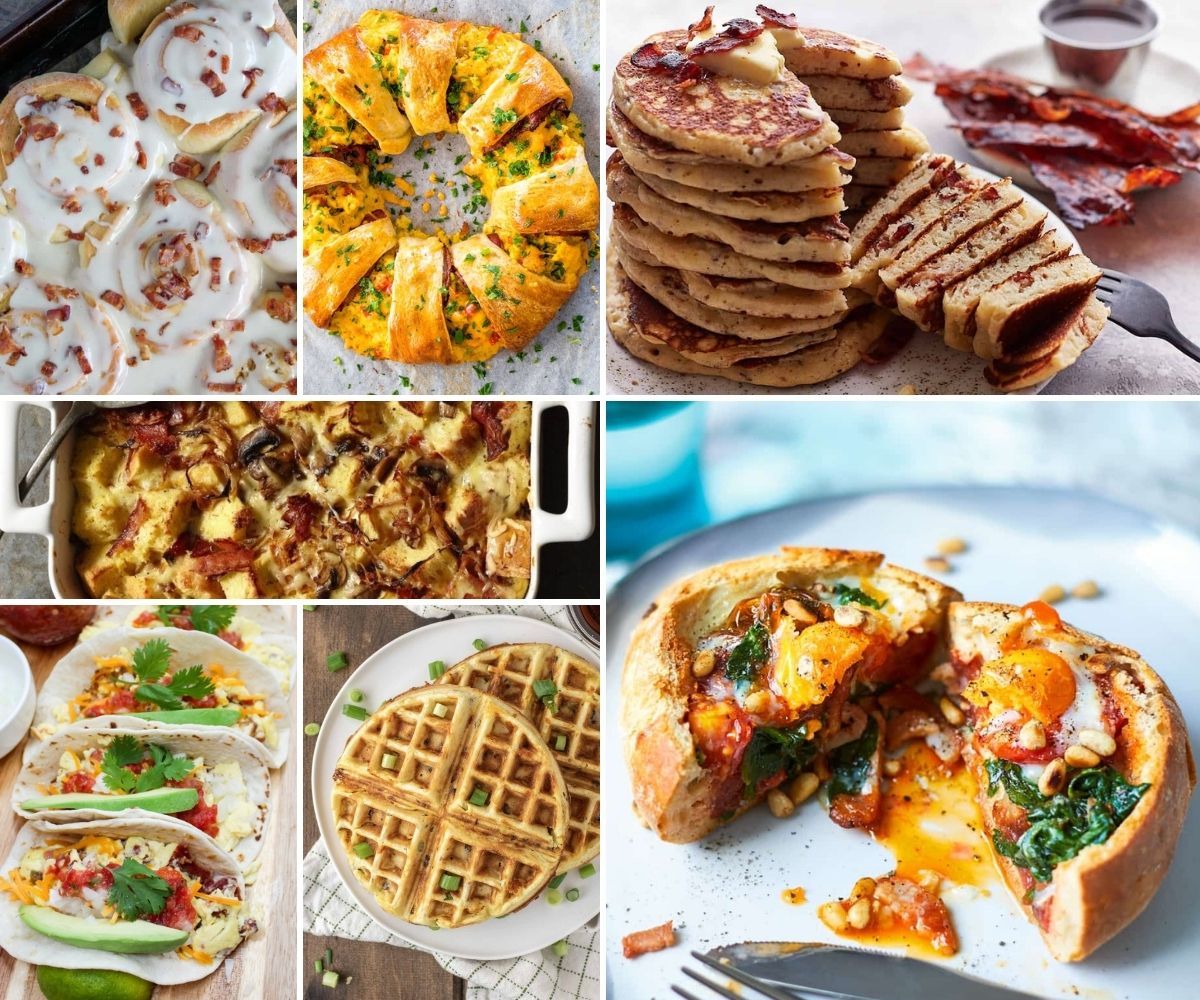 Get recipes for a bacon breakfast fit for your crew. These mouthwatering breakfast ideas with bacon are sure to please with things like casseroles, burritos, pancakes and bacon and egg cups.
Bacon recipes for breakfast
I love bacon and I know y'all do to. So, for the love of bacon I've collected a plethora of delicious ways to start your day with our favorite breakfast meat.
Of course, if you're going pure, I always like to cook bacon in the oven. It's efficient, hands-free, and easy to clean up (no splattered stoves!).
Dive into recipes as good as spicy maple bacon, bacon crack, and bacon stuffed French toast.
Crunchy Bacon Granola
Savory Pancakes with Bacon
Bacon Cheddar Waffles
Maple and Bacon Sweet Rolls
Savory Bacon Cheddar Muffins
Bacon Cheddar Chive Biscuits
Cheese & Bacon Strata Cake
Bacon Brown Sugar Doughnut Holes
Apple Maple Bacon Pancakes
Cheddar-Ricotta and Bacon Scones
Savory French Toast Casserole
Sticky Buns with Bacon and Caramel Glaze
Sweet Potato Toast
Bacon Breakfast Bubble Bake
Cowboy Quiche
Savory Bacon Mushroom Strata Recipe
Bacon Egg Cups
Brioche Toast with Bacon, Egg, and Chipotle Aioli
5 Ingredient Easy Eggs in a Biscuit
Breakfast Baked Potatoes
Bacon and Egg Sheet Pan Breakfast
Bacon & Eggs Tater Tot Casserole
Crescent Bacon Breakfast Ring
Bacon, Egg, and Potato Breakfast Skillet
Bacon Lattice Breakfast Casserole
Rosti Eggs Benny
Ukrainian Breakfast Potatoes
Sweet Potato Hash
Gemelli With Bacon, Tomato And Yellow Squash
Mexican-Style Sausage, Bacon, and Eggs
Juicy Bacon-and-Egg Cheese Breakfast Burger
Easy Breakfast Tacos
Bacon, Egg and Cheese Breakfast Pizza
Bacon Breakfast Burrito
Breakfast Roll Recipe
Day-Starters: Breakfast & Brunch Recipes
Compiled By Megan Palmer