This maple bacon is packed with spicy-sweet flavor. Between the crispy bacon, sticky glaze, and crunchy pecans, there's a multitude of textures in every bite!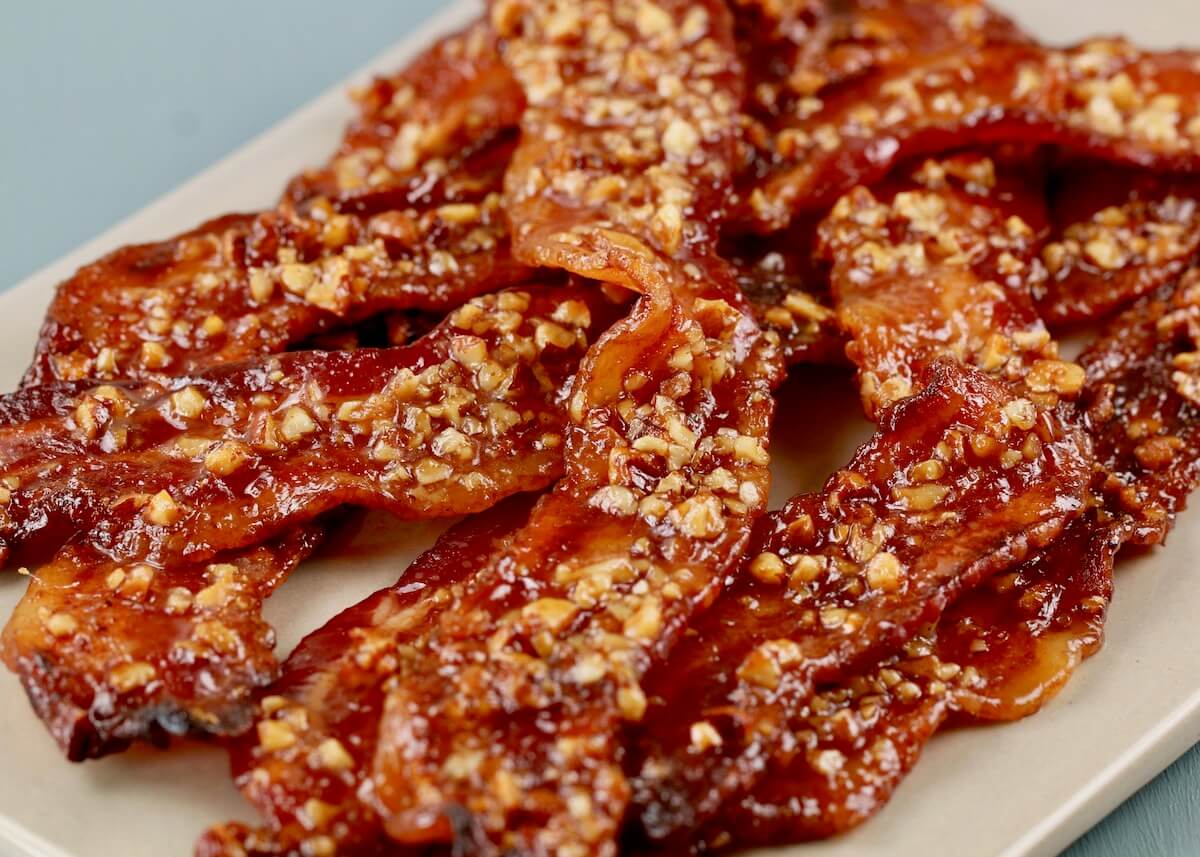 Jump to:
I love bacon so much! And that smoky, meaty flavor is so great, I'll even eat turkey bacon if that's all you're offering. Of course, classic pork bacon is ideal and is the perfect vehicle for my spicy maple and pecan glaze.
The sweet and salty combo is genius, and you'll want to serve this at breakfast, for brunch or any weekend or holiday breakfast. It's completely addictive, so my suggestion: double the recipe!
What is candied bacon?
If you've never tried making candied bacon before, you've been missing out. It's essentially bacon that's been coated in some kind of sweetener (often maple syrup or brown sugar) and then baked to crispy perfection.
Candied bacon is mean to be served alongside a stack of pancakes or waffles, your favorite scrambled eggs or omelet, crumbled atop salads, or enjoyed as is.
I made this a maple bacon recipe and wanted to kick it up a notch. I added a little spice with hot sauce, and I sprinkled finely chopped pecans over the bacon before baking it. The pecans add extra texture and a subtle nuttiness that goes so well with the sweet and spicy maple glaze.
Opt for no spice:
I love the spicy kick, but you can leave the hot sauce out of this recipe and just make maple pecan bacon. Also delicious!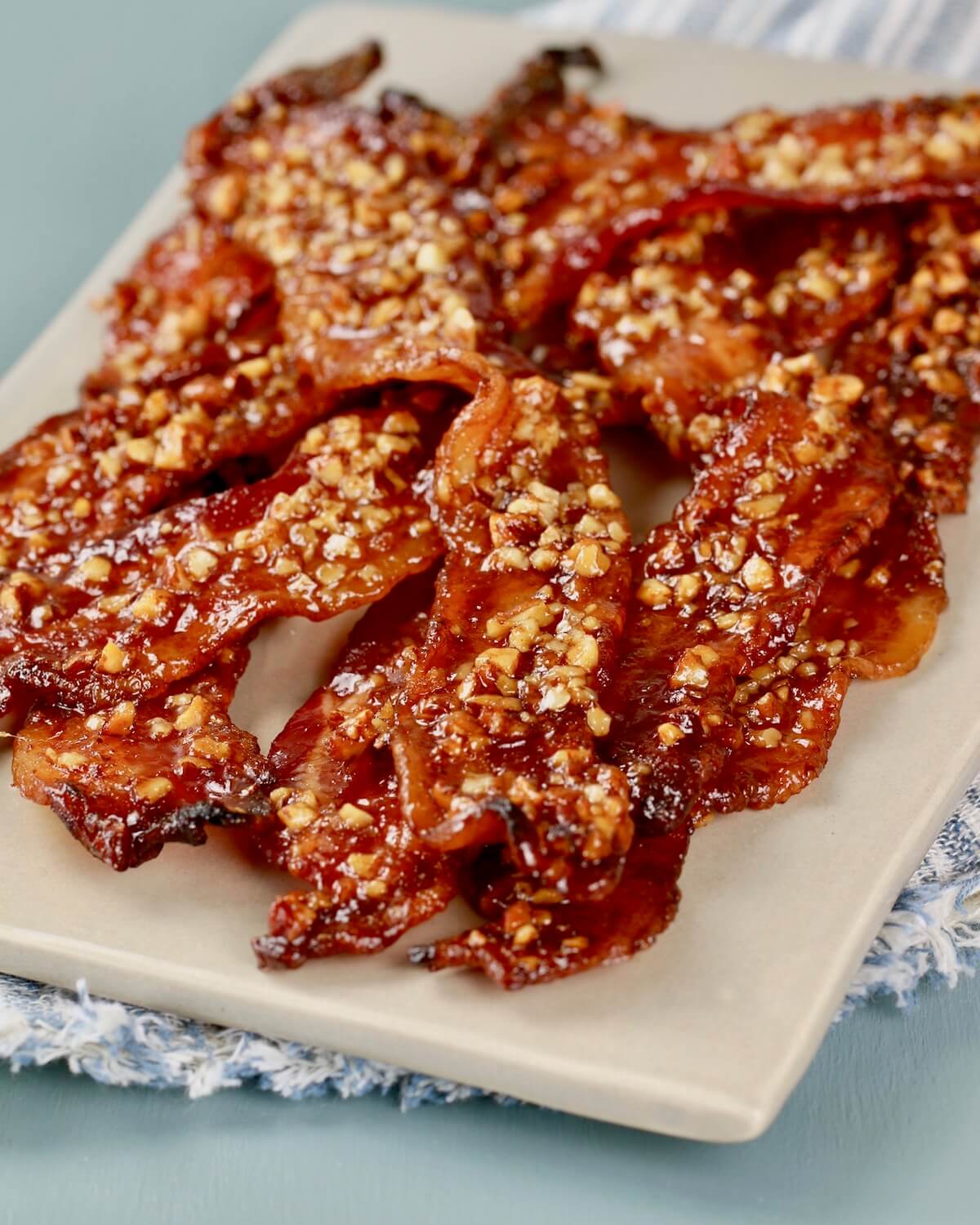 What's in the maple bacon?
This is a great recipe to keep in your back pocket because it comes together with four basic ingredients. The bacon is the star of the recipe, of course. You can make maple glazed bacon with any bacon you'd like, just make sure it's unflavored to let the maple and nuts shine.
The maple glaze is a combination of pure maple syrup and sriracha. The sriracha adds a kick of spice without overpowering the maple flavor.
To finish the bacon off, I added finely chopped pecans to the glaze. They can be omitted if you have a nut allergy, but I highly recommend including them otherwise.
Making candied bacon in the oven
The only way to make maple bacon is to bake it in the oven. It would be too messy if you tried to do it on the stovetop, and would take a long time. You can and should line a baking sheet with foil, then place the bacon on top. For extra crispy bacon, you'll want to line a baking sheet with foil and then place a metal cooling rack on top.
The bacon is placed on top of the cooling rack in an even layer before being brushed with the spicy-sweet maple glaze.
The bacon takes about 20 minutes to bake, but you'll need to babysit it a bit. Only half of the maple glaze gets brushed onto the bacon before it goes into the oven, and you'll have to baste the bacon every 5 minutes until it's finished cooking.
Once you take a bite of the maple glazed bacon, you'll be glad you put in the extra effort!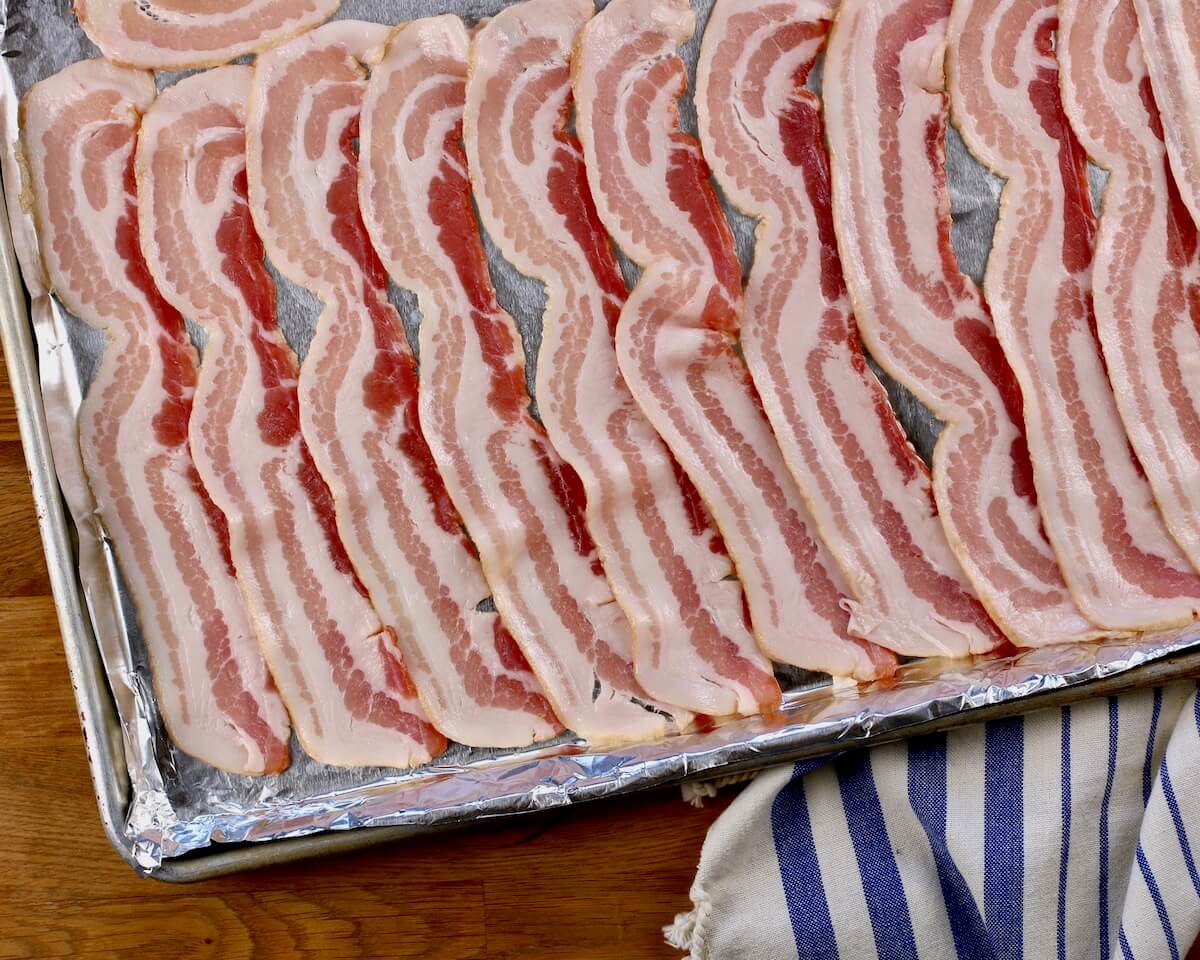 What type of bacon is best?
You can use any kind of bacon you'd like for this maple bacon recipe. I used regular pork bacon, but thick-cut will also work. If you use thick-cut, please note that you may need to cook it longer than the recipe notes.
I haven't tested this recipe using a bacon alternative (like turkey bacon), but I know for sure that your average pork bacon works well with this recipe.
How long does maple candied bacon last?
If stored in an airtight container in the fridge, the bacon will last up to two weeks. I recommend storing the bacon in even layers, with a piece of parchment paper stuck between each layer. If you just pile the bacon into a container, it will stick together.
The glaze will get a bit sticky, so simply reheat the bacon in the oven on a foil-lined baking sheet and let cool enough to eat.
Can maple bacon be frozen?
Yes, once the bacon cools completely it can be sealed inside a freezer-safe container and frozen for up to three months. I recommend storing the bacon in single layers, with parchment paper between each layer.
When ready to enjoy, thaw overnight in the fridge or reheat from frozen in a 350ºF oven for about 10 minutes until warm.
Ways to enjoy maple candied bacon
This bacon pairs well with any number of breakfast and brunch dishes! It can also be sprinkled atop salads, rolled into wraps, and more. Here are some suggestions for ways you can enjoy your maple glazed bacon in or with Tara Teaspoon recipes:
Tips for making candied bacon in the oven
You need to line your baking sheet with foil before baking the bacon. If you don't, the maple glaze will harden on the sheet and it will be tough to clean off.
Note that this recipe calls for pure maple syrup and NOT artificial pancake syrup. It will not bake correctly if you use pancake syrup.
Don't pile hot bacon on a platter. You need to let it cool a bit and then transfer it to a serving plate. If hot bacon is stacked, it will stick together.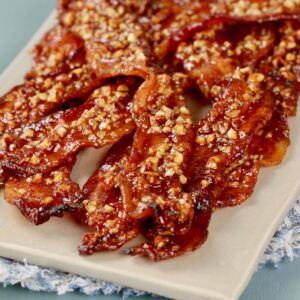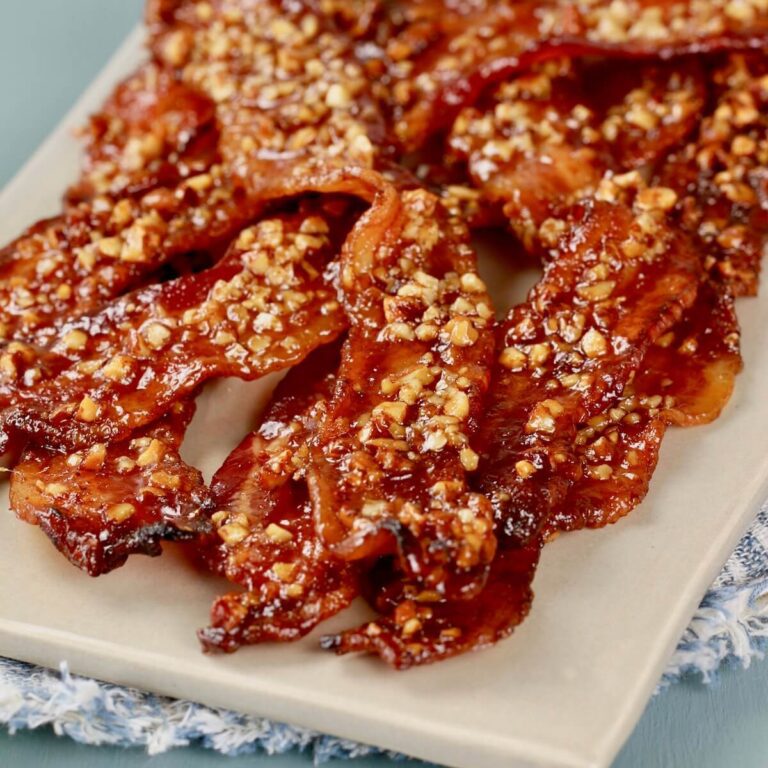 Spicy Pecan Maple Bacon
A sweet and salty, spicy and crunchy breakfast side that's perfect for brunch, buffets, or even party appetizers.
Ingredients
1

12-oz package

bacon

(you can also use thick cut)

¼

cup

pure maple syrup

1

tablespoon

sriracha

¼

cup

finely chopped pecans
Notes
• Don't pile hot bacon on a platter, let it cool a bit and then transfer to a serving plate. If hot bacon is stacked it will stick together.
Nutrition
Calories:
223
kcal
Carbohydrates:
6
g
Protein:
6
g
Fat:
19
g
Saturated Fat:
6
g
Trans Fat:
1
g
Cholesterol:
29
mg
Sodium:
328
mg
Potassium:
118
mg
Fiber:
1
g
Sugar:
5
g
Vitamin A:
20
IU
Vitamin C:
1
mg
Calcium:
13
mg
Iron:
1
mg
Day-Starters: Breakfast & Brunch Recipes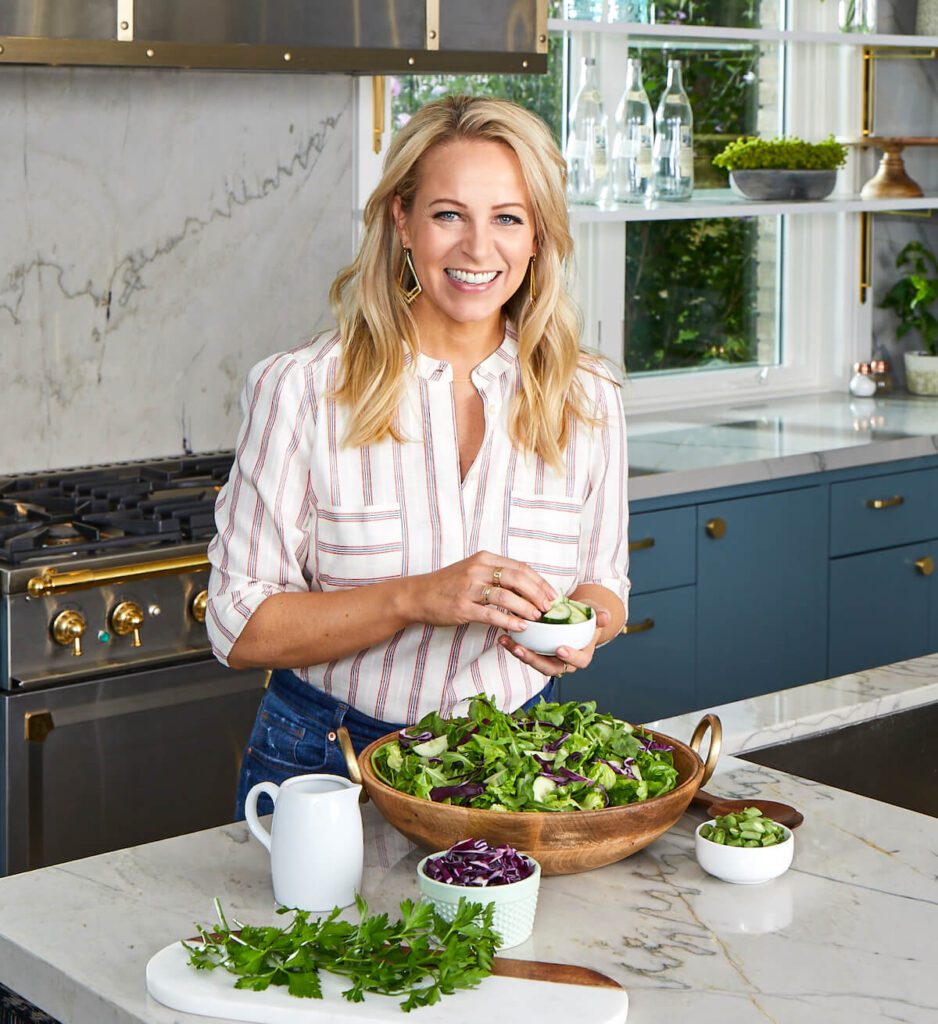 About Tara Teaspoon
I've been in the food publishing business for over 20 years, creating recipes & food-styling for magazines, books, television & advertising. Order my new cookbook & stick around for amazing things to eat.