---
The ultimate breakfast is whole wheat blueberry pancakes made from scratch with just a few simple ingredients from your pantry. A mix of whole wheat and all-purpose flour make them nutty and healthy, and light and fluffy all at the same time.
---
Use fresh or frozen blueberries and serve with a buttery, ginger syrup.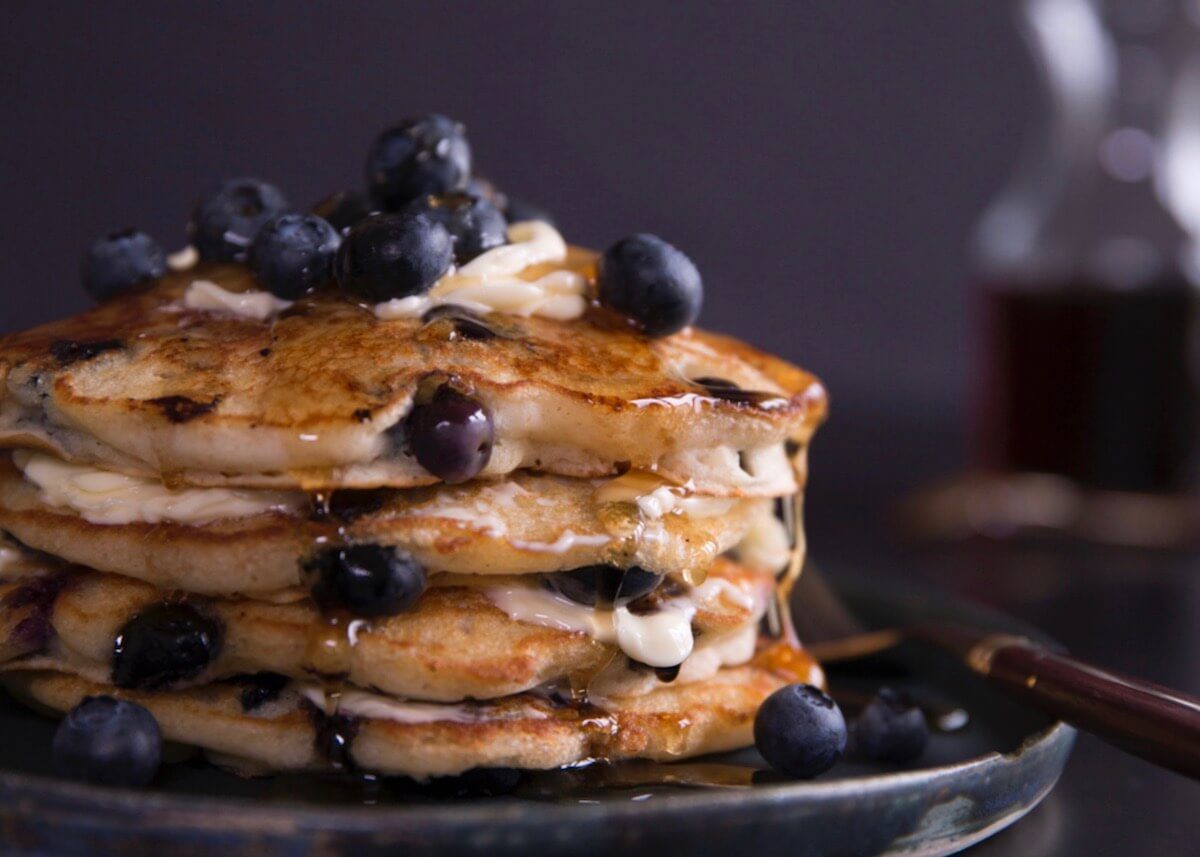 Every so often we would have breakfast for dinner when I was growing up. That meant instead of a fairly rushed, school-morning bowl of hot cereal or cornflakes, we'd make a weekend-worthy breakfast for the weeknight meal.
As dinners go—it was glorious!
I mean, syrup for dinner? Bacon and pancakes meant heaven-on-a plate. Sometimes it was French toast, other times classic pancakes. Sometimes we'd have Grandma's whole wheat pancakes (the recipe is in my cookbook!).
All that being said, in my opinion the ultimate hotcakes are half all-purpose, half whole wheat blueberry pancakes from scratch. Oh, you do NOT want to miss out on this recipe.
---
Jump to:
A pancake recipe with whole wheat flour
These pancakes have the healthy nuttiness of whole wheat flour, but stay light and fluffy because I keep some all-purpose flour in the mix.
Making pancakes with all whole wheat flour can result in heavy or gummy pancakes. You can't just swap all-purpose for whole wheat.
I came up with a balanced recipe that is light and fluffy, with a good amount of whole wheat flour. The mix of flours helps keep them classically delicious.
With great pancake mixes on the shelves we don't often make pancakes from scratch—but, whomever you make these for, I swear they'll be putty in your hands.
These are healthy blueberry pancakes if you ask me! Adding a little whole grain to pancakes just makes them seem that way. Yes, there are still carbs and calories, but the whole-grain and fiber give them that little healthy nudge.
Are pancakes healthy? If you make them with no sugar, egg whites and nut flour, maybe! But I don't want to miss out on the fluffy, lofty pancake goodness I remember from my childhood.
I split the difference and make half whole wheat pancakes that are still fluffy blueberry pancakes. My mouth is watering right now just thinking about them.
---
How to make blueberry pancakes
Making blueberry pancakes from scratch is easy if you follow a few simple steps.
Try them for breakfast—or dinner! In one bite you'll realize why about 5 extra minutes of hands-on time is worth it. (Seriously, that's it. That's all. Mixes be gone!)
1 - Fluff or sift your flour. If you scoop flour right out of the bag or bin, you'll get a packed cup of flour.
Instead, just fluffy it a bit, lightly spoon it into your cup or sift the flour. You'll get just the right amount.
2 - Mix the dry ingredients. Combining the dry ingredients together lets you disperse the salt and leavening evenly before the liquid mixes with them.
3 - Whisk together the wet ingredients and liquids. I like to whisk my eggs and milk with the melted butter. This way my eggs are broken up and will stir into the dry ingredients quickly without having to over mix.
4 - Don't over mix. Pancakes stay light and fluffy if they are just barely mixed together. You may even see a few dry clumps of flour after mixing and that's ok!
If pancake batter gets stirred too much, tough, or chewy pancakes will be the result. No one wants that!
5 - Sprinkle on the blueberries. Don't mix the berries into the batter. You might end up with one scoop full of berries and another without any.
Scoop the batter onto the griddle or pan and then sprinkle on the berries. You can evenly disperse them on top of the pancake so there's blueberries in every bite!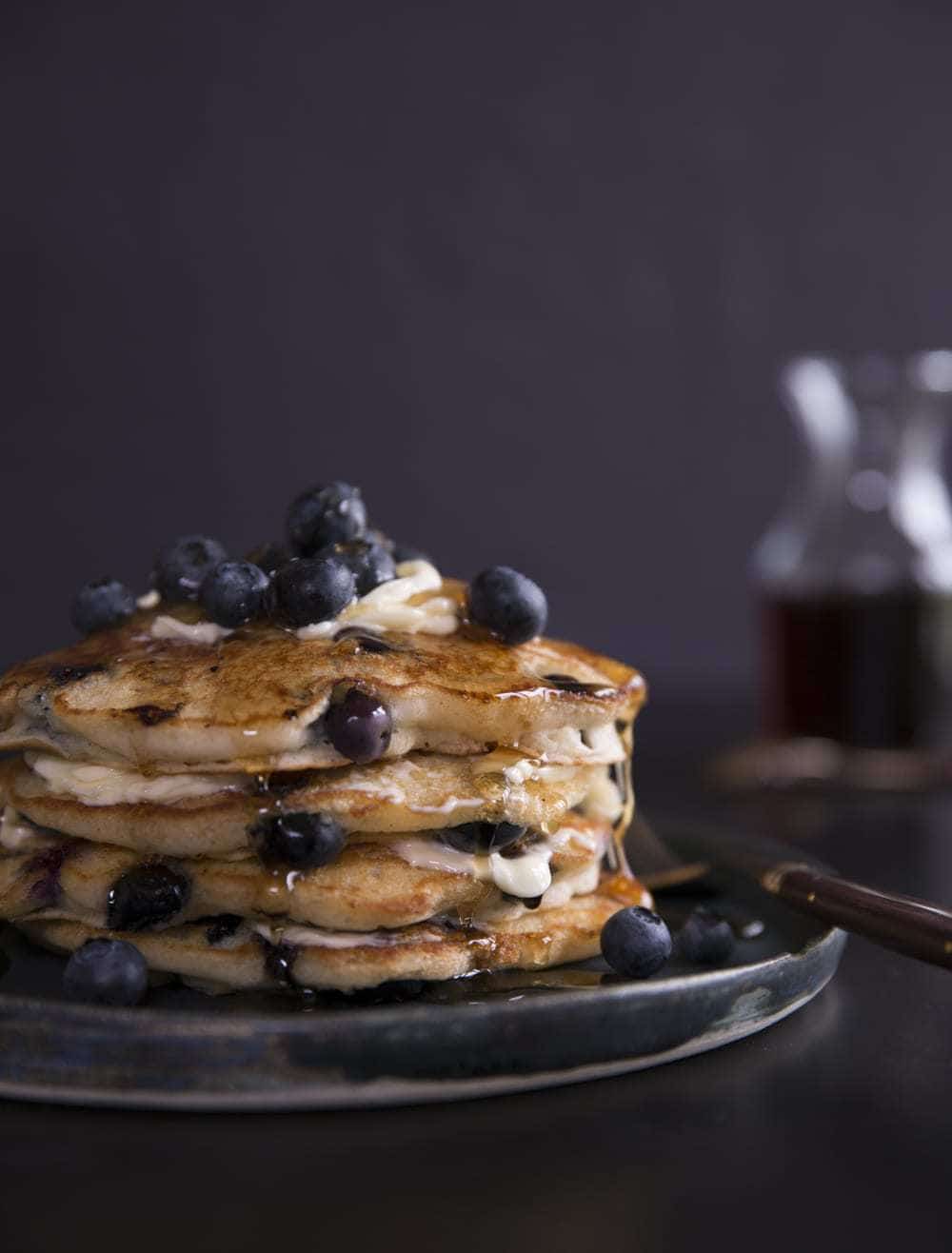 What to serve with blueberry pancakes
My butter ginger syrup of course! Keep reading!
Classic maple syrup, or your favorite mock maple like Log Cabin or Aunt Jemima syrup is just divine on these fruity, whole grain pancakes.
That being said, I whip up a ginger butter syrup in just a few minutes that makes these pancakes the best in the land.
I use maple syrup as my base and add fresh ginger and butter. You guys!! This stuff is heavenly. Skip it if you like, but this is what I'd recommend serving with these fluffy blueberry pancakes.
The ginger and butter addition make breakfast taste like a mix between blueberry muffins and pancakes. So, so good.
Also, please serve with plenty of bacon. Delicious!
Making banana pancakes or other flavors
These half whole wheat and half all-purpose flour pancakes are genius with blueberries. You can also swap the blueberries for other fruit if you'd like, making some delicious whole wheat banana pancakes if you love bananas!
1- Use ¾ cup chocolate chips in place of the blueberries to make Whole Wheat Chocolate Chip Pancakes.
2- Make Raspberry Pancakes by swapping blueberries for 2 cups of raspberries. You can use fresh or frozen.
3- Make Whole Wheat Banana Pancakes by replacing the blueberries with 1 ¾ cups sliced or diced banana.
4- Nutty Pecan Pancakes are delicious with this whole wheat recipe too. Chop 1 cup pecans and sprinkle nuts on pancakes in place of blueberries.
Top Tips
Can you make whole wheat pancakes gluten-free?
I love to cook gluten-free. I always use Cup4Cup all-purpose gluten-free flour.
For these pancakes you can swap the ¾ cup all-purpose flour with Cup4Cup, and the ¾ cup whole wheat flour with the Wholesome Cup4Cup.
Make sure to use the full 1 ¼ cups milk. The pancakes may be a little thinner, but will cook through nicely. Adjust to your tastes as desired.
I have not tried these pancakes with other gluten-free flours and can't vouch for the success with other brands.
Do I need pure maple syrup for the ginger syrup?
I make a delicious buttery ginger syrup to go with these pancakes. It makes them taste like blueberry muffins!
I use pure maple syrup when I make it, but you can also use an imitation maple syrup like Log Cabin or Aunt Jemima brands.
Try dark agave syrup or coconut syrup here too if you desire. It will just have a slightly different taste.
More whole wheat flour recipes to try:
Whole Wheat Walnut Pumpkin Bread
Half Whole Wheat Dinner Rolls with Savory Seed Topping
Fudgy Squash Brownies with Whole Wheat Flour
Let me know how it went!
Scroll to the bottom of the page to rate ⭐⭐⭐⭐⭐ and comment on this recipe. Leaving comments helps other too!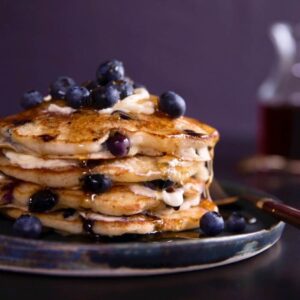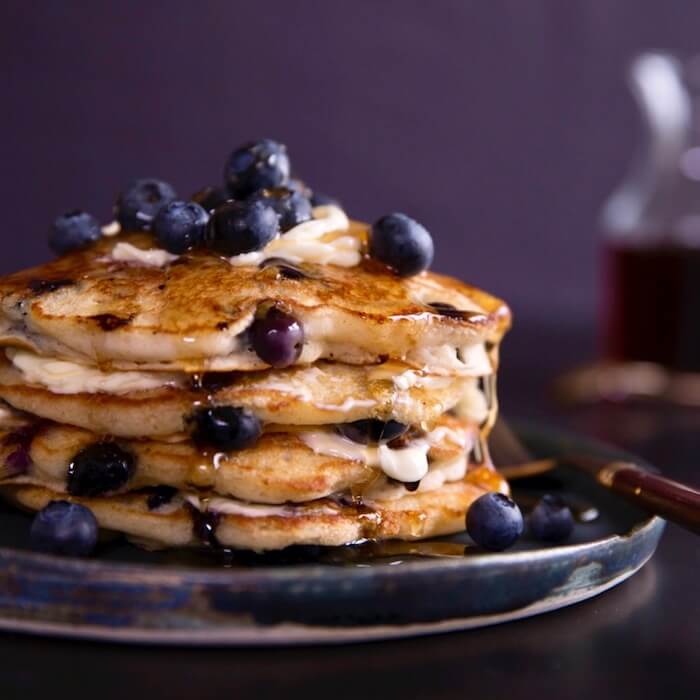 Whole Wheat Blueberry Pancakes From Scratch
These homemade pancakes are classically delicious with blueberries, but would be great with raspberries, chocolate chips, pecans or bananas.
Ingredients
Whole Wheat Pancakes
¾

cup

whole-wheat flour

¾

cup

all-purpose flour

2

tablespoon

light brown sugar

1

tablespoon

baking powder

½

teaspoon

salt

1¼

cups

warm milk

1

large egg

4

tablespoon

melted butter

1

teaspoon

vanilla extract

1

pint

blueberries
Buttery Ginger Syrup
¾

cup

maple syrup

½

teaspoon

fresh grated ginger

1

tablespoon

butter
Instructions
Whole Wheat Pancakes
In a mixing bowl, whisk together flours, brown sugar, baking powder and the salt, set aside.

In a separate bowl whisk together the milk, (for thick pancakes use 1 cup milk.) melted butter, egg and vanilla. Stir milk mixture into the dry ingredients and combine until just mixed and only small clumps of flour remain. Do not over mix.

Heat a griddle or large skillet over medium heat. Brush the surface with extra butter and scoop about ¼ cup of the batter onto the skillet. Gently spread into a 4-inch circle and sprinkle with blueberries. When the bubbles on top pop and stay open flip the pancakes and cook about 2 min more. Repeat for all pancakes.

Keep pancakes hot in a warm oven if needed and serve with more blueberries and Ginger Butter Syrup.
Buttery Ginger Syrup
In a small saucepan over medium-high heat stir together the maple syrup, fresh grated ginger and butter. Stir until mixture is simmering, remove from heat.

Let cool slightly and serve with pancakes. Syrup can be stored chilled for up to a week, just reheat to serve.
Notes
Nutrition includes homemade buttery ginger syrup.
• See post for instructions and substitution amounts for other fruits, chocolate chips or nuts.
• See post for information on gluten-free pancakes.
Nutrition
Calories:
304
kcal
Carbohydrates:
52
g
Protein:
5
g
Fat:
9
g
Saturated Fat:
5
g
Cholesterol:
43
mg
Sodium:
238
mg
Potassium:
376
mg
Fiber:
3
g
Sugar:
29
g
Vitamin A:
342
IU
Vitamin C:
6
mg
Calcium:
157
mg
Iron:
1
mg
---
Day-Starters: Breakfast & Brunch Recipes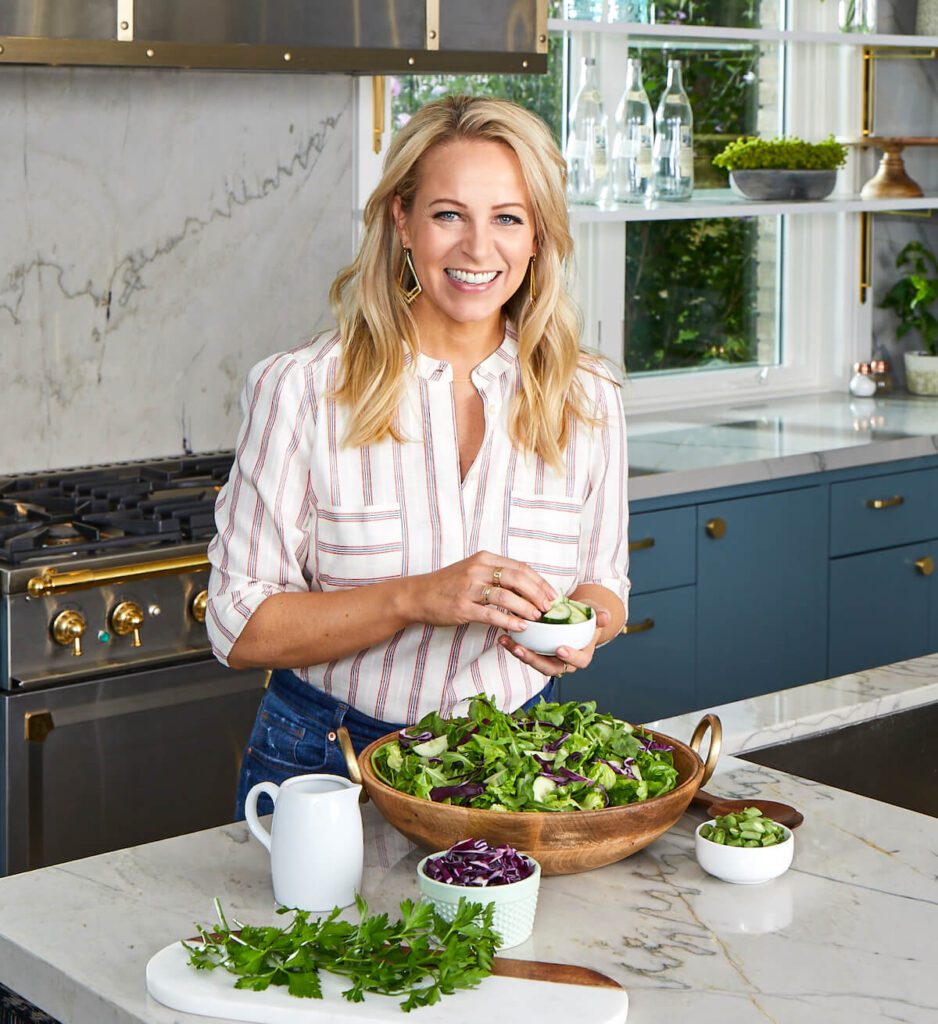 About Tara Teaspoon
I've been in the food publishing business for over 20 years, creating recipes & food-styling for magazines, books, television & advertising. Order my new cookbook & stick around for amazing things to eat.
Recipe and Food Styling by Tara Teaspoon. Photography by Nicole Gerulat