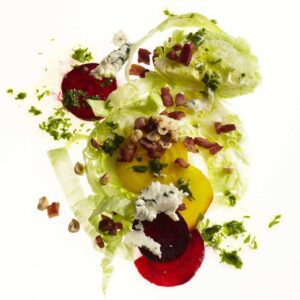 The New Wedge Salad

Turn the classic wedge salad into a main course by adding diced pancetta, roasted beets and protein-rich hazelnuts.

Ingredients
Red and golden beets
Kosher salt
Olive oil
3/4 lb pancetta
Iceberg Lettuce
Hazelnuts
Roquefort cheese
Lemon Parsley Vinaigrette
1/4 c fresh lemon juice
1/2 clove minced garlic
1/2 tsp black pepper
1 tsp sugar
1 tbsp flat-leaf parsley chopped
Extra-virgin olive oil
Instructions
For Salad

Wrap beets, a sprinkling of kosher salt and a little olive oil in aluminum foil. Roast at 375 until tender, about 1 hr. Set aside to cool Dice pancetta into 1/2-inch pieces. Cook in a skillet over medium heat until fat is rendered and pancetta is golden and cooked, about 20 min. Reserve a few tablespoons for the fat.

Slice iceberg lettuce and serve with pancetta, sliced beets, toasted hazelnuts, crumbled Roquefort cheese and Lemon Parsley Vinaigrette.
For Vinaigrette
Stir together lemon juice, garlic, black pepper, sugar and flat-leaf parsley. Combine reserved pancetta fat and enough extra-virgin olive oil to make 1/2 cup and whisk into dressing.
The New Wedge Salad
You know what the Classic Wedge is. Your mind probably goes straight to rich blue cheese dressing and, if you're lucky, crispy bacon bits. The iceberg lettuce is just the vehicle we wisely use to get the other ingredients into our mouths!
Change perfection? I think you will like where I'm going with this.
I made the iconic side salad worthy of a meal by swapping bacon for meaty pancetta and adding crunchy hazelnuts and roasted beets. Dress it with a tangy, lemon parsley vinaigrette, but don't forget the blue cheese! Keep it classic with big, creamy pieces of Roquefort.
All the salty, rich, crunchy tastes we want…just new!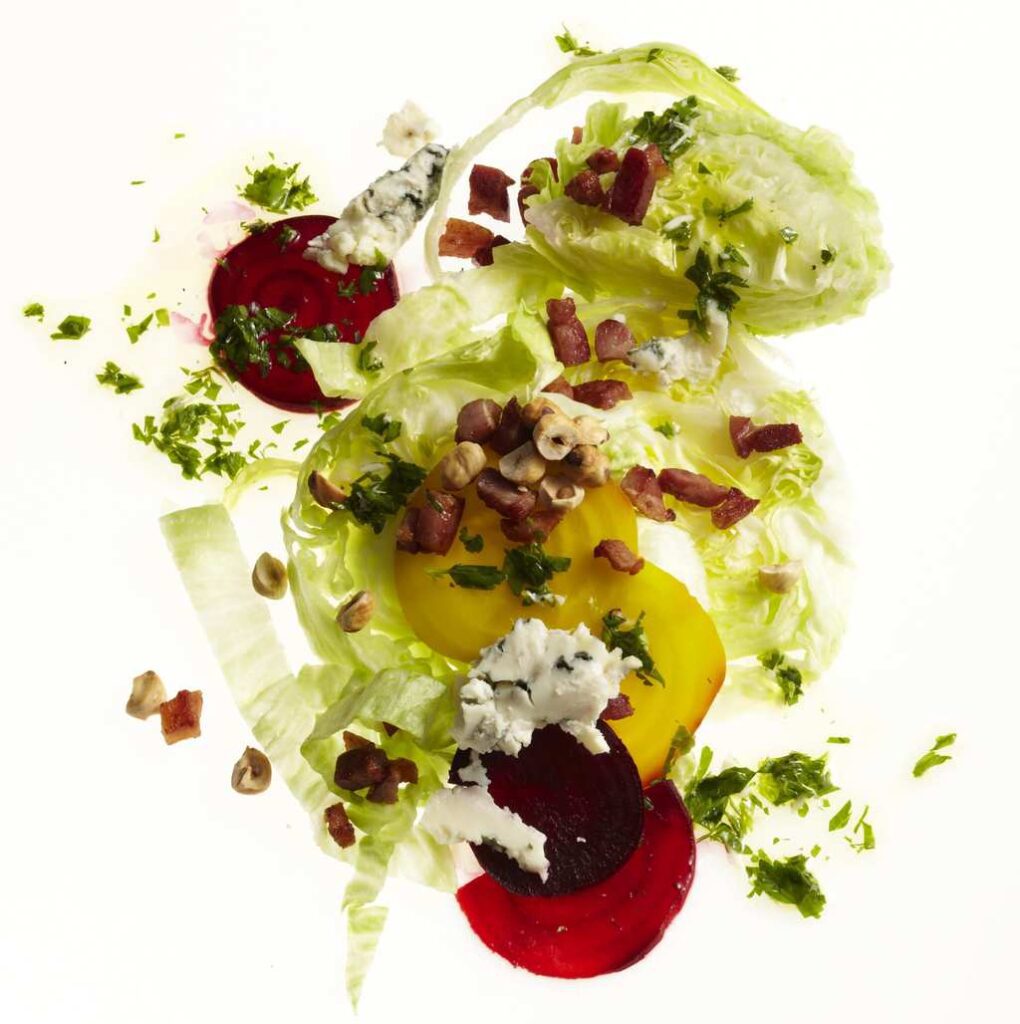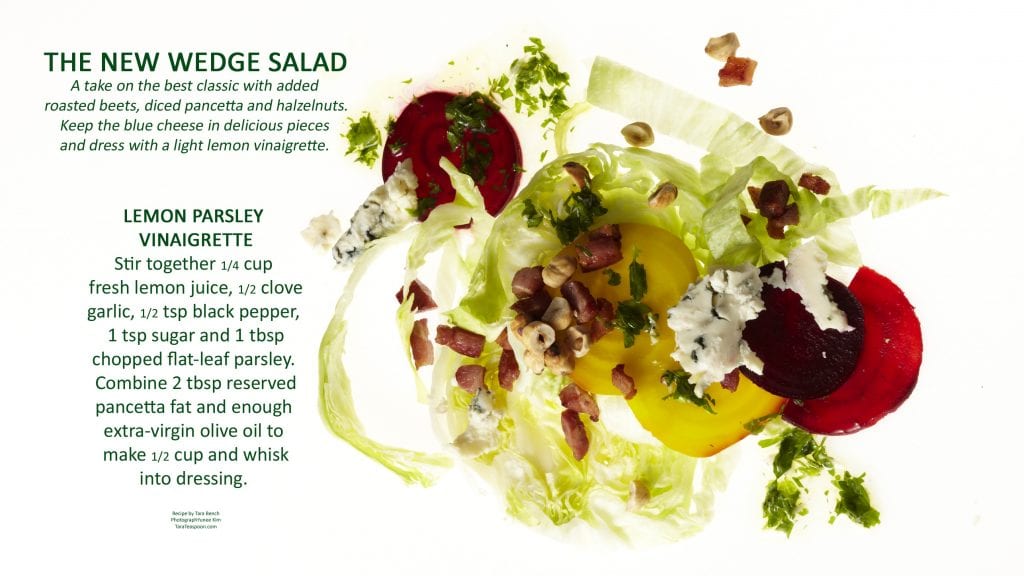 Recipe by Tara Bench. Originally published in Ladies' Home Journal August 2011. Photography Yunhee Kim. Food Styling Paul Grimes.