I live on the upper west side of Manhattan. There are several grocery stores and gourmet food markets, right in my neighborhood that have the most amazing cheese counters. I've picked some favorites out over the years and I know a bit about different cheeses, cultures and flavors–but I'm no cheesemonger! It's still a bit overwhelming when I go to buy a variety for a party cheeseboard.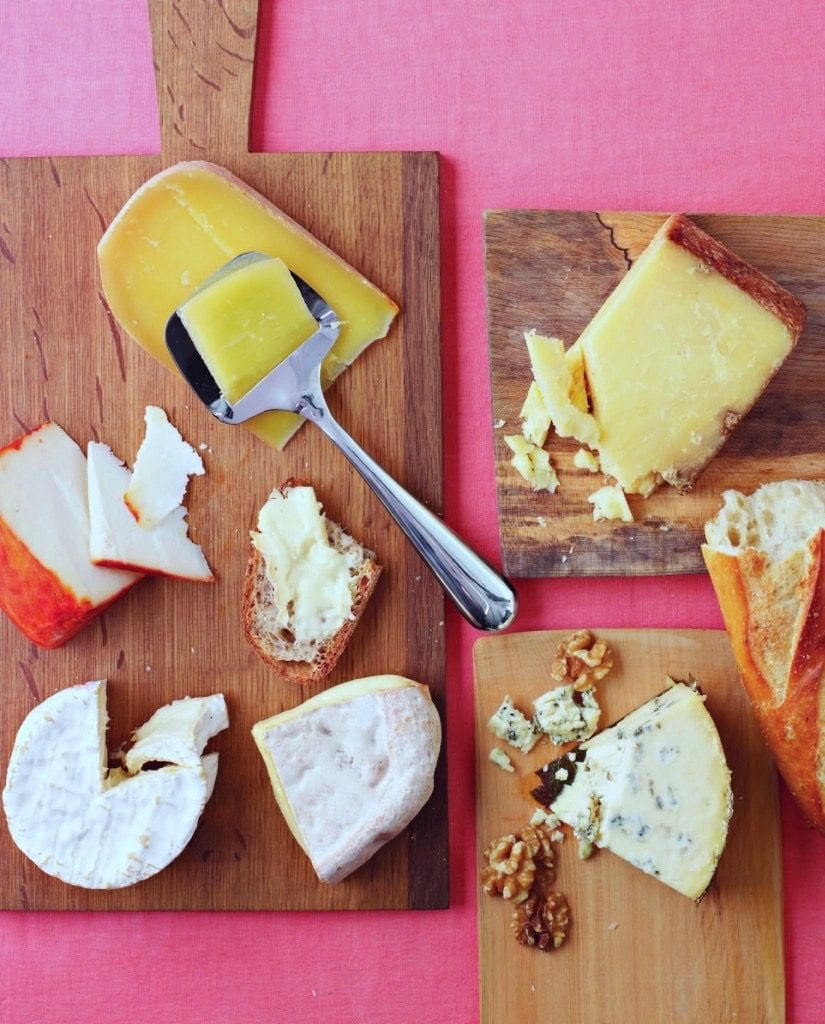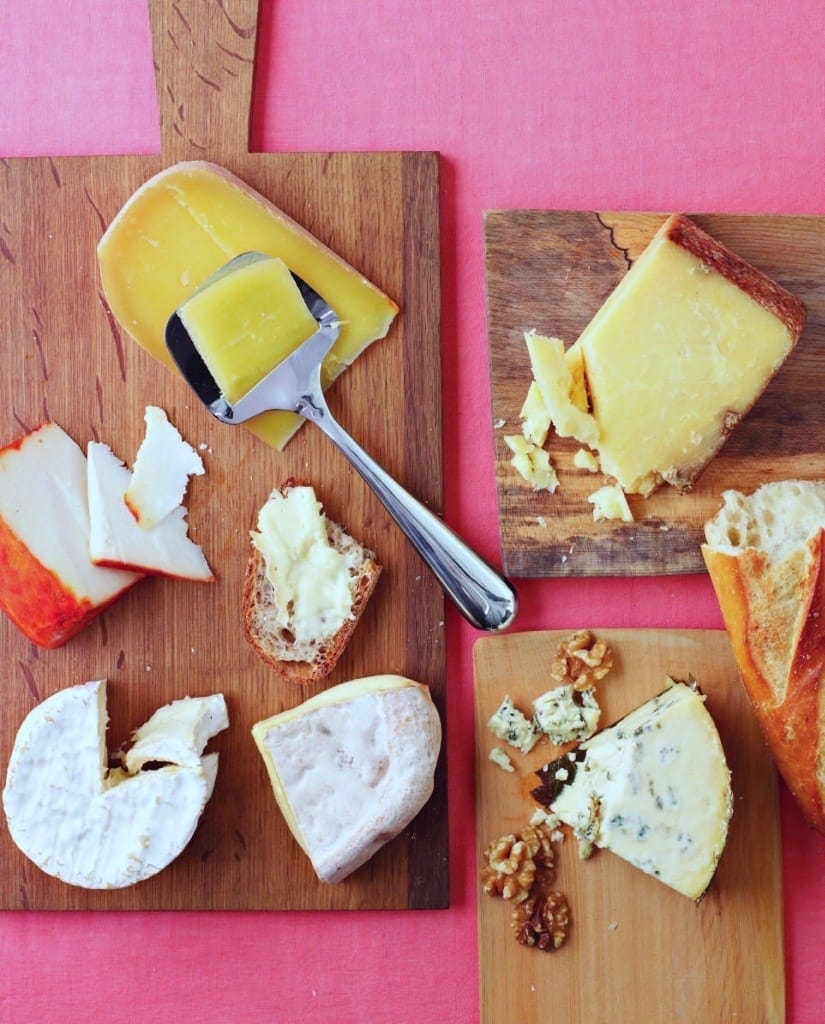 If cheesemongering isn't your expertise, then this guide will help you. I've included some of my faves and others that make for a good variety and beautiful presentation on a cheese plate. Because…that's what I'm into.
Party pointers for serving cheese:
• When you shop at your local cheese counter, or gourmet food store, ask to sample the cheeses you're interested in buying – they expect you to.
• How much should you get?  Figure on 1-to-2-oz of each cheese per person. It's sold by weight so you can add up the numbers.
• Have labels for each cheese on the platter so people can remember the ones they especially like. You can make your own, write it with wax pen on a slate or buy those cute little reusable labels.
• Cheese doesn't taste its best when served too cold, so take it out of the fridge an hour or so in advance.
•Find a variety of cheese boards, cutting boards, slate, etc if you don't have one large serving platter.
Putting together that board: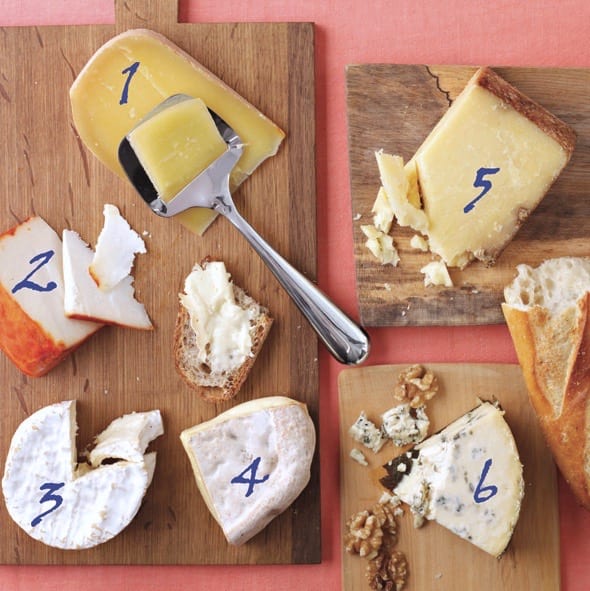 You can't go wrong with a Swiss-style cheese like Uplands Pleasant Ridge from Wisconsin, or even a classic Gruyère.
Goat's-milk chèvre, with its tangy flavor, is a crowd-pleaser.  I like spicy Majorero Pimentó, rubed withpaprika – or try Cypress Grove Chèvre.
Every board should contain at least one buttery-soft cheese like Brillat-Savarin, Brie or Camembert Châtelain.
For an adventurous crowd, choose a pungent cheese that has been "bathed" in salt water or wine for added flavor.  Try Stanser Rotelli or an Époisses.
Not all cheddars are created equal.  Include a crumbly English-style variety, such as Grafton Special Reserve Clothbound Cheddar, from Vermont, or a French Cantalet.
No board is complete without a sharp, fragrant blue.  I like Oregon's Rogue River Blue and Grassland Blue from Minnesota.
Cheese tips: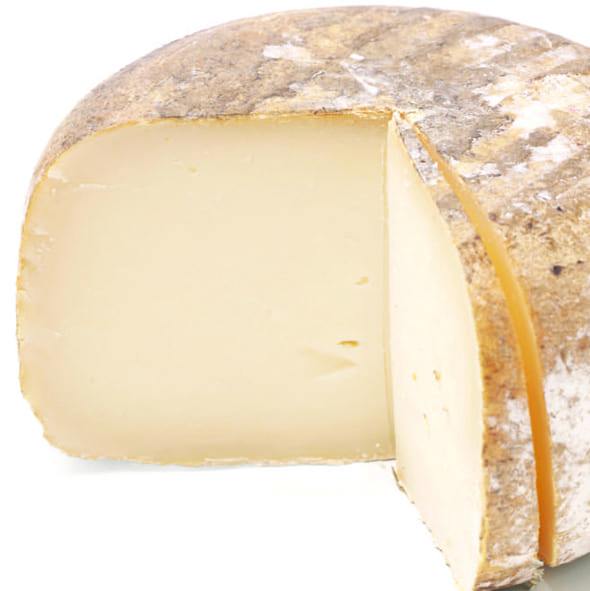 • To keep and store cheese, wrap it first in parchment or waxed paper, then loosely in plastic wrap or place in a ziptop bag.  Many will keep for several weeks in the fridge.
• Don't throw out the rinds!  Toss them into soups, stews and sauces when you're cooking for extra richness and flavor.
Entertainers tip: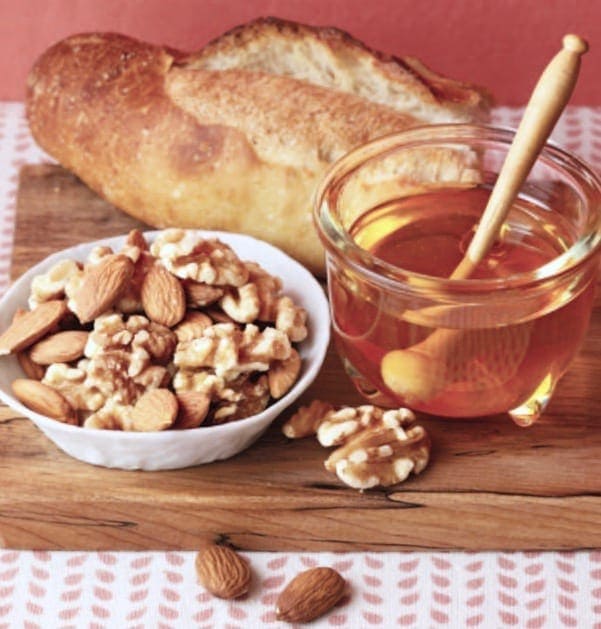 • A dollop of chutney or jam tastes great with salty, tangy cheeses, while a drizzle of honey delivers sweet balance to sharp cheeses like aged cheddar.  Dried fruits and nuts are delicious with many types of cheese and it's always nice to have rustic bread and plain crackers to nibble on.
This post may include affiliate links. For more information please see my disclosure policy.
Originally published in Ladies Home Journal November 2010
Prop Stylist: Jen Everett
Photographer: Paula Hible