Lasagna lovers will go wild for this version of the classic recipe. Sausage lasagna with pesto is the ultimate comfort meal. I've created layers of basil pesto, ricotta, Italian sausage, beef, and red sauce to make the perfect lasagna recipe.
---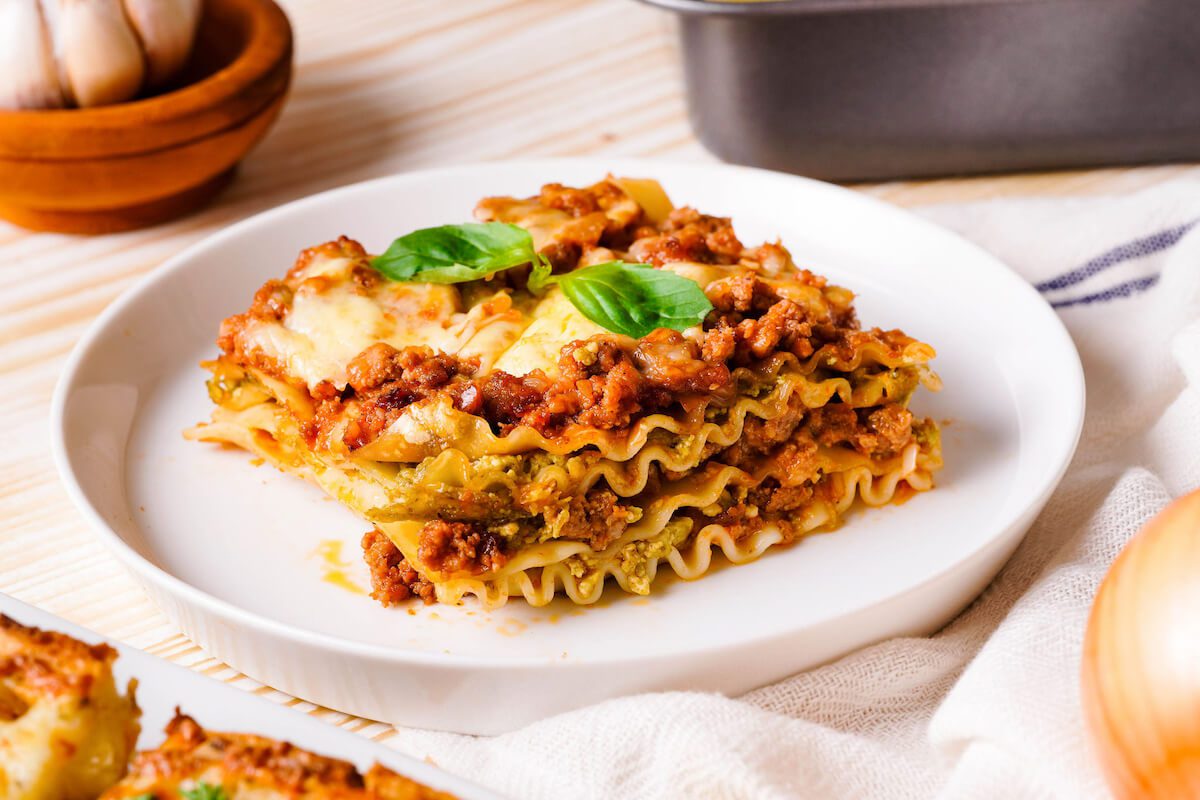 An update on the classic layered pasta dish, I've mixed pesto with the ricotta cheese to make pesto lasagna!
You will make lasagna converts out of those who were skeptics, and fanatics out of established lasagna fans when you make this recipe.
Jump to: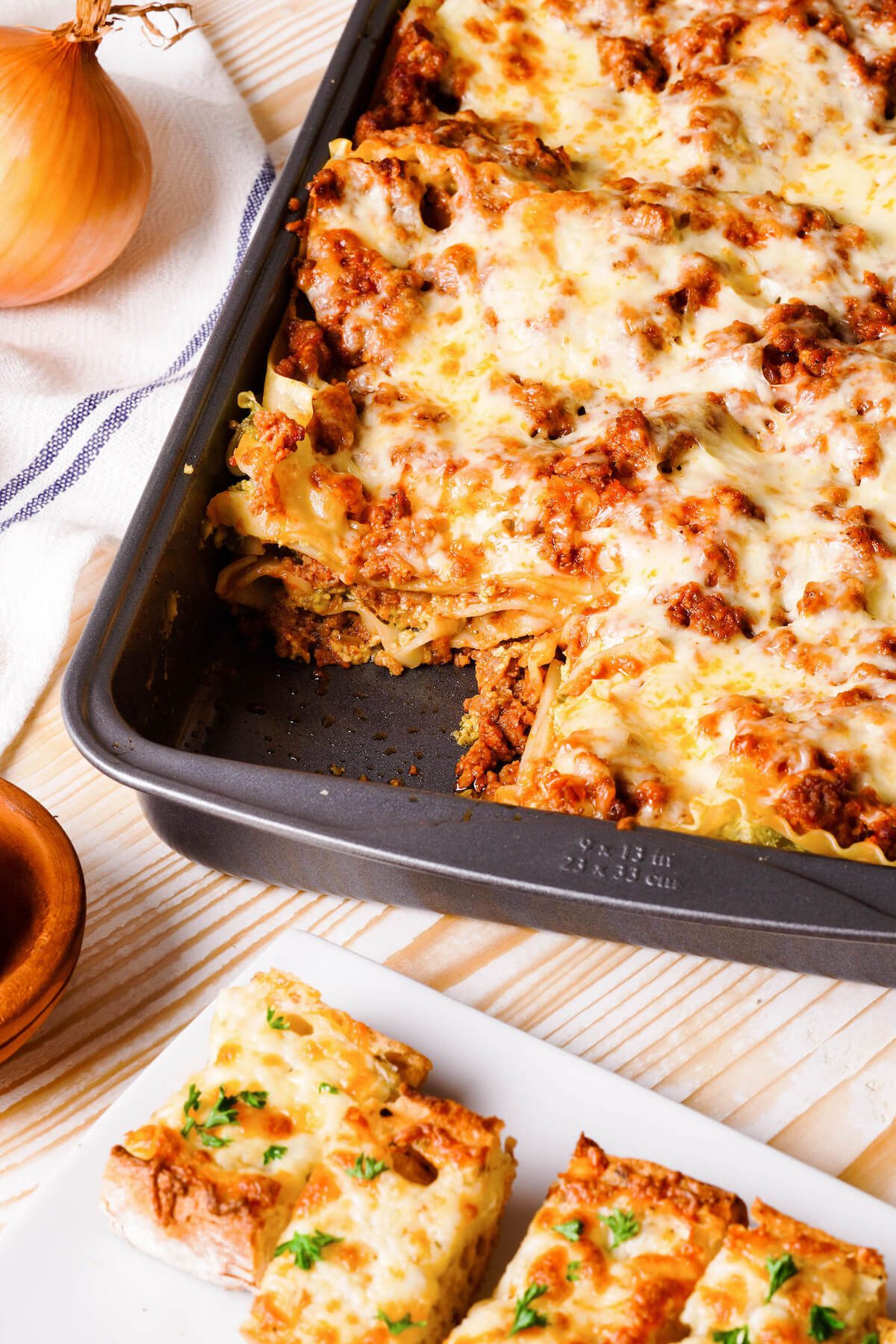 Pesto Lasagna Is A Fantastic Twist
In the summer, when fresh basil is plentiful, I make loads of my Classic Pesto and freeze it in small quantities so I can enjoy a little anytime. That practice inspired this pesto lasagna recipe.
I always make a recipe for lasagna with ricotta cheese, but I thought, "hey! let's add some extra flavor to that ricotta layer!"
I was preparing for a photo shoot one day and needed freezer space, so the pesto and Italian sausage in the back of the freezer had to go! I mixed pesto into the ricotta layer, and this glorious variation on classic lasagna was born.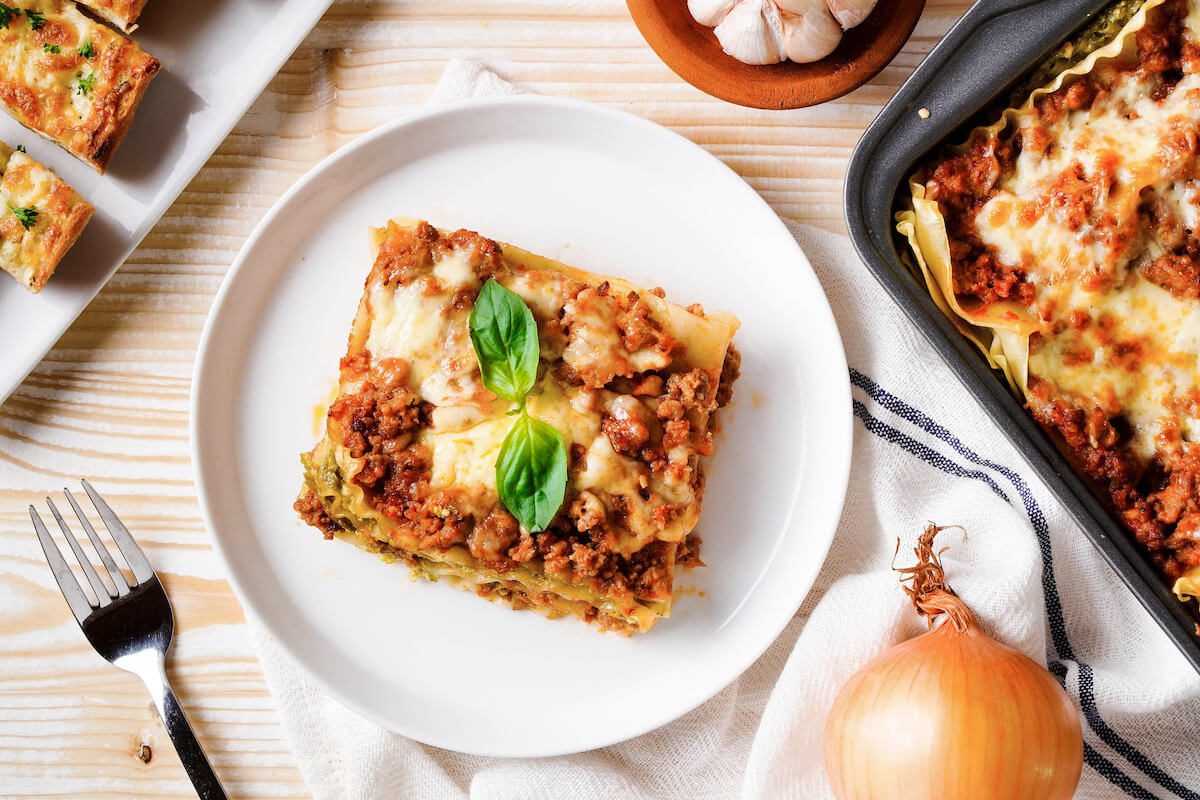 Classic Pesto Or Another Pesto Flavor
For this recipe, I like to make my Classic Pesto, but I have lots of fun pesto variations that you could try, like Sun-Dried Tomato Pesto, or Arugula Hazelnut Pesto.
If you're making pesto from scratch during the summer, you'll have plenty of beautiful fresh basil in season. But, if you're making it in the winter, you might have slim pickings in the herb department. That's where arugula comes in! I like to use just 1 cup basil and a mix of 3 cups flat-leaf parsley and arugula. It gives it a unique flavor that you might end up loving.
My winter pesto pasta with ricotta cream also utilizes heartier winter herbs and greens for the pesto while basil is not as plentiful. It's truly delicious, and a great alternative.
You can also use store-bought pesto for this lasagna recipe. It will be just as tasty. Costco sells a large jar of pesto that is quite nice, but any container of store bought pesto mixes with the ricotta for the filling for convenience.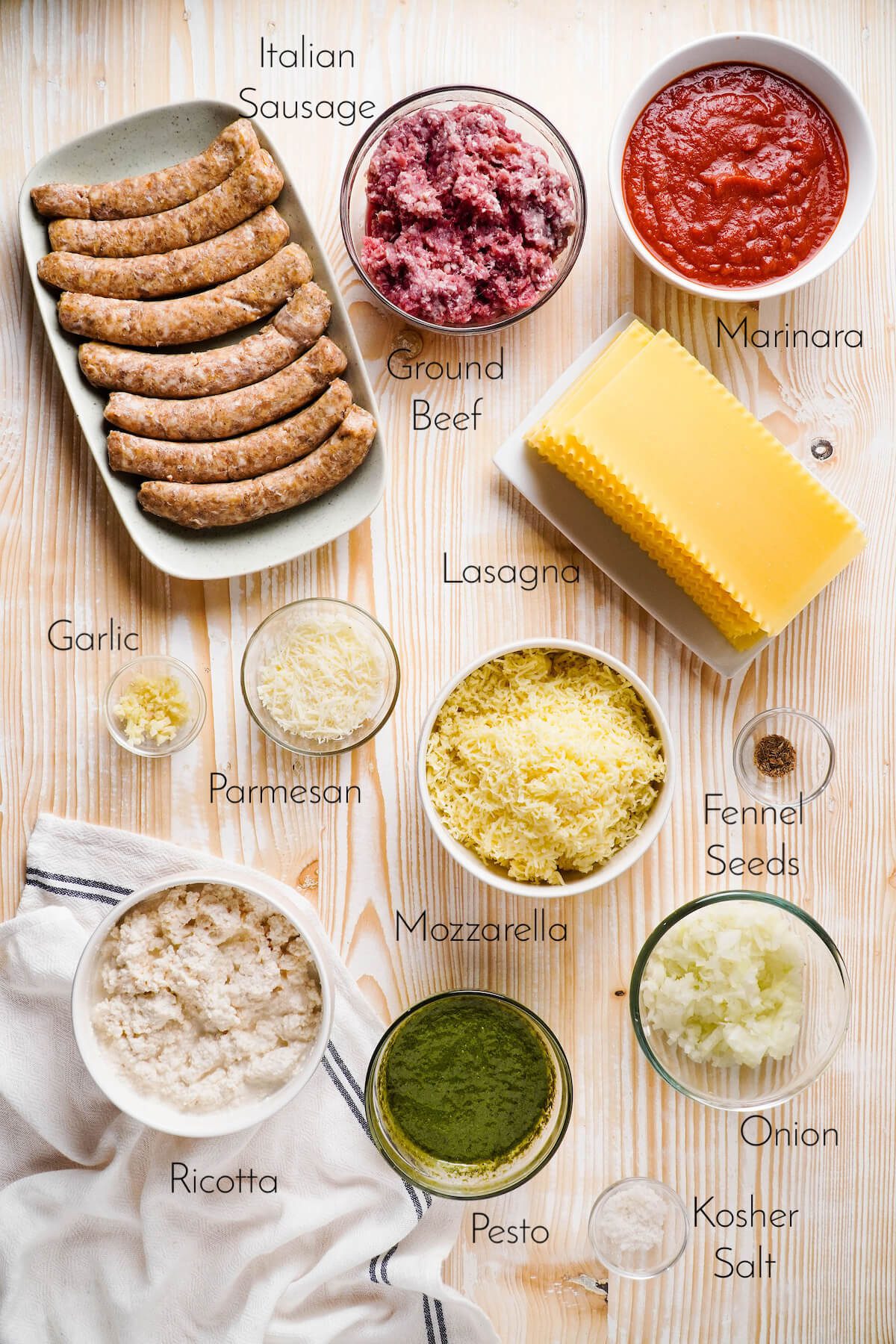 Ingredients for Sausage Lasagna with Pesto
Spicy or sweet Italian sausage links: You're choice of flavor, or a mix!
Ground beef: a lean ground beef is fine here since the sausage and cheese add plenty of fat for mouthfeel.
Kosher salt: this is more mild than table salt and is easy to measure.
Garlic: I love keeping peeled garlic cloves on hand in the fridge.
Fennel seeds: this adds authentic Italian flavor and a little sweetness with the savory flavors.
Yellow onion: a classic savory flavor base.
Jarred marinara sauce: An easy pantry staple ingredient. Choose your favorite brand.
Whole milk ricotta: I like whole milk ricotta for the richness, but you can also swap in part-skim if you'd like.
Classic Pesto: make my recipe or use store bought.
Shredded Parmesan: purchase already shredded, or shred your own.
Lasagna noodles: make sure these are not the quick-cooking variety.
Mozzarella: part-skim mozzarella is great. Don't use fresh balls of mozzarella here, that would have too much moisture.
How To Make Pesto Sausage Lasagna:
In a skillet combine the beef, sausage, onion, garlic and seasonings.
Brown the meat, and crumble it into small pieces.
Once browned and cooked through add the jarred marinara sauce and set aside.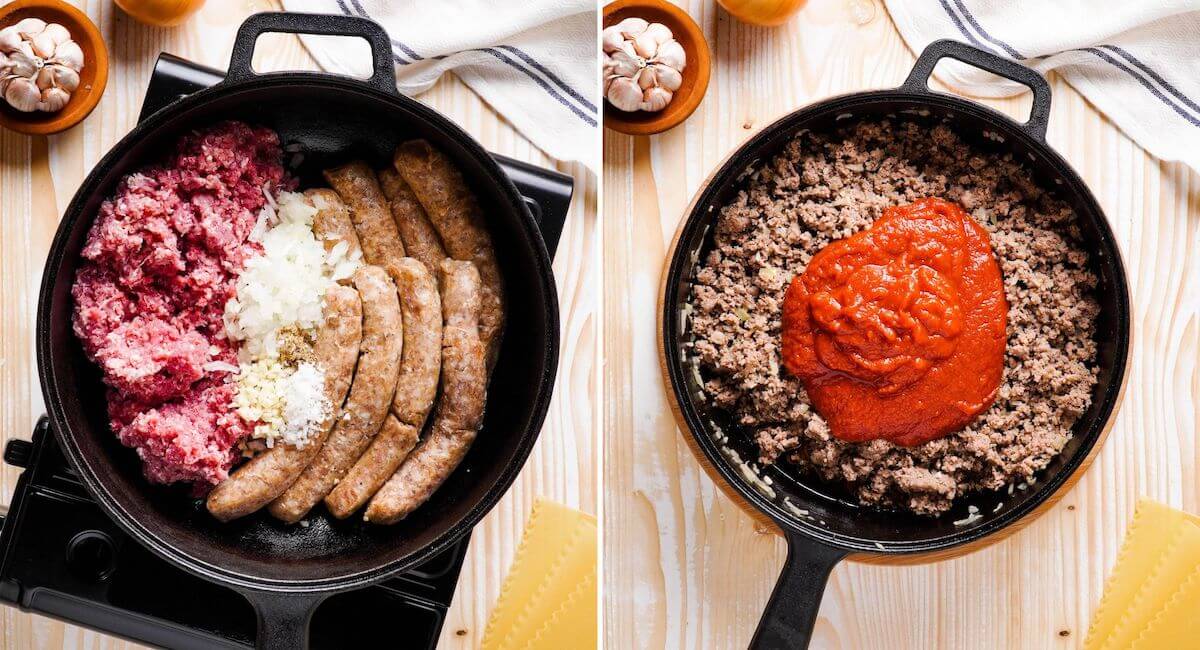 Cook the lasagna noodles in salted water in a large pot.
Drain noodles and set aside on a plate until ready to use. You can cover them with plastic wrap to prevent drying out if needed.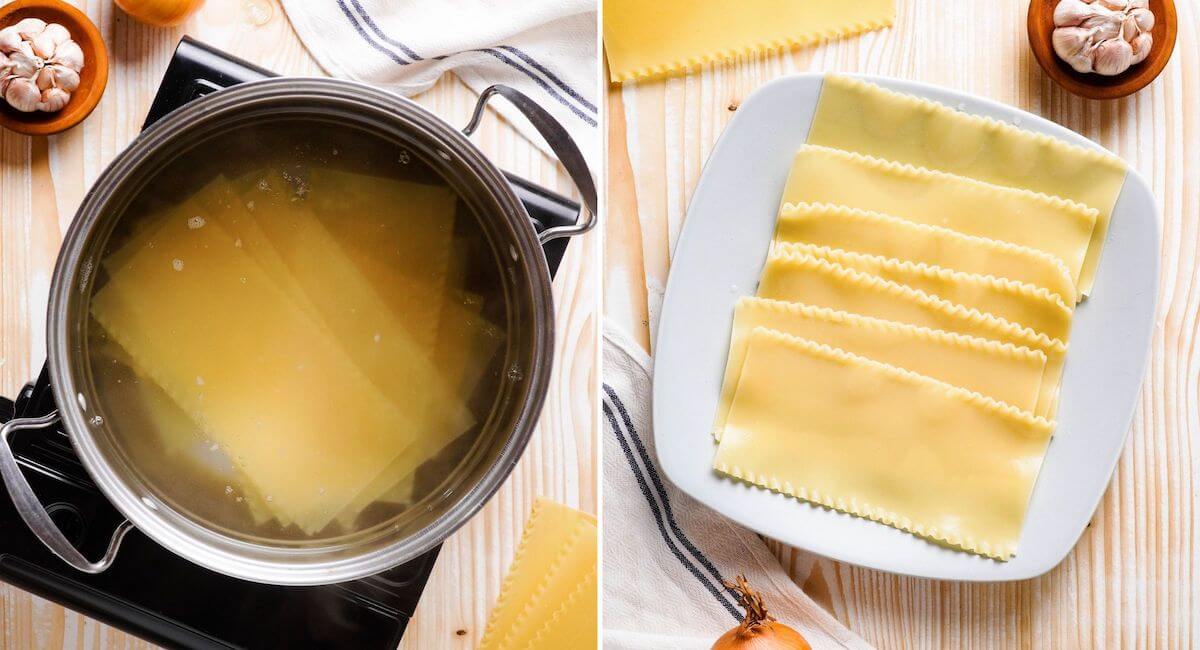 Make the pesto ricotta by mixing together the pesto, ricotta, and Parmesan cheese.
Remember you can use homemade pesto, store-bought, basil pesto, or a winter herb pesto.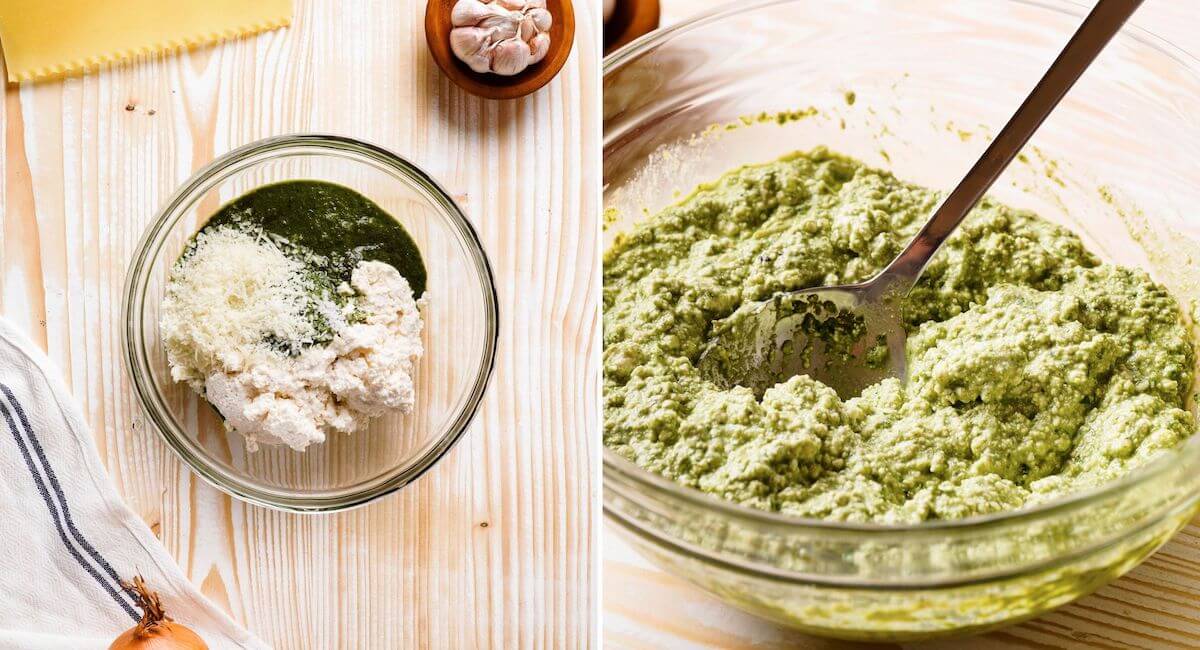 Start layering the lasagna in a deep 9-by-13-inch pan.
Add a little marinara meat mixture to the bottom of the pan, then top with some cooked pasta.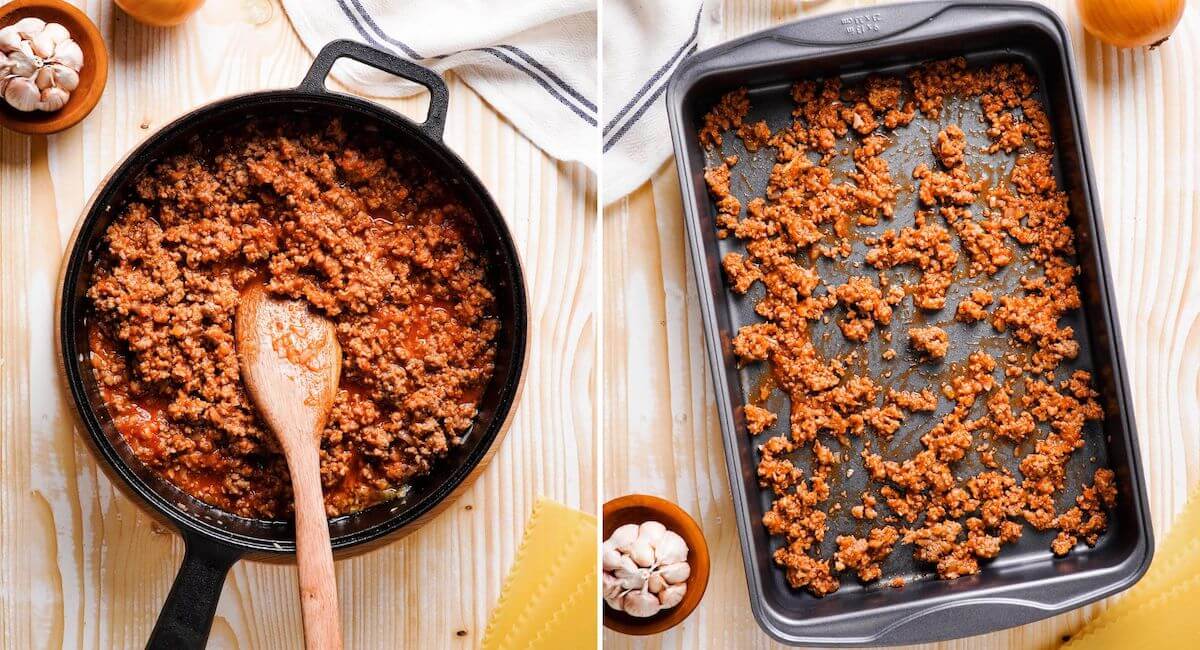 Alternate layers by spreading pesto ricotta on the noodles, then adding more meat sauce, more noddles, mozzarella cheese, etc. Follow the recipe outline.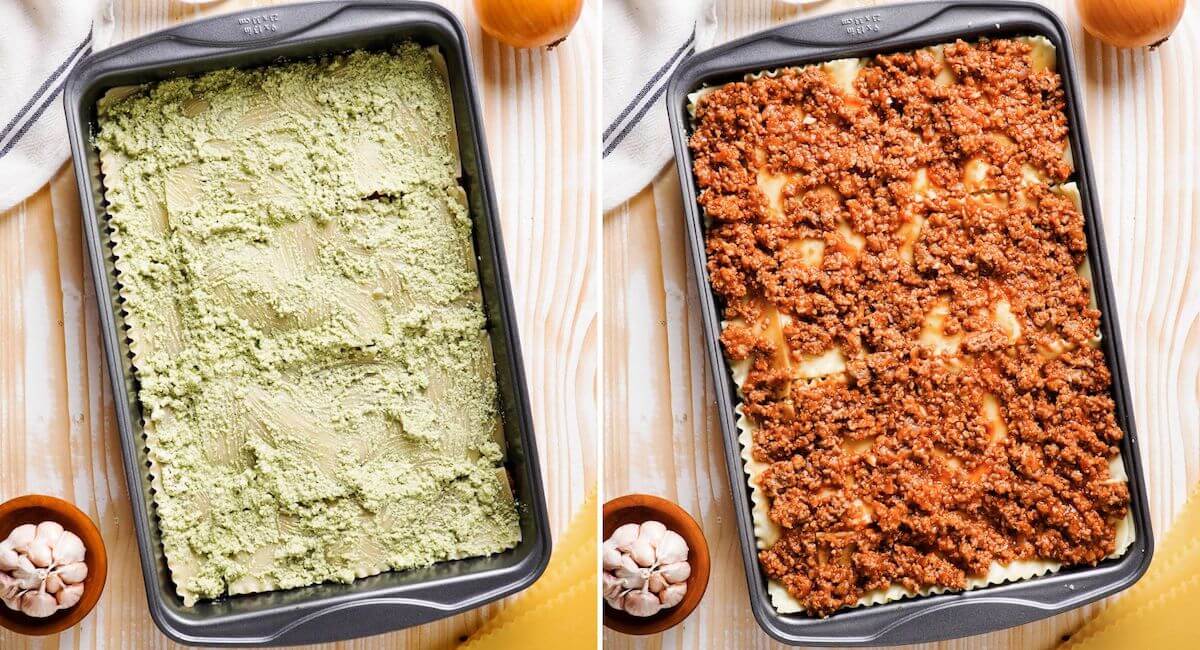 Cover the pan, reserving some of the mozzarella.
Bake the lasagna until almost done.
Remove the foil and top with reserved mozzarella and bake again until the top is melted and edges start to crisp.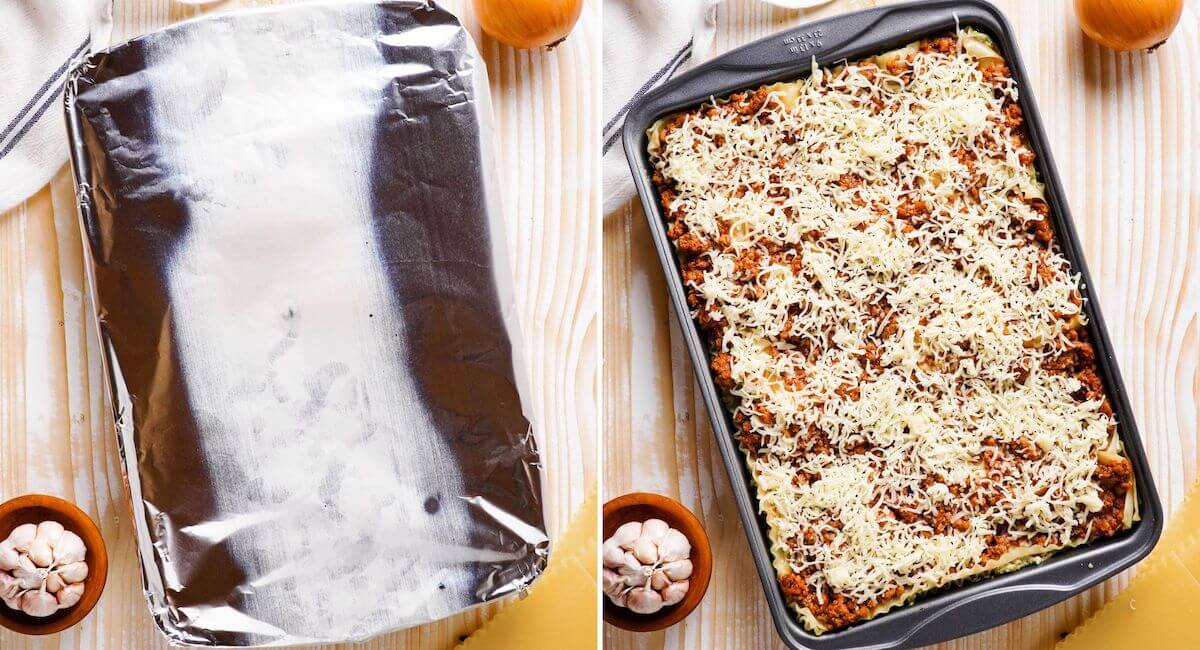 What To Serve With Pesto Sausage Lasagna
I like to serve this dish alongside something green, like a salad or veggie side. Some of my favorites are Baby Broccoli with Hazelnut Butter and The New Wedge Salad.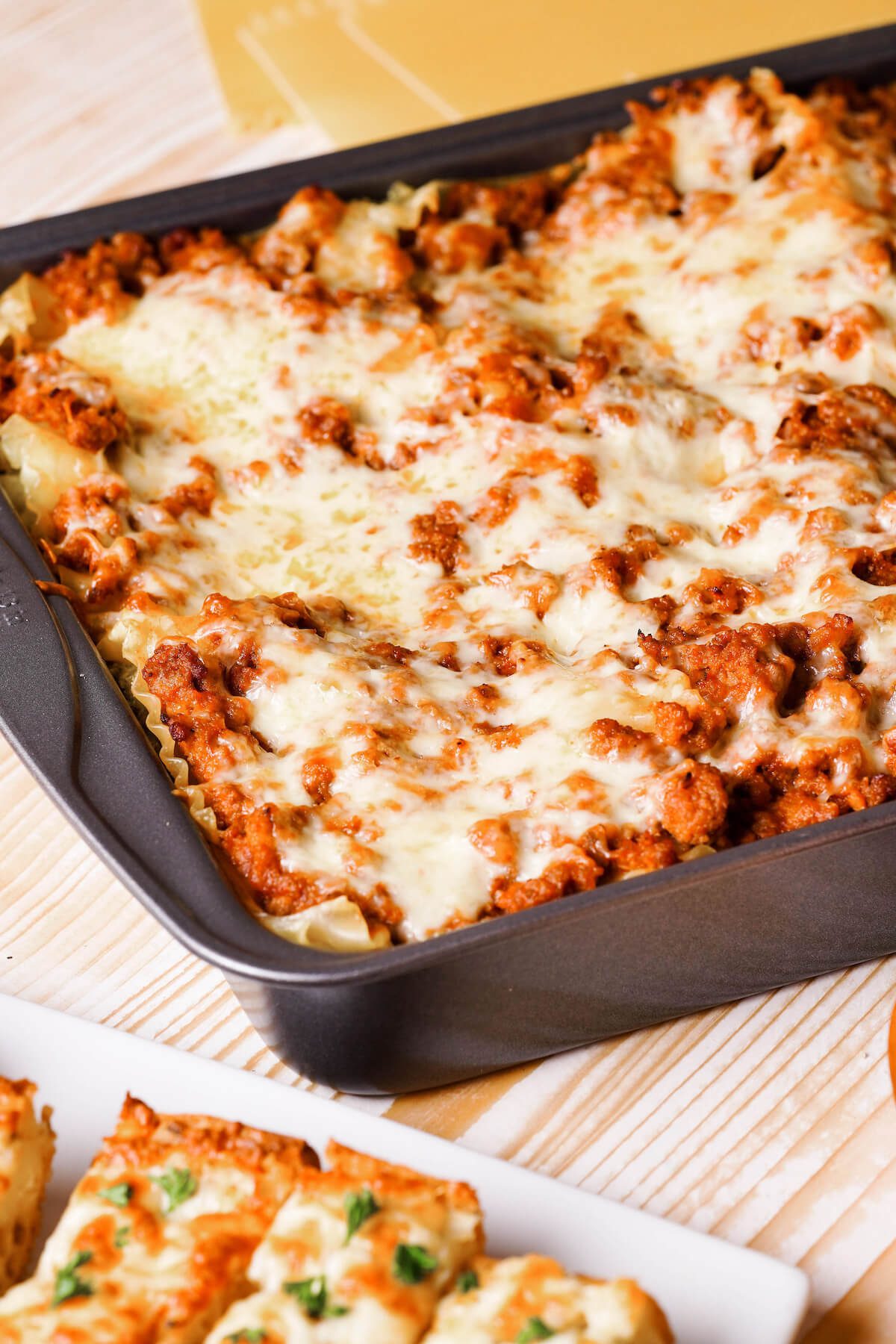 Lasagna FAQs
What kind of noodles should I use?
I like to use traditional dried lasagna noodles for this dish because they are sturdy and have those classic curled edges. If you'd prefer, you can use fresh pasta sheets instead. If using fresh pasta, no need to boil the pasta before assembling and baking.
What size pan should I use?
A regular 9-by-13-inch baking dish will barely hold hold all 4 generous layers of goodness between the noodles, so I recommend using a deep dish 9-by-13-inch lasagna pan. If you do use a standard 9-by-13-inch pan, just place it on a baking sheet to catch any drips.
Why do I have to rest lasagna after baking?
Lasagna is very messy to serve! Letting it rest after baking allows the noodles to absorb extra juices and for the cheese to set up just a bit. It's a lot easier to serve up if you let it sit for 10 to 20 minutes after baking. Plus, it'll be too hot to eat straight out of the oven.
Can I freeze this recipe?
You can freeze the recipe just before baking. Wrap the pan well in foil and freeze for up to 3 months. When ready to bake, I suggest thawing in the fridge up to 4 hours, or at room temperature up to 2 hours, then putting it in the oven.
It may take 30 to 40 minutes longer to cook through if cooking from frozen. Use a meat thermometer to check the center and make sure it is around 250ºF in the center before removing it from the oven.
Can I make this gluten free?
You can use gluten free lasagna noodles in this recipe. They may get a little more soggy than standard noodles, so I suggest undercooking them in the first stage of the recipe.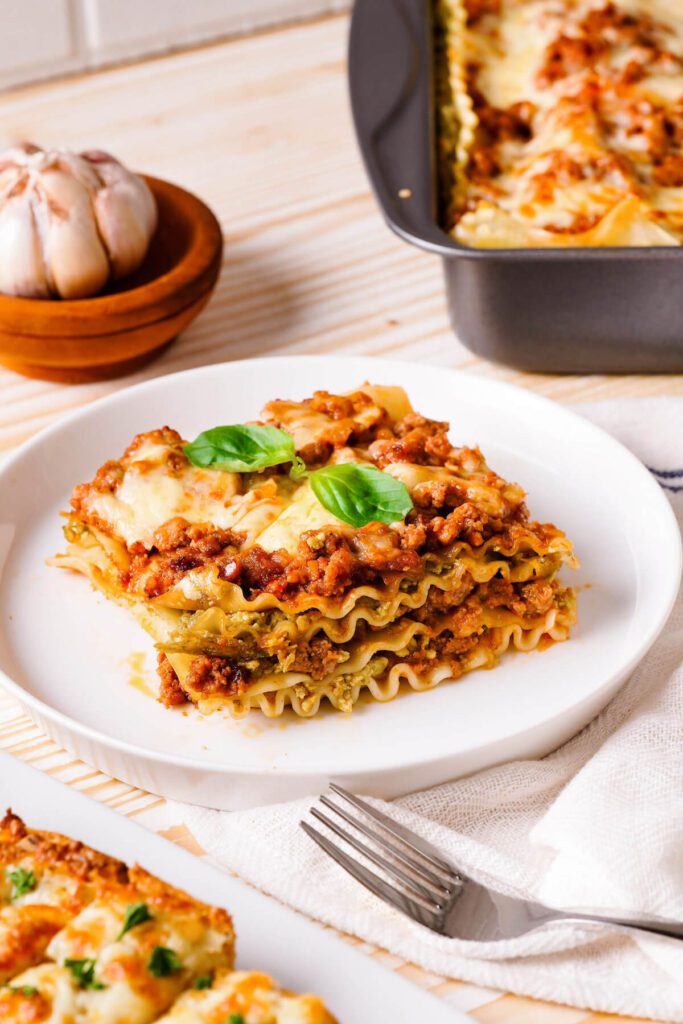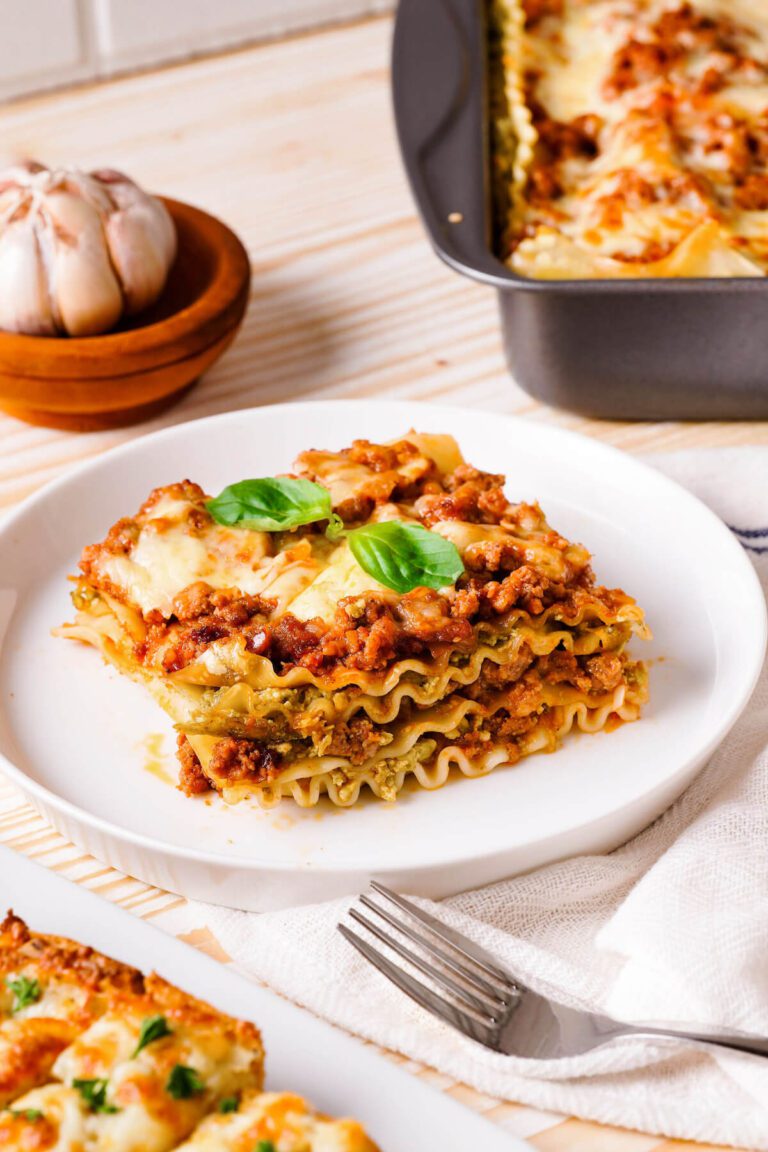 Let me know how it went!
Scroll to the bottom of the page to rate ⭐⭐⭐⭐⭐ and comment on this recipe. Leaving comments helps other too!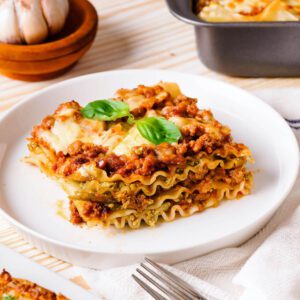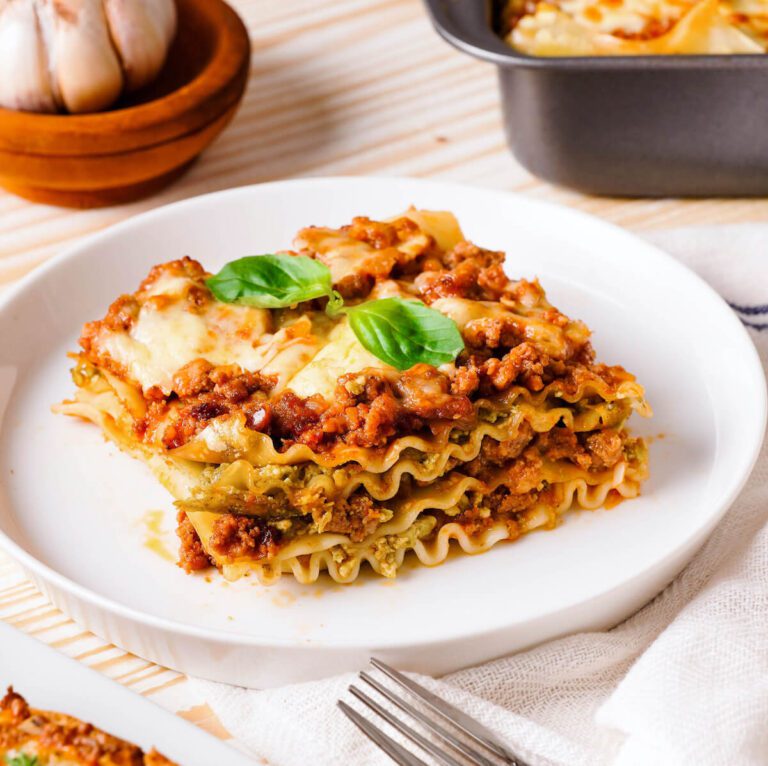 Sausage Lasagna with Pesto
Sausage lasagna with pesto is the ultimate comfort meal. I've created layers of basil pesto, ricotta, Italian sausage, beef, and red sauce to make the perfect lasagna recipe.
Ingredients
1

pound

spicy or sweet Italian sausage links, casings removed

1

pound

ground beef

1½

teaspoons

kosher salt, divided

2

cloves

garlic, minced

¾

teaspoon

fennel seeds, crushed

1

medium

yellow onion, finely diced

2

jars

(24-ounce jars) marinara sauce

2

cups

whole milk ricotta

1

cup

basil pesto

¼

cup

shredded Parmesan

1

package

(16-ounce package) lasagna noodles

1

pound

mozzarella, grated (4 cups)
Instructions
In a large, high-sided skillet, sauté pan, or Dutch oven, over medium-high heat, combine the sausage, ground beef, 1 teaspoon salt, garlic, fennel seeds, and onion. Cook, breaking up meat into very small pieces, until meat is cooked through, about 10 minutes. Remove from heat and add the marinara sauce. Stir to combine and set aside.

Heat oven to 375ºF. Cook lasagna noodles in very salty water according to package directions, drain, and lay flat on a plate.

Meanwhile, in a medium bowl, stir together the ricotta, pesto, remaining ½ teaspoon salt, and Parmesan.

To assemble lasagna, spread ¾ cup of the meat sauce in the bottom of a large lasagna pan (9-by-13-inch deep dish). Add a single layer of noodles. Spread ⅓ of the ricotta mixture on the noodles and top with 1 cup of the shredded mozzarella. Repeat by adding a layer (this time about 2 cups) of meat sauce, more noodles, another ⅓ of the ricotta, and another cup of the mozzarella. Repeat this process one more time, and then layer on remaining noodles and meat sauce, in that order. You will have 1 cup mozzarella left; set that aside to use at the end of the cooking time.

Cover pan with foil and bake, until heated through and cheese is melted, about 45 minutes. Uncover and sprinkle with remaining 1 cup mozzarella. Bake until the cheese is melted, about 10 more minutes. Alternatively, broil a few minutes to melt the cheese and get a golden top.

Remove lasagna and let rest 10 to 20 minutes before slicing and serving.
Notes
Nutrition information is estimated using a calculation program. Numbers may not be exact depending on the brands of food you use.
Nutrition
Calories:
644
kcal
Carbohydrates:
33
g
Protein:
32
g
Fat:
42
g
Saturated Fat:
17
g
Polyunsaturated Fat:
2
g
Monounsaturated Fat:
13
g
Trans Fat:
0.5
g
Cholesterol:
109
mg
Sodium:
1094
mg
Potassium:
373
mg
Fiber:
2
g
Sugar:
3
g
Vitamin A:
872
IU
Vitamin C:
2
mg
Calcium:
360
mg
Iron:
2
mg
Main Dish Recipes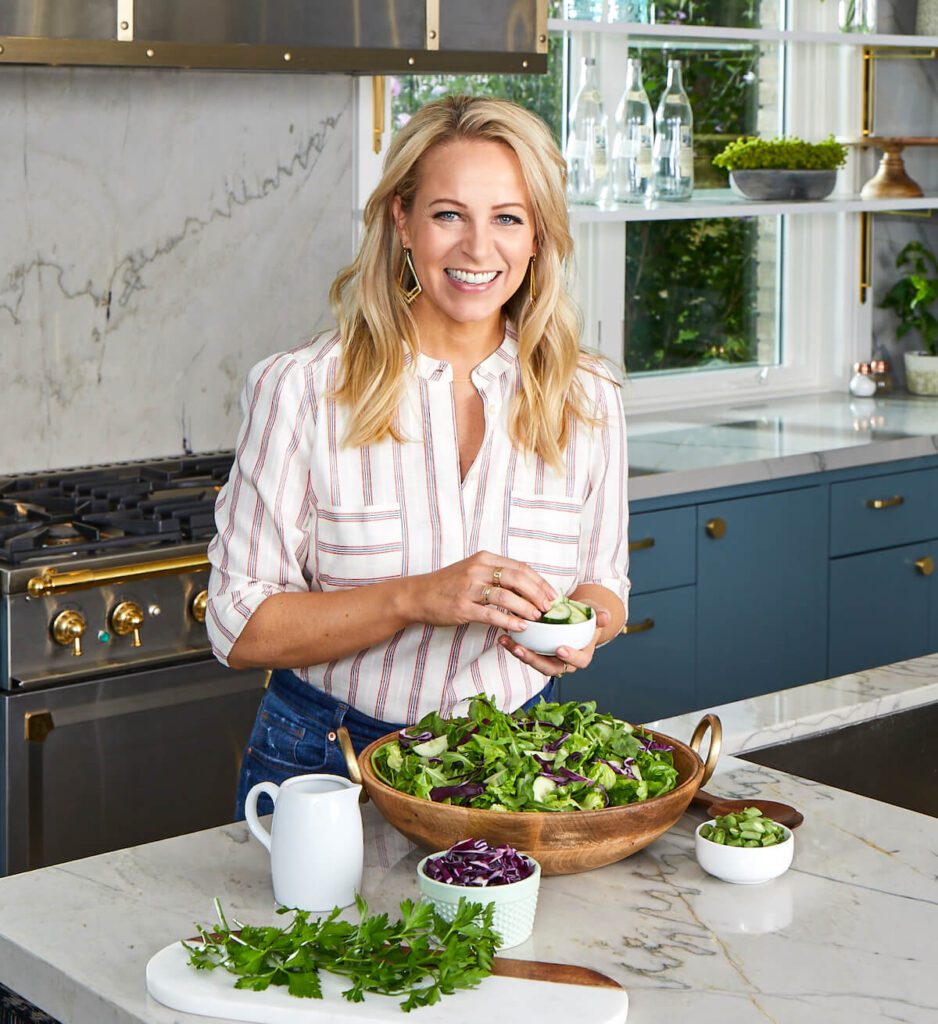 About Tara Teaspoon
I've been in the food publishing business for over 20 years, creating recipes & food-styling for magazines, books, television & advertising. Order my new cookbook & stick around for amazing things to eat.