---
The Blueberry Ginger Sizzle Smoothie gives you a little spicy boost and is packed with antioxidants.
---
I get a kick out of ginger in my smoothies. Literally and figuratively! The spicy punch from fresh ginger is one of a kind when mixed with fruit, greens, nuts and seeds. It brightens, enlivens and makes the whole drink pop!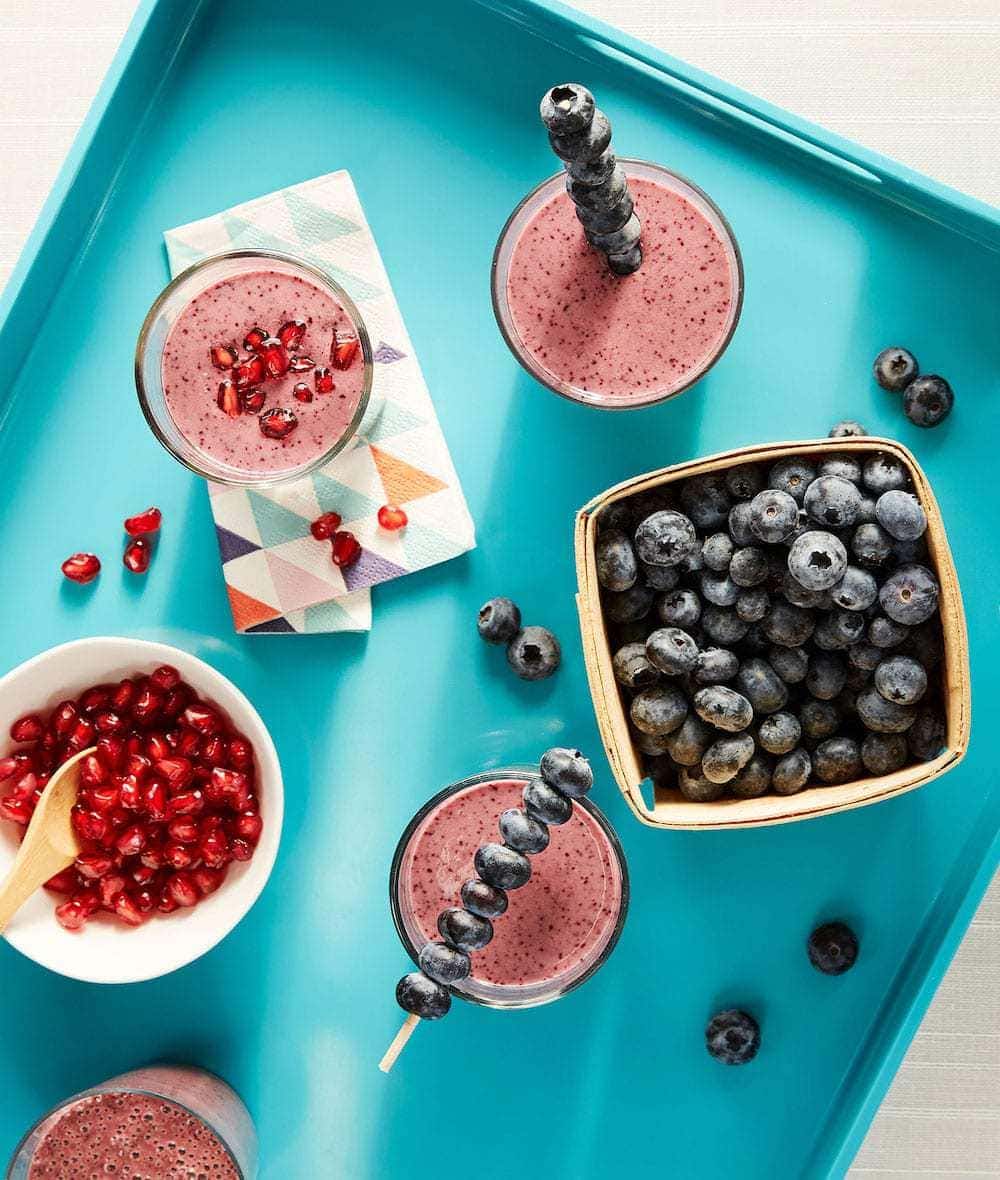 This smoothie is one of the best. One of my favorites. And I didn't have to add crunchy kale or spinach to it to get my nutrition. Yogurt, flax, blueberries and pomegranate juice do that for me.
Yogurt (my favorite is Siggi's for so many reasons) is high in protein, pro-biotics and adds luscious creaminess to my smoothies. Siggi's (not a sponsor of this post) is a low-sugar yogurt (so I can use vanilla yogurt in my smoothie without worrying about loading on the sugar).
Plus they use cane or agave if they add any at all. Also their process for making the yogurt removes a lot more water so it contains 2 to 3 times the protein of other yogurts. Ok I'm done!
Ginger is a powerhouse. Not only does it taste delicious, but it helps soothe that intestinal tract, has anti-inflammatory effects and can relieve nausea (you're welcome my pregnant friends).
Since I think it's the bee's knees in smoothies, I keep it handy. I will peel a large knob of ginger (not my favorite task) and store it in a plastic bag in the fridge for a week or so. You can then just cut off a little piece and add to your blender.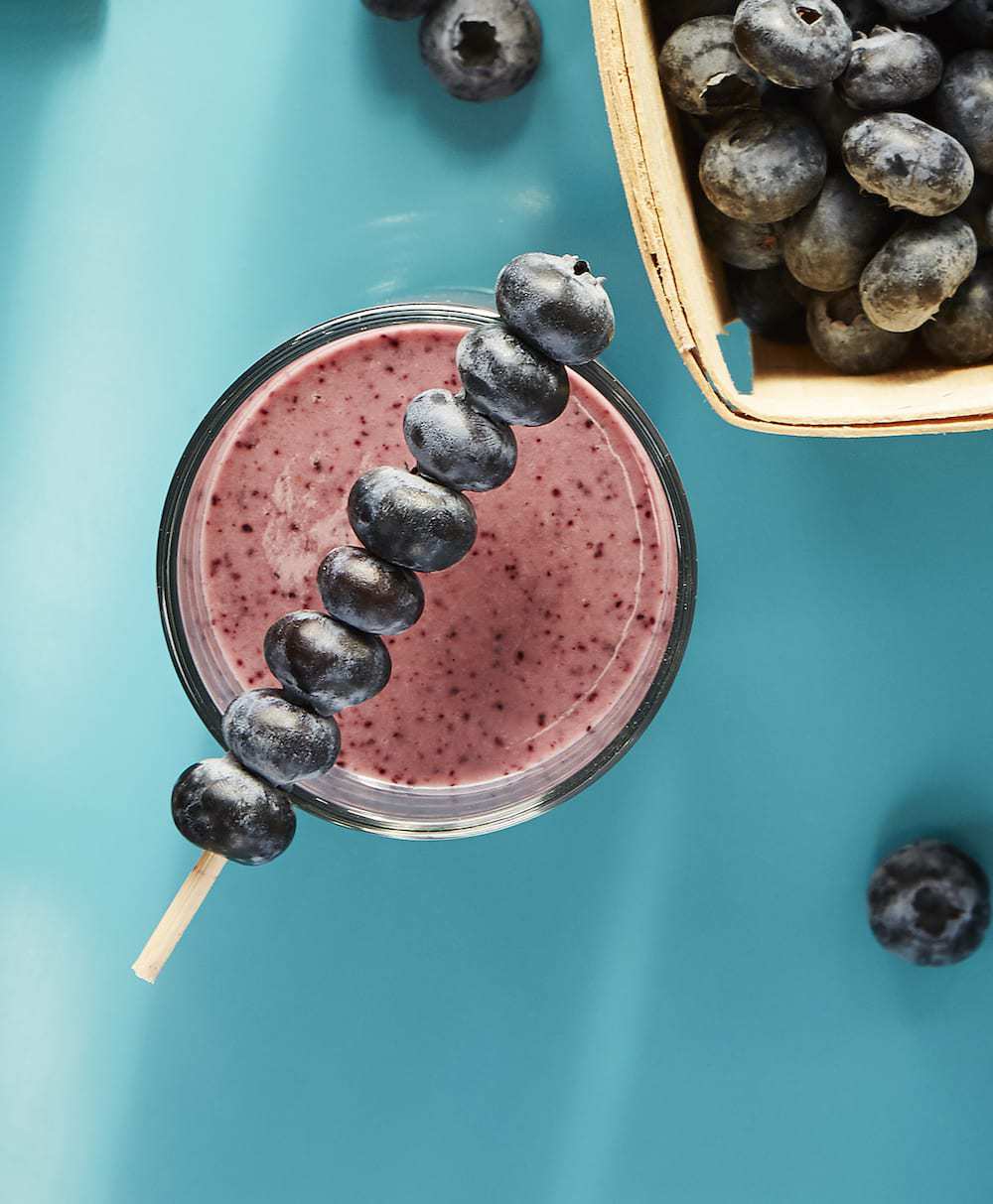 The blueberry, of course a healthy-fruit favorite. They are loaded with antioxidants that we know help combat the free radicals that can damage cellular structures as well as DNA. I like that!
Also these little blubes can be frozen without damaging their antioxidant properties. Even better news for this delicious smoothie because frozen fruit adds thickness to a blended drink.
A Blueberry Ginger-Sizzle Smoothie is like a flavor explosion in your mouth. Your healthy body will thank you too!
Flax seeds are super hight in omega-3 fatty acids. The good stuff! and are packed full of lignans – a fiber-like compound, that pays the fiber bill but also provides antioxidant protection.
Pomegranate juice rocks for flavor, but also for antioxidant powers. These antioxidants include phytonutrients such as polyphenol (helps slow the build up of cholesterol in arteries. Heart-health bonus!), tannins and anthocyanins.
As or more beneficial than those found in green tea and red wine. Wowza! Pomegranate juice is so so healthy, but also high in sugar, so keep it to a minimum in smoothies if other ingredients are high in sugar as well.
Down to it! If you've got a Vitamix you're in for a treat.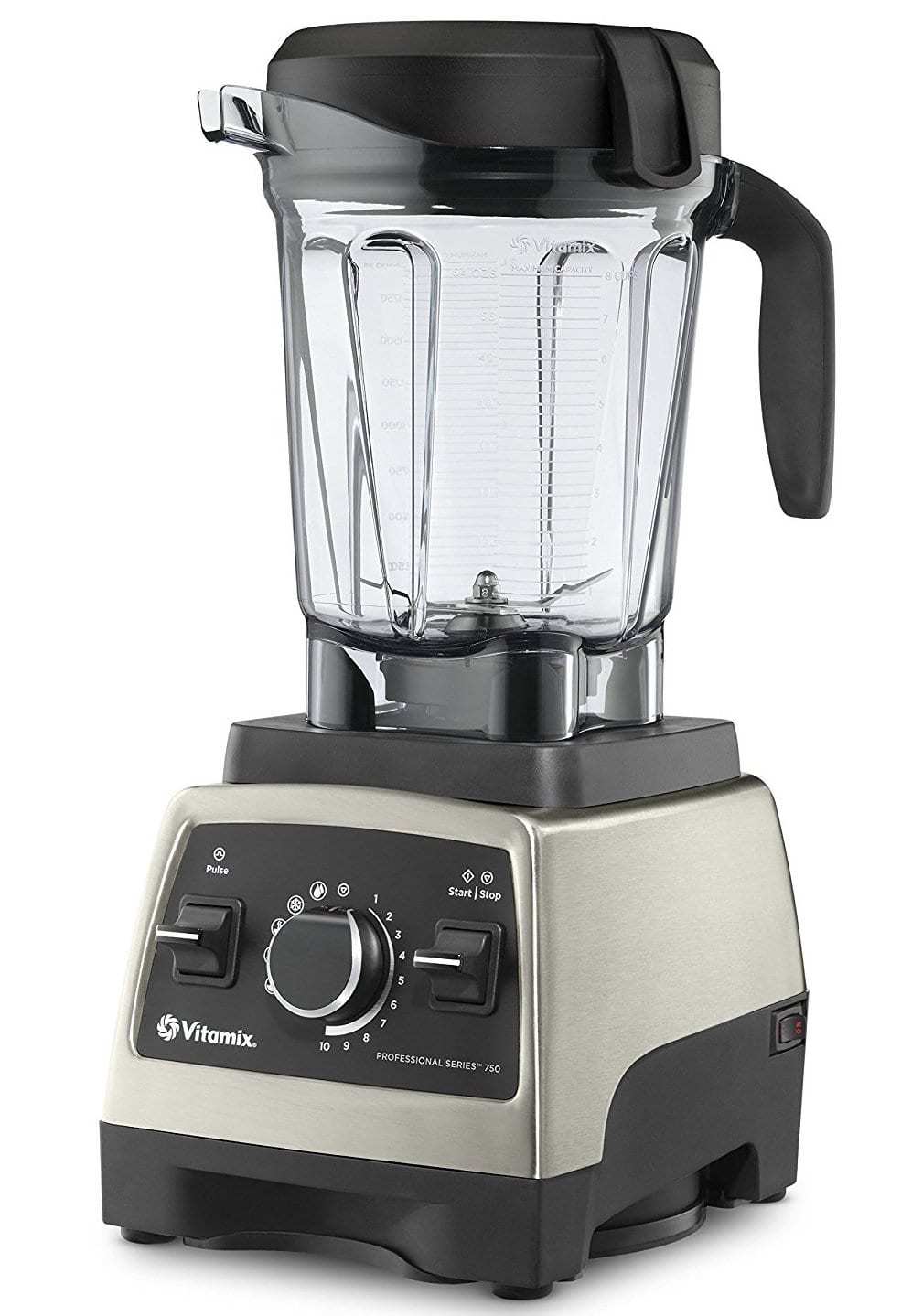 This one is mine and I love it! The smoothie is blended like a champ. If you have a standard blender, I'd suggest grating your piece of ginger into the blender. The standard blender doesn't have the power to puree the ginger as well.
If you love blender drinks, you'll want to try another of my favorites! Hide Your Veggies Healthy Smoothie, does just that.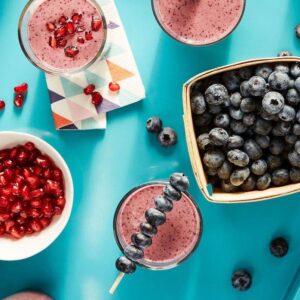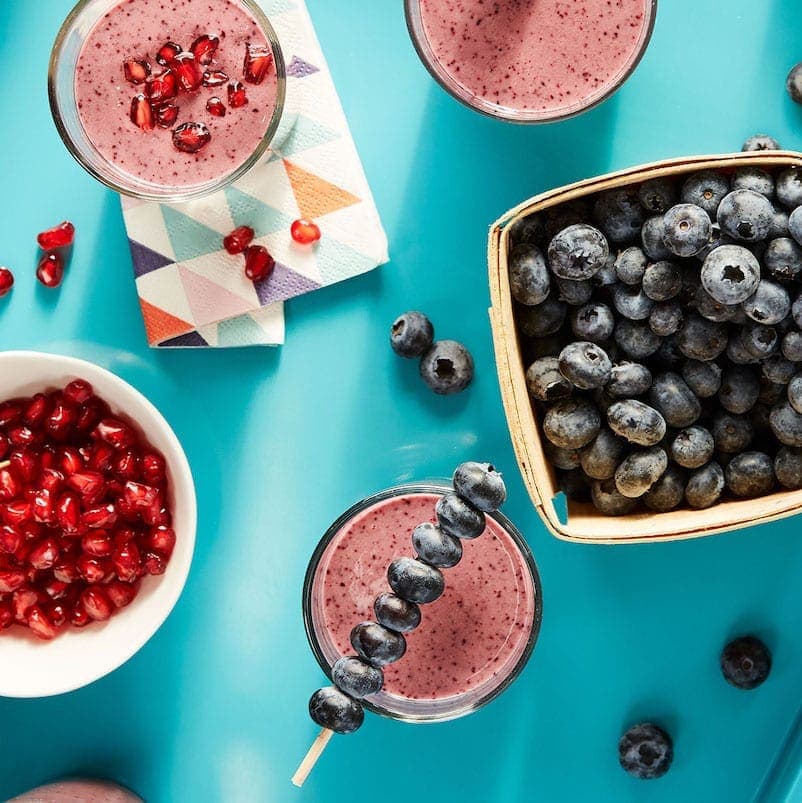 Blueberry Ginger-Sizzle Smoothie • Best Smoothies
The Blueberry Ginger-Sizzle Smoothie gives you a little spicy boost and is packed with antioxidants.
Ingredients
2

cups

fresh or frozen blueberries

1½

teaspoon

fresh grated ginger

or a ¾-inch knob

¾

cup

pomegranate juice

¾

cup

low-fat vanilla yogurt

2

teaspoon

flax seeds

1

tablespoon

honey

or agave

½

cup

or 4 ice cubes
Instructions
In a blender combine all ingredients. Blend until completely smooth and serve immediately.
Notes
If using a standard blender rather than an industrial model, grate your ginger. You can swap the honey and agave for 1 teaspoon of stevia liquid if you'd like!
Nutrition
Calories:
262
kcal
Carbohydrates:
56
g
Protein:
6
g
Fat:
3
g
Saturated Fat:
1
g
Cholesterol:
5
mg
Sodium:
75
mg
Potassium:
539
mg
Fiber:
4
g
Sugar:
48
g
Vitamin A:
119
IU
Vitamin C:
15
mg
Calcium:
184
mg
Iron:
1
mg
Refreshing & fun drink recipes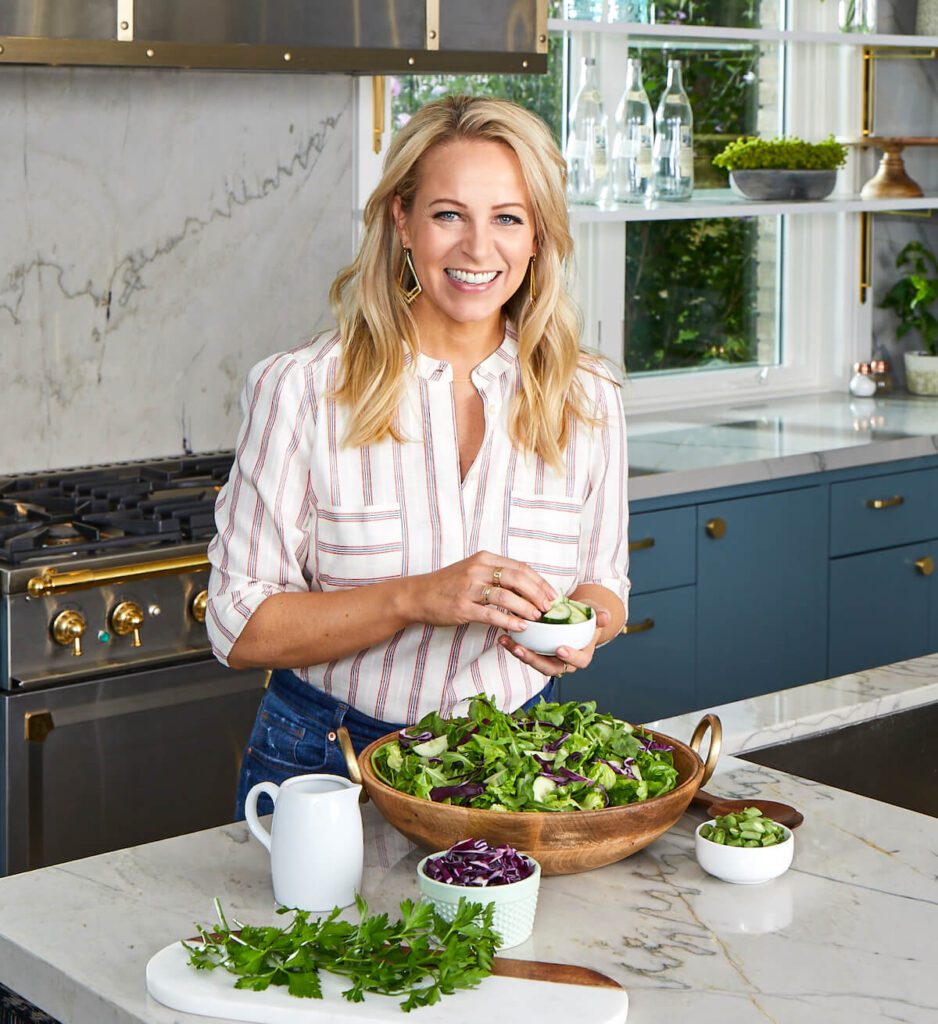 About Tara Teaspoon
I've been in the food publishing business for over 20 years, creating recipes & food-styling for magazines, books, television & advertising. Order my new cookbook & stick around for amazing things to eat.
Recipe by Tara Teaspoon. Photography Ty Mecham. Prop Styling Veronica Olson.
I'm not a doctor (surprise!). Health and nutrition facts are not medically validated and sourced mainly from LiveStrong.com and WHFoods.com for this post.