---
This unique and sophisticated Kumquat Thyme Cocktail is easy to make at home. You'll find yourself using the delicious simple syrup for more than just a sip!
---
A kumquat thyme cocktail is made with a splash of lemon and bourbon with a fantastic simple syrup. Mix this simple syrup with your best bourbon to create a unique and aromatic cocktail that is perfect for next party. The drink is easy to make, and left over syrup can be drizzled over just about anything.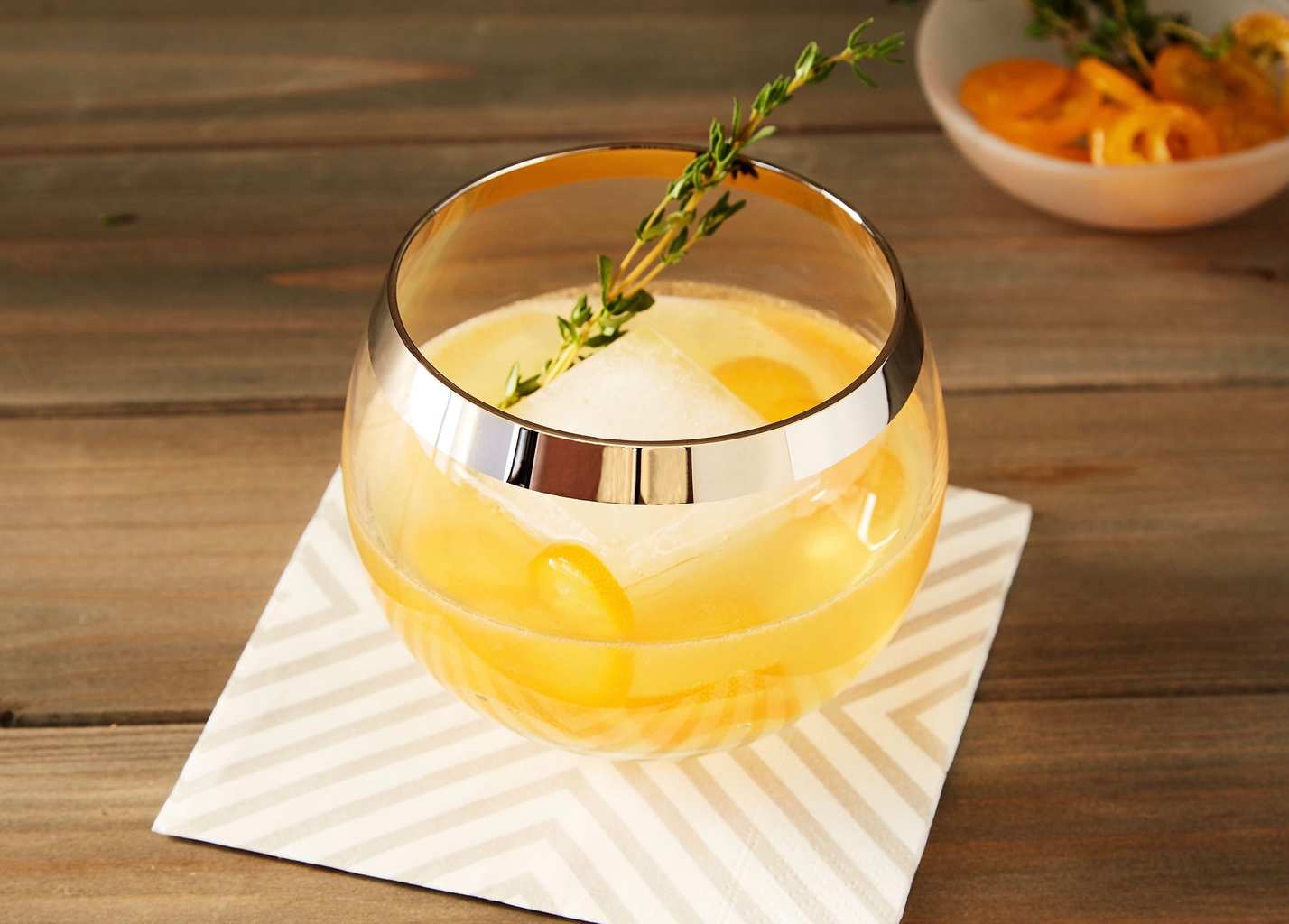 This thyme cocktail is infused with herbs, citrusy kumquats and a smooth bourbon. Read below to see how to make this cocktail into a mocktail for a more family-friendly sip.
How to cook with kumquats:
You may be asking yourself, "What are kumquats again?" I like to think of Kumquats as the fun-size citrus fruit. They are small, orange-like fruits with an acidic pulp and sweet and bitter rind. These little fruits are especially unique because you can eat them whole!
Because kumquats are so fun, I thought they would be perfect to embellish a bourbon cocktail. Just add the thyme-infused simple syrup to some bourbon and lemon juice and voilà, you have yourself your new favorite drink!
You may like some of my other cocktails and mocktails as well:
I love serving cocktails and mocktails in fun and beautiful glasses. Like these cocktail glasses? Find similar roly poly cocktail glasses here, or serve in your favorite low ball, or old fashioned whisky glass. I love making large ice cubes to fit in my old fashioned glasses. You can get a large ice cube maker here.
Ingredients for a Kumquat simple syrup:
3 thyme sprigs
10 sliced kumquats
1 cup sugar
1 cup water
Stir all ingredients in a saucepan over medium heat until the sugar is fully dissolved. Set aside to cool.
Find kumquats at your grocery store, sometimes in the gourmet fruit section. You can also find them at specialty stores. If you grocer doesn't have them, winter is the season when you can ask him to order them in for you.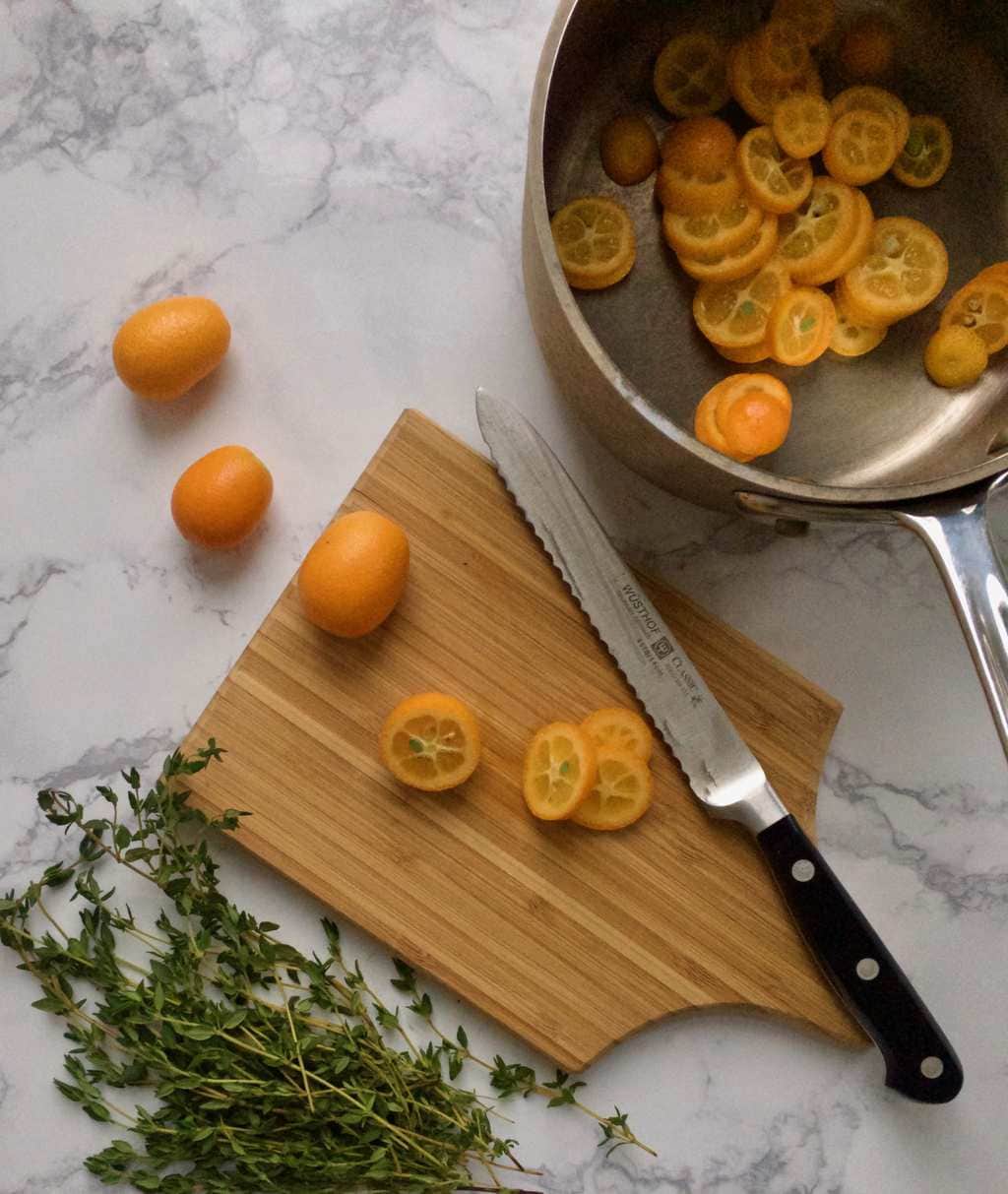 Other uses for simple syrup:
One of my favorite things about simple syrup (besides how easy it is to make), is how versatile it is. I pour it over all of my sweet breakfast foods in place of a maple syrup. I love it stirred into plain yogurt, and I even mix it into my tea.
It's great for sophisticated ice pops as well. Blend fresh fruit and this simple syrup in a blender until very smooth. Pour the mixture into ice pop molds and freeze. A great, non-fat treat!
Drizzle this kumquat and thyme simple syrup on fruit, in tea, yogurt or pancakes! It's not just for a delicious kumquat and thyme cocktail.
This simple syrup is more flavorful than some because it is made with whole pieces of citrus. The oils from the herbs and the citrus rind infuse right into the sugar mixture, and it gets a tangy kick from the insides of the kumquats.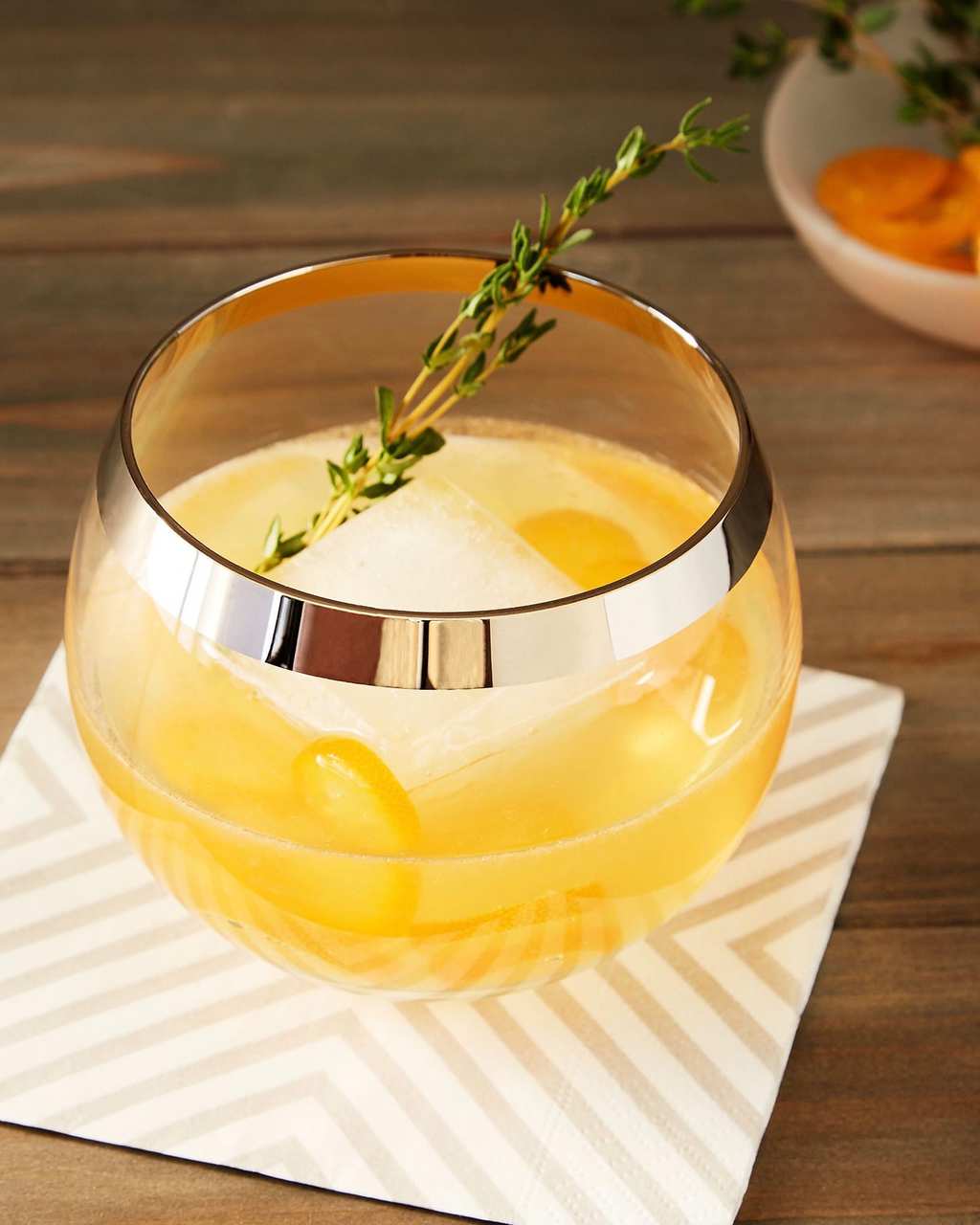 This Kumquat Thyme Cocktail is fitting for any winter party or just a quiet evening with a friend. But why only have one type of cocktail at your special gathering? Try my Earl Grey Cocktail for a sophisticated sip.
Can I make this a mocktail?
Yes you can enjoy this cocktail alcohol free! Simply swap the bourbon for orange juice, apple cider, or tonic water for a less sweet mocktail. The kumquat and thyme flavors still come through deliciously.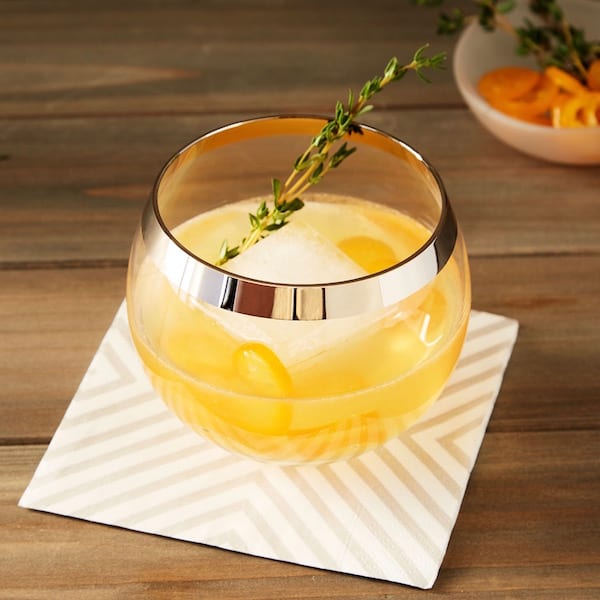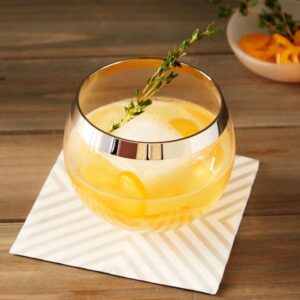 Kumquat Thyme Cocktail
This unique and sophisticated Kumquat Thyme Cocktail is easy to make at home. You'll find yourself using the delicious simple syrup for more than just a drink!
Ingredients
1

tablespoon

Kumquat Thyme simple syrup

see recipe below

1 ½

oz

Bourbon

1

teaspoon

fresh lemon juice
Instructions
Stir together the simple syrup, bourbon and lemon juice. Pour over ice and serve garnished with kumquat slices and thyme.
Notes
You can use the candied kumquat slices as garnish in the drink or eat them on pancakes or in yogurt.
Kumquat Thyme Simple Syrup
3 sprigs thyme
10 sliced kumquats
1 cup sugar
1 cup water
Mix ingredients for simple syrup in a saucepan. Stir over medium heat until sugar dissolves. Set aside to cool. Can be stored refrigerated up to 1 week. Makes 1 cup.
Nutrition
Serving:
1
g
Calories:
153
kcal
Carbohydrates:
14
g
Sodium:
12
mg
Sugar:
14
g
Vitamin C:
2
mg
Iron:
0.7
mg
Refreshing & fun drink recipes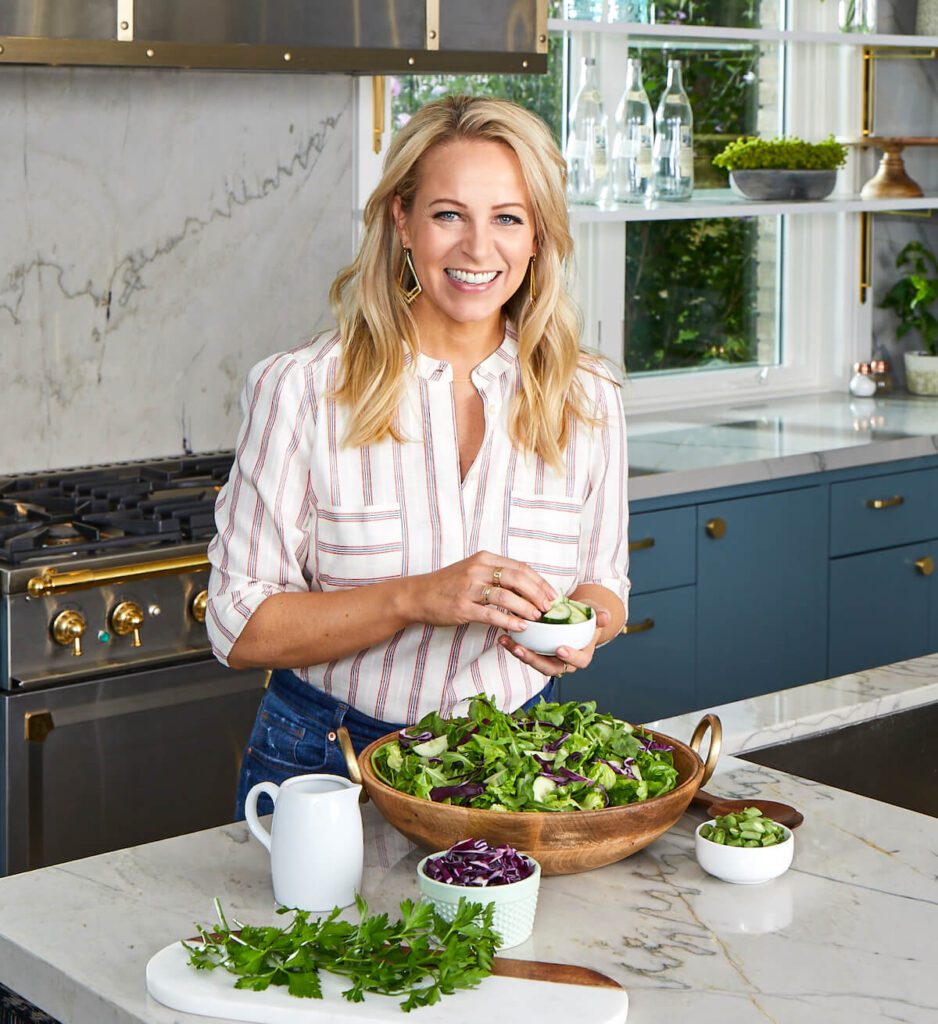 About Tara Teaspoon
I've been in the food publishing business for over 20 years, creating recipes & food-styling for magazines, books, television & advertising. Order my new cookbook & stick around for amazing things to eat.
Recipe by Tara Teaspoon. Recipe also by Ayelet Davids. Food styling Tara Teaspoon. Prop Styling Veronica Olson. Photography Ty Mecham.