---
Chicken biryani is a delicious Indian casserole that calls for a paste of spices, herbs and chilies. I made it easy by using a prepared curry paste and other fresh ingredients.
---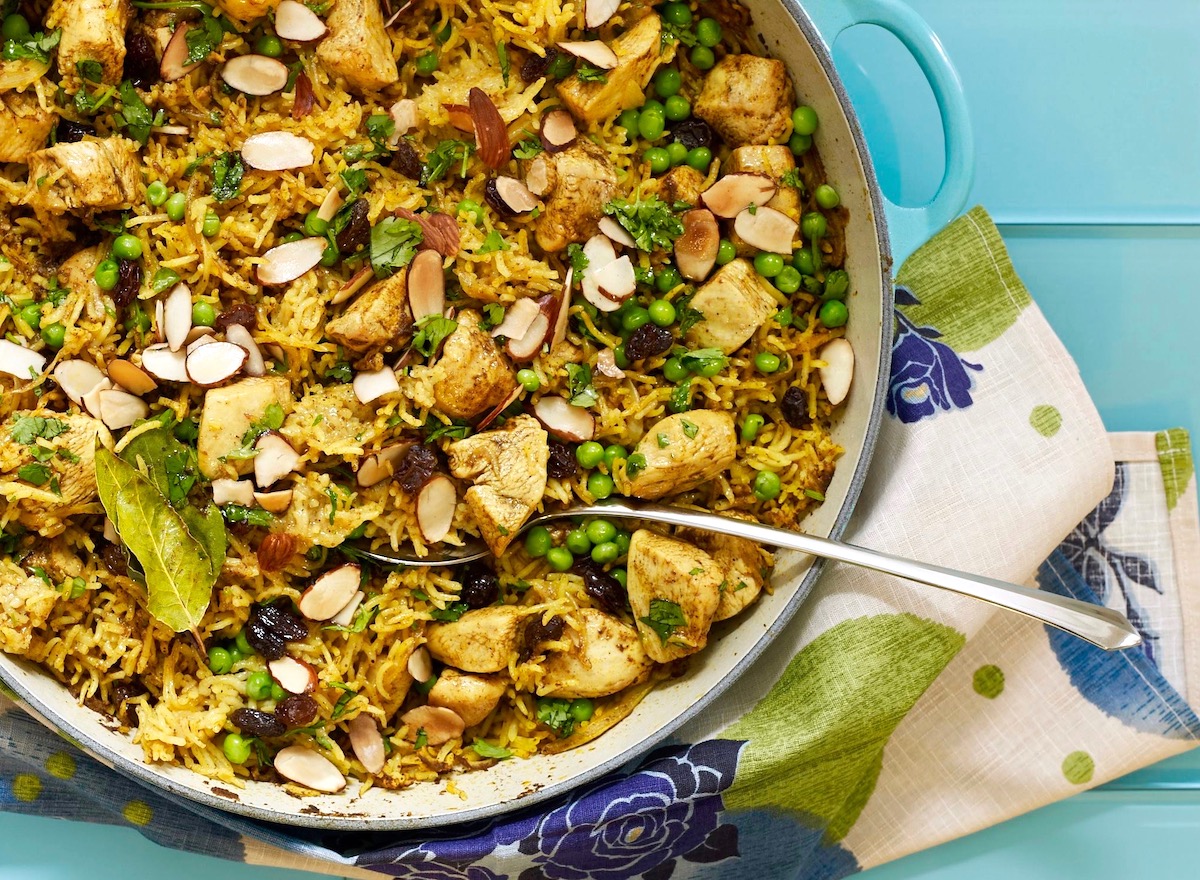 We all have our favorite comfort foods. In this country, most people will list something cheesy, chocolatey, or baked as their comfort food.
At the top of my list are my chocolate chip cookies. You might say mac and cheese or even pancakes.
In parts of India, folks grew up with biryani as one of those dishes at the top of the comfort-food list! I have to say, it's pretty darn delicious, and comforting.
A pleasant mix of spices, just the right amount of veggies, tasty chicken, and rice can't go wrong.
Jump to:
What Is Biryani?
The word "biryani" comes from the Persian word "birian," which means "fried before cooking." I am down with anything fried!
In general, Indian biryani is a dish that's made with long-grain rice (like basmati) that's flavored with spices and cooked on the stovetop until tender. Biryani can be made with chicken, lamb, fish, and / or vegetables.
There are many kinds of Indian biryani, so the boneless chicken biryani recipe I'm sharing with you today is simply my take on the classic Indian dish!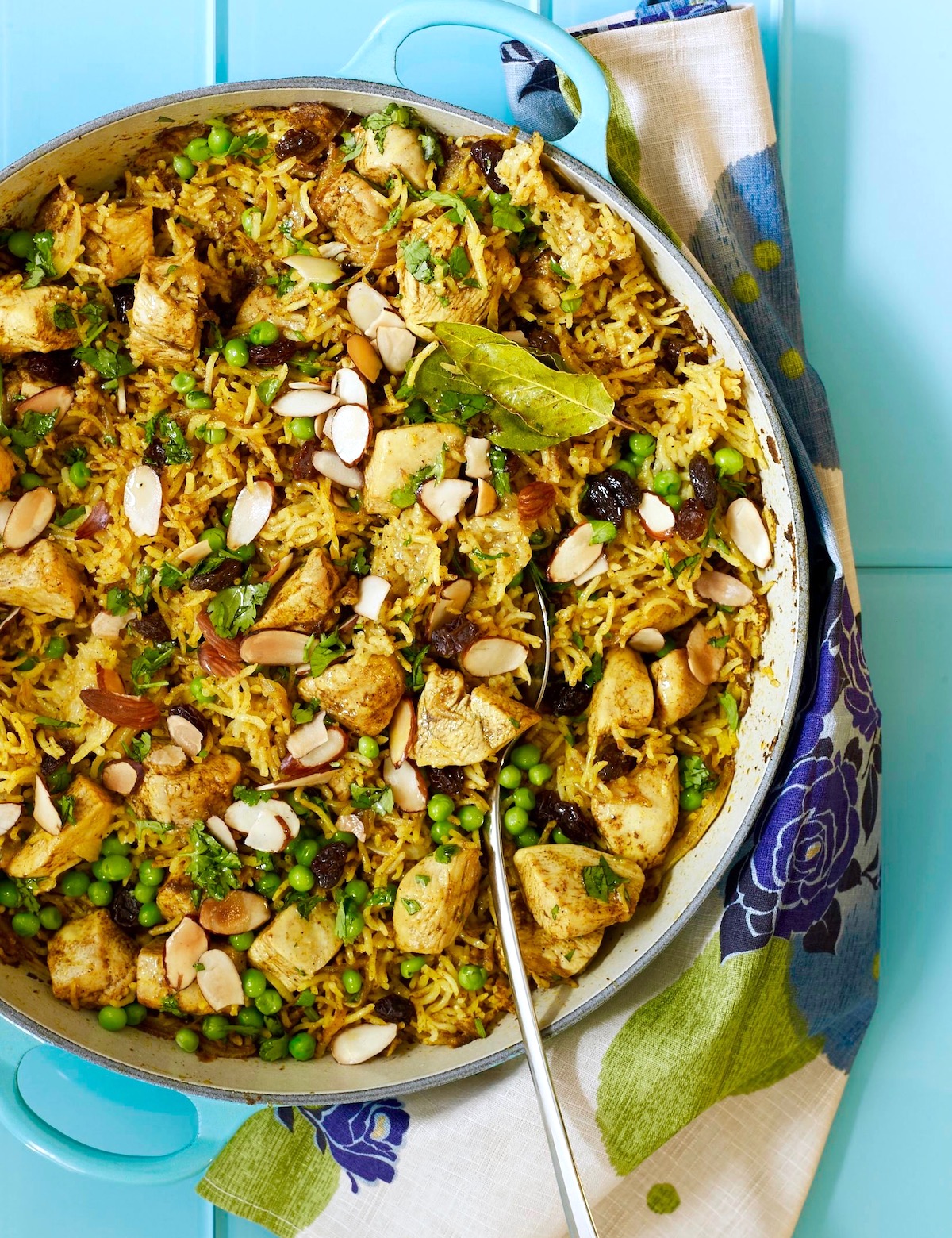 Ingredients in the Recipe
The base of this easy biryani recipe is basmati rice that's been soaked in water for about 10 minutes prior to being added to the pot.
To the rice, you'll add an onion, cubed chicken breasts, raisins, broth, frozen peas, slivered almonds, and fresh cilantro.
The biryani spices I used include: ground cardamom, ground cinnamon, ground turmeric, and a bay leaf. I also used my favorite biryani curry paste.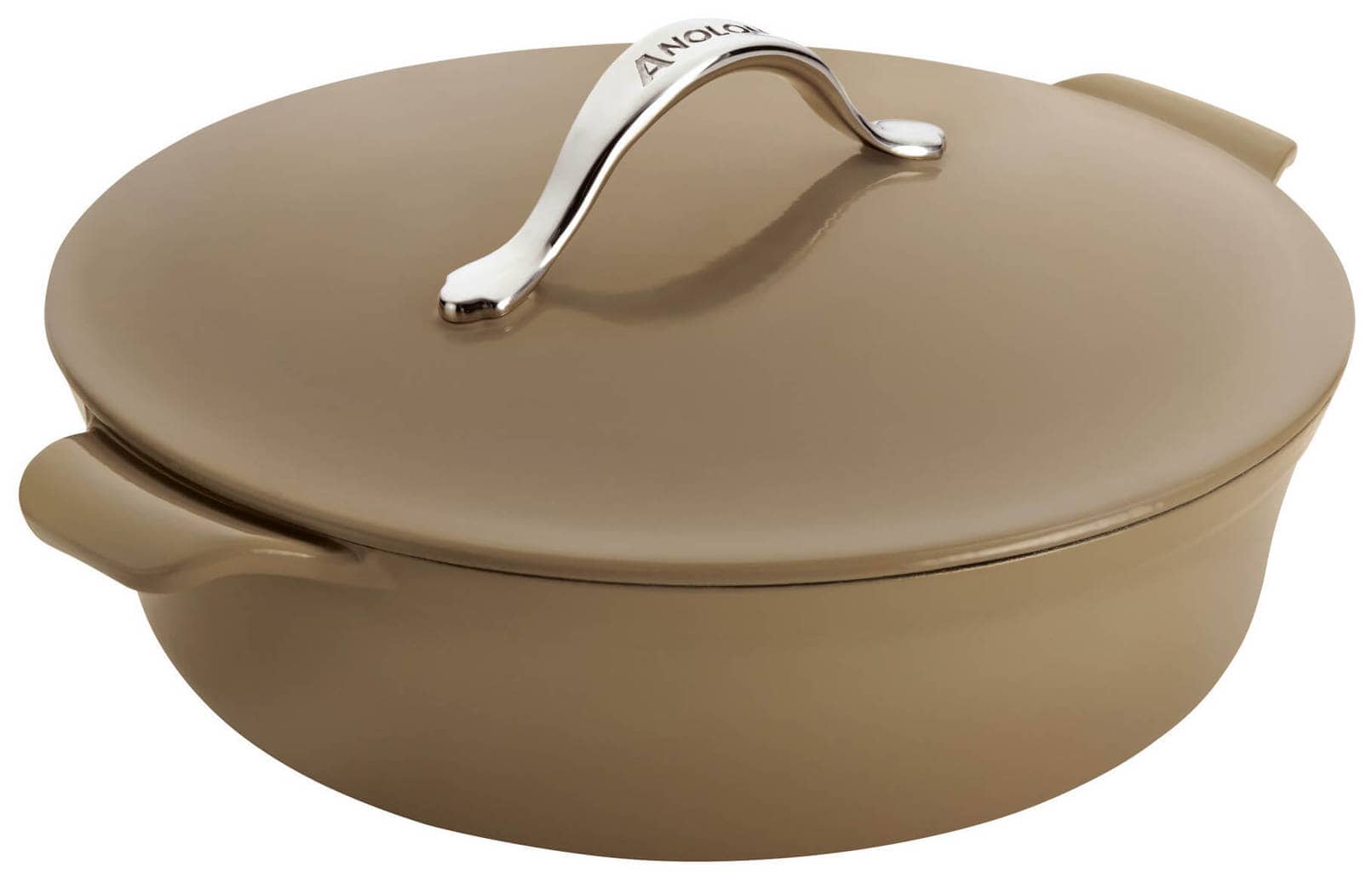 How to Make Biryani
You simply sauté (or fry) the onions, spices and chicken before adding any liquid. This softens the onions, mellows the spices and gives the chicken a head start on cooking.
Other than that you cover and simmer. So it's very hands-off once you do your initial chopping and sautéing.
Make it in a casserole braiser like this gorgeous one from Anolon, or a covered Dutch oven on the stovetop.
I also love my turquoise blue braiser from Le Creuset simply because it's turquoise.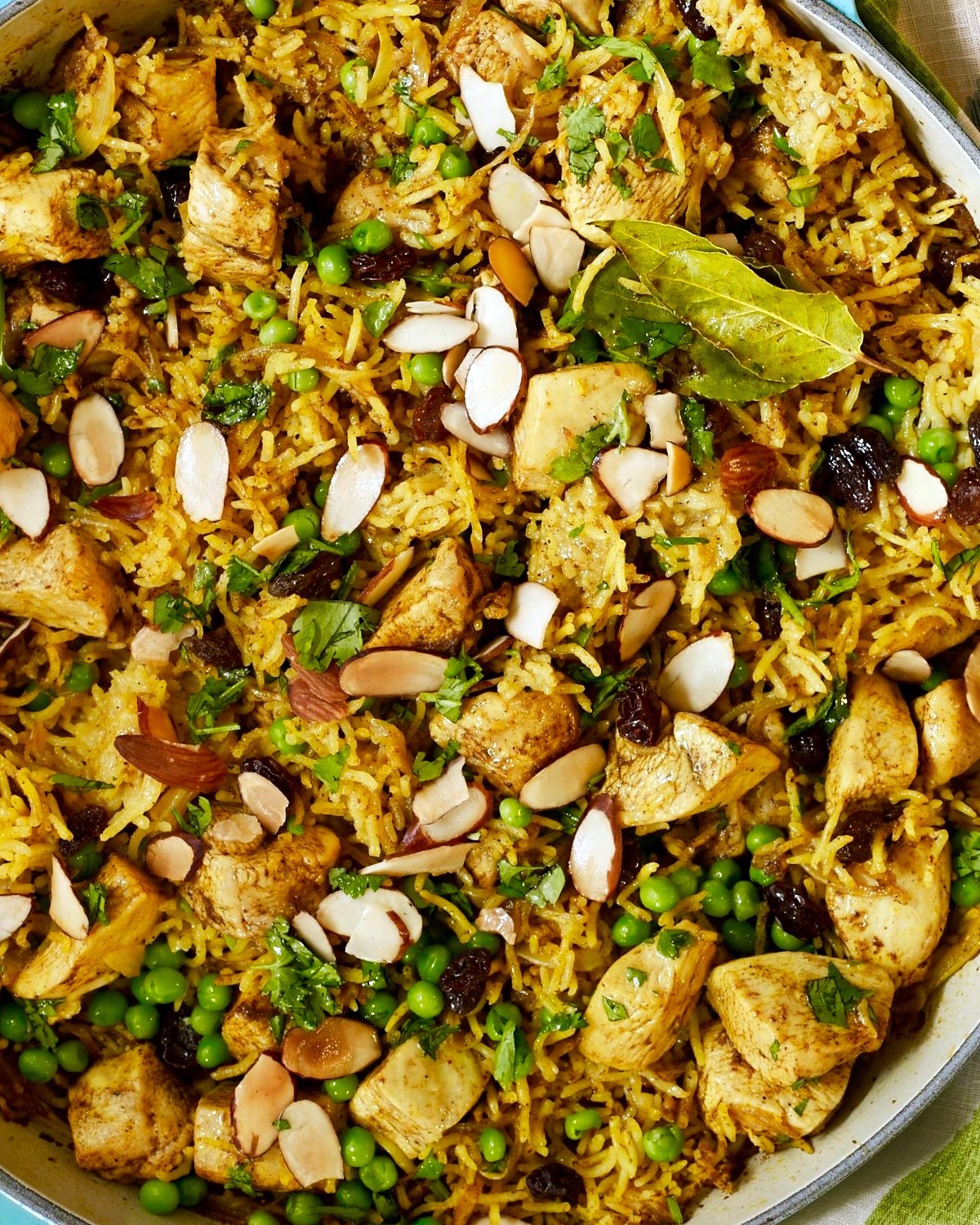 Why Soak the Basmati Rice Before Using It?
I always use a long grain rice like basmati or jasmine for my Indian dishes. They are both long grain, aromatic rices.
And by aromatic, I mean they smell lovely! Really, if you take a whiff of uncooked jasmine rice it smells like fresh popcorn!
While they are both long grain rices, jasmine rice is a little shorter and fatter than basmati; but both are miles longer than the typical American long grain rice.
Basmati rice is so long that it needs to be soaked before cooking. The length makes it quite fragile. Soaking allows the grains to absorb water and soften the starches so that it cooks evenly, and doesn't break while it's bumping around in the simmering water.
How to Use Curry Paste
Many Indian dishes start with a combination of spices called a curry. Each household has their own proportional blend for specific meals.
Spice companies have come up with curry powders and curry pastes that resemble these blends and that is what we have become used to tasting.
A curry paste usually includes spices plus onions, peppers, garlic or other aromatic veggies, blended into what we call a paste. My Curry Chicken Drumsticks with Chickpeas is a super tasty dinner where I made my own curry paste.
You typically cook the curry paste with your vegetables and meat or add it to a sauce and let the flavors cook and mix together.
For the chicken biryani, I did just that, adding a prepared curry paste to the pan along with the chicken. Using a prepared curry paste saves me from grinding peppers or compiling twenty different spices!
I typically grab Patak's brand (found in most grocery stores) for my chicken biryani. But you can use any mild to medium Indian curry paste.
Tips for Making Chicken Biryani
Cut the chicken into larger pieces. If you cut them too small, they'll overcook as they simmer alongside the rice and veggies.
I prefer using basmati rice to make this Indian biryani recipe, but jasmine rice will work in a pinch.
Be sure to soak the rice prior to making this recipe. Soaking the rice prevents it from breaking apart as it cooks.
More International Chicken Recipes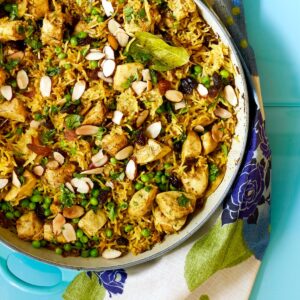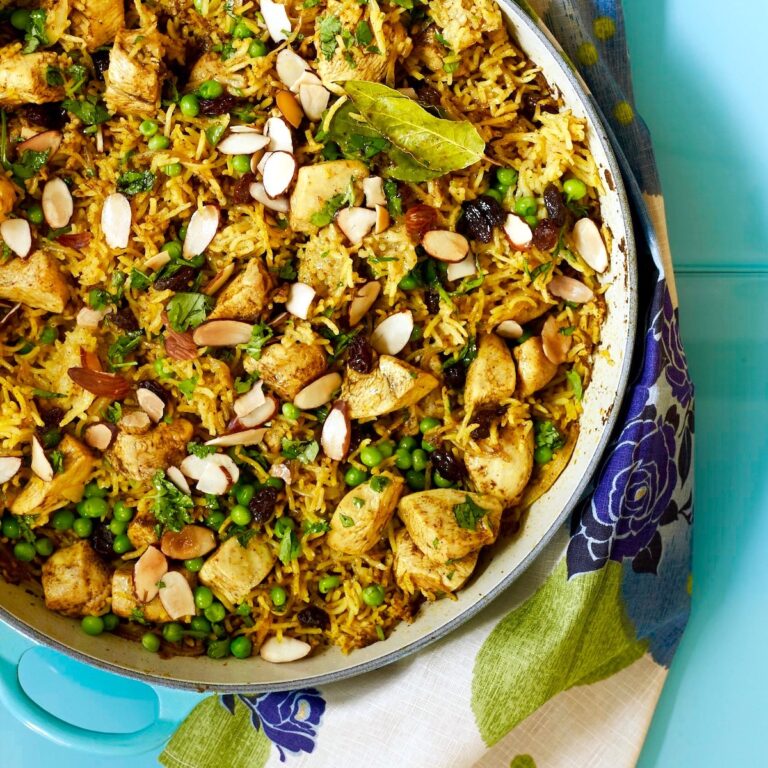 Indian Chicken Biryani
Chicken Biryani is a delicious Indian casserole that calls for a paste of spices, herbs and chilies. Add peas and almonds to this rice dish.
Ingredients
1½

cups

basmati rice

2

tablespoons

unsalted butter

1

medium onion

sliced root to tip

1

bay leaf

¼

teaspoon

ground cardamom

¾

teaspoon

ground cinnamon

¾

teaspoon

turmeric

¾

teaspoon

kosher salt

4

(about 1¾ pounds) boneless, skinless chicken breasts

cut into large pieces

5

tablespoons

biryani curry paste

or mild curry paste

½

cup

raisins or currants

3

cups

low-sodium chicken broth

¾

cup

frozen peas

thawed

¼

cup

chopped cilantro

½

cup

sliced almonds

toasted
Instructions
Soak rice in warm water for 10 min, then rinse in cold water until the water runs clear; drain well in a fine sieve.

Heat butter in a 4- to 5-quart casserole or Dutch oven over medium heat and add the onion and bay leaf; cook until soft, about 10 min.

Stir in the cardamom, cinnamon, turmeric, salt, chicken, and curry paste and cook until aromatic, about 2 min. Stir in rice, raisins and broth. Cover, increase heat and bring to a boil; reduce heat and simmer until chicken is done, 15 to 18 min. Uncover and cook until liquid is gone, about 5 min. Turn off heat, replace lid and let stand for 10 min.

Gently stir in the peas and half the cilantro. Top with the rest of the cilantro and almonds when serving.
Notes
This classic multi-spice Indian dish is often served on holidays. My simplified version makes a great weeknight meal.
Nutrition
Calories:
433
kcal
Carbohydrates:
56
g
Protein:
25
g
Fat:
12
g
Saturated Fat:
4
g
Polyunsaturated Fat:
2
g
Monounsaturated Fat:
5
g
Trans Fat:
1
g
Cholesterol:
58
mg
Sodium:
422
mg
Potassium:
681
mg
Fiber:
4
g
Sugar:
3
g
Vitamin A:
2294
IU
Vitamin C:
11
mg
Calcium:
80
mg
Iron:
2
mg
Be sure to check out these other great international recipes from some of my fellow food bloggers.
China -Chicken Lo Mein
India - Orange Honey Lassi
Korea -Korean Beef Tacos (Bulgogi)
Sweden -Swedish Chocolate Balls
Main Dish Recipes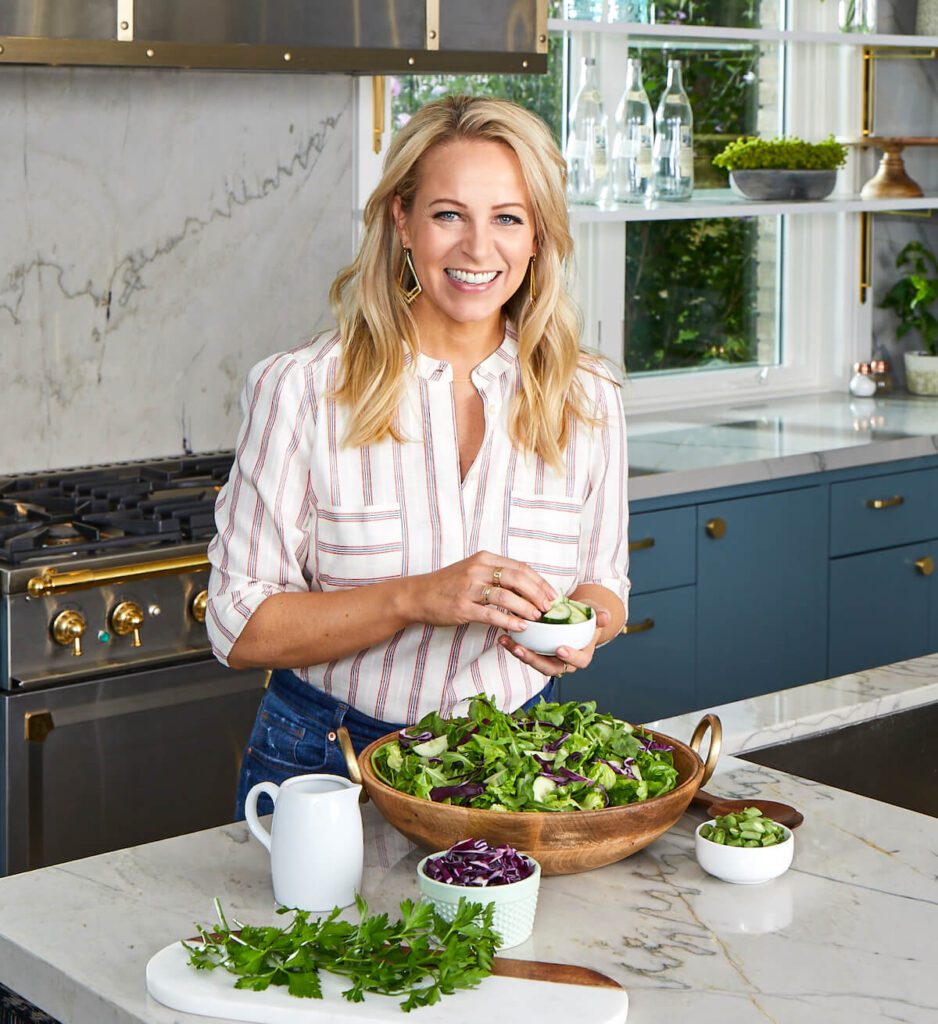 About Tara Teaspoon
I've been in the food publishing business for over 20 years, creating recipes & food-styling for magazines, books, television & advertising. Order my new cookbook & stick around for amazing things to eat.
Recipe by Tara Teaspoon. Photographs by Hallie Burton. Originally published in LHJ Sept 2010