Elderflower and Grape Spritzer, a homemade recipe that is bright, juicy, and a sparkling drink you'll want to serve all year. Make this a cocktail or mocktail for all your guests.
• • •
Juicy grapes, flavorful juice and a sophisticated splash of elderflower syrup make this drink a hit. Swap the sparkling water for champagne or sparkling wine to make the perfect summer spritzer.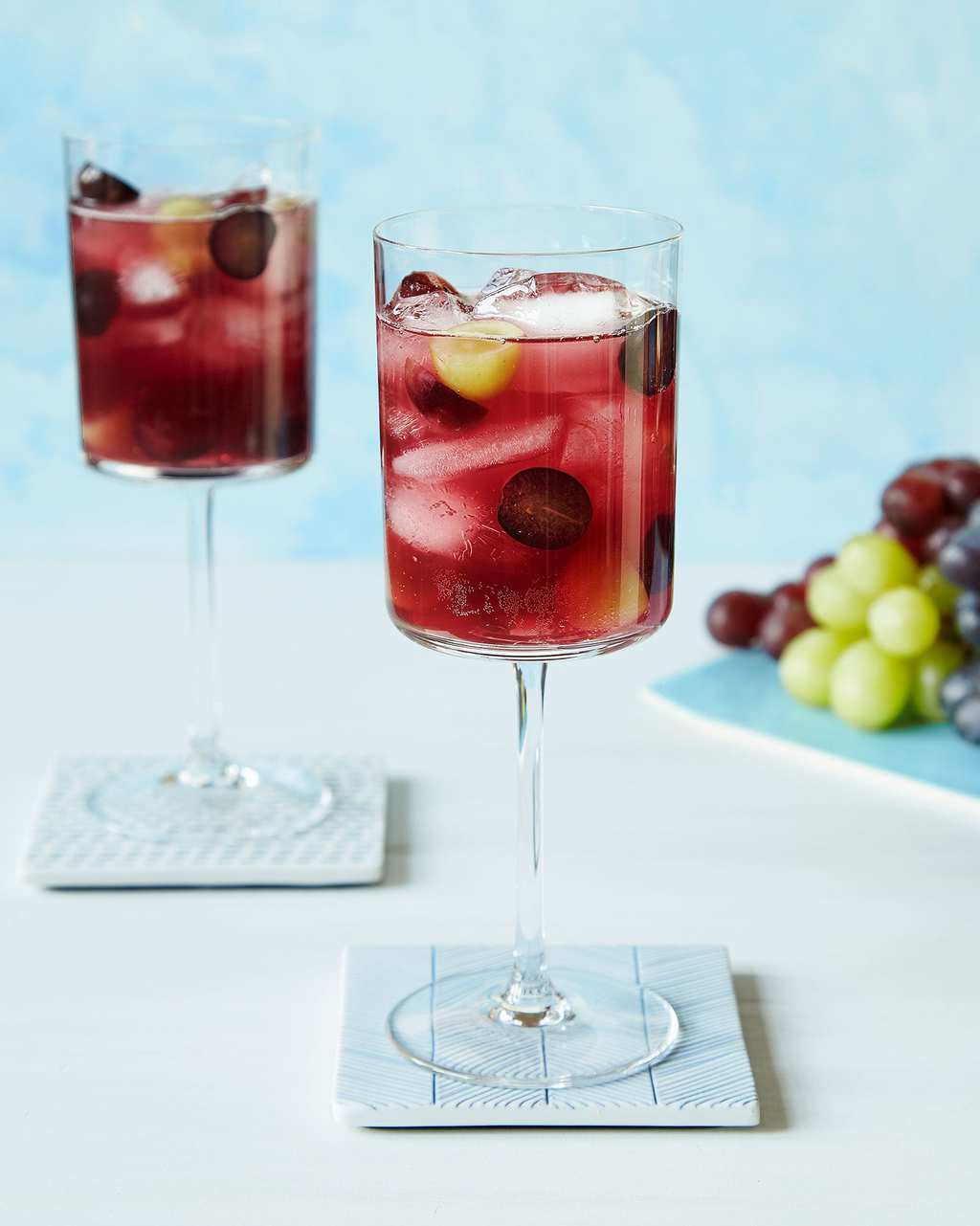 This post may include affiliate links. For more information please see my disclosure agreement.
What is elderflower?          
You might recognize this tiny white flower from its appearance in Meghan Markle and Prince Harry's wedding cake. But beyond Kensington Palace, elderflowers are found throughout Europe and North America and bloom during the spring and summer months. Its floral and creamy notes make it the perfect spritzer ingredient. The elderflower is the perfect way to dress things up, from summer drinks to sweet treats. To make life a little easier, elderflowers are typically steeped ahead of time to create a convenient and ready-to-use concentrated syrup that can be added with ease.
Whether you'd like to add a kick of white wine to your homemade spritzer recipe or fizz out with soda is totally up to you.
What is a spritzer?
Not all spritzers are created equal! Well, at least, there are many ways to mix things up with your homemade spritzer recipes. By definition, a spritzer is a drink that contains either white wine or a carbonated soda water. However, whether or not you'd like to add a kick of white wine to your homemade spritzer recipe or fizz out with soda is totally up to you.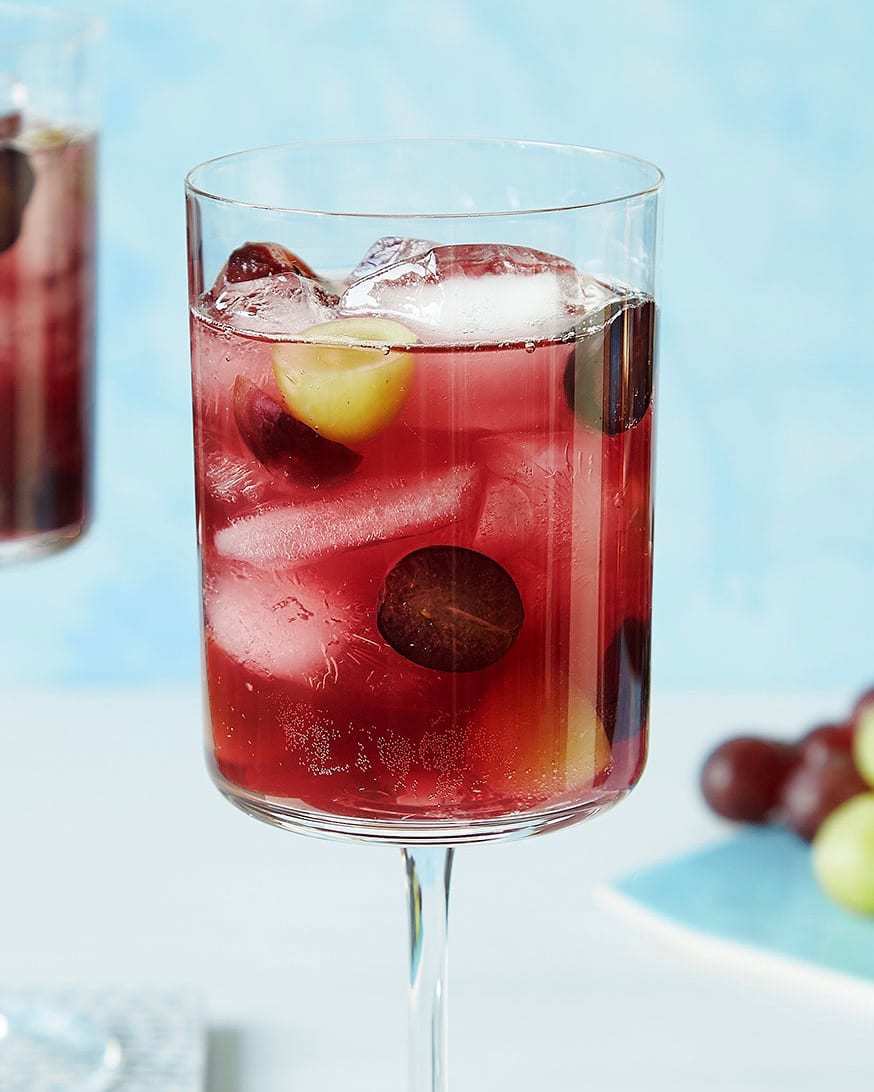 How can I make a spritzer at home?
When prepping for those summer parties, spritzers are an easy make-ahead drink. Simply prep the base of your summer spritzer (the juices and syrups) beforehand and store it in the fridge. Combine your base with sparkling water or wine and add in your sparkling water or wine right before show-time. To make great ice cubes for your concord grape spritzer recipe without diluting that perfect taste, freeze some grapes ahead of time and pop them when serving for a colorful presentation. For the ultimate display, serve your homemade spritzer in these glasses.
Make this elderflower and grape spritzer ahead for your party! Just add the bubbly before serving.
What should I serve with a spritzer?
An easy way to think through what to pair with your summer spritzer is to think about the specific ingredients within your recipe. Something like my grilled pita salad and lemon chicken kabobs would go great with this spritzer!  Try including some of the same ingredients in an appetizer or side dish during your summer soiree for an easy pairing. Bubbly drinks like this elderflower and grape spritzer also balance well with crunchier dishes, like my pecan crispies cookies. If you're really ready to munch, nibble on some fried chicken while you sip your bubbly!
No matter how you choose to drink and serve your spritzers, these tasty spritzers are sure to make great cocktails for summer parties!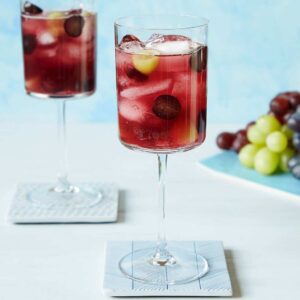 Elderflower and Grape Spritzer
An aromatic summer drink that is a glorious sip for everyone. Replace the sparkling water with champagne or sparkling wine for an adult cocktail.
Keyword:
elderflower recipe, grape drink recipe, spritzer recipe
Ingredients
Ice

Sliced frozen grapes

2

tbsp

concord grape juice

2

tbsp

elderflower syrup

1

cup

cold sparkling water
Instructions
Fill a glass with ice and sliced frozen grapes. Add the concord grape juice, elderflower syrup and sparkling water.
Nutrition Facts
Elderflower and Grape Spritzer
Amount Per Serving
Calories 125
% Daily Value*
Sodium 101mg 4%
Total Carbohydrates 15g 5%
* Percent Daily Values are based on a 2000 calorie diet.
PIN THIS!
Pair your refreshing elderflower and grape spritzer with these tasty recipes:
Lemon-Elderflower Cupcakes
Elderflower and Fennel Braised Pork Tenderloin
Lemon and Elderflower Cake
Here are some different spritzer recipes that you can make at home: 
Fresh Fruit Spritzers
20 Delicious Non-Alcoholic Spritzers
White Wine Spritzer Recipe
Recipe Tara Teaspoon. Photography Ty Mecham. Words Tara Teaspoon and Ashlin Almquist.