Try something new for dinner this summer with grilled shrimp and zucchini couscous. Topped with tangy feta and fresh mint, it's a delicious meal for a gathering.
• • •
Fresh off the grill, shrimp and summer zucchini take center stage with this easy to make grilled shrimp and couscous meal. It's light, fresh, and simple to serve on a weeknight or at a weekend gathering.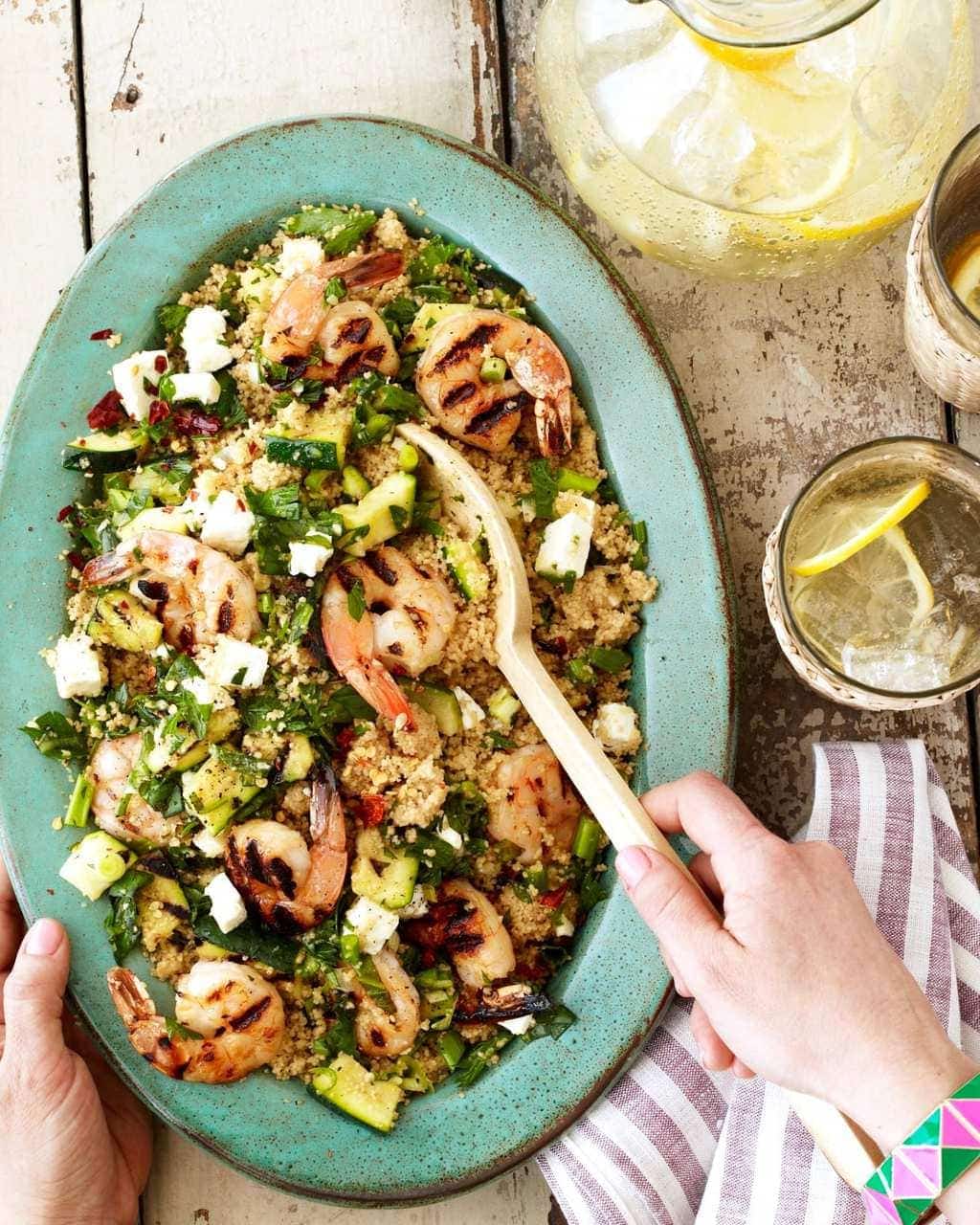 This post may include affiliate links. For more information please see my disclosure agreement.
This is an easy couscous recipe to make at home, and cooking shrimp on the grill is easy. I like to add shrimp to Thai Coconut Soup or serve it with a tangy pomegranate sauce. But a good grilled shrimp recipe is always a hit in the summer. If your grill grates are wide go ahead and thread your shrimp onto skewers so they don't fall through the grates. If not, it's easy to just toss the marinated shrimp on the grill and turn them with your long grill tongs.



I marinate the shrimp for about an hour in a mixture of herbs, garlic, anchovy and lime juice. This shrimp marinade recipe packs the bites with massive amounts of flavor. It's worth the extra time. Once the shrimp is marinated this dish comes together in no time, cooks right on the grill and is served over easy-to-make couscous.
What is couscous?
Couscous is a great pasta when you're looking to whip something up quickly and can be served as a side or a main dish. Although couscous looks somewhat like rice, it is really actually a pasta! This little-beaded pasta is made from wheat flour and semolina and is a staple throughout North Africa. Couscous is a great pasta when you're looking to whip something up quickly and can be served as a side or a main dish. Most likely, the couscous you pick out at the grocery store is pre-cooked. Meaning, it's already been cooked, steamed and dried ahead of time. All that's left to do is add water back into the couscous. 
Grilled shrimp and zucchini couscous is one of those shrimp recipes that get's eaten first at any gathering. It's so delicious with the feta cheese and fresh mint!
Couscous is, as I said, tiny beads of pasta. But there is also Israeli or Pearl Couscous. It's larger in size and you cook it like traditional pasta. It can totally be used in this recipe and just adds more of a pasta texture to your dish than perhaps the rice-like texture traditional couscous would.
How do I cook couscous?
Couscous cooks extremely fast. It's a quick, simple and versatile pasta that can be served as a side or added to just about any main dish. Although it's fairly simple to make, there are a few tips to note so that your couscous comes out perfect!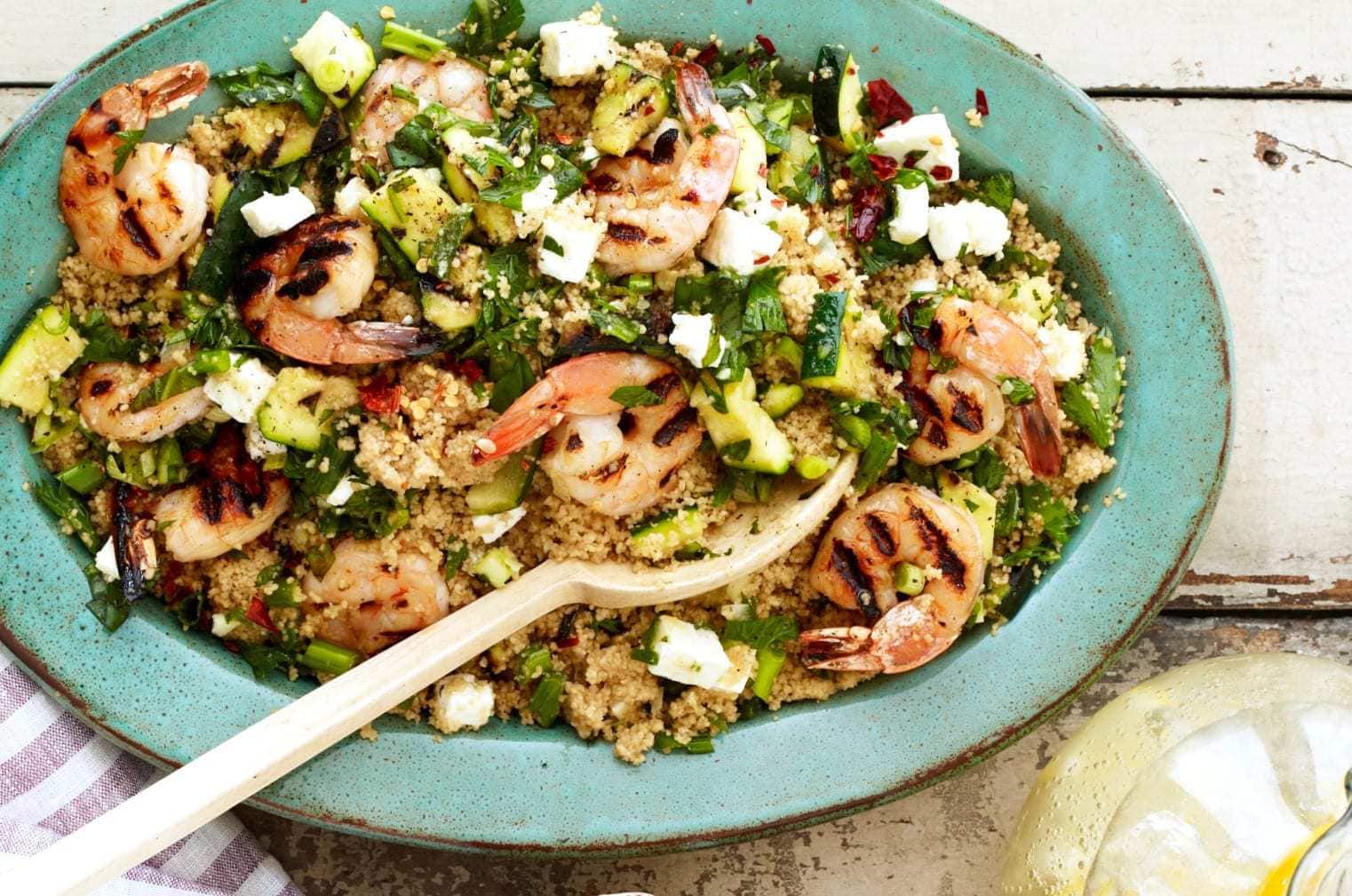 It's recommended that you cook couscous by adding it to previously boiled water rather than sticking it in a pot of water and bringing it to a boil. Once you add in the couscous, take the pot off of the heat completely to make sure you don't overcook it. In addition, the water to couscous cooking ratio is important to get right. This ratio is typically 1 cup water to 1 cup of couscous. However, if you'd like a dryer couscous, add less water. One other thing to keep in mind is that a cup of dry couscous will create about four cups of your finished product.
This is an easy grilled shrimp recipe that brings summer's fresh herbs and veggies together in one tasty dish.
Let the couscous sit in the water and don't touch it while it sits! By letting it sit after you've added it to the boiling water, you're adding moisture back into the pasta, and stirring it may make it cook unevenly or clump. Another tip is to keep the pot covered while the couscous sits. When couscous is fully cooked, it will be soft–not chewy or crunchy! When your couscous is ready to go, pull out a fork and fluff it to split up any clusters that might have formed.
How to peel devein shrimp 
Seafood adds so much flavor to this tangy and fresh grilled shrimp and zucchini couscous. To achieve the perfect flavor for this dish, deveining each shrimp is essential so that no weird flavors get in the way. If you'd rather not deal with this step, you can look for and buy pre-deveined shrimp at the store.



For starters, give your shrimp a good rinse in some cool water and pat them dry. Then, remove the legs and start peeling back the shell from where you removed the legs. I'll leave it up to you on whether or not you'd like to keep the tails on!
After the shrimp has been completely peeled, hold the shrimp with its back side facing up (the side where the vein will be). Grab your paring knife and make a shallow cut all the way down the back of the shrimp. Use your knife to pull the vein up and out. Once you've deveined everything, rinse again with cold water and you'll be good to go to start cooking!  
The combination of shrimp, mint and lime juice make this a light and tangy Mediterranean summer meal that's easy enough to whip up on a weeknight meal or for a last-minute get-together.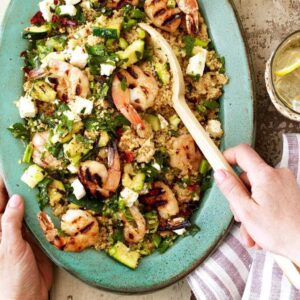 Grilled Shrimp and Zucchini Couscous
Try something new for dinner this summer with grilled shrimp and zucchini couscous. Topped with tangy feta and fresh mint, it's a delicious meal for a gathering.
Course:
buffet, Main Course
Ingredients
1/2

cup

olive oil

6

scallions, white and green parts chopped

3

tbsp

chopped mint

6

tbsp

chopped flat-leaf parsley

6

tbsp

chopped basil

3

cloves

garlic, minced

1

anchovy, minced

1 1/2

tbsp

lime juice

2

tsp

kosher salt

1

lb

shrimp, peeled and deveined

1 3/4

cups

whole-wheat couscous

2

medium

zucchini

1/2

cup

diced feta

Red pepper flakes
Instructions
Combine olive oil, scallions, mint, parsley, basil, garlic, anchovy, lime juice and salt. In a bowl mix shrimp with 1/2 cup of herb sauce. Chill and marinate for 1 hr. Reserve the remaining sauce.

Prepare couscous according to package directions. Heat grill to medium high. Cut zucchini into 1/4-inch-thick strips and brush with some of the reserved herb sauce. Grill zucchini until just tender, 7 to 8 min, then dice and add to couscous.

Grill shrimp until just opaque and done, about 5 min. Add shrimp, feta and reserved sauce to couscous and toss together. Sprinkle with red pepper flakes and serve.
Nutrition Facts
Grilled Shrimp and Zucchini Couscous
Amount Per Serving
Calories 815
Calories from Fat 306
% Daily Value*
Total Fat 34g 52%
Cholesterol 303mg 101%
Sodium 2269mg 95%
Potassium 460mg 13%
Total Carbohydrates 92g 31%
Protein 42g 84%
* Percent Daily Values are based on a 2000 calorie diet.
More Tasty Shrimp Recipes:
Moroccan Shrimp with Pomegranate Sauce
Thai Coconut Shrimp Soup
One Pan Jambalaya
Grilled Shrimp with Honey BBQ Sauce
PIN THIS GRILLED SHRIMP AND ZUCCHINI COUSCOUS
Recipe Tara Teaspoon. Photography William Brinson. Prop Styling Sara Cave. Food Styling Adrienne Anderson. Words Ashlin Almquist. Recipe originally published in LHJ 08/13.