Pear Almond Frangipane Crostata is the perfect combination of sweet almond filling and juicy pears. Nestled into a simple pastry crust, it's easier to make than a pie!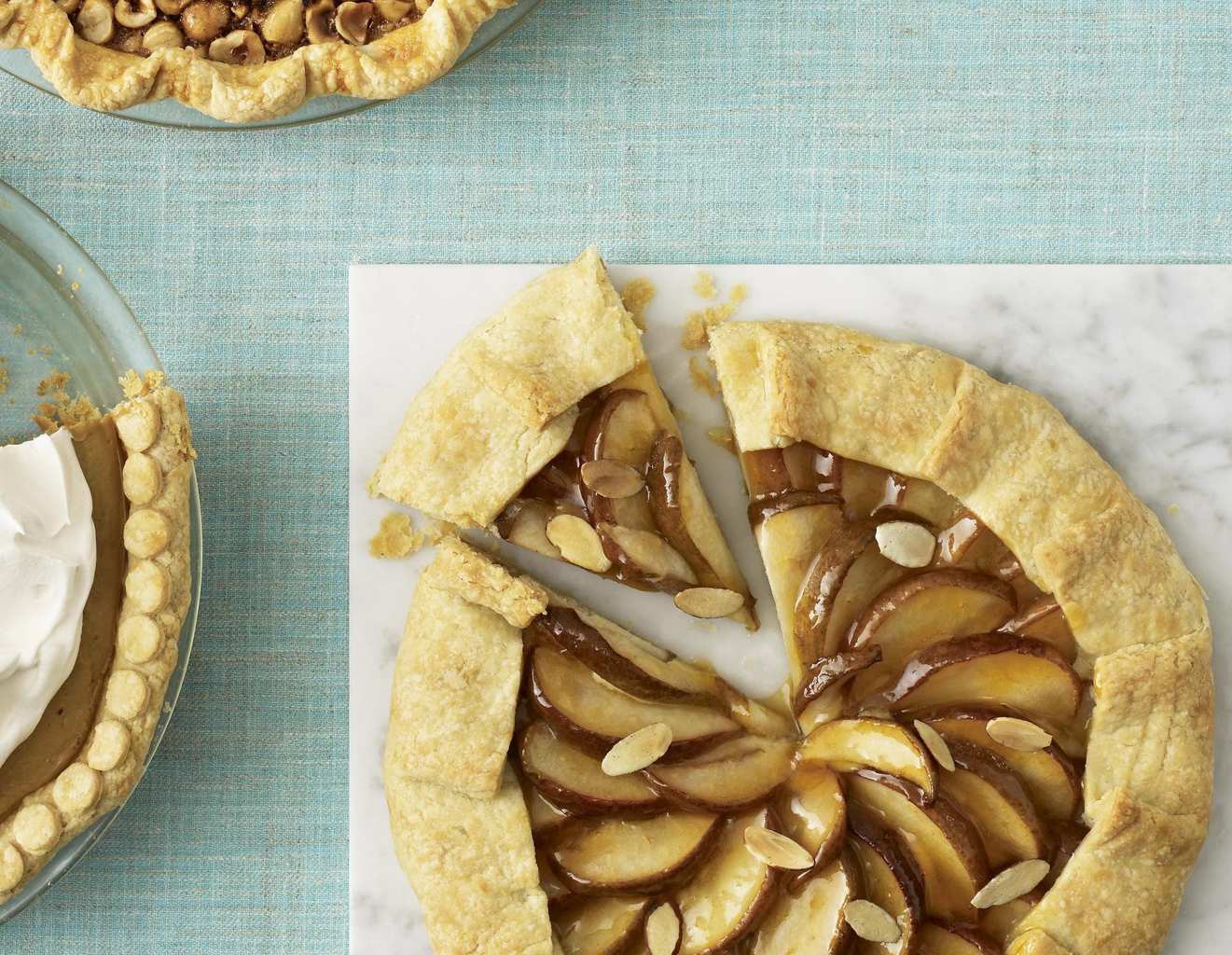 A crostata is the same thing as a galette. Rustic-style, open-faced pies. Basically crostatas and galettes are the jeans of the pie world. Both are rustic, casual, forms of pie that everybody likes and looks good in (wink).
I love them because they are really easy—using just one crust, rolled out and filled. The edges are folded around the perimeter, no fancy crimping needed.
Crostatas can end up looking quite elegant, even though the method is more casual than a formal pie. Almost like a tart (the evening gown of the pie world), it's flat, not fussy, and if the fruit is arranged well, it looks gorgeous and impressive.
Here I've used Bosc pears for my filling. They have a brown skin and when baked, hold their texture quite well. For this crostata I want a pretty pear arrangement, so a darker skinned pear is nice. Red Anjou or even a Red Bartlett would be lovely as well. If you have green Anjou or the more yellow Bartlett pears, they will work just deliciously. You just won't get the defined design. It will still be beautiful.
A delicious filling made from almonds, sugar, and eggs is easy to make. It's the secret to this pear almond frangipane crostata.
I cheated a little on the frangipane filling and used store-bought almond paste. It simply takes out the steps of grinding almonds and adding sugar. For this filling all you need to do is add your eggs, and a little cornstarch just to help it set well.
This filling bakes and puffs just a little and creates a sweet, nutty custard right under the fruit. It's a delicious surprise for everyone when you cut into the pastry. Top each slice of pear almond frangipane crostata with a little cream or even creme fraiche and you're done! Happy baking!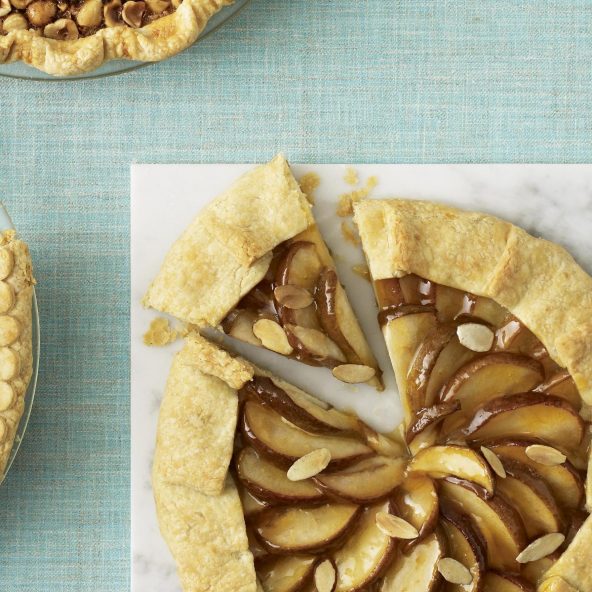 Pear Frangipane Crostata
Frangipane—an almond custard—is the perfect accent for fresh, juicy pears.
Ingredients
4

oz

almond paste

2

eggs

4

tsp

cornstarch

1/8

tsp

salt

1

single crust of Perfect Piecrust

3

pears

cored, cut into 1/2-inch slices

1

tbsp

fresh lemon juice

2

tbsp

apricot preserves

1/4

cup

sliced almonds

toasted
Instructions
Heat oven to 375ºF with rack in the lower third. In a food processor, combine almond paste, 1 egg, cornstarch and salt until completely blended.

Roll crust on flour-dusted parchment into a 12- to 13-inch circle. Spread almond mixture in the center, leaving a 2-inch space around the edge.

Toss pears with lemon juice and arrange on top of almond mixture. Gently fold over crust edge, pleating, just covering edges of pears. Transfer crostata, on parchment, to a baking sheet. Whisk remaining egg and brush edge of crust with a little egg wash.

Bake until crust is deep golden and pears are soft, about 40 min; cover crostata loosely with foil for the last 10 min to prevent overbrowning. Heat apricot preserves and brush over pears. Sprinkle with almonds and serve warm or cooled.
Take a look at some of the other pies you can make this season.
Gingered Coconut Pecan Pie is my favorite pecan pie. A gentle ginger flavor gives the sweetness some depth and the coconut takes the richness over the top!
Salted Caramel Apple Pie is the best of all the worlds of fall. Salty caramel sauce is the sweetener for the apples and extra gets drizzled on top.
Recipe by Tara Bench
Originally published in Ladies' Home Journal Nov 2009
Photographs Kate Mathis
Prop Styling Megan Hedgpeth
Food Styling Sara Neumeier