---
Spring Vegetable Tarts let you create any flavor combination you like. Perfect for an individual serving. Have a tart!
---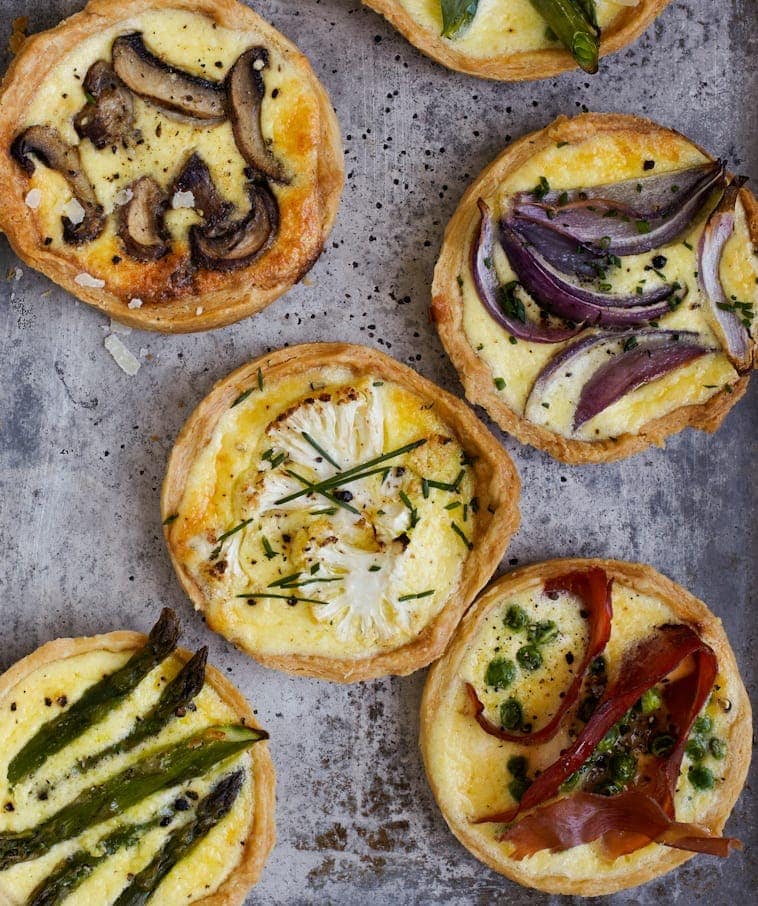 Let your creative juices flow when making these vegetable tarts. All the lovely veggies popping up for spring can be inspiring. Also I added bacon and prosciutto to some of them, and that inspired me (Oh I love bacon!).
The delicious savory fillings make these gorgeous tarts stars of your brunch, lunch or dinner table. The ricotta mixed into the egg custard makes the filling light and airy but rich in flavor. I make them all different for a buffet, but if you are serving them at a sit down dinner, consider using the same filling in all of them. It's just the type-A personality in me coming out--but I think it would be pretty!
The filling is just oozing with delicious ingredients. Parmesan, cream and garlic make them tasty. Herbs are added at the end, just on top, so they stay fresh and flavorful. Serve these slightly warm or room temperature.
You can use these 4-inch tart pans to make the individual size. The recipe makes 8, so order 2 sets!
Most of the vegetables you add need a little cooking prior to being used as yummy fillings. I've given instructions in the recipe, but I also encourage using leftovers from the fridge! Ok, so not too far back in the fridge, just the leftovers from the last day or so. If you've got steamed beans, roasted veggies, your wilted mustard greens or kale from the healthy dinner on Wednesday...you get the idea. Use them!
Some veggies you can just roast in the oven, others like mushrooms and scallions, simply saute in olive oil for a minute. Enjoy!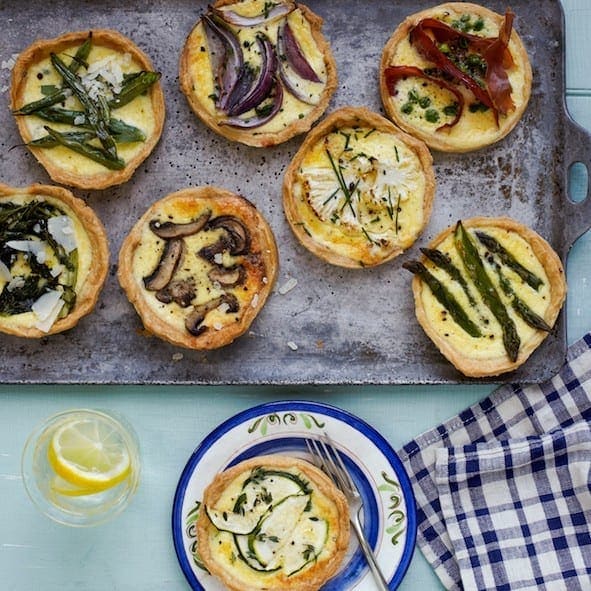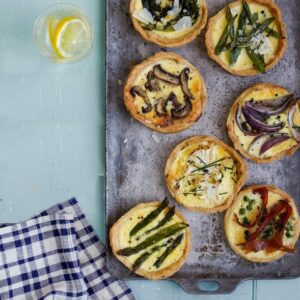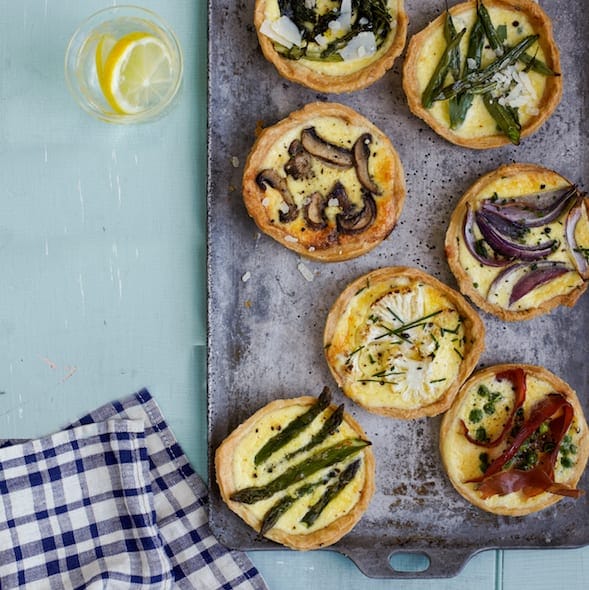 Spring Vegetable Ricotta Tarts
Serve these sophisticated little tarts with a green salad and sliced fruit.
Ingredients
Spring vegetables

Sliced prosciutto

½

cup

part-skim ricotta

¾

cup

2½ oz grated Parmesan

½

cup

heavy cream

1

clove

garlic

finely minced

3

large eggs

½

teaspoon

kosher salt

½

teaspoon

ground black pepper

Herbs for garnish
Spring Vegetables
Cook your choice of vegetables

you will need ¾ lb of raw veggies to fill 8 mini tarts. For asparagus, sliced onions, cauliflower, broccoli rabe, zucchini or eggplant: Toss with olive oil, kosher salt and pepper, then roast at 375°F until just tender. For mushrooms, mustard greens, peas or scallions: Saute in olive oil until just wilted or tender.
Instructions
Heat oven to 375°F. Roll tart dough to about 3/16 inch thick and cut into pieces to fill 8 4-inch-diameter tart pans or rings. Place pans on a baking sheet and blind bake until crusts are golden brown. Set aside.

Prepare Spring Vegetables and set aside. Sauté the prosciutto slices until just crisped; set aside.

In a mixing bowl whisk together the ricotta, Parmesan, cream, garlic, eggs, salt and pepper until smooth. Divide between baked tart shells, filling each with about ¼ cup of the mixture. Top tarts with vegetables and prosciutto, return to oven and bake until filling is set, 25 to 30 min. Cool slightly, then remove tart rings and use a spatula to slide tarts from pan bases. Serve with herbs and extra Parmesan.
Notes
The delicious savory fillings make these gorgeous tarts stars of you brunch, lunch or dinner table. The ricotta mixed into the egg custard makes the filling light and airy but rich in flavor.
Use my basic tart crust recipe!
Nutrition
Serving:
1
g
Calories:
133
kcal
Carbohydrates:
1
g
Protein:
7
g
Fat:
10
g
Saturated Fat:
6
g
Cholesterol:
92
mg
Sodium:
343
mg
Potassium:
61
mg
Vitamin A:
440
IU
Vitamin C:
0.1
mg
Calcium:
172
mg
Iron:
0.4
mg
We've been doing brunch all month long. Tell me if you have tried any favorites! I love the Whole Wheat Blueberry Pancakes and Apple Stuffed French Toast with all it's cream cheesy goodness!
Delicious Pie and Tart Recipes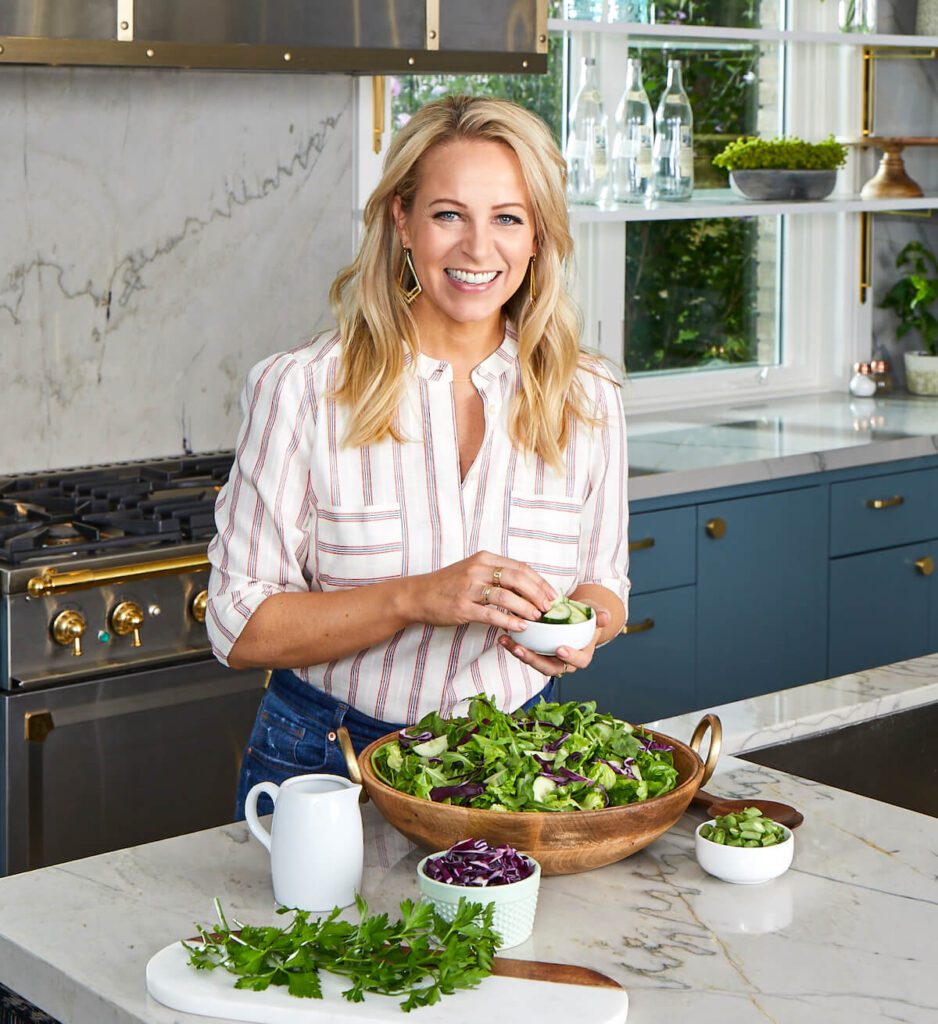 About Tara Teaspoon
I've been in the food publishing business for over 20 years, creating recipes & food-styling for magazines, books, television & advertising. Order my new cookbook & stick around for amazing things to eat.
Recipe by Tara Bench. Photographer: Jennifer Causey. Originally published in LHJ 5/13