No need to serve sandwiches on the side, I make this Tomato Soup with Cheese Dumplings so you're set with an entire, delicious, meal in your bowl. 
Tomato soup comes together in a flash. I love making my own with a few simple ingredients. Usually a salad or crispy grilled sandwich is a great side to a tangy, savory tomato soup; but with some biscuit dumplings and cheese, there's no need to serve this soup with anything else!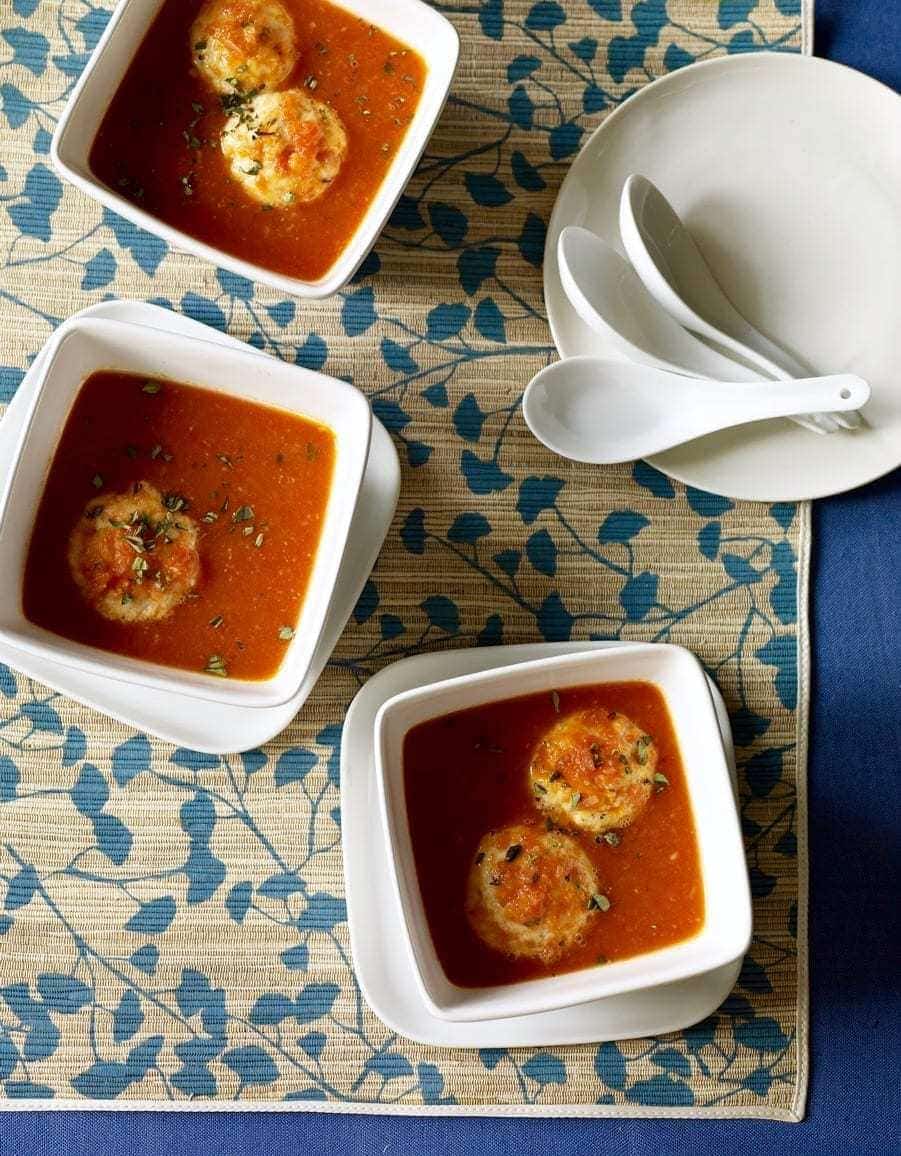 My super simple and tasty soup comes together using canned tomatoes. They are packed with flavor and already cooked so there's not as much excess water as there would be with fresh. All you need to complete the balanced flavor are some good aromatics, like the celery, onion and garlic I add.
I typically grab my immersion blender and puree this soup right in the pot. No extra dishes to wash for me! But if you don't have one, ladle the soup into a blender and blend until smooth. Be sure to hold a kitchen towel over the blender; when blending hot liquids the steam can push the lid off causing a mess! I usually vent the center of the blender lid a bit and hold the towel over the vent.
Use canned tomatoes for this Tomato Soup with Cheese Dumplings. They have concentrated flavor and cut down on simmering time!
I like a good shortcut, so I used Bisquick for the dumplings. It's a great base for a fluffy simmered dumpling and the added Parmesan cheese makes them oh so delicious and perfect with tomato soup. The dumplings are simmered right in the soup to cook. They become soft, half pasta, half biscuit dumplings and broken into with your spoon are just divine.
Enjoy this easy dinner!
Tomato Soup with Cheese Dumplings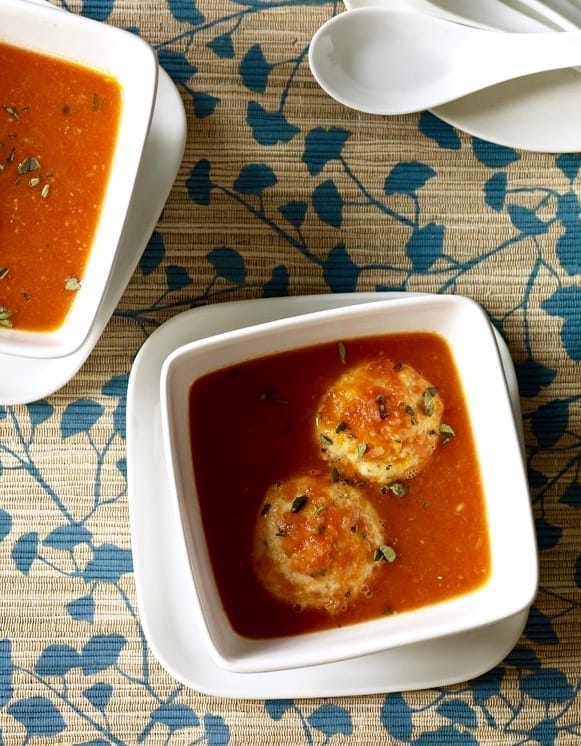 No need to serve sandwiches on the side: I put delicious, cheesy, biscuit dumplings right in the bowl. Use vegetable broth in place of the chicken broth to make this dinner vegetarian!
Ingredients
1 tbsp olive oil
½ medium onion
1 rib celery, chopped
2 garlic cloves, minced
3 cups low-sodium chicken (or vegetable) broth
2 14.5-oz cans chopped tomatoes
1 tsp light brown sugar
1 tsp kosher salt
¾ cup Bisquick baking mix
⅓ cup (1½ oz) grated fresh Parmesan
¼ tsp dried oregano
6 tbsp whole milk
Instructions
In a large pot over medium-low heat, combine olive oil, onion, celery and garlic. Cover pot and cook, stirring occasionally, until vegetables are tender, 5 min. Raise heat to medium. Stir in broth, tomatoes, brown sugar and salt and simmer, 15 min. Use an immersion blender to purée slightly, leaving a few tomato chunks. (Alternately purée half the soup in a blender, holding lid on with a towel while blending.) Cover and return soup to a simmer.
Meanwhile, in a bowl, combine Bisquick, Parmesan and oregano. Add milk and stir until a dough forms. With Bisquick-dusted hands, roll dough into 12 balls. Add dumplings to soup; cover and simmer until dumplings are cooked through, about 10 min.
https://tarateaspoon.com/tomato-soup-with-cheese-dumplings/
I love soups. If you do too, try some of my others that are huge hits at the dinner table. And as always make good leftovers.
Try this Chipotle Sweet Potato Soup, pureed and smooth with salty Mexican cheese on top.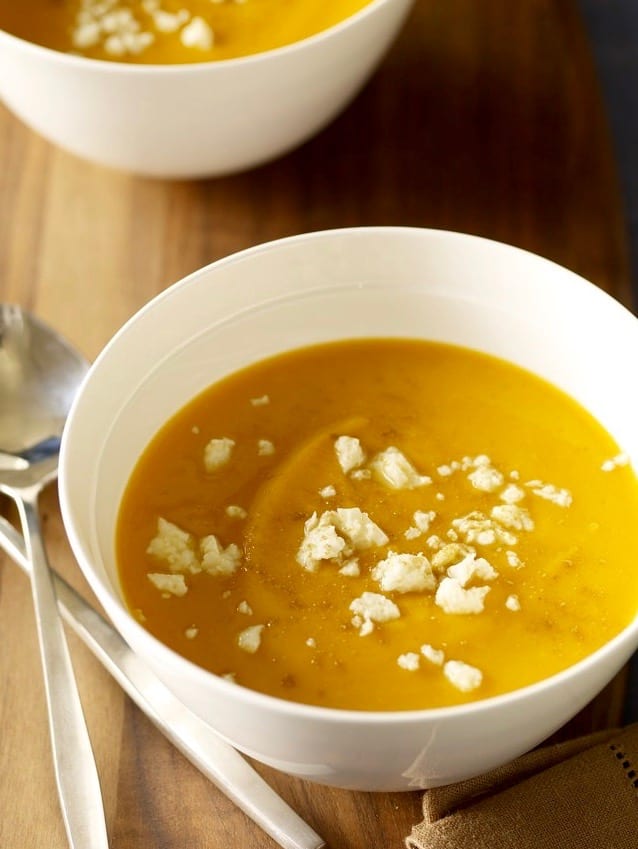 Recipe Tara. Photography Sang An. Food Styling Jee Levin. Originally published in LHJ 02/09.
Pin this recipe!