---
These easy salmon sliders combine the flavors of seasoned fish, tangy pickled beets, and a creamy yogurt sauce.
---
Make a flavorful salmon slider with delicious toppings for dinner. Simple ingredients and easy prep make this recipe great for a weeknight, or fun for entertaining.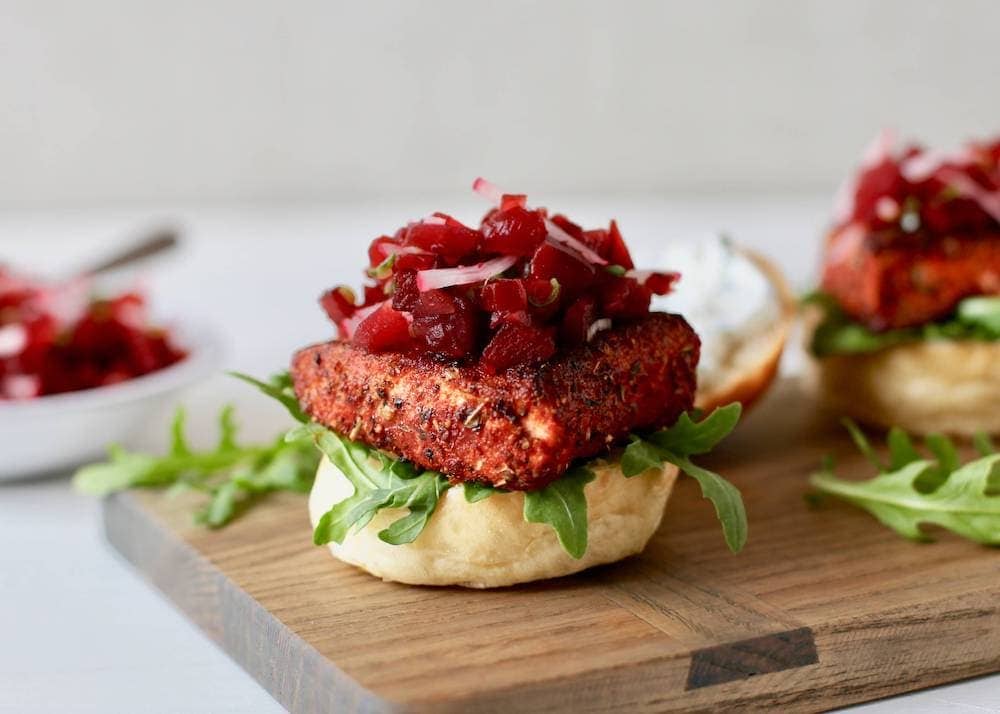 Blackened salmon is one of my favorites ways to prepare this fish. It adds so much flavor, but surprisingly doesn't overpower.
Check out my recipe for Blackened Salmon Tacos too. So easy, and the taste is incredible!
I created blackened salmon sliders with pickled beet relish to have all the goodness of spice, sweet beets and tangy Feta yogurt sauce.
I love little sandwiches and sliders. Try these Mini Greek Lamb Burgers and Monster Chicken Sliders.
Pairings and flavor:
I used Aunt Nellie's Beets in this recipe. I find them at the store, already cooked, peeled, pickled and prepped for me! I love a time-saver, so just having to drain the beets and use them is my kind of prep!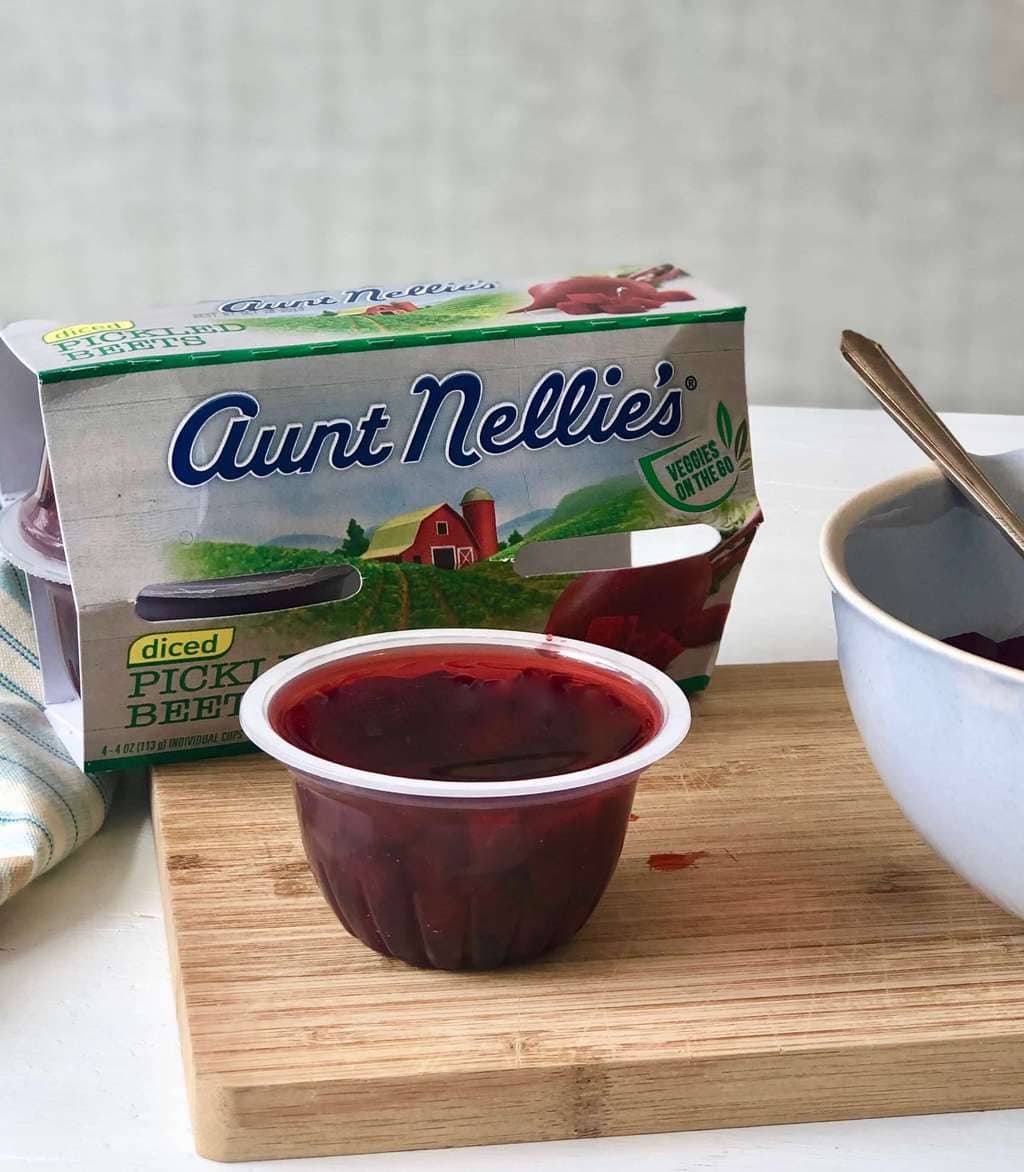 Aunt Nellie's has a 4-pack of little cups of diced pickled beets. This was perfect for my recipe! I can stock up and have these packs in my pantry to use anytime.
Salmon and sweet, slightly tangy pickled beets was a pairing I knew would work perfectly. To make a beet relish work on a slider though, I had to chop the beets into a chunky mixture. I added savory scallions and crisp radishes and it turned into a most perfect topping.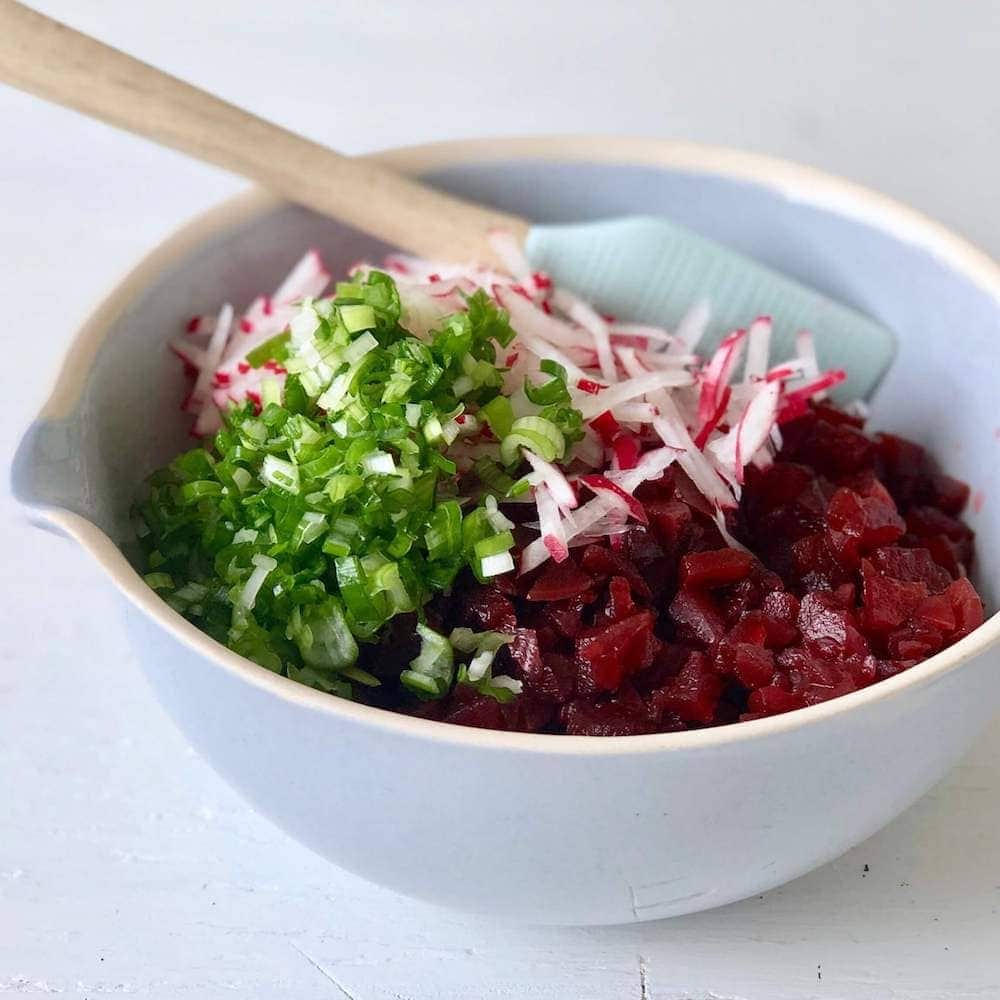 Every slider needs something creamy. A mayo, mustard or sauce. I wanted something on the light side that would work well with salmon.
Greek yogurt is the key. It's sharp and goes with fish so well, but still creamy. Adding Feta cheese bumped up the flavor and complemented the beets too!
Try another beet and cheese pairing: Beet and Cheese Tartlets
The best thing: both the pickled beet relish and the Feta yogurt sauce can be made ahead. Make them in the morning so they are ready for dinner!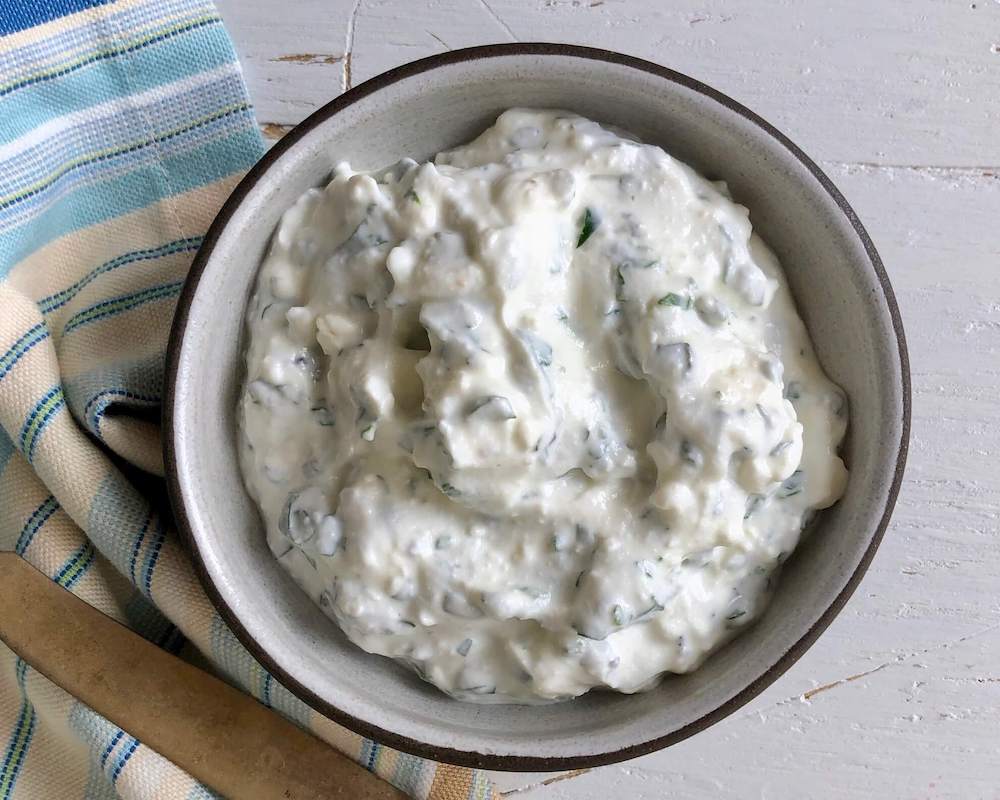 Blackened salmon made easy:
There are several options on your grocery store shelves for bottled blackening seasoning. It's easy to grab one and they taste great.
I have so many spices that it's easy for me to make my own seasoning mix. Do you have a lot of spices in your cupboard? Click over to 12 Ways to Cook with Herbs and Spices to find great ways to use them regularly!
Get out of your dinner rut and try salmon sliders with a pickled beet relish.
Blackened seasoning mix is easy to make with some basic spices. I make mine salt-free so I can season the food with salt myself.
I've added my recipe on the recipe card below for easy reference.
In a bowl mix together:
2 tablespoons smoked paprika
½ teaspoon cayenne
2 teaspoons garlic powder
1 ½ teaspoons oregano
1 teaspoon ground black pepper
You can keep this in a jar for up to 6 months.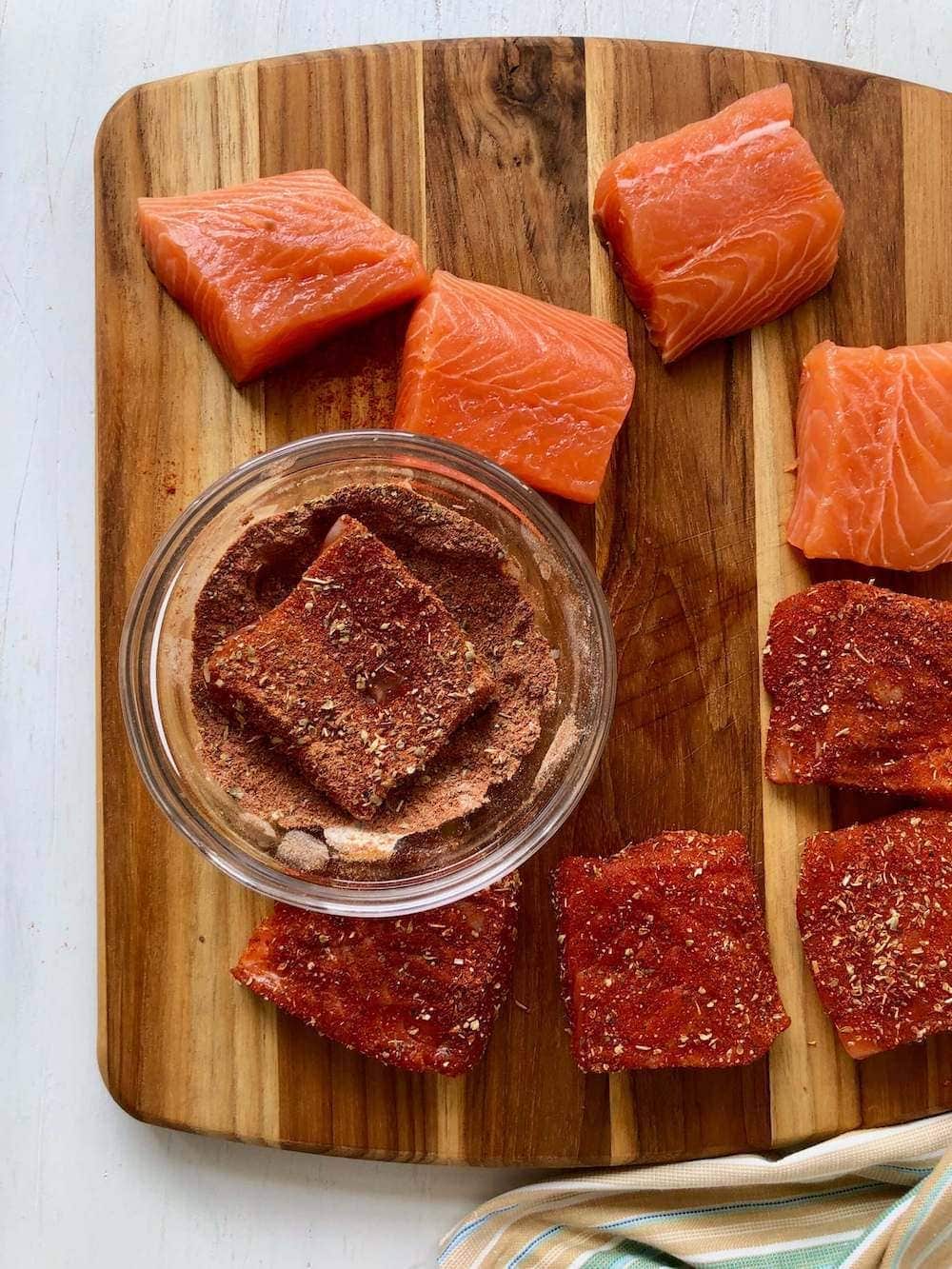 I dipped my salmon in the seasoning, using almost all of it. This means you discard anything that's left because it's touched raw fish. I didn't have much left because I coated my fish really well.
Cooking blackened salmon:
Grilling salmon is always delicious, but you need a fish basket or some other kind of pan to fit over the grill grates.
I sautéed the salmon on the stovetop in a matter of minutes, so this was my preferred method. I like using my cast iron skillet (this skillet with a silicone handle is awesome), but a nice nonstick skillet is great as well.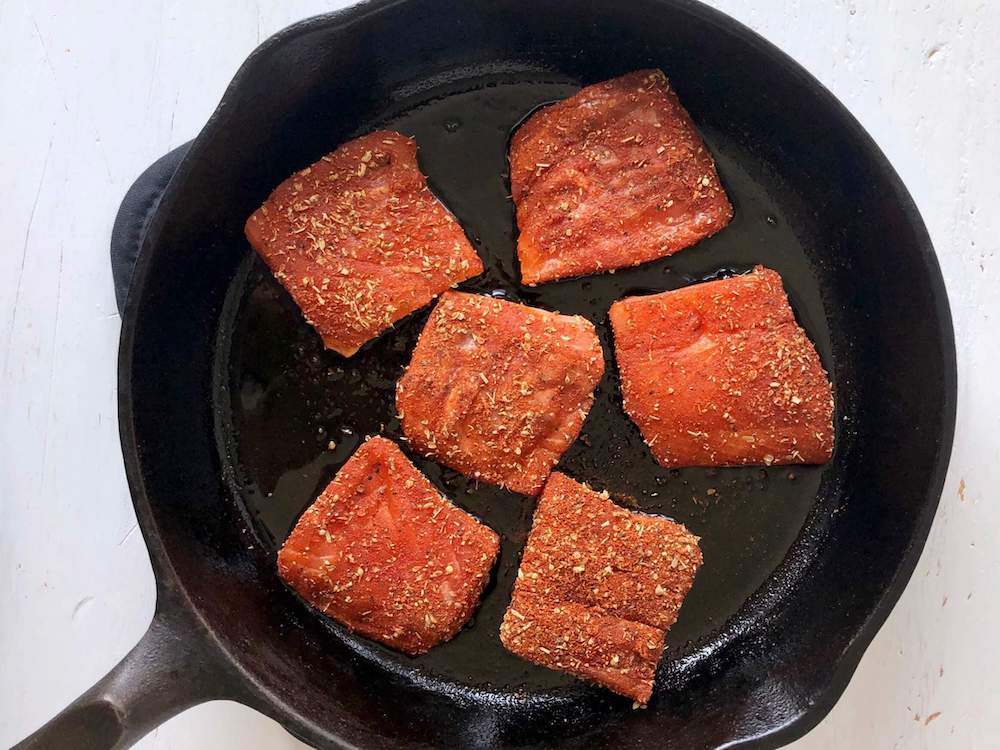 I added peppery arugula to the salmon sliders and these little sandwiches came together perfectly. Make them for an easy weeknight dinner, or a weekend party. They are so delicious they won't last long!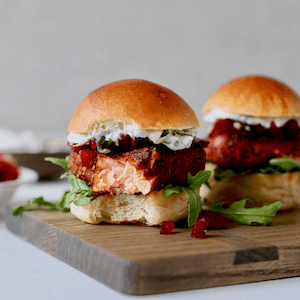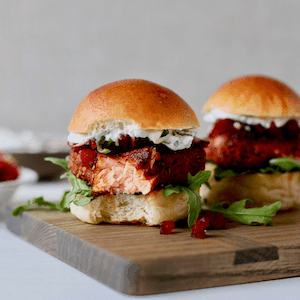 Blackened Salmon Sliders with Pickled Beets
These easy sliders combine the flavors of seasoned salmon filets, tangy picked beets, and a creamy yogurt sauce.
Ingredients
1 ½

cups

diced pickled beets

2

tablespoons

finely chopped scallion

½

cup

shredded radishes

1

cup

plain Greek yogurt

½

cup

finely crumbled Feta

2

tablespoons

chopped flat-leaf parsley

2

teaspoons

chopped oregano

kosher salt

Ground black pepper

2 ½

lbs

salmon filet

skinless

3

tablespoons

blackened seasoning

recipe below

Olive oil

12

slider buns

1

cup

baby arugula
Instructions
I used diced pickled beets, if you use whole pickled beets cut them into small dice. Drain beets well and coarsely chop. Add scallions and radishes and set aside.

In a small bowl combine the yogurt, Feta, parsley and oregano. Stir in ¼ teaspoon of kosher salt and a pinch of black pepper. Set aside.

Cut salmon into roughly 2½ inch squares that are about ½ inch thick. Slice thick parts of the filet in half to make thinner if needed. Cut 12 portions.

Sprinkle filets with salt on both sides. Coat filets evenly with blackened seasoning.

Heat a nonstick skillet or cast iron pan over medium to medium-high heat and add 2 tablespoons oil. Add the salmon, in batches if needed, and cook, turning once, until salmon is crisped and almost cooked through, about 1½ minutes per side. Remove and let rest.

Spread slider buns with yogurt sauce. Layer arugula, salmon and beet relish on each slider and serve.
Notes
• Nutrition facts are a close calculated estimate based on the weight of the ingredients.
*To make ¼ cup of your own Blacked Seasoning Blend, combine 2 tablespoons smoked paprika, ½ teaspoon cayenne, 2 teaspoons garlic powder, 1½ teaspoons oregano and 1 teaspoon ground black pepper.
Nutrition
Calories:
256
kcal
Carbohydrates:
19
g
Protein:
24
g
Fat:
8
g
Saturated Fat:
1
g
Cholesterol:
58
mg
Sodium:
424
mg
Potassium:
544
mg
Fiber:
1
g
Sugar:
4
g
Vitamin A:
180
IU
Vitamin C:
2.8
mg
Calcium:
98
mg
Iron:
2.2
mg
Delicious sandwich recipes for every day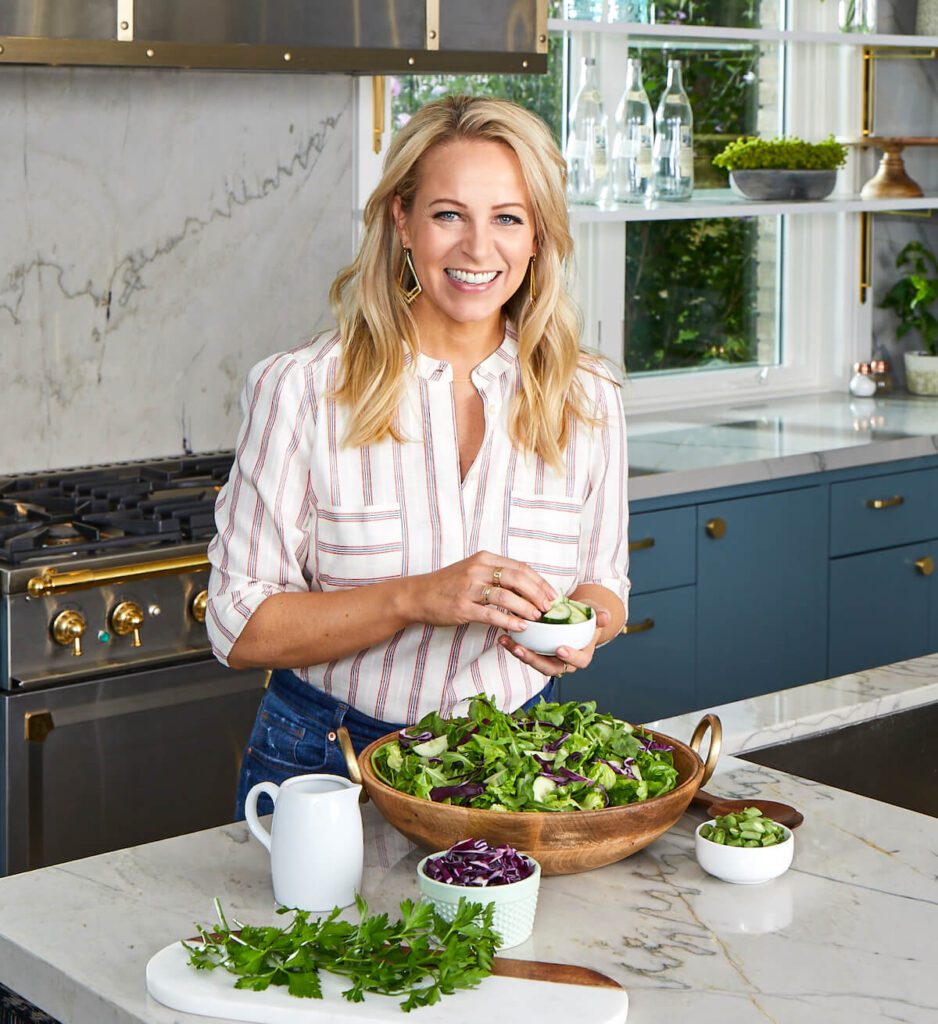 About Tara Teaspoon
I've been in the food publishing business for over 20 years, creating recipes & food-styling for magazines, books, television & advertising. Order my new cookbook & stick around for amazing things to eat.
Recipe, food styling and photography Tara Teaspoon