Oven baked French toast fondue makes standard breakfast fare into an event! Delicious on the weekend and great for brunch parties too. 
Breakfast, brunch, and all the tasty things. We're talking the stuff you make on the weekend, not that cold oatmeal or granola situation. Pancakes, French toast, creamy hot cereal and grits, eggs and bacon. Meals of dreams I'm telling you.
I've taken your standard custardy bread and created a fun, bite-sized meal everyone will go for. These oven baked French toast fondue sticks are fun for the family or a brunch buffet.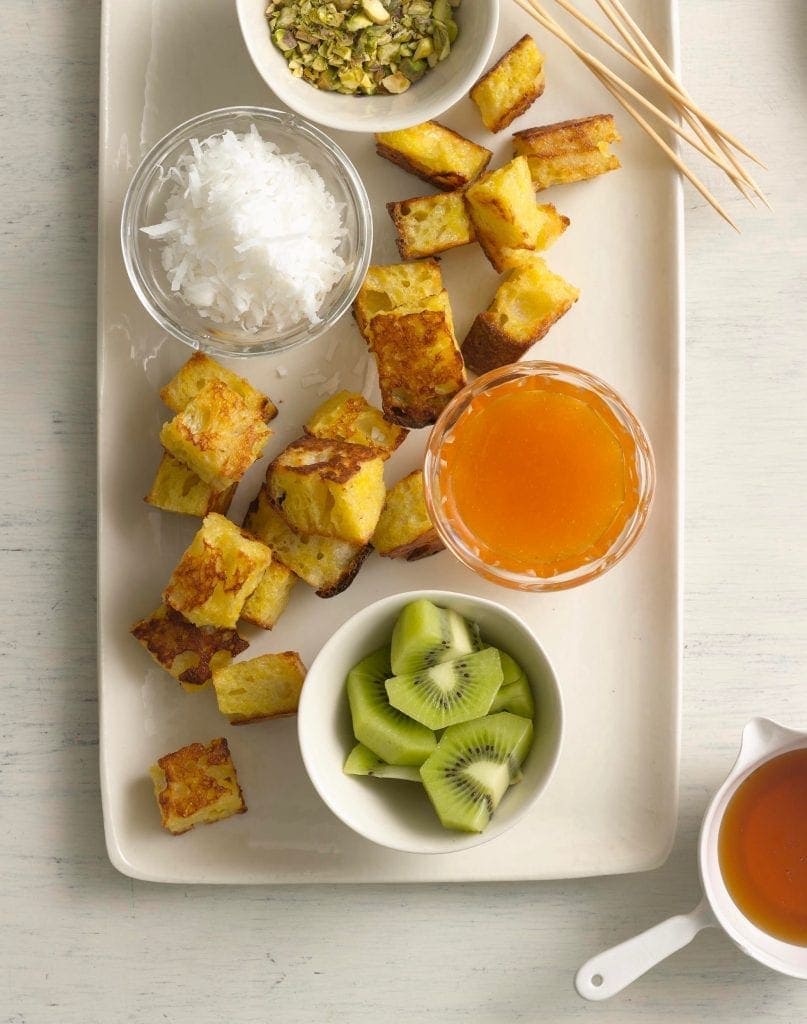 I love that no one is standing over the stove, flipping slice after slice of toast. The cubed bread gets baked in the oven and is ready to eat in minutes.
A quick apricot dipping sauce makes this dish super special. The little bites are great with syrup too, and lots of fun toppings. Serve them with bowls of coconut and nuts for dipping, and diced fruit for threading on the skewers with each bite. I serve the French toast bites with bamboo skewers as the fondue sticks.
My hack for making these oven baked French toast fondue bites easy, is to cook them all at once instead of slaving over the stove!
This would of course make a great dish for a baby shower or open house. The French toast is delicious served hot, but can be a room temperature on a buffet as well. Just double, or even triple the recipe for a crowd.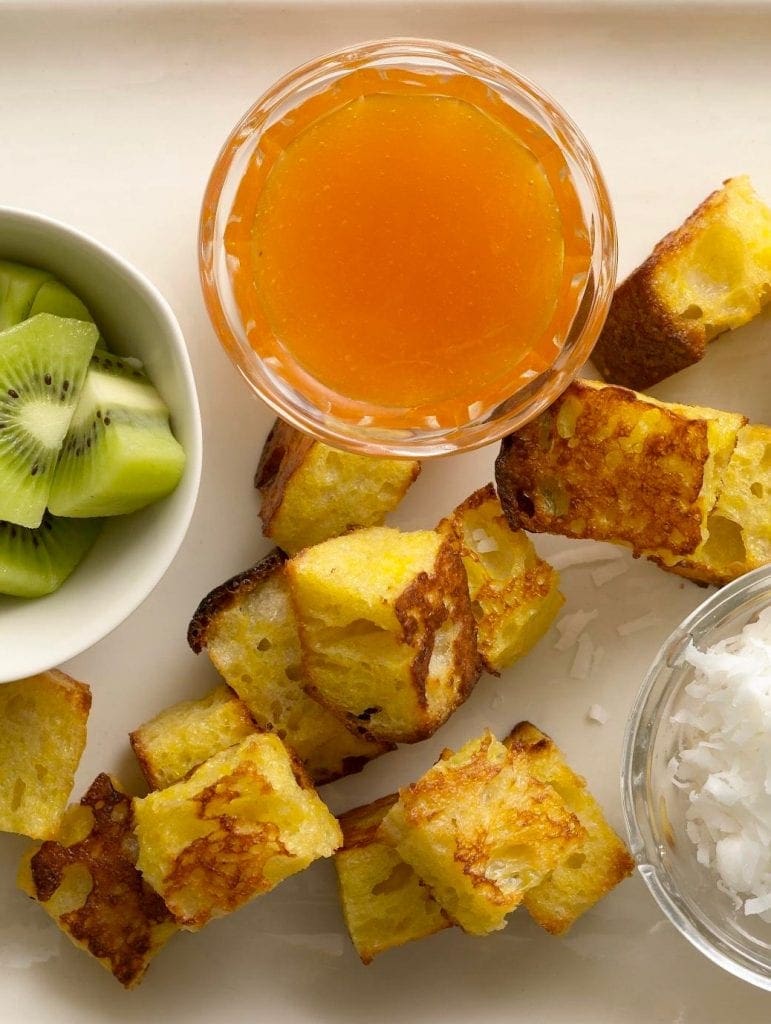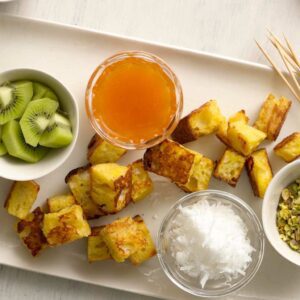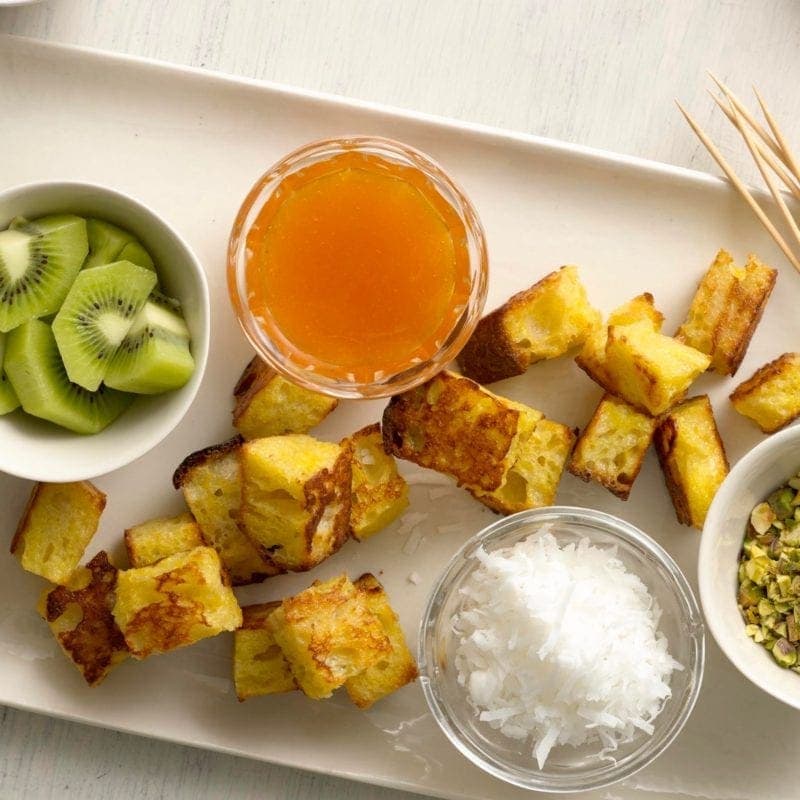 Oven Baked French Toast Fondue
For a perfect feast serve with toppings such as chopped nuts, fruit and coconut.
Ingredients
2

tbsp

sugar

1

cup

whole milk

3

large eggs

4

tbsp

unsalted butter

melted

½

tsp

cinnamon

8 1-

inch-thick slices soft French bread cut into 1-inch cubes

½

cup

apricot jam

2

tbsp

orange juice
Instructions
Heat oven to 375°F. In a bowl, whisk together sugar, milk, eggs, 3 tbsp butter and cinnamon. Gently toss bread in mixture until coated well.

Spread remaining butter on a rimmed, nonstick baking sheet. Add bread cubes in a single layer and bake 12 to 15 min. Use a spatula to remove baked cubes from pan and serve immediately with dipping sauce and toppings.

To make apricot dipping sauce, combine jam and orange juice and microwave 1 min; stir to smooth.
Nutrition Facts
Oven Baked French Toast Fondue
Amount Per Serving
Calories 500
Calories from Fat 167
% Daily Value*
Total Fat 18.5g 28%
* Percent Daily Values are based on a 2000 calorie diet.
Whether you're making a weekend breakfast, a special brunch or cooking for the family on Easter, New Years or Christmas – delicious breakfast foods are always a great crowd pleaser. I take brunch month very seriously here at Tara Teaspoon! So dive into some more of my favorites!
Huevos with Balck Bean Hash Browns are the tastiest spicy side to your eggs that will ever be.
Decadent Carrot Cake Pancakes with Pecans are everyone's dream.
Bacon Granola puts bacon where it should be…in everything!
Quick and easy, these no-rise Cinnamon Rolls can be made the morning of your brunch!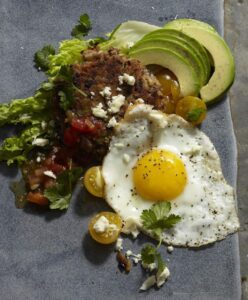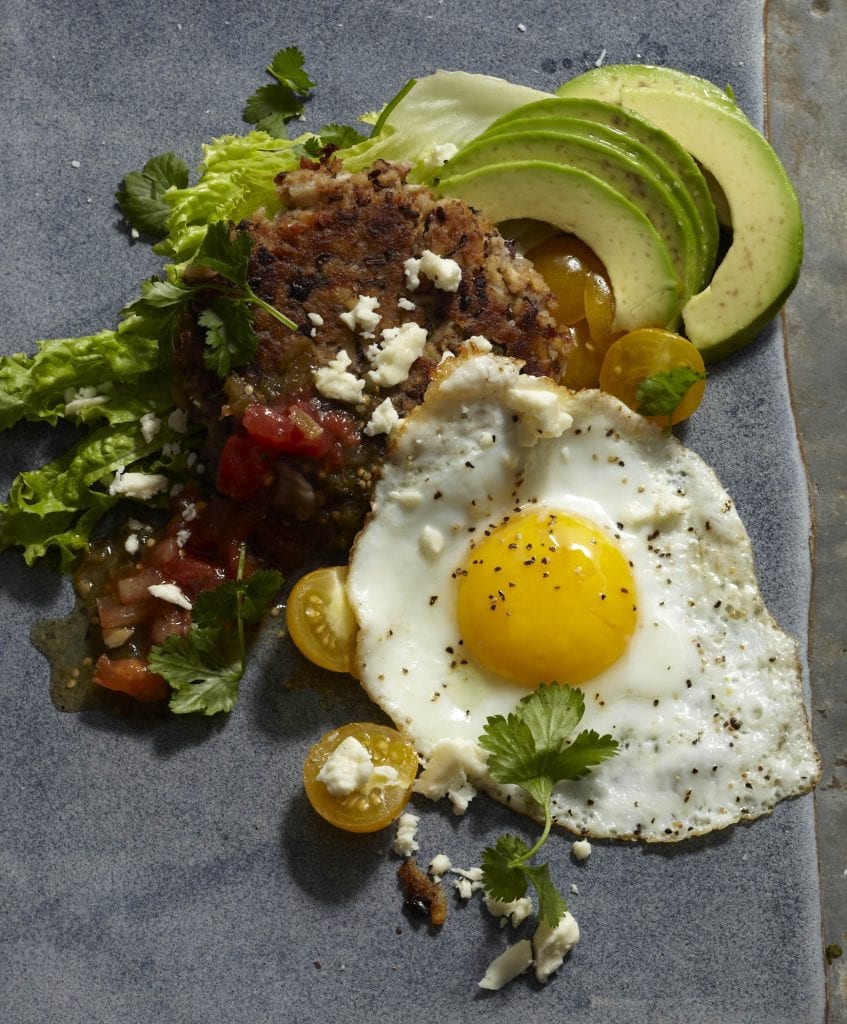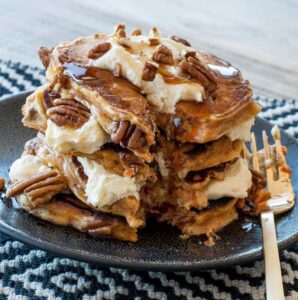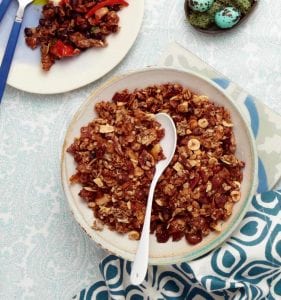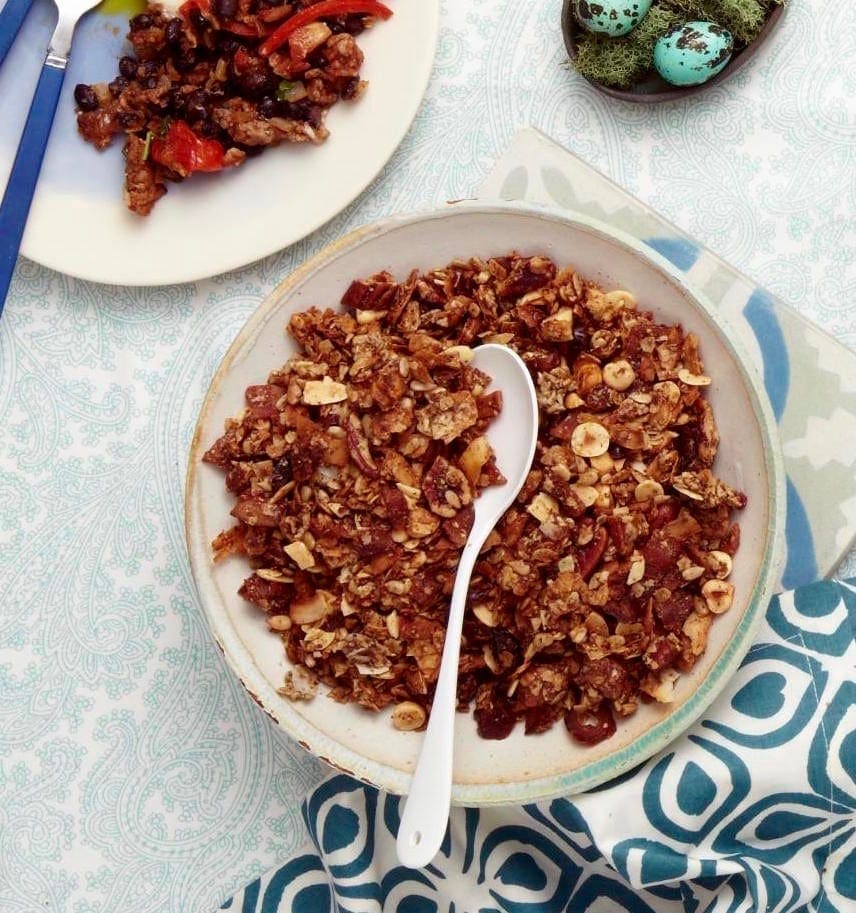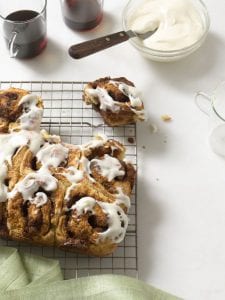 Recipe by Tara Bench. Photographs by Yunkee Kim. Prop styling by Megan Hedgepeth. Food Styling Annie Disrude. Originally published 03/09 in Ladies' Home Journal.