Use a smart garden for your indoor gardening to keep herbs and vegetables handy in the kitchen. The Véritable smart garden is beautiful and easy to use, so you'll have fresh produce all year round.
---
There's no need for a sunny window, this electric garden has lights. It's the best indoor garden system for growing your favorite edible plants all year round.
That's music to my ears since I live in a small apartment in a high-rise building. I don't have a bright window in my kitchen, so keeping fresh herbs growing is impossible.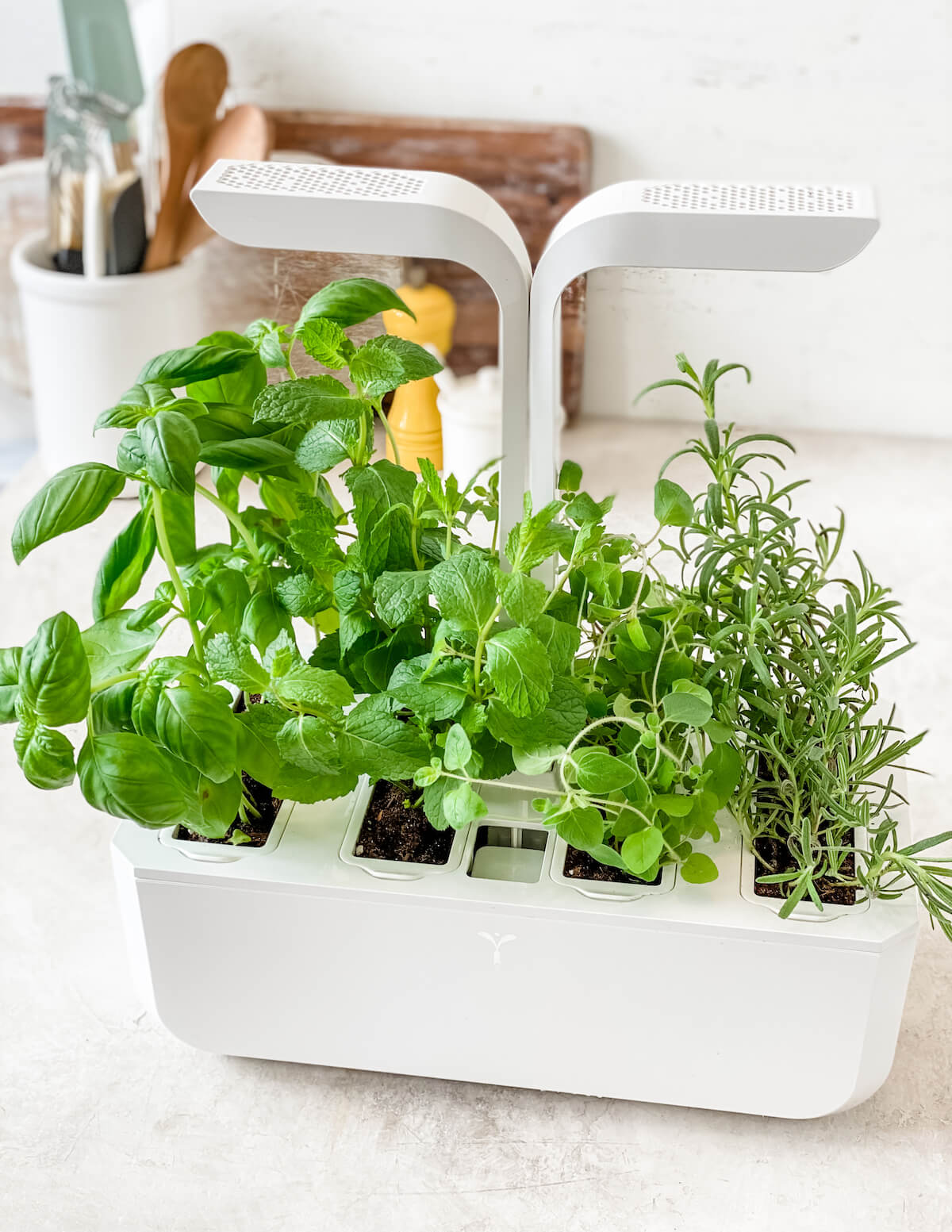 Now I use my smart garden, yes, a smart garden! Just like your smart phone, a smart TV, etc., now you can grow herbs and veggies inside with this electric garden. I'll show you how.
I use fresh herbs constantly in my recipes and cooking. A few leaves of fresh basil on pasta, muddled mint in my limeade, and chopped cilantro in guacamole are essential in my mind.
Jump to:
Fresh herbs going bad
You're probably like me: I purchase a bunch of fresh herbs, use about half, and the rest goes bad in my fridge before I can use it in another recipe.
I love fresh herbs, but if you're on a budget, cooking for only a few people, or cooking a variety of recipes that don't use the same ingredients, you have the dilemma of fresh herbs going bad before you can use them.
That's where the Veritable Classic Indoor Garden comes in handy.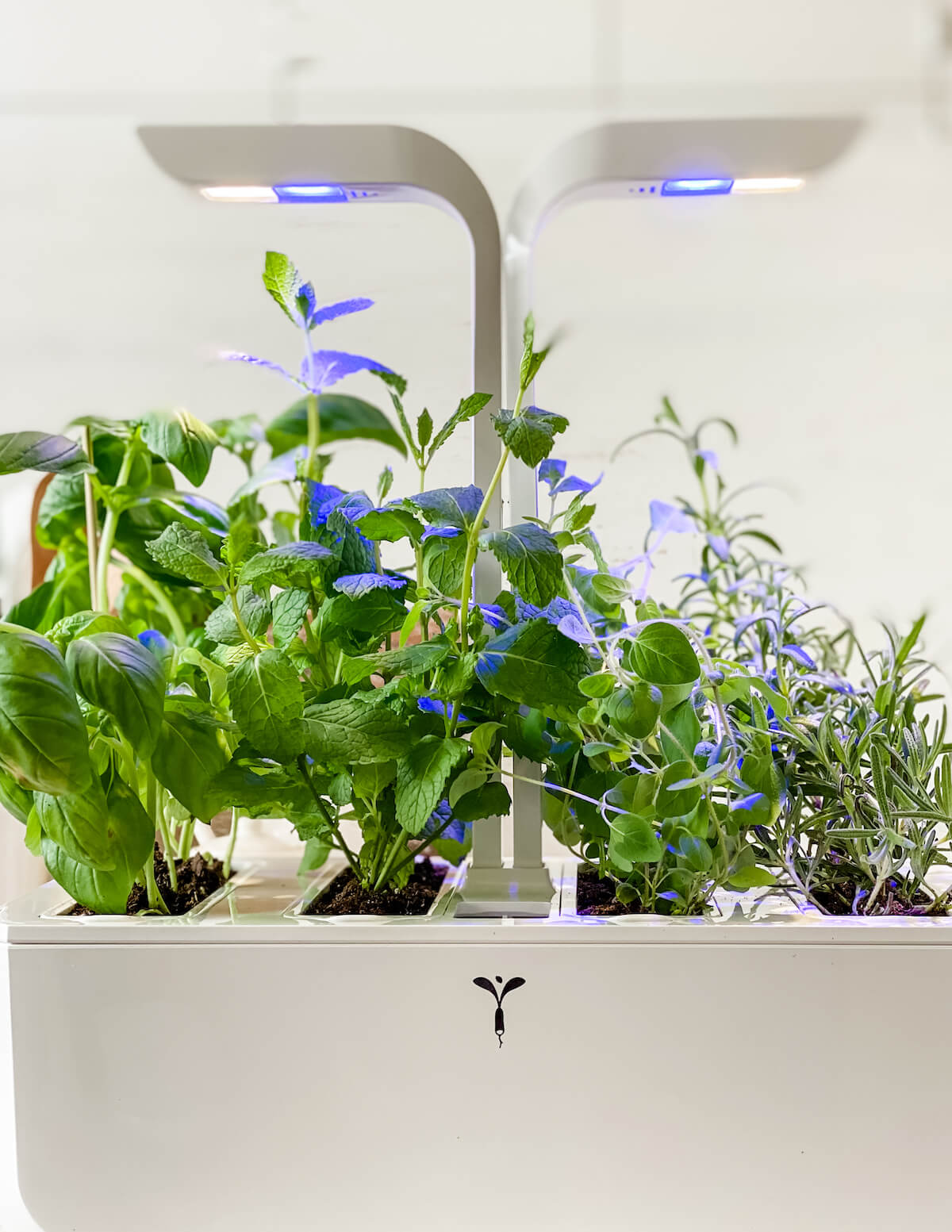 Indoor Herb Garden Light
Herbs and tender edible plants like lettuce and bok choy need light, and lots of it! The indoor garden light is LED technology that employs a spectrum of color that is specifically designed for edible plants.
The Veritable Garden lights are the result of years of research to ensure quick growth and allow the plants to develop the natural flavors we want.
With any indoor herb garden light, you want it to imitate the natural light and cycle of the sun. These lights stay on for 16 hours and are off for 8 hours a day.
The lights are adjustable so you can move them depending on how tall your plants get.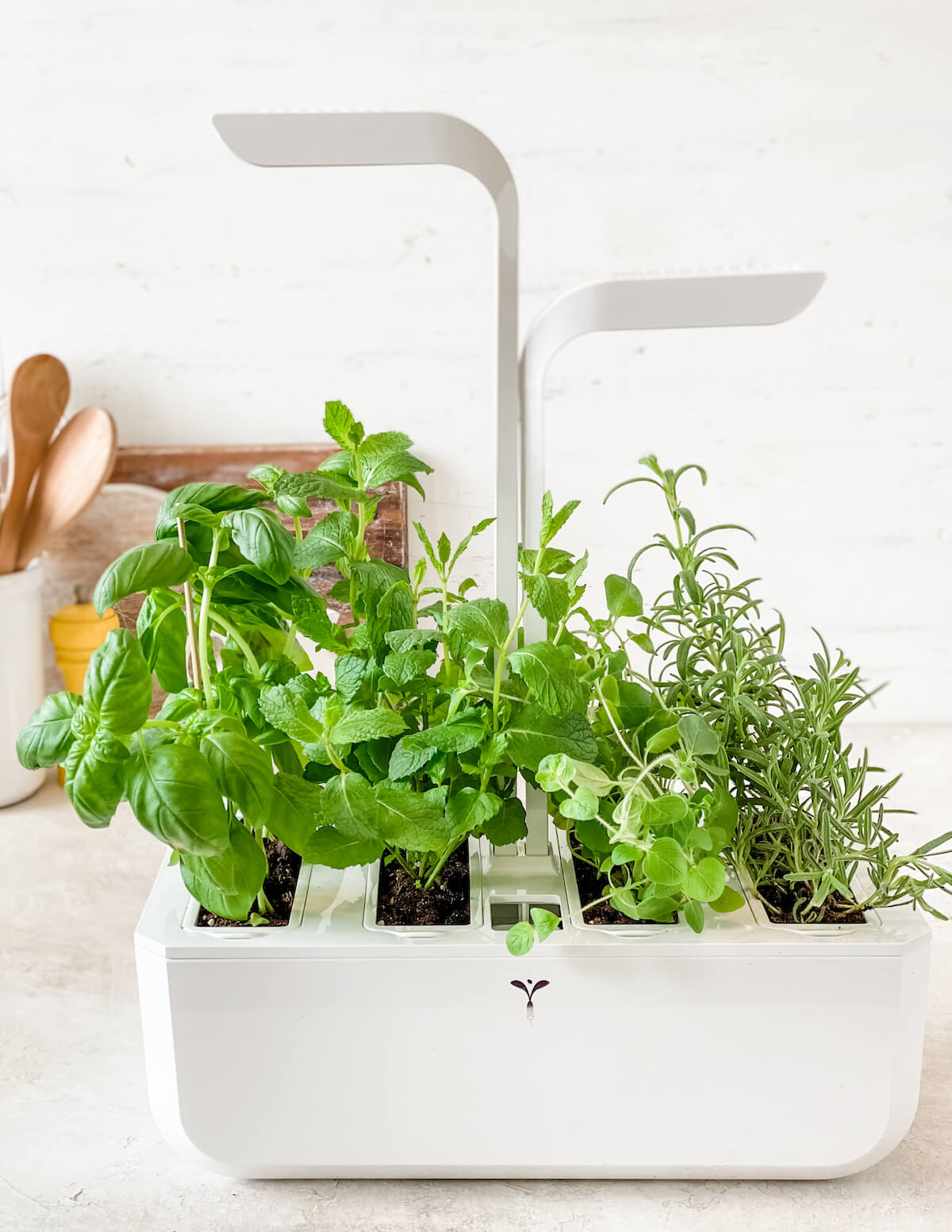 Hydroponic Indoor Garden
Simply fill the sleek-looking reservoir of the smart garden and you have a hydroponic indoor garden. That means the plants are grown with water from below, at the roots.
There is a bit of soil in this indoor vegetable garden, so it's not solely hydroponic, but that helps the herbs and veggies stay robust and fresh. Just like the hydroponic head of Bibb or Boston lettuce you find at the store. That has been grown hydroponically in a little soil.
The smart garden tank or reservoir, holds about 8 and a half cups of water, or 2 liters. The Veritable Garden lights flash when the water has been used so you know to refill it.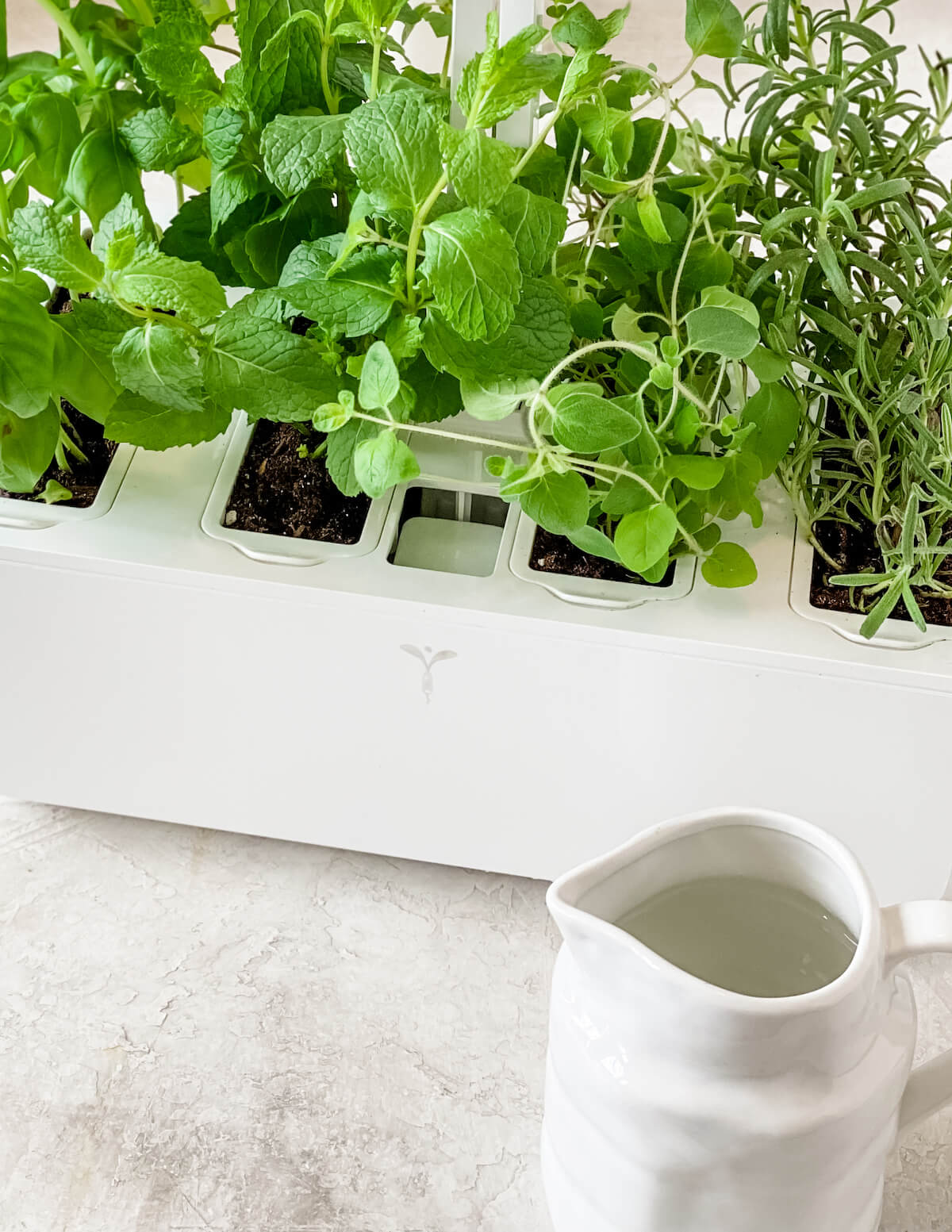 Using an indoor garden with light
It's easy to assemble the smart garden. It comes with some Lingots, or seed pods, and you can order more on the site.
Fit the seed pods into the smart garden and fill the reservoir with water. It will take about 30 days for the seeds to mature and bloom so you can use them. Then they will stay alive and fresh for months and months.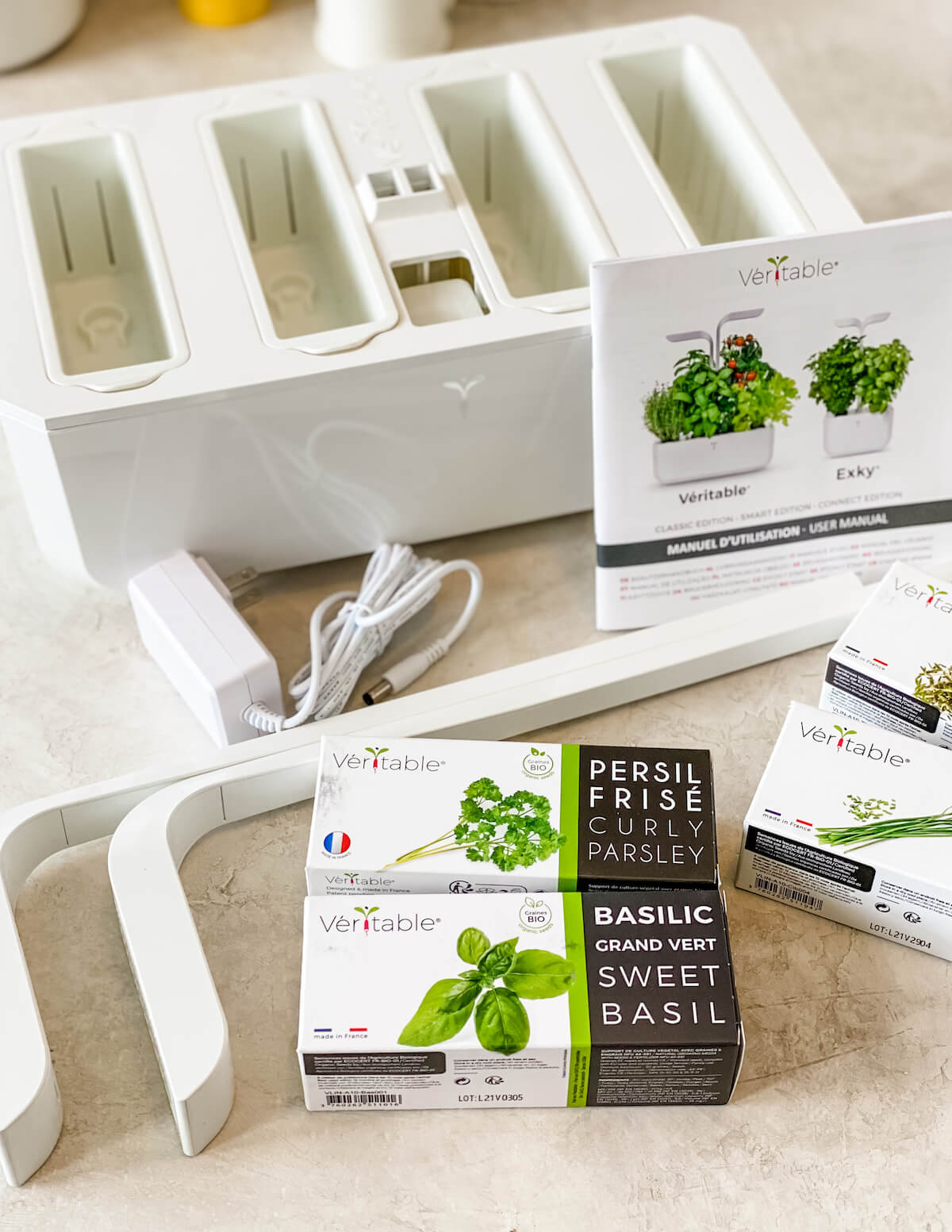 How to grow herbs indoors:
Assemble the smart garden.
Locate a spot near an outlet so you can plug it in. It does not need sunlight.
Place the herb Lingots or seed pods in the garden.
Fill the reservoir with 2 liters (or 8 ½ cups) water.
Plug in the garden to start a 16-hour light cycle.
Fill water reservoir when the lights start to blink.
Harvest herbs after about 30 days.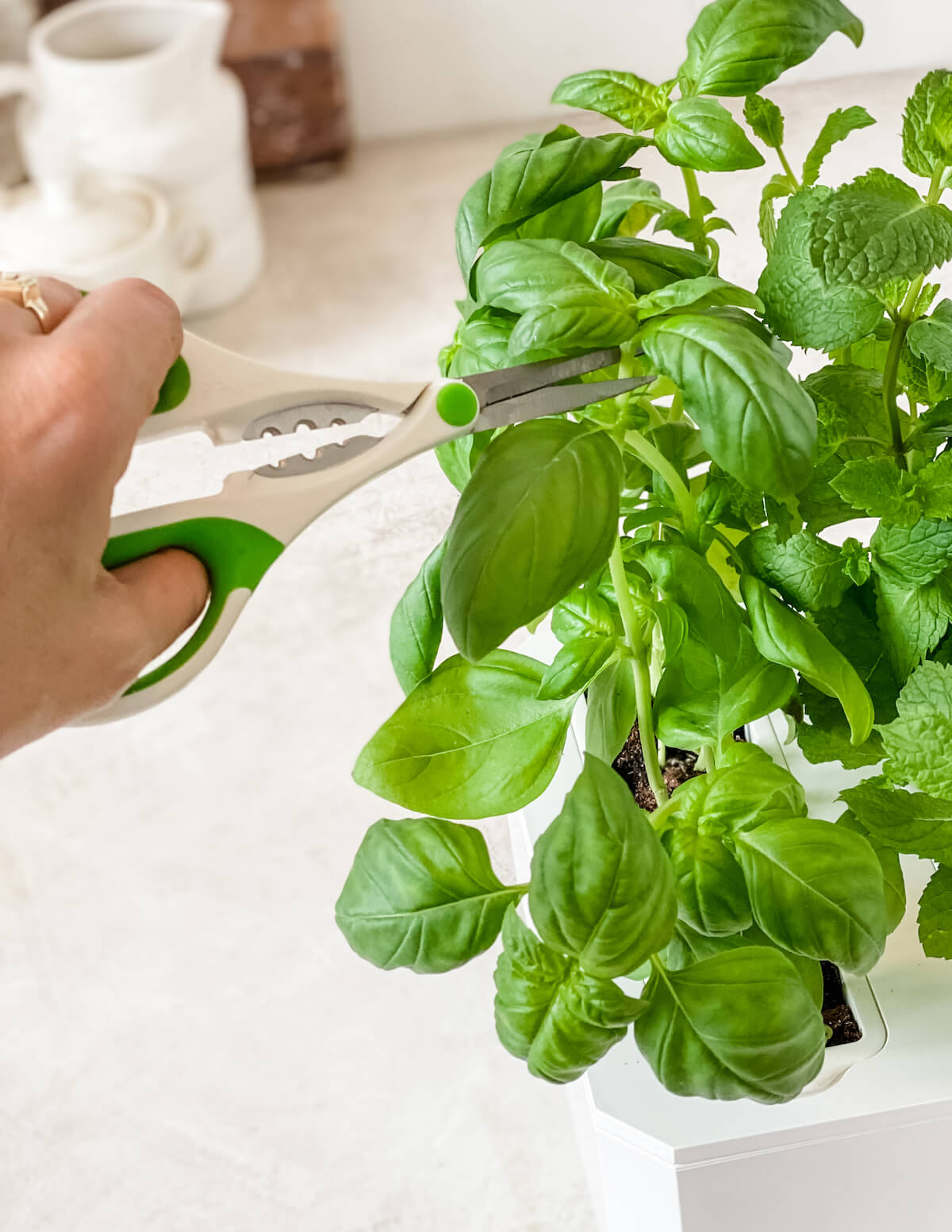 How to harvest herbs
You'll want to harvest your indoor garden herbs just like you do herbs that grow in your yard or outdoor garden.
Use scissors to clip an herb stem just above where new leaves are forming. See the picture below for a closeup.
You can trim a long stem or a short piece, but cutting the stem at that juncture allows new growth to form.
Do not tear the stems with your fingers. This will damage the plant.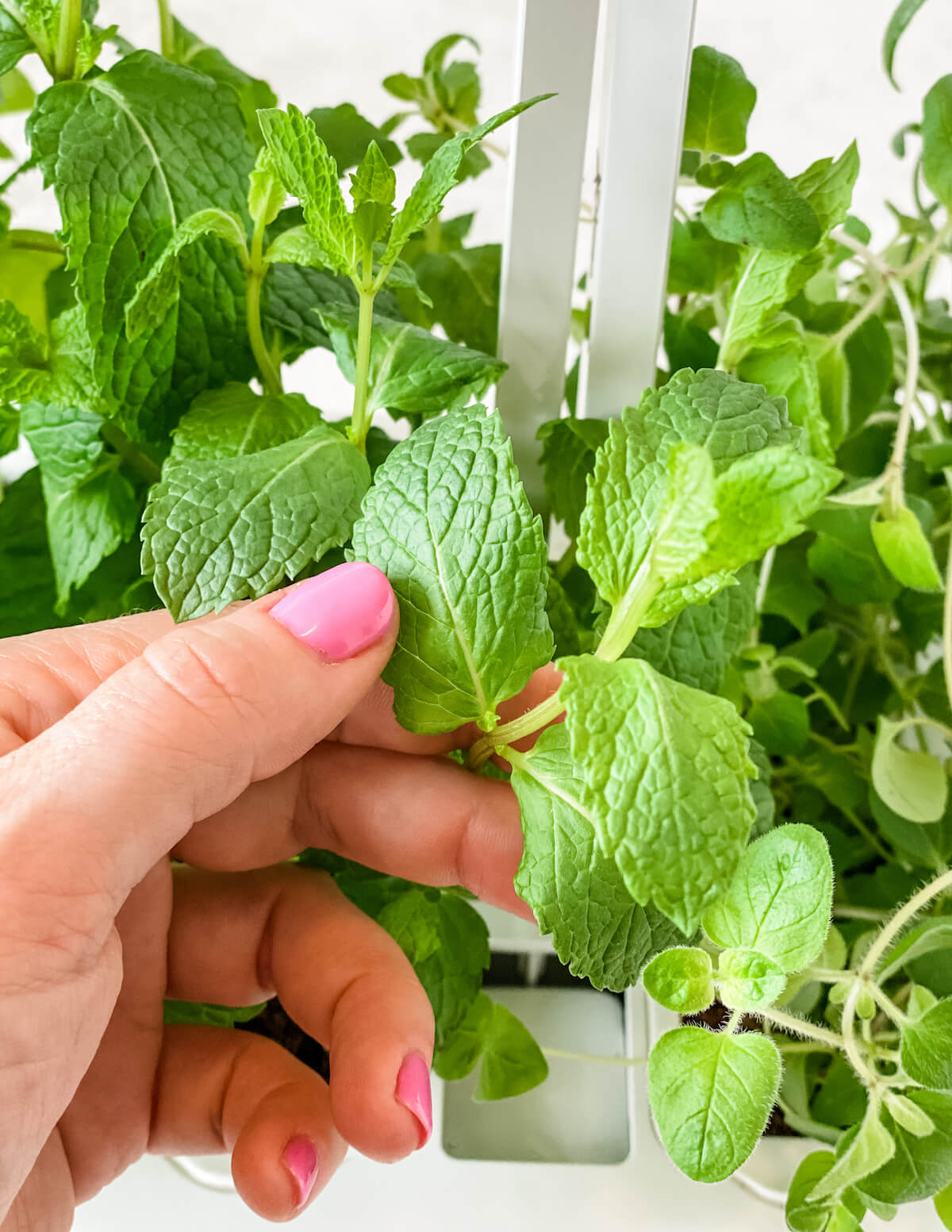 Indoor Garden Ideas
You can grow the best indoor herb garden, or a variety of edible plants for a mini indoor vegetable garden.
Buy the Veritable Garden and Lingots to create your garden.
When organizing your smart garden, you'll want to think about what herbs and plants you use most, or what herbs and plants you want to try.
Veritable Garden has so many Lingots (or seed pods) to choose from. Here are a few ideas to get you started.
Herbs to grow indoors
Classics: Basil, Mint, Oregano, Rosemary.
Delicate: Chives, Parsley, Cilantro, Dill.
Standard: Parsley, Sage, Rosemary, Thyme.
Unique: Hyssop, Savory, Marjoram, Caraway.
Indoor vegetable garden
Mini Red Tomatoes
Tatsoi
Organic Pansy Flowers
Zucchini Flowers
Mini Yellow Tomatoes
Mini Red Bell Peppers
Beet Greens
Swiss Chard
Bok Choy
Pai Tsai Lettuce
Wild Strawberries
Recipes for your indoor kitchen gardens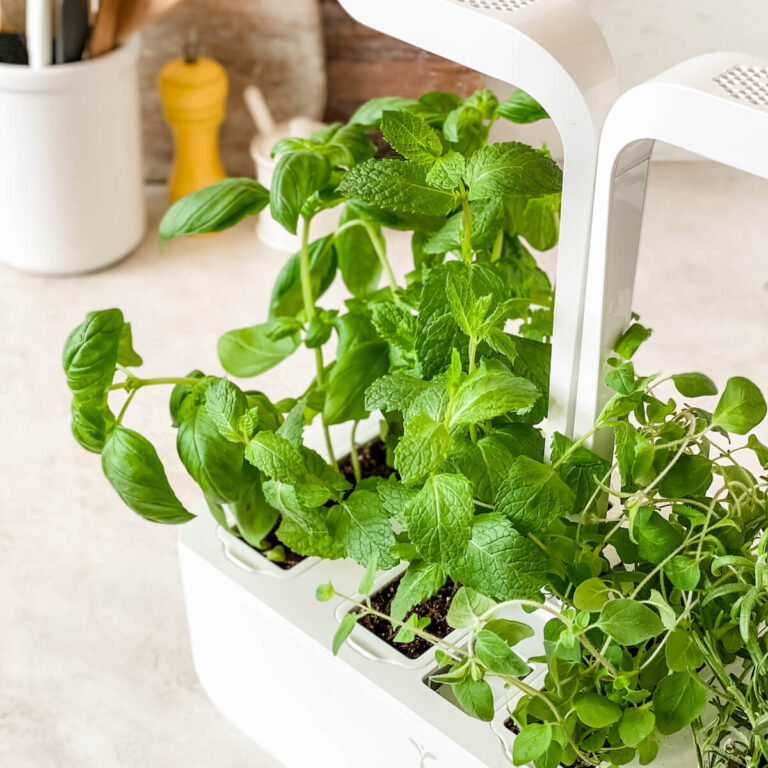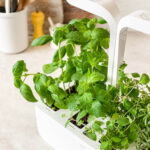 Print Recipe
How To Grow An Herb Garden Inside
Grow edible herbs, flowers and even baby vegetables in the best indoor garden system. Enjoy produce all year round without a window box or special skills.
More Vegetarian Recipes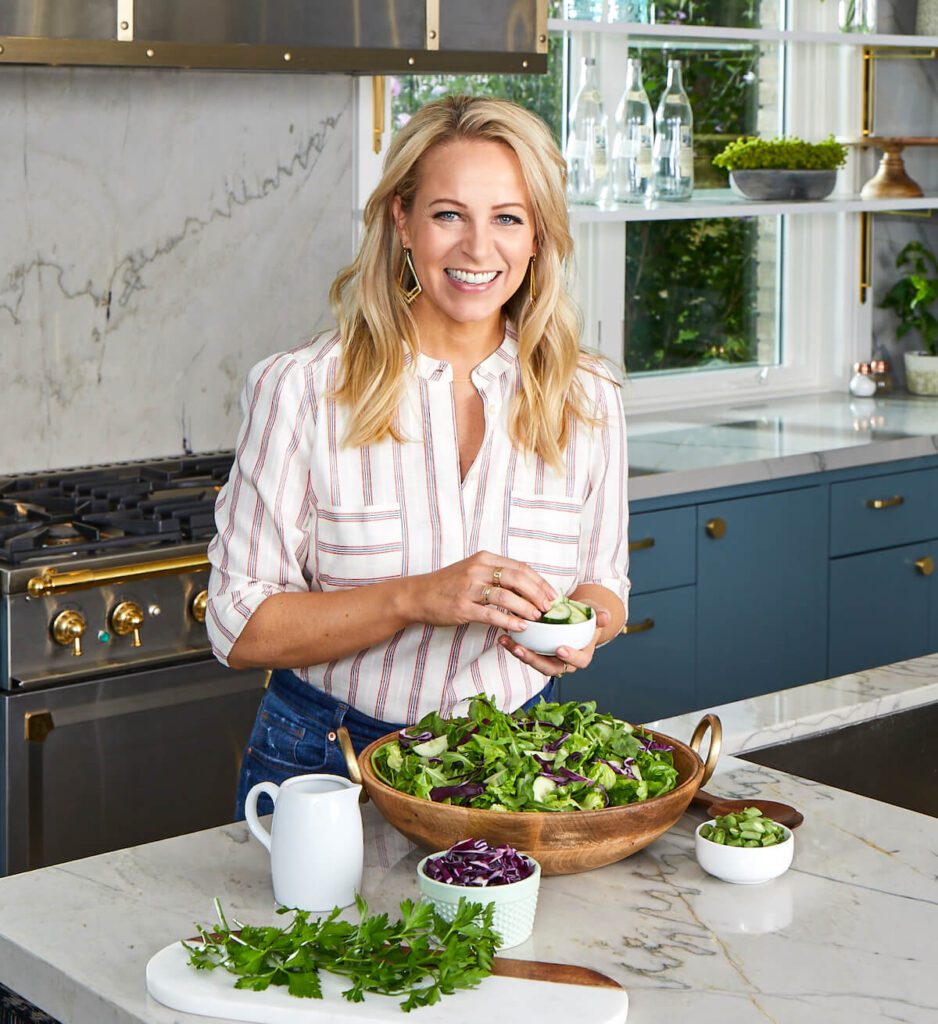 About Tara Teaspoon
I've been in the food publishing business for over 20 years, creating recipes & food-styling for magazines, books, television & advertising. Order my new cookbook & stick around for amazing things to eat.