A holiday waffle ice cream sandwich recipe using cake mix that couldn't be easier! Stir in peppermint candy for a festive flavor and fill with rich vanilla ice cream.
As seen in All Recipes magazine with Breyers Ice Cream.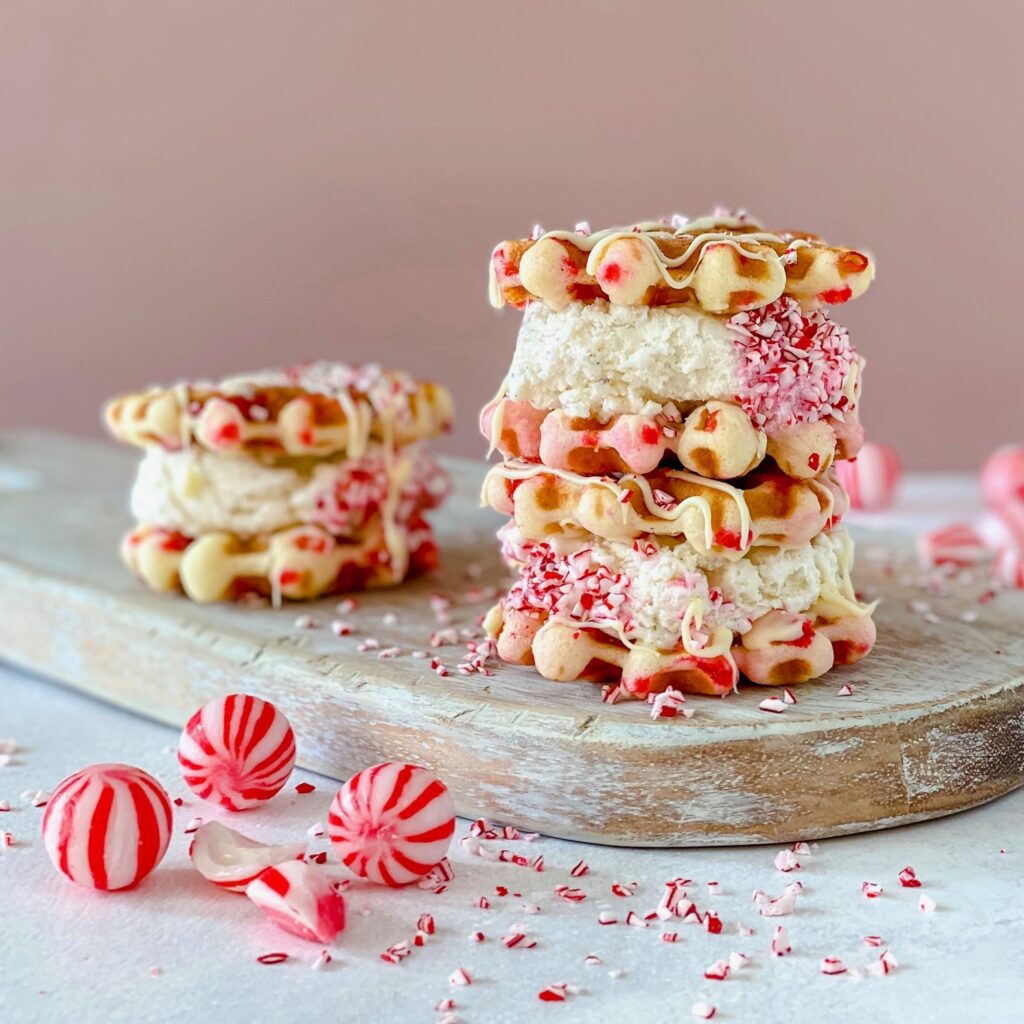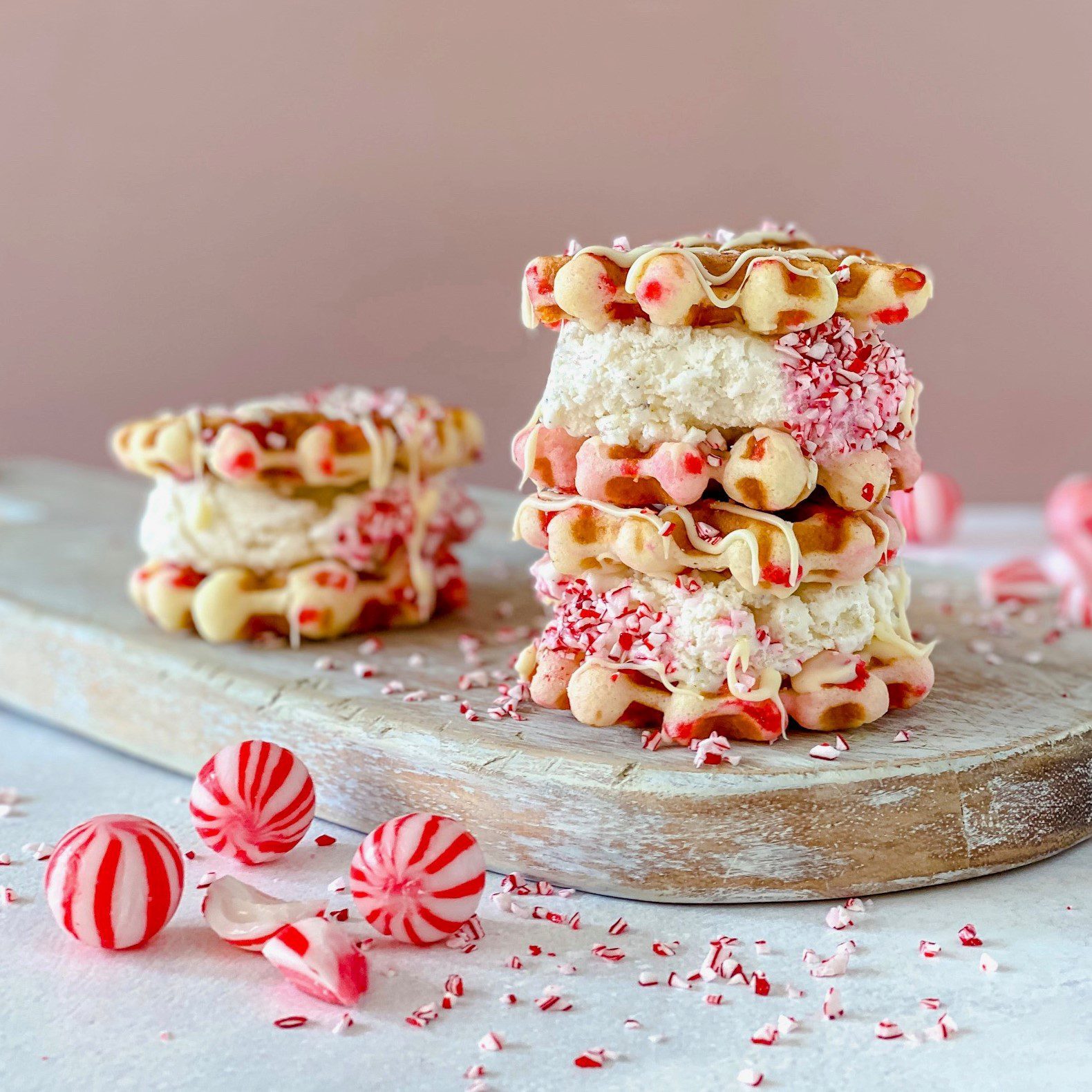 Jump to:
A pair of peppermint waffles (made with cake mix! Woop!) squish creamy vanilla ice cream to make a festive homemade ice cream sandwich. This low effort dessert is perfect for your holiday get-togethers.
Seriously perfect for Christmas, these ice cream sammies are fun for kids to make too. They can mix up the batter with the cake mix, add the peppermint and spoon it onto the waffle iron.
Let them devour them immediately or store them in the freezer.
Store bought or homemade ice cream sandwiches?
Remember those brick-shaped chocolate ice cream sandwiches that you bought from the ice cream man as a kid? I absolutely loved those. Well, even though I am, ahem, grown-up, I still have an affinity for ice cream sandwiches. Now, I prefer homemade ice cream sandwiches!
There are recipes out there for crispy cookies sandwiching ice cream. But why?
Other homemade ice cream sandwich recipes are just drop cookies, and I think those get too hard in the freezer.
Like the classic sandwich, these waffles stay soft and perfect. And bonus: they are peppermint!
Waffles and ice cream are the perfect match
I love making an ice cream sandwich with homemade waffles. Waffle ice cream sandwiches are overall more substantial, which is always a good thing when it comes to dessert!
Can waffles be eaten cold? You can eat waffles hot, warm, or cold. And this recipe votes for cold! I love an indulgent breakfast of waffles topped with ice cream and fruit. This is my holiday take on that delight.
Who says that breakfast food and ice cream don't go together? I'm giving you permission to eat ice cream with whatever you want. Except maybe not on top of a steak? But you do you.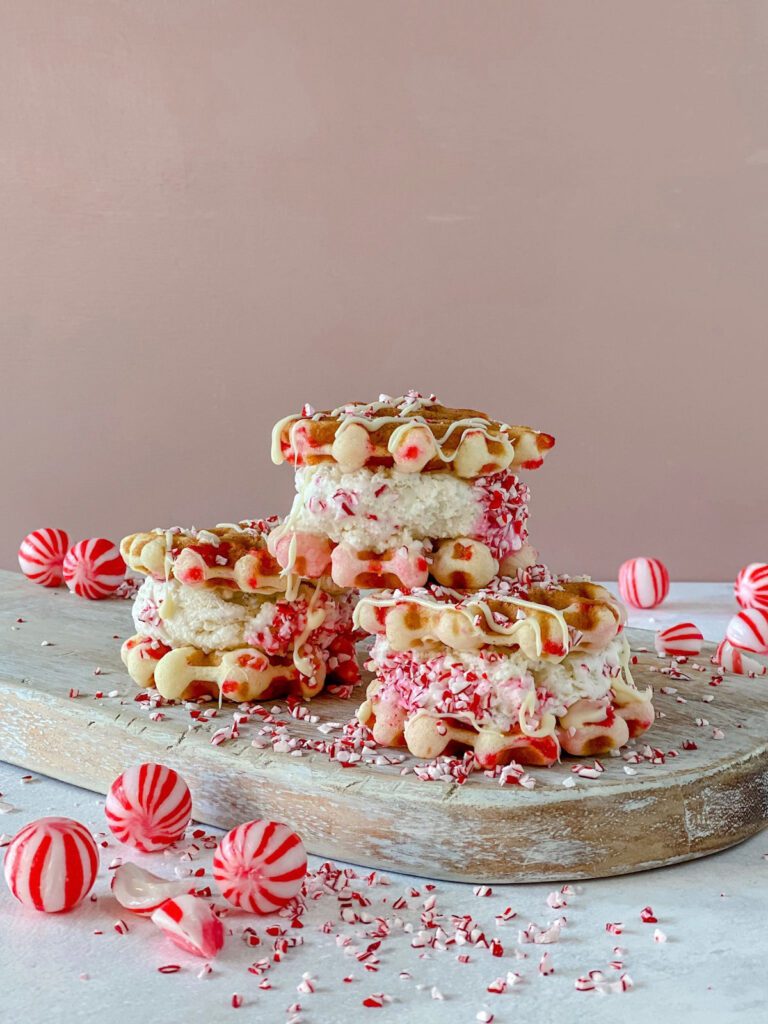 Use cake mix for the easiest dessert waffles recipe
You're going to absolutely love this recipe for two reasons: it's delicious and it's easy.
These waffles are made with a boxed cake mix! So you know that it's going to be good. All you have to do is combine the cake mix with a little water and oil, a couple of eggs, and throw in some crushed peppermint candies.
In a few minutes you'll have deliciously fluffy waffles that taste like little bites of heaven.
A make-ahead waffle ice cream sandwich
There are a few ways to make these treats ahead of time.
Make the cake mix peppermint waffles, let them cool and freeze them in a ziptop bag. When you are ready to serve, just fill them with ice cream.
The other option is the make and assemble the ice cream sandwiches completely and freeze them individually wrapped. Work quickly to get them into the freezer so the ice cream doesn't melt, and refrain from adding the extra candy garnish until you pull them out of the freezer to serve.
Fun ice cream sandwich ideas and flavors
If you're looking for more ice cream sandwich ideas, I've got a few for you.
Start with your cookie, and in this case a waffle! Other cookies that would work for ice cream sandwiches are award-winning chocolate chip cookies and even my soft gingerbread cookies.
Then the ice cream. Use store bought (super easy) or make your own. A classic Vanilla Ice Cream or Rich Chocolate Ice Cream will do the trick. Into totally fun flavors of ice cream? Try one of my 24 Different Ice Cream Flavors.
For a sophisticated ice cream sandwich twist, try my Profiteroles Recipe with Ice Cream Filling. It's another delicious take on the classic hand-held dessert that feels fancy! Top it with hot fudge and you'll go to heaven.
Equipment you'll need
You almost can't find small-hole, American style waffle makers anymore. These mini waffles work the best on that style of waffle maker, not a Belgian waffle iron.
If you don't have your grandmother's waffle iron, and really want a classic American style waffle, you can invest in a Croquade waffle iron and get the Galettes waffle plate.
Of course, you can make these on a Belgian waffle iron if that is all you have. They will just look slightly different!
You can certainly crush your own peppermints or candy canes for this recipe. I like to buy them pre-crushed! The candy dust has been removed and they look beautiful. Grab a small package of candy cane crunch online. Or order a large size like below.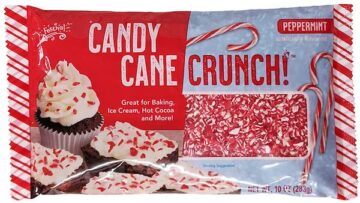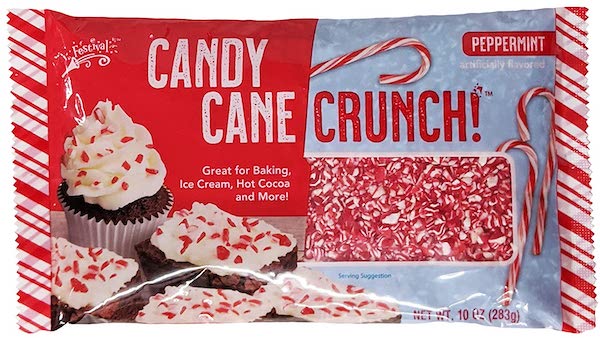 I get a large size crushed peppermint candy container. If kept in a cool, dark place, this candy can last several years and still taste great.
Use it on flavored brownies, in cookies, waffles, on ice cream and cakes.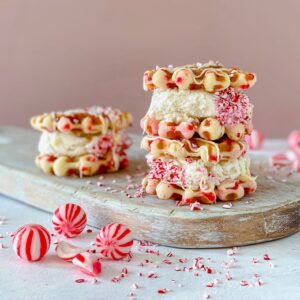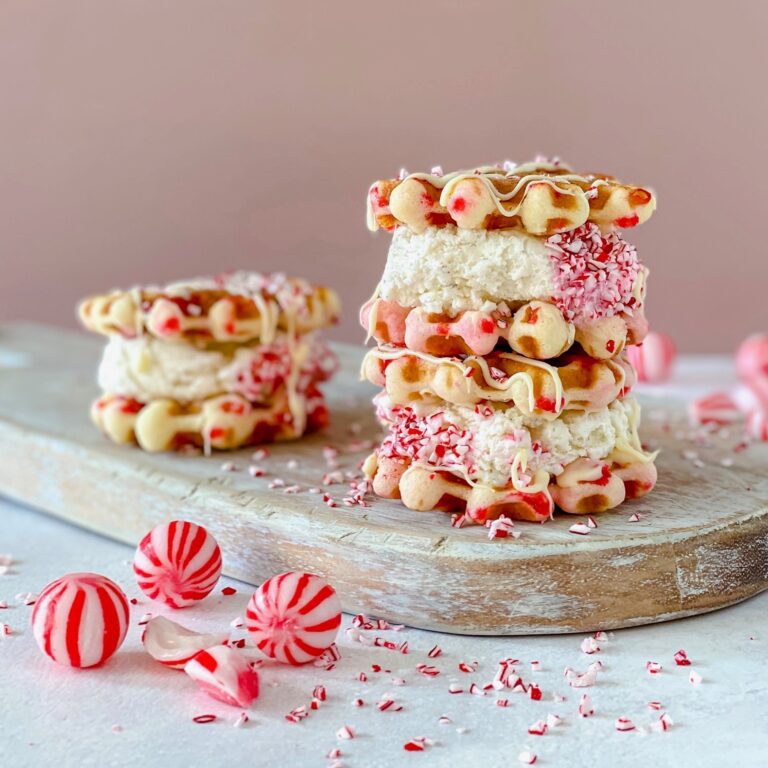 Peppermint Waffle Ice Cream Sandwiches
Breyers Natural Vanilla Ice Cream smashed between two sweet peppermint waffles. Use cake mix to make these super simple.
Ingredients
½

cup

cold water

1

large egg

2

tablespoon

canola oil or avocado oil

1½

cups

white cake mix

¼

cup

crushed peppermint candies, plus more for garnish

4

ounces

white or dark chocolate, melted

3

cups

Breyers Natural Vanilla Ice Cream
Instructions
Heat a waffle iron to medium-high heat. Ideally use a waffle iron with small holes.

In a mixing bowl, whisk together the water, egg, and oil. Add the dry cake mix and whisk just until mixed and smooth, about 30 seconds. Stir in 2 tablespoons of the crushed peppermint candies.

Spoon or scoop 1½-to-2-tablespoons batter onto the center of each square of the waffle iron. Sprinkle with some of the peppermint candies. Close and cook until just golden and cooked according to the appliance directions, 1 minute to 90 seconds. Use a fork to gently remove waffles from iron. Repeat with all the batter.

Using a pastry brush, brush one side of each waffle with the melted chocolate and let it set, chocolate side up, for about 5 minutes.

Working quickly, scoop about ⅓ cup Breyers Ice Cream onto the chocolate side of one waffle and sandwich with another. Drizzle ice cream sandwiches with extra chocolate and sprinkle with extra peppermint candy if desired. Serve immediately.
Notes
Note: You can fill sandwiches ahead and keep wrapped in the freezer for up to a day.
Nutrition
Calories:
235
kcal
Carbohydrates:
25
g
Protein:
3
g
Fat:
14
g
Saturated Fat:
7
g
Cholesterol:
42
mg
Sodium:
50
mg
Potassium:
147
mg
Fiber:
1
g
Sugar:
21
g
Vitamin A:
238
IU
Vitamin C:
1
mg
Calcium:
70
mg
Iron:
1
mg
Cake recipes for any occasion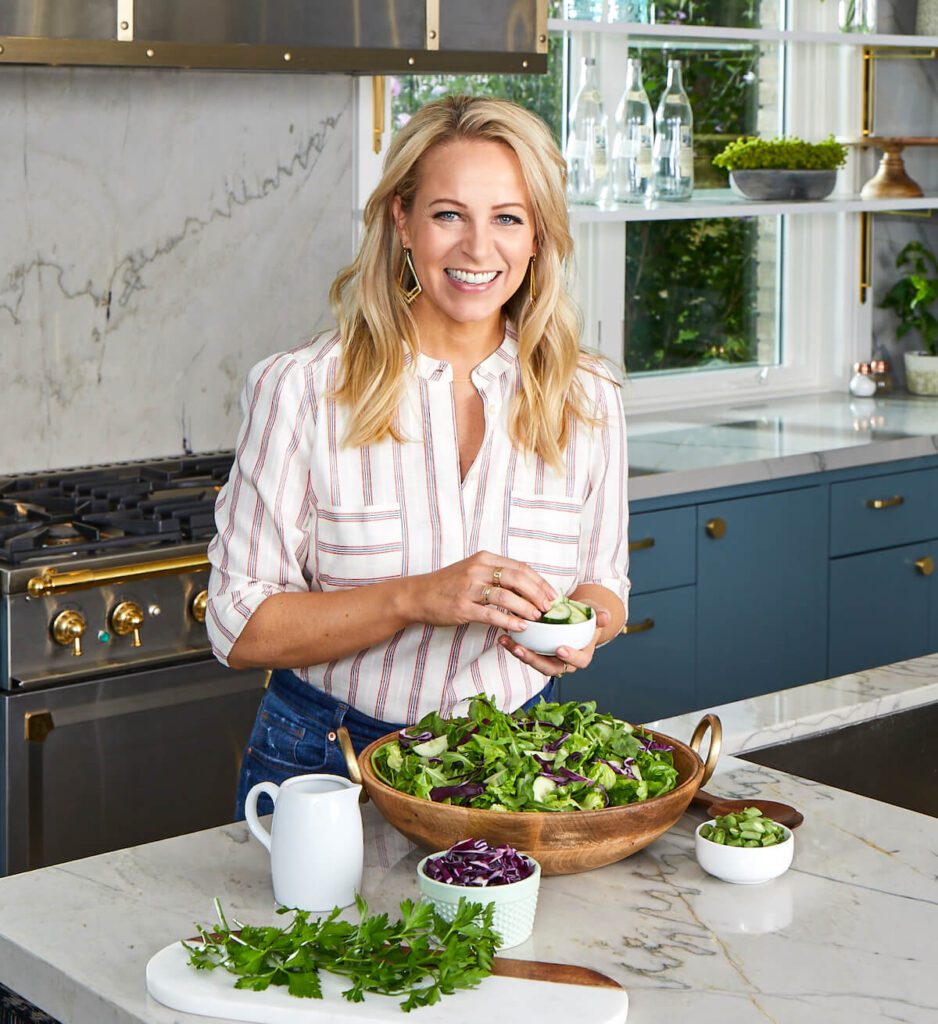 About Tara Teaspoon
I've been in the food publishing business for over 20 years, creating recipes & food-styling for magazines, books, television & advertising. Order my new cookbook & stick around for amazing things to eat.
Also written by Lindsay Steele