---
Being voted the best chocolate chip cookies is no joke. These are award-winning cookies many times over, and I'll tell you how to make them from scratch. Better than your favorite bakery, better than your friend's, and better than mom's chocolate chip cookies! These are truly the best in the world.
---
My goodness I love chocolate chip cookies. When asked what my favorite food is, the answer is always "chocolate chip cookies, preferably right out of the oven." So you'd better believe I have a pretty glorious recipe in my back pocket.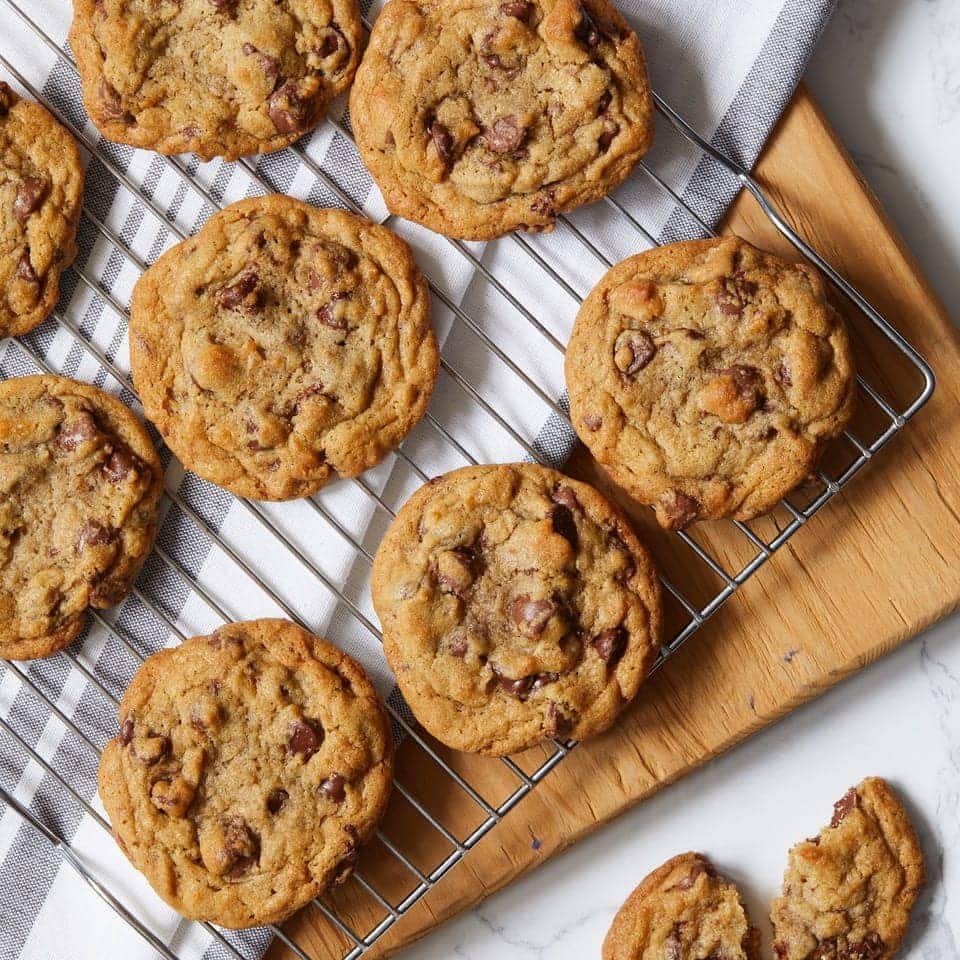 I know, as a former food editor and blogger, people expect me to tell them my favorite food is something like garlic ramps or beef bourguignon, but it's simply not true. Almost every form of chocolate chip cookies hits the spot for me.
Jump to:
Tried and true
I realize saying that this recipe is the best in the world is a bold statement, but hey, I'm a professional, I can call it like it is!
I have shared this recipe for more than 20 years, to whomever wants it.
It's the only recipe I know off the top of my head, and I have texted it, emailed it, shared in social situations (literally standing around at parties I get asked for it) and on phone calls, more times than I can count. Here it is for YOU!
You can even make gluten free chocolate chip cookies from this recipe. Click on the heading in the box below to jump right to that section.
---
Award winning chocolate chip cookies
Every year for many years, I have attended an annual chocolate chip cookie contest hosted by my dear friend. The first year I was invited I was asked to be a contestant.
There was a lot expected of me because I cook for a living! Since I always make these perfect chocolate chip cookies for friends, I decided to create another, different recipe.
I laminated flaked chocolate into a rich dough enhanced with molasses. Chilled it overnight and baked each one perfectly. They were my take on the luscious Jacques Torres CC Cookies sold at his bakery up the street from my house.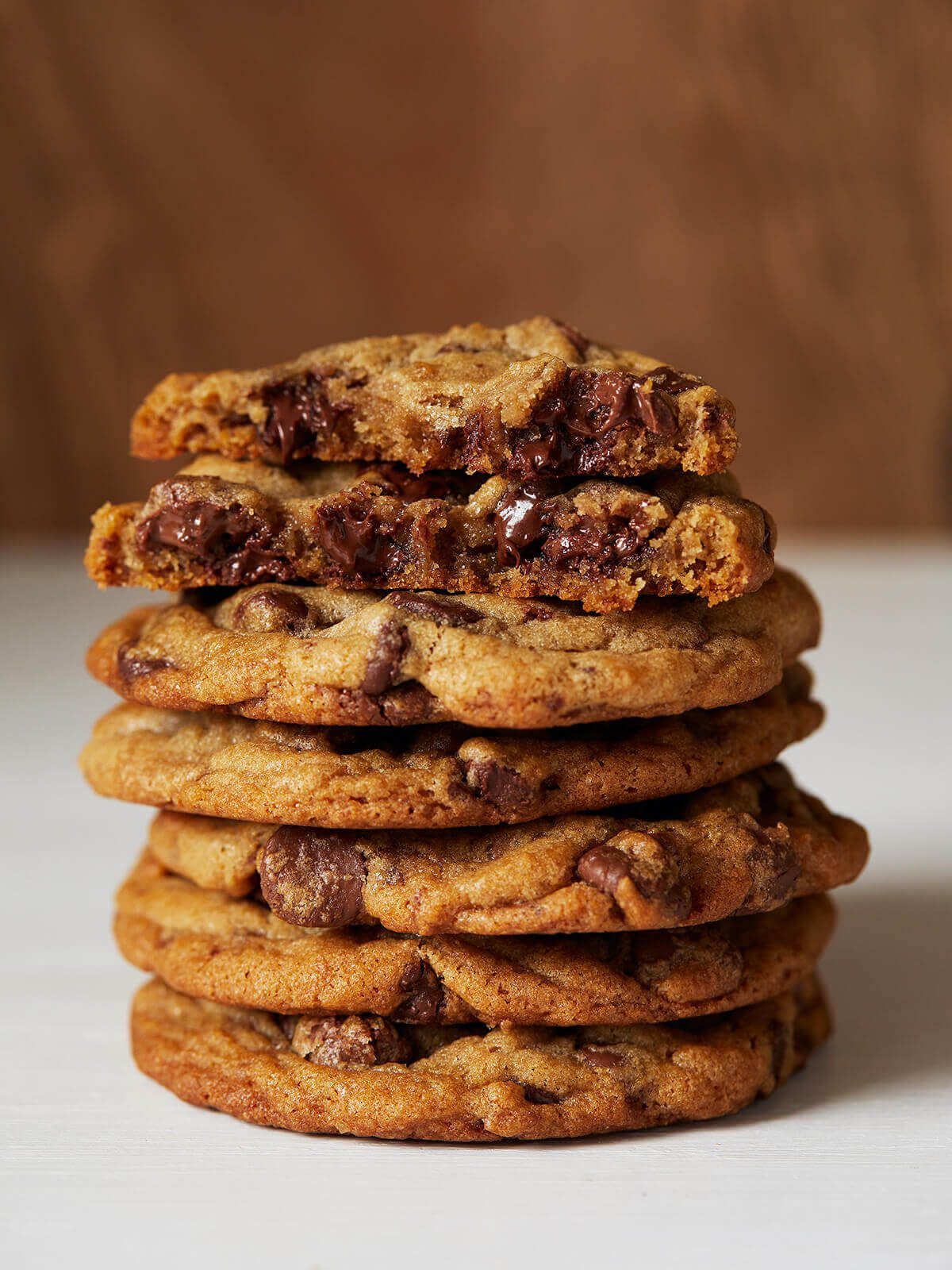 I loved them and thought they were the ultimate chocolate chip cookie! I thought for sure that recipe would win. It didn't!
My friend Nikki won. You know what recipe she used? THIS recipe. This very recipe you're looking at right now! That perfect chocolate chip cookie recipe I had baked for 20 years and passed over like it wasn't good enough.
I had given the recipe to her years before. She made my recipe (perfectly I might add!), and won the contest with it! (So can I say I won? By association maybe? Wishful thinking!).
And this recipe won for about 3 more years and is still always a top contender!
Now Nikki and I host the annual chocolate chip cookie contest. We have a blast group-taste-testing 16 cookies every year, announcing the winner, and celebrating this perfect, award-winning treat!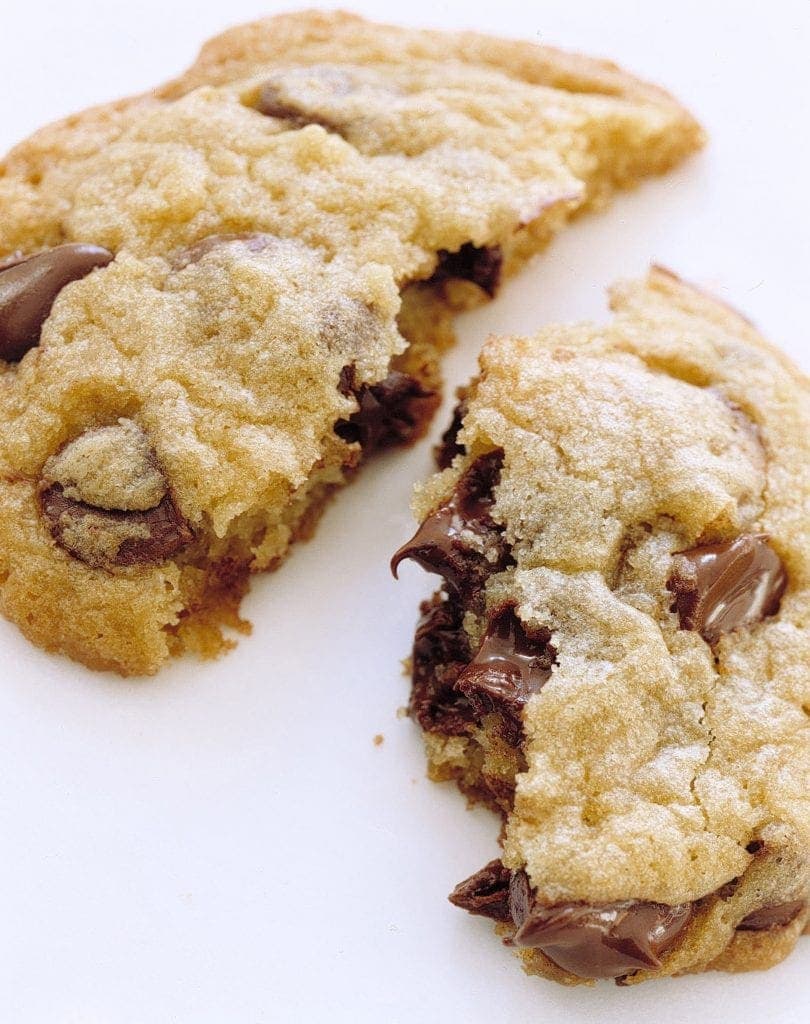 For Martha Stewart
The image above is of the gorgeous cookie I styled when I shared a version of this recipe with Martha Stewart. I was an editor there at the time and shared many of my personal recipes in the pages of her magazine, as well as created new ones.
At the time I was just not wanting to share my special recipe with the world of Martha Stewart subscribers! I created a different version, about half the recipe I use now. It was part of a magazine story I developed on all different kinds of chocolate chip cookies!
So for those lovers of cakey chocolate chip cookies, chewy and crispy, the story covered them all!
Find out why the best chocolate chip cookies are shared all over the globe, win contests, and are everyone's go-to cookie!
Tools to bake the best chocolate chip cookies
My favorite baking sheets for chocolate chip cookies: Vollrath Rimless Baking Sheet. They are worth the money and really amazing. They are heavy gauge and will last forever.
Great measuring cups for baking: Stacking Measuring Cups. I like that they are not super deep so the flour doesn't get packed into a tall cup.
Perfect measuring spoons because they fit in small jars! Spring Chef Measuring Spoons
A set of Three Cookie Scoops so you can choose your own size.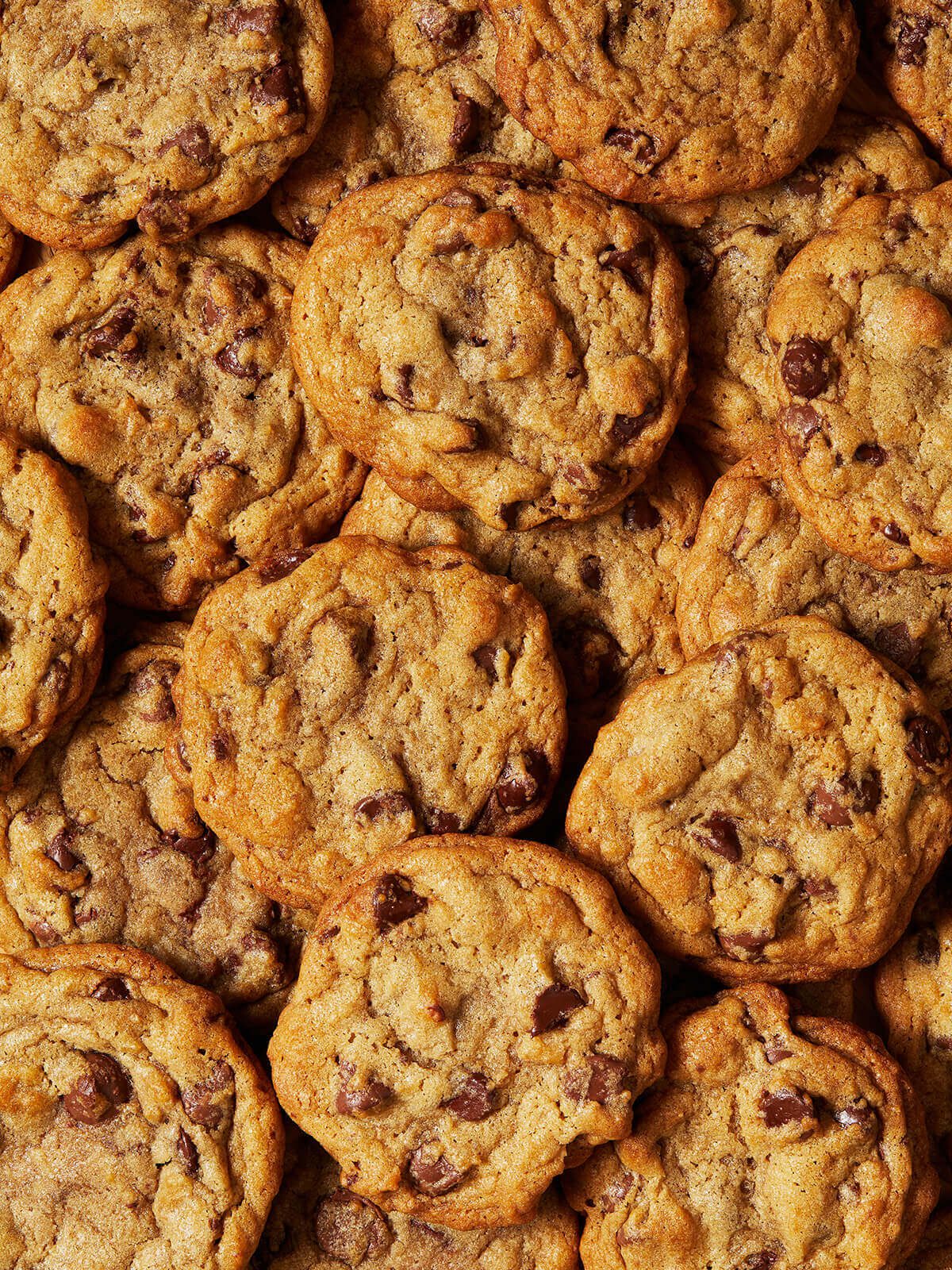 The best chewy and crispy chocolate chip cookie
I created this recipe in college and have tweaked and perfected it over the years. To me it is the absolute greatest in the world.
When done just right it is soft, with a tiny bit of chewy gooey in the middle and a little buttery, sugary crunch right around the edges.
Along with the special mix and ratio of the ingredients, the step of chilling the dough makes a difference. You can certainly bake these right after mixing, but read more about chilling below.
Here is what I did to make this soft chewy creation with those crisp edges.
Brown Sugar
To me chocolate chip cookies without brown sugar would be a sin. I mean no judgements really, but why? Cookies with just white sugar are sugar cookies, or shortbread!
This is not a CC cookie without brown sugar. In fact, I changed the ratio of brown sugar and white sugar to include more brown sugar.
Increased brown sugar gives the cookies a hint of dark, caramel flavor and keeps them chewy and soft because of the moisture in the brown sugar.
In fact, for a fun twist you can even swap in a little dark brown sugar for the light brown sugar!
Butter
Oh the amount of butter is heavenly! Three sticks of butter adds flavor, moisture, and the milk solids needed to create those crispy edges.
I use unsalted butter because that's what I typically buy. It's the freshest butter on the shelves and I love the creaminess. You can use salted butter if you'd like. Feel free to reduce the salt, or keep the 1 teaspoon I call for. Either way, these keep their crispy- chocolate-chip-cookie qualities.
Chocolate Chips
Bring on the chocolate! "The mix", to me, is perfection. I love the sweetness and rich chocolate flavor milk chips bring. But I need that punch of dark chocolate to balance it all out. Oh, it's heaven!
I mixed semi sweet and milk chocolate chips for the chocolate in these cookies.
Now I know there are going to be some naysayers here. Those of you who are committed to their mother's recipe--the cookies they grew up with, that had either just milk chocolate or semi sweet chocolate chips.
I didn't grow up with the semi-sweet chocolate called for in Nestle Toll House chocolate chip cookies. And mom always used milk chocolate chips in hers. But I'll argue a mix is the best anytime.
Also, chopping your own chocolate (I love the big 1 pound bars at Trader Joe's) into chunks, or using chocolate disks is truly amazing. Try it!
Vanilla Extract
Adding loads of vanilla extract also enhances these cookies to perfection. I don't use the typical 1 teaspoon. Up it to 1 tablespoon and you'll get an amazing, balanced flavor.
---
Baking secrets:
The secrets for how to bake chocolate chip cookies are really not secret! I'll share all I know.
The best way to bake chocolate chip cookies is a matter of preference. Changing the temperature yields different results.
A cookie baked at 300ºF until done, results in a flat, crispy cookie. 375ºF creates a cookie with a browned outside and soft inside. I wanted the best of both worlds and stick with an oven-thermometer-tested 350ºF temperature. I get chewy, gooey cookies with a bit of crispness around the edges.
Knowing how long to bake chocolate chip cookies is almost an art! I prefer cookies that are quite soft and gooey, so I under bake my cookies by about a minute, and let them rest until almost cool on the baking sheet. They continue to cook with the heat of the pan, but not the surrounding heat of the oven.
You will have to experiment with your timing. It will be different for each oven, and the temperature of the dough. Just remember to let them rest on the baking sheet for several minutes.
Use parchment. The thin layer of non-stick parchment paper lets the bottoms of the cookies bake evenly and not get overly browned. It is also a great way to transfer still warm cookies from the baking sheet to keep cooling. Just slide the entire paper off the sheet and onto the counter.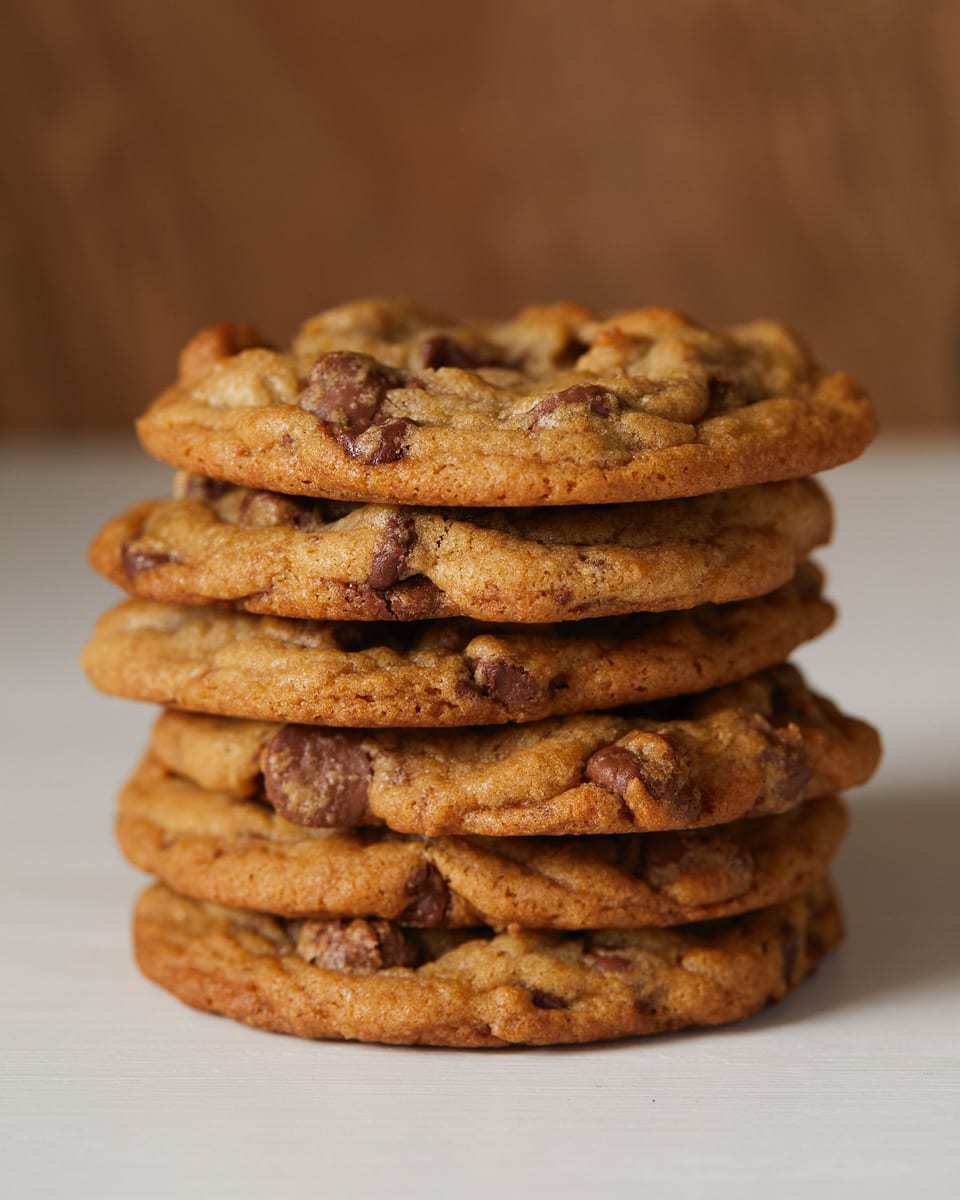 Freezing dough:
This chocolate chip cookie dough freezes beautifully. In fact, I usually keep a roll or some pre-formed balls in the freezer at all times...never knowing when the baked cookie mood will hit!
For any chilled or frozen cookie dough, you'll want to add some baking time to account for their extra chill.
The bake will be different. Depending on your dough, and what shape you freeze it in, the cookies may spread a lot or a little. Practice baking one or two to get the timing down and know how you like them.
Easy ways to freeze the dough are:
Roll portions of the dough into a 1 ½ to 2 inch diameter logs, wrap in parchment or foil and freeze. Let thaw at room temperature for a few hours before slicing and baking.
Scoop balls or half balls of dough and freeze on a baking sheet. When frozen, transfer to a freezer zip-top bag.
Fill a freezer zip-top bag with dough, seal and flatten.
Why chilling the dough makes it better
These glorious chocolate chip cookies can be baked right after mixing up. They'll be delicious. But chilling cookie dough changes it in some spectacular ways. This is how you make chewy chocolate chip cookies!!
In fact, the cookies in my pictures on this post were chilled. The same great tasty chocolate chip cookies result, but the color is deeper and the texture is balanced.
It's not needed, but if you let the dough sit in the fridge overnight (or keep a batch in there for a week like I do) it mellows and becomes like a chewy bakery cookie. Really delicious.
Chilling dough:
Allows the flour molecules and sugar to absorb the moisture in the dough.
Gives the sugar time to dissolve and melt into the dough.
Solidifies the fat (butter) in the dough so the spread is not too much and not too little.
Creates more browning. (which ultimately means more caramelized flavor, while still staying chewy).
Balanced flavors result. Nothing pronounced, but there's no immediate flour taste.
Just increase the baking time when the dough is cold.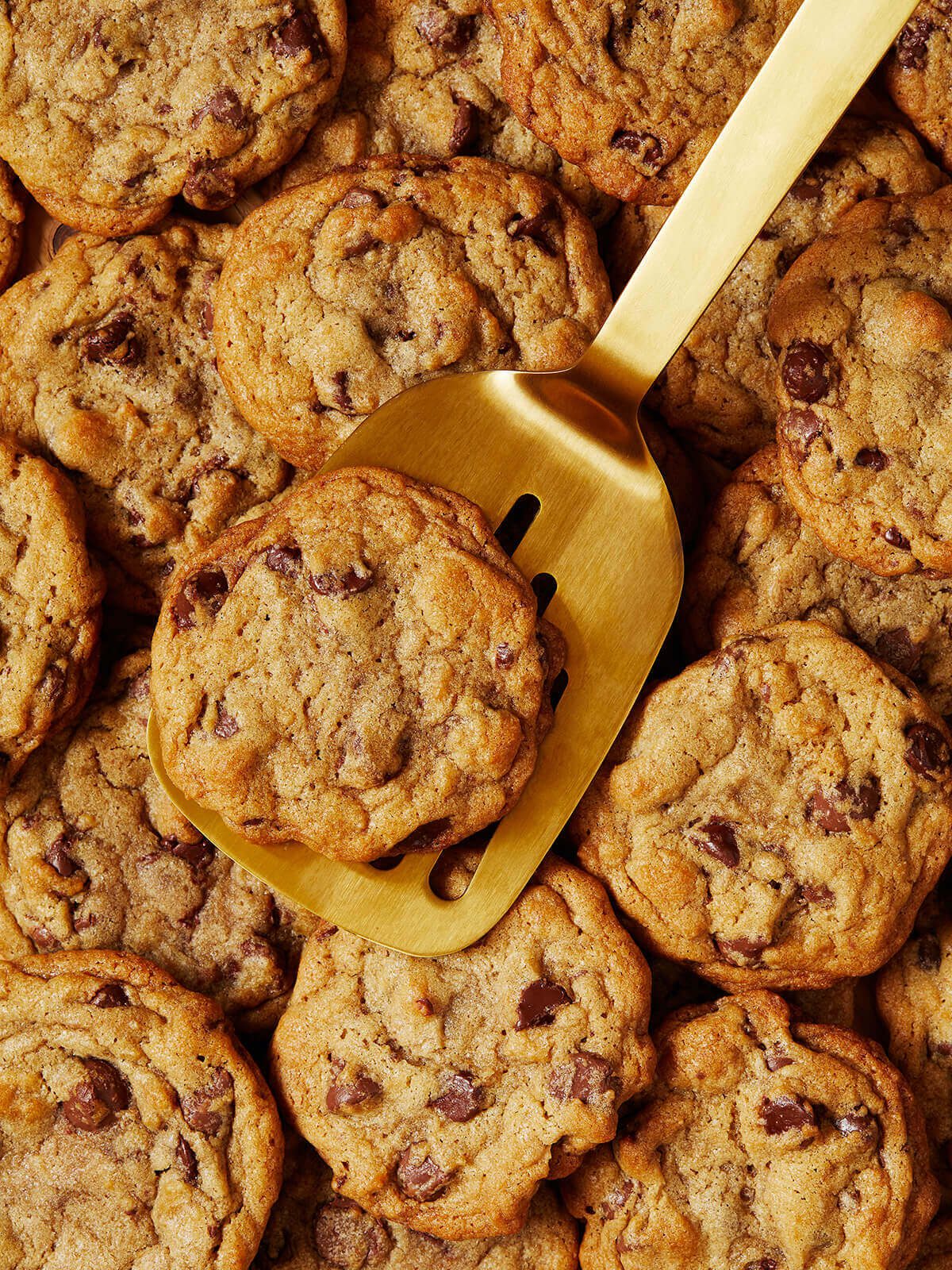 Can I make these gluten free Chocolate Chip Cookies?
These really do make the most delicious GF cookies I've ever tasted.
My brother has to eat gluten free, and years ago, before there were special flours and recipes, we were struggling to make classics and comfort foods he missed.
This chocolate chip cookie recipe was one of the first that we made to taste so close to the original you can hardly tell them apart! We blended our own flour, and experimented with the amount of xantham gum for texture (there were some major mess-ups that were eaten with a spoon off the baking sheet!)
Now, thanks to the perfect blend of Cup4Cup all-purpose gluten free flour, it's a simple swap. Make these cookies gluten-free by simply substituting the all-purpose wheat flour I've had the best success with that brand!
You'll read in the comments that some other brands create grittiness or have too much cornstarch and the cookies are dry or don't spread.
Can I make these vegan chocolate chip cookies?
This recipe is super successful as dairy free chocolate chip cookies, but not vegan. You can experiment with egg substitutes if you'd like, but I have not.
I have made this recipe dairy free and it's great! One of my summer interns was dairy free and gluten free, and we experimented.
We found the best swap was Miyokos butter, a cultured dairy free butter substitute. And dairy free chocolate chips (found at the health food store).
Brittany wasn't terribly allergic to dairy, so she opted for Ghirardelli dark chocolate chips because the dairy free chocolate chips do have a slight aftertaste.
---
Pin this recipe for reference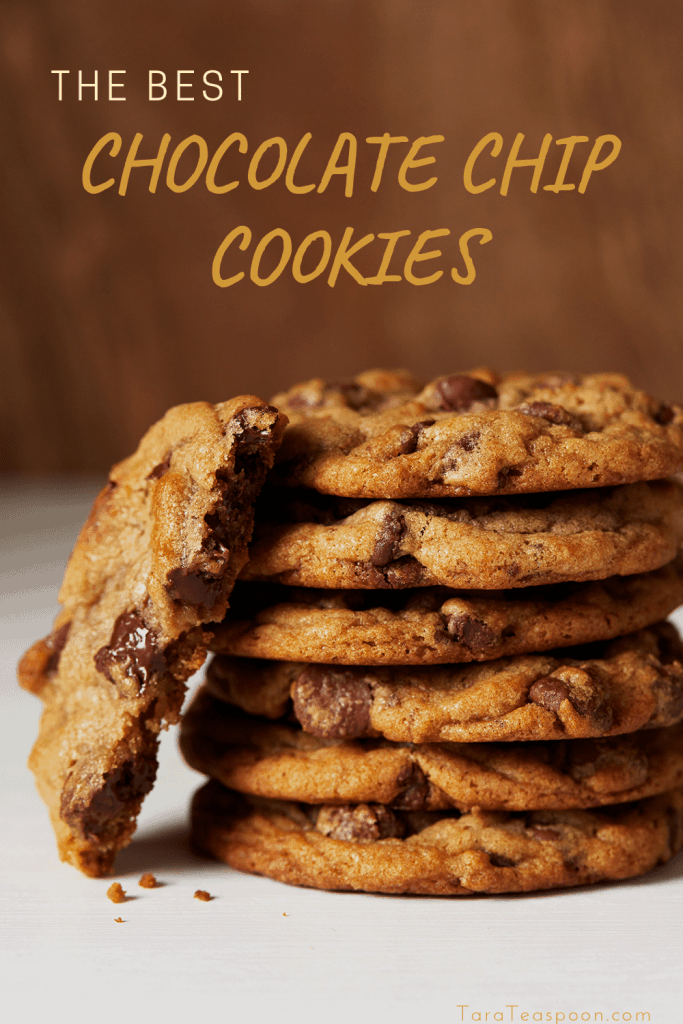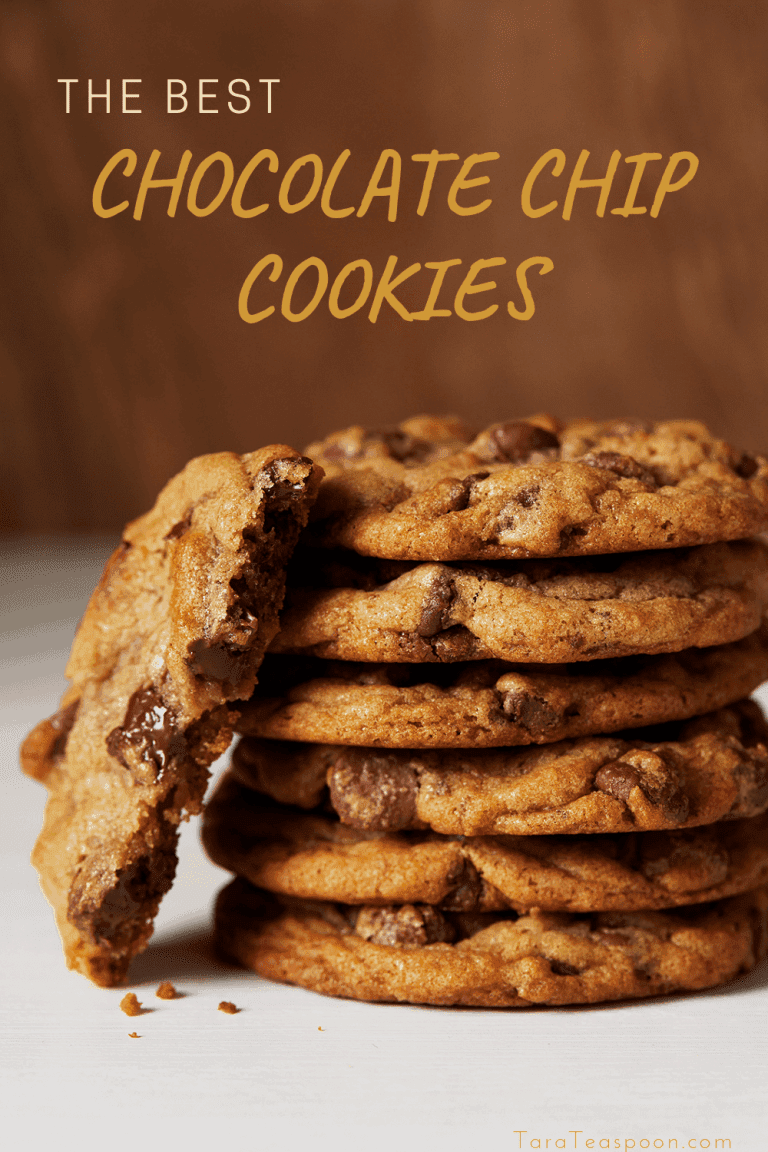 Chocolate chip cookie nutrition facts
These are good chocolate chip cookies, maybe just not good health food! They are certainly a treat. But really not bad in my book.
The calories on one medium-sized cookie are under 100, coming in at 92 calories.
There are 21 grams of carbs in one cookie as well.
If you're counting those calories and carbs you won't be disappointed. You can indulge in these gems-of-goodness without guilt.
Check out my other Tara Teaspoon recipes for chocolate chip cookies:
Here is the printable for World's Best Chocolate Chip Cookie recipe: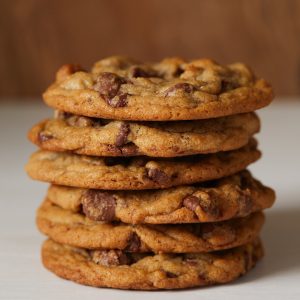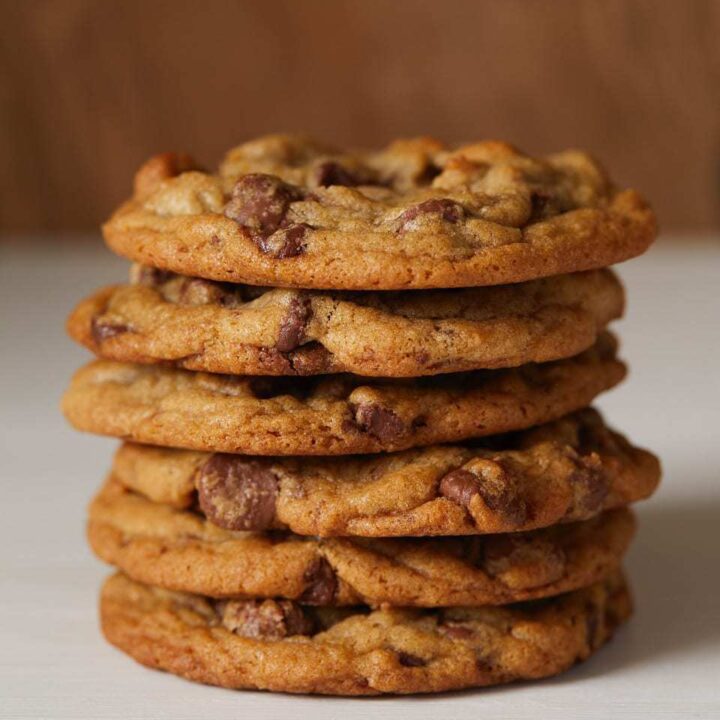 World's Best Chocolate Chip Cookies
Chewy, gooey, slightly crispy with a buttery brown sugar flavor. The mix of semi sweet and milk chocolate chips are just one of the secrets to perfect cookies! Make them gluten-free simply by swapping the wheat flour for a fine all-purpose gluten-free flour.
Makes about 4 dozen
Ingredients
4

cups

sifted all-purpose flour

1

teaspoon

baking soda

1

teaspoon

salt

3

sticks (1½ cups) unsalted butter,

softened

1½

cups

light brown sugar

1

cup

granulated sugar

2

large

eggs

1

tablespoon

vanilla extract

1

12-oz

pkg (2 cups) milk chocolate chips

1

12-oz

pkg (2 cups) semi-sweet chocolate chips
Instructions
Heat oven to 350ºF. Combine flour, baking soda, and salt in a bowl and set aside. In a separate mixing bowl, cream together the butter and sugars. Add eggs and vanilla and mix. Add the flour mixture, a little at a time, and mix. Stir in chocolate chips.

Bake on parchment-lined baking sheets at 350ºF. Medium and small cookies bake until golden around the edges and just set in the center, 10 to 12 min. Don't overcook! They continue cooking on the pan out of the oven. Let cool slightly (if you can wait) and remove from pan.

If cookie dough has been chilled they will bake 12 to 14 minutes.
Notes
FLOUR! Everyone measures flour differently. If you tend to have a heavy hand make sure to sift your flour prior to measuring.
PICTURES: The photos in this post are of cookies made with dough that had rested in the fridge for 24 hours. This creates a certain texture and look. Let the cookie dough sit overnight in the fridge to intensify the flavor and texture.
** There are a lot of chocolate chips in this recipe. Please feel free to use less if desired!
This recipe is large. If you don't bake all of it, the dough is great for freezing or can be stored in the fridge for up to a week.
I use Cup4Cup for gluten free cookies.
For chocolate chip cookies without butter, substitute Miyokos cultured, non-dairy butter.
You can also press the dough into a jelly-roll pan and bake as a bar cookie. Adjust baking times for your desired doneness.
Nutrition
Calories:
92
kcal
Carbohydrates:
21
g
Protein:
1
g
Fat:
1
g
Saturated Fat:
1
g
Cholesterol:
9
mg
Sodium:
87
mg
Potassium:
25
mg
Fiber:
1
g
Sugar:
12
g
Vitamin A:
14
IU
Calcium:
9
mg
Iron:
1
mg
I've had a few other good cookies lately. If you're in the baking mood try some out.
Levain Bakery Dark Chocolate Peanut Butter Chip Cookies
NY Times Chocolate Chip Cookie
Tasty cookie recipes!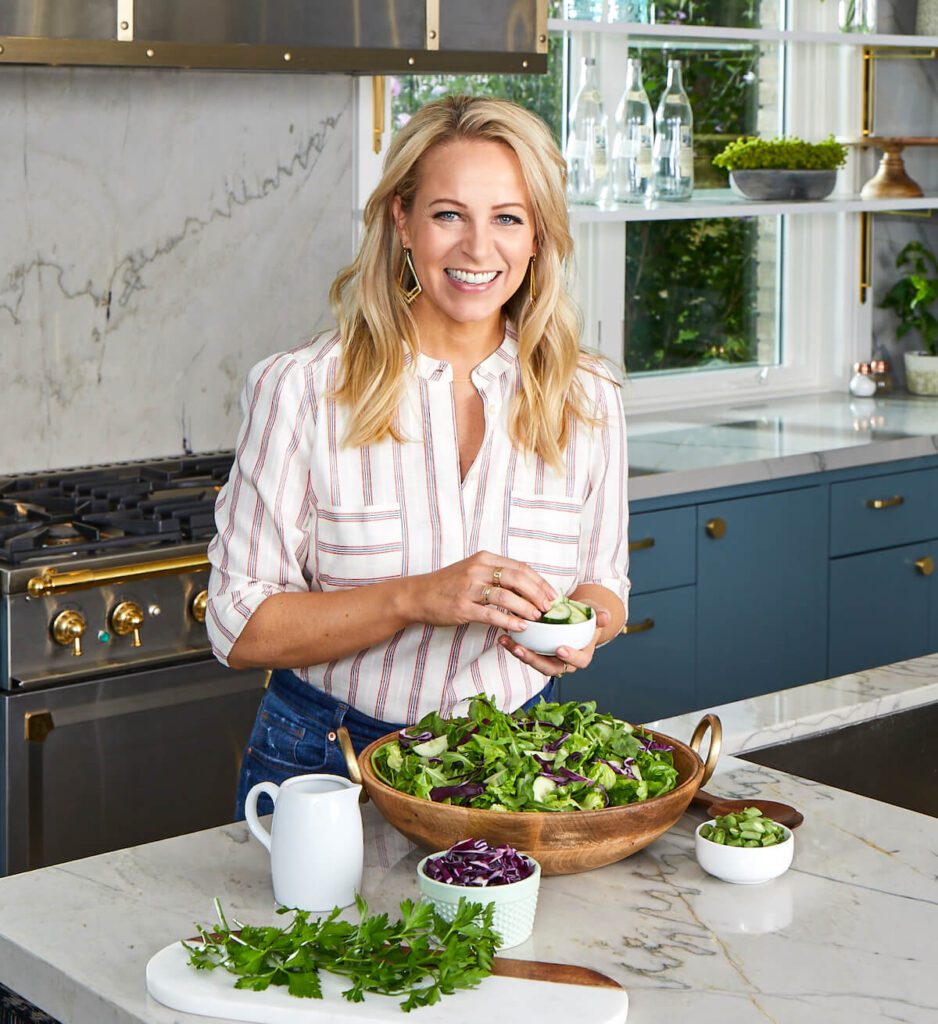 About Tara Teaspoon
I've been in the food publishing business for over 20 years, creating recipes & food-styling for magazines, books, television & advertising. Order my new cookbook & stick around for amazing things to eat.
Recipe by Tara Teaspoon. Photographs primarily by Ty Mecham. Reproductions should not be made without permission.