---
My collection of veggie dinner recipes for weeknights makes delicious use of the season's gorgeous foods. These dinner ideas make your Tuesday, Wednesday, or Friday dinner a little more exciting!
---
These simple and healthy veggie dinners are easy to make, and the entire family will love them. Scroll down to find something for everyone.
And for more recipes with lovely vegetables click to my veggie recipe list.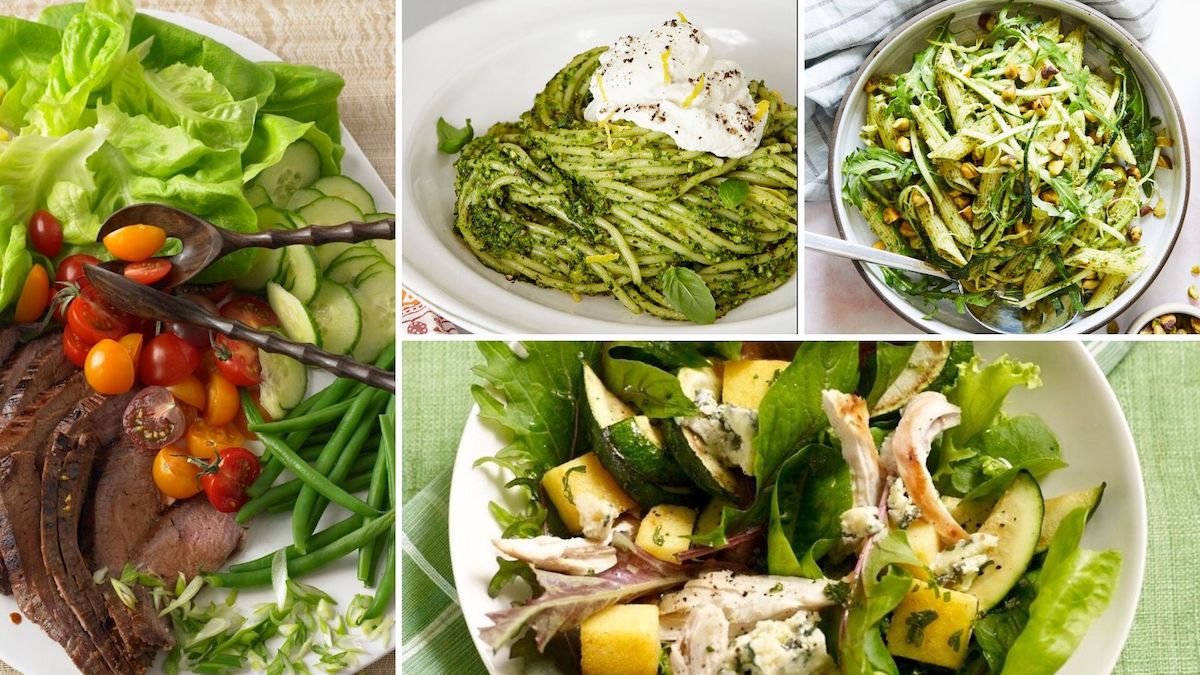 Quick-click table of contents:
Jump to:
Veggie Spring Rolls

One of my favorite easy vegetarian dinner recipes is a veggie-filled spring roll. I can eat a salad right out of my hand! This will be a family favorite. And speaking of family, get the kids involved making them with you!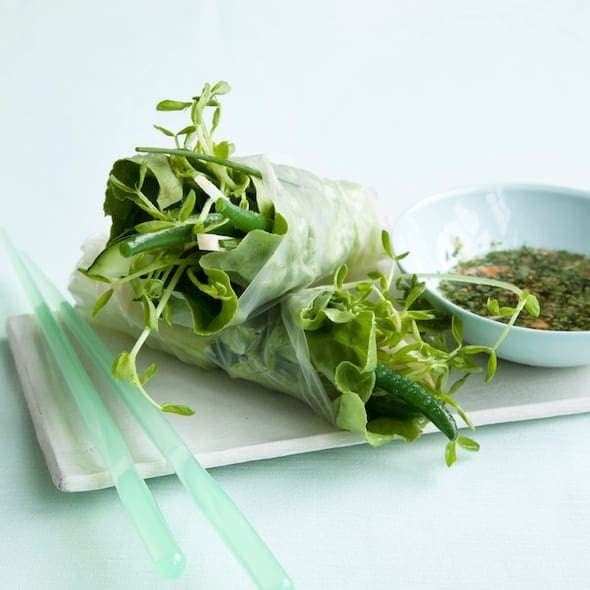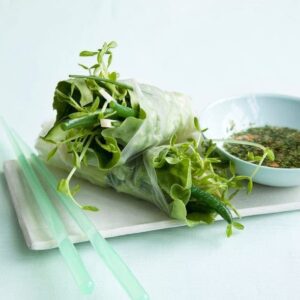 Vegetable Spring Rolls with Sweet and Sour Dipping Sauce
Veggie Spring Rolls get dipped in sweet and sour mint sauce for a perfect combo. Beautiful green vegetables never tasted so good as when nestled in lovely translucent spring roll wrappers!
Recipe
Pistachio Pesto Pasta
Of all the veggie dinners, this is one of my favorites! This delicious twist on pesto pairs perfectly with summer zucchini. Make a big bowl, this goes fast!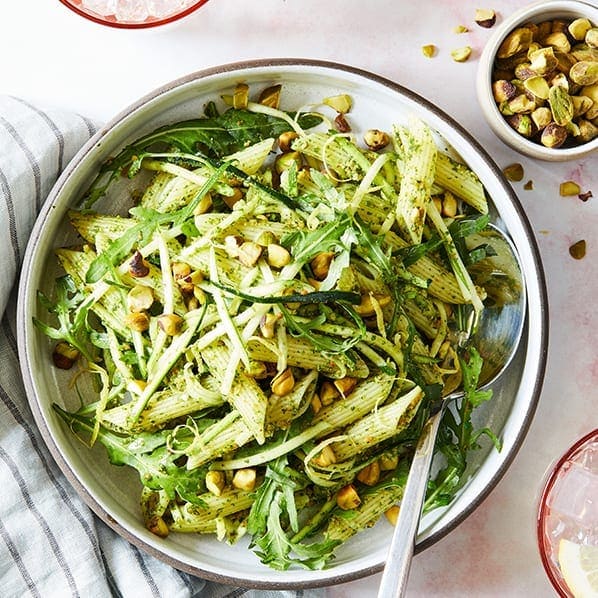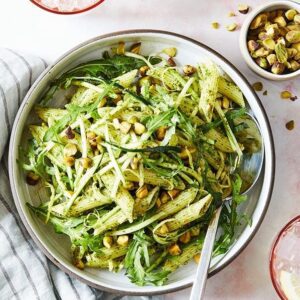 Pistachio Pesto Pasta with Shredded Zucchini
Pistachio Pesto Pasta with shredded zucchini makes a great dinner, to-go picnic staple or the perfect packed lunch.
Recipe
Thai Beef Salad

This fresh salad is a go-to healthy weeknight dinner. It gets a burst of flavor from authentic Thai flavors, sweet fruit, and crunchy veggies. Arrange on a platter for an impressive, family-style situation that everyone will love.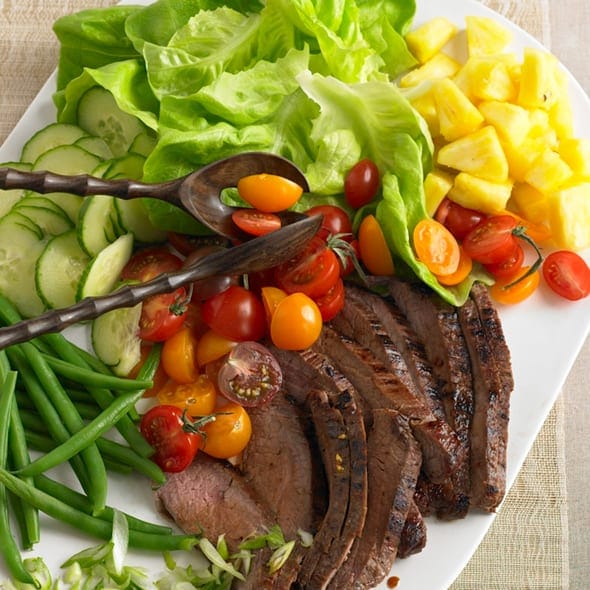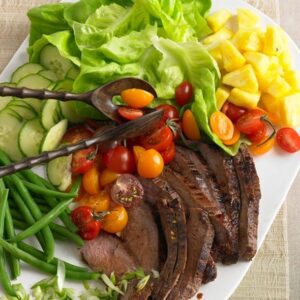 Thai Beef Salad
Marinated flank steak gets a burst of flavor from authentic Thai flavors, sweet fruit and crunchy veggies.

Recipe
Chicken and Rice Lettuce Wraps

A tangy, crunchy rice and chicken salad eaten protein-style in a lettuce leaf. Your tastebuds and muscles will thank you. So will your husband, kids, friends, aunts, uncles, cousin Jimmy, and your neighbor Gladys!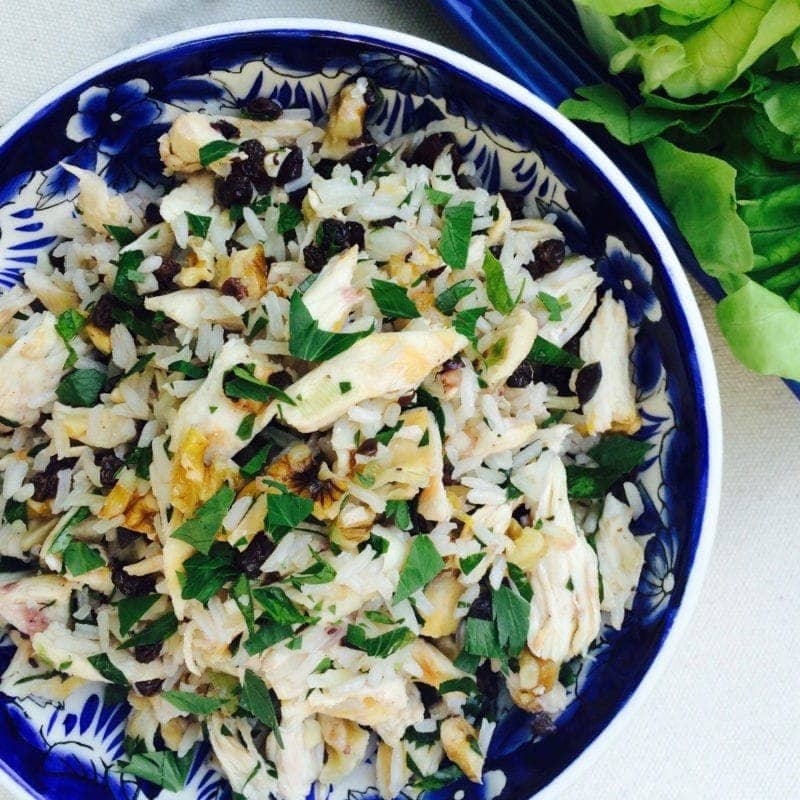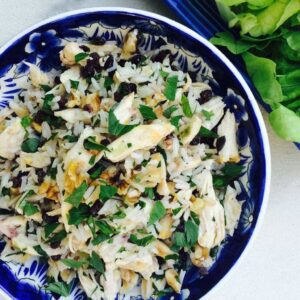 Chicken-and-Rice Lettuce Wraps
Chicken Lettuce Wraps filled with Mediterranean flavors take summer eating to a whole new level. Tangy rice, crunchy nuts, currents and olives are wrapped in soft green leaves to make a fun-to-eat meal.
Recipe
Warm Polenta Zucchini Salad

Warm polenta, zucchini & chicken salad gets drizzled with a tangy vinaigrette. You can't resist the tasty, crispy and soft croutons!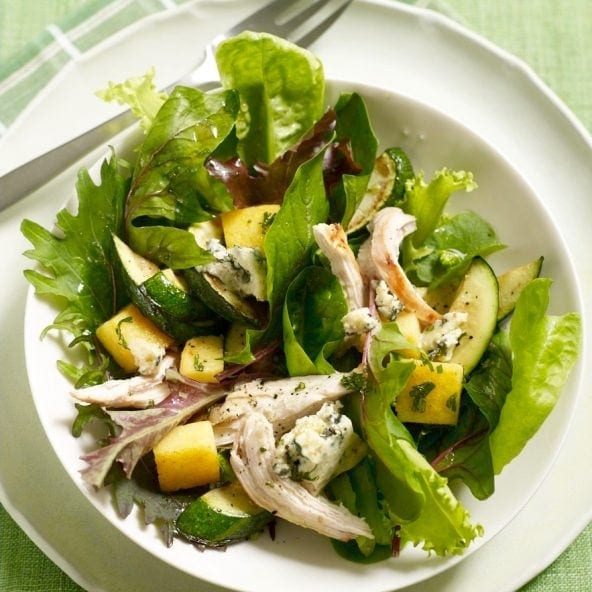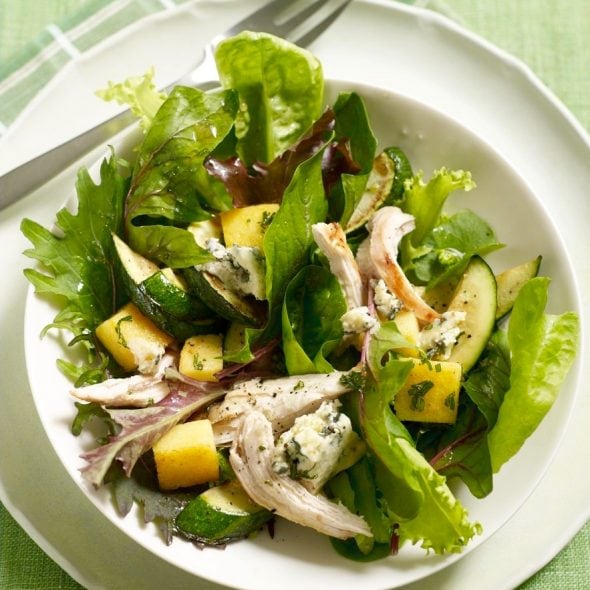 Warm Polenta, Zucchini & Chicken Salad
A tasty mix of summer veggies, filling chicken and tasty polenta.

Recipe
Crunchy Chicken Noodle Salad

Crunchy Chicken Noodle Salad with juicy oranges, radishes and snow peas makes eating salad your new favorite thing!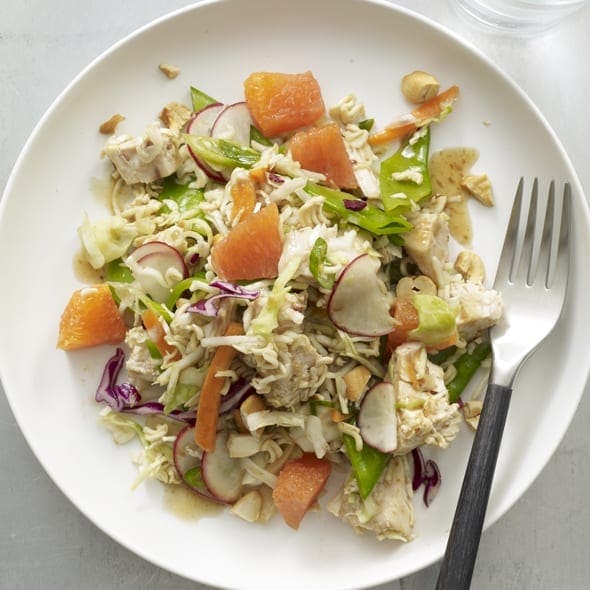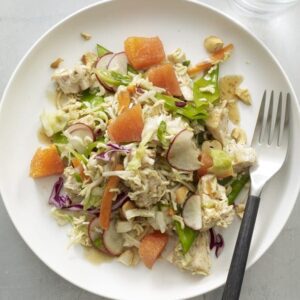 Crunchy Chicken Noodle Salad
You can substitute a can of mandarin oranges for the orange and try any kind of nut in place of cashews.
Recipe
Asparagus With Lemon, Olives and Feta

Asparagus with lemon, olives and Feta can be served hot, cold or room temperature. Making it the most fuss-free side dish for a nice meal.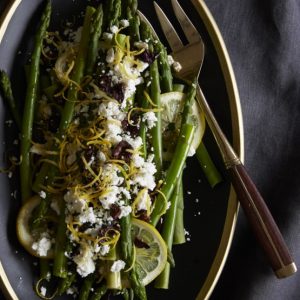 Asparagus with Lemon, Olives and Feta
Serve this side dish warm, cold or at room temperature. It's the perfect make-ahead side with green asparagus, tangy lemon and lemon zest and salty sprinkles of olives and feta.
Recipe
Spring Green Risotto

Spring has sprung! And this flavorful green risotto brings delicious ingredients from the garden to the table with less than 10 ingredients.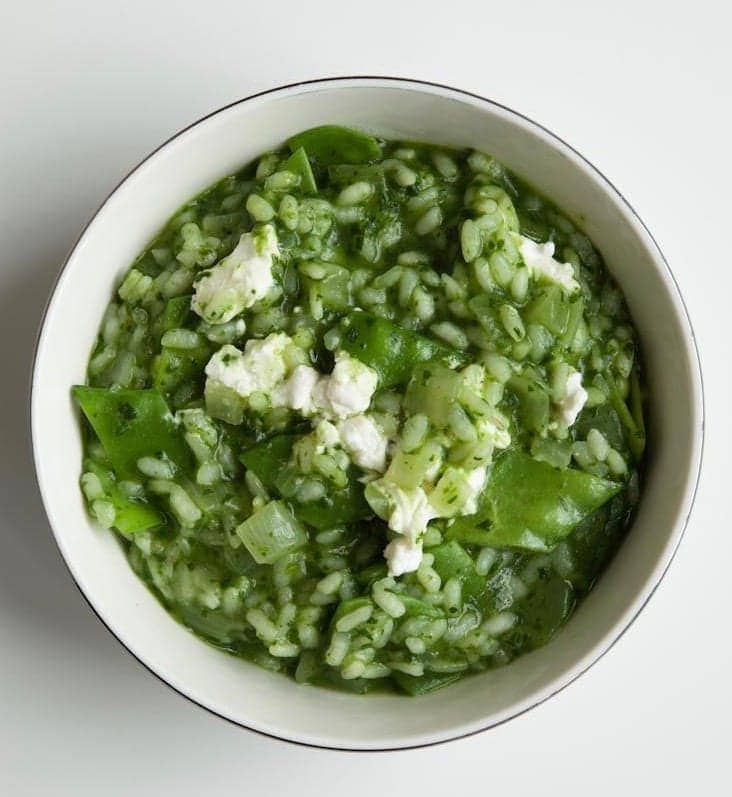 Spring Green Risotto
Snow peas give this creamy rice dish an unexpected crunch, and goat cheese adds a tangy twist.
Recipe
Easy Meals From The Farmers Market
Purchase your own digital copy of Tara Teaspoon's Easy Meals From The Farmers Market.
Easy meals using fresh vegetables and herbs.
Check Downloads for a Shipping Option Please.
Spring Vegetable Ricotta Tarts

Spring Vegetable Tarts let you create any flavor combination you like. Perfect for an individual serving. Have a tart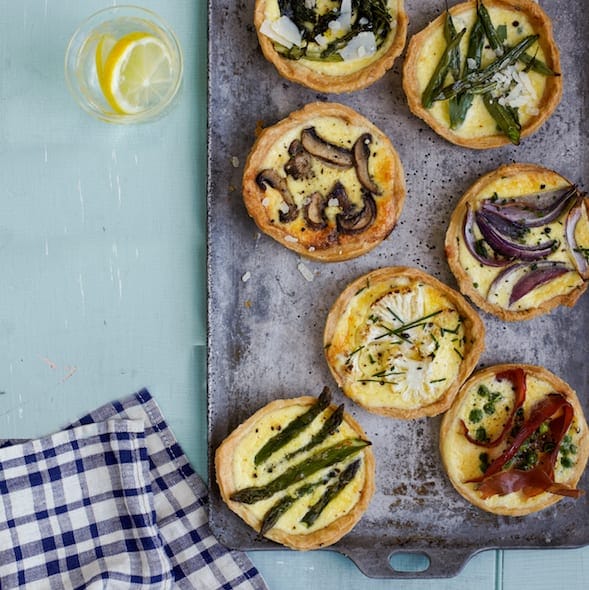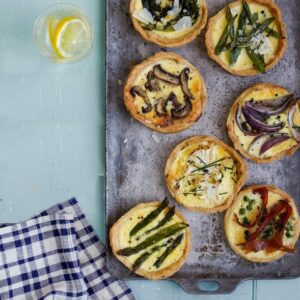 Spring Vegetable Ricotta Tarts
Serve these sophisticated little tarts with a green salad and sliced fruit.
Recipe
Fresh Green Pesto Pasta

Fresh Green Pesto Pasta With Lemon Ricotta Cream makes me swoon. It's is the perfect way to get a fresh taste of summer using winter ingredients during chilly months.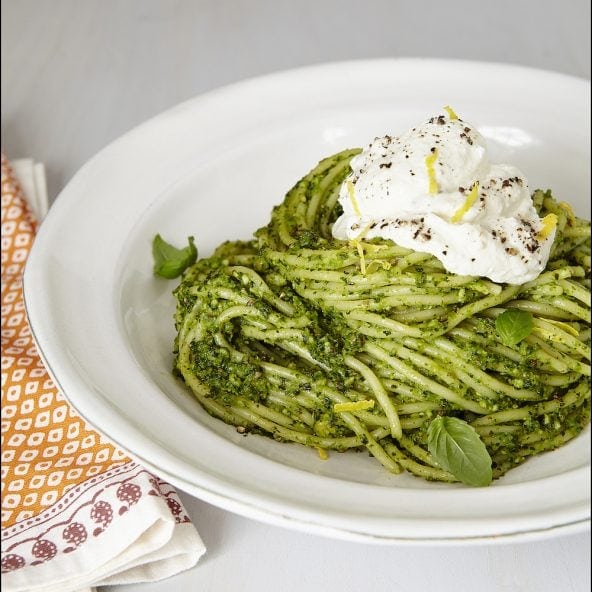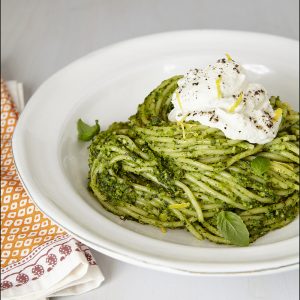 Fresh Green Pesto Pasta with Lemon Ricotta Cream
A dollop of creamy ricotta tops a swirl of spaghetti that's been tossed with rich, green pesto. Be sure to cook your pasta in generously salted water for the best flavor all around.
Recipe
Herbed Vegetable Pasta With Artichokes

Herbed vegetable pasta with artichokes is bursting with fresh veggies and zesty herbs. It's a go-to dinner for Meatless Mondays, or What-To-Eat Wednesdays!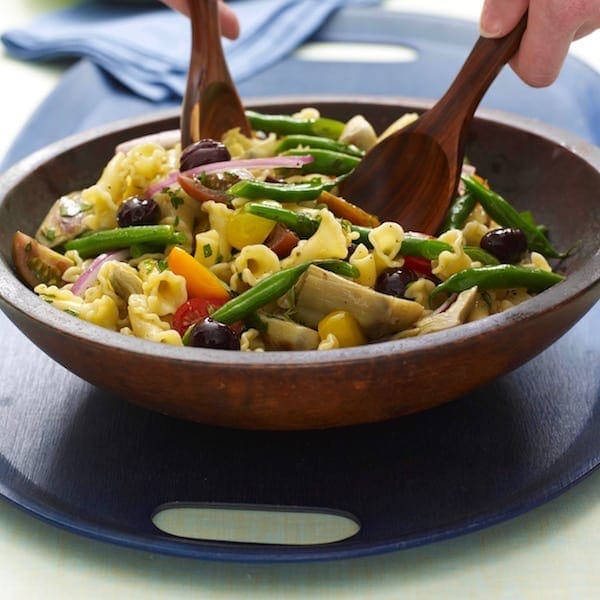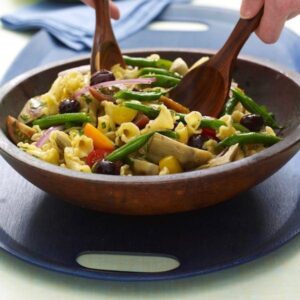 Herbed Vegetable And Artichoke Pasta
Savory artichokes and tangy vinaigrette really wake up your taste buds.
Recipe
The New Wedge Salad

A take on the best classic with added roasted beets, diced pancetta, and hazelnuts. Keep the bleu cheese in delicious pieces and dress with a light lemon vinaigrette.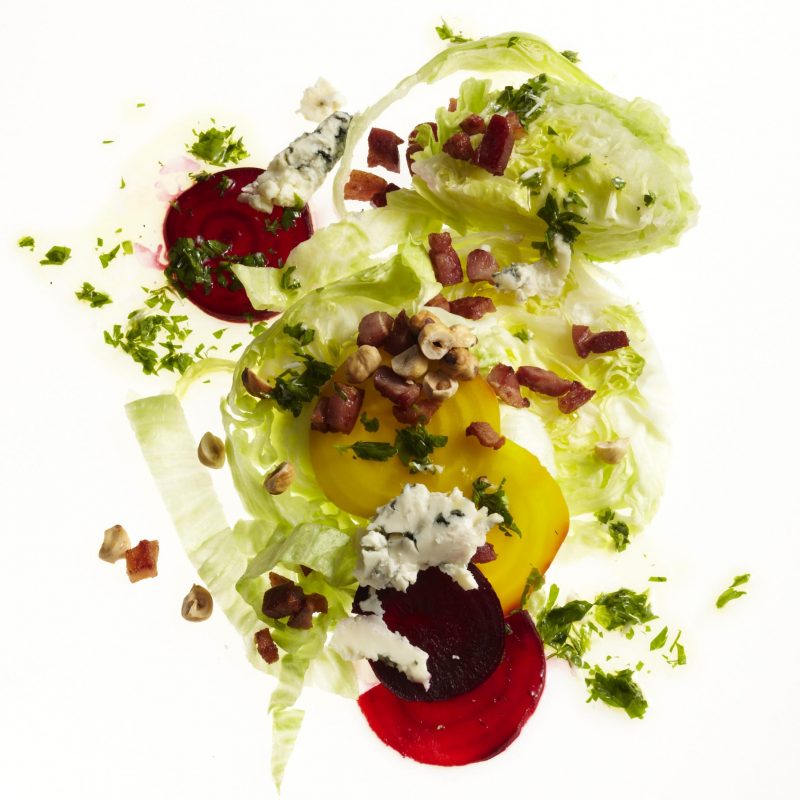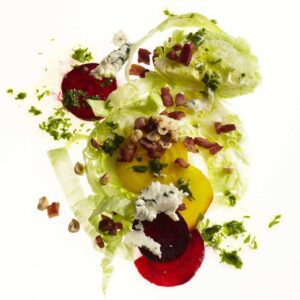 The New Wedge Salad
Turn the classic lettuce wedge salad into a main course by adding diced pancetta, roasted beets and protein-rich hazelnuts.
Recipe
Green Goddess Smoothie

Smoothie for dinner? I say yes. A Green Goddess Smoothie makes you feel like just that, a goddess! Packed with spinach and vitamin-rich fruit, it's a fresh way to start your day, or finish a workout.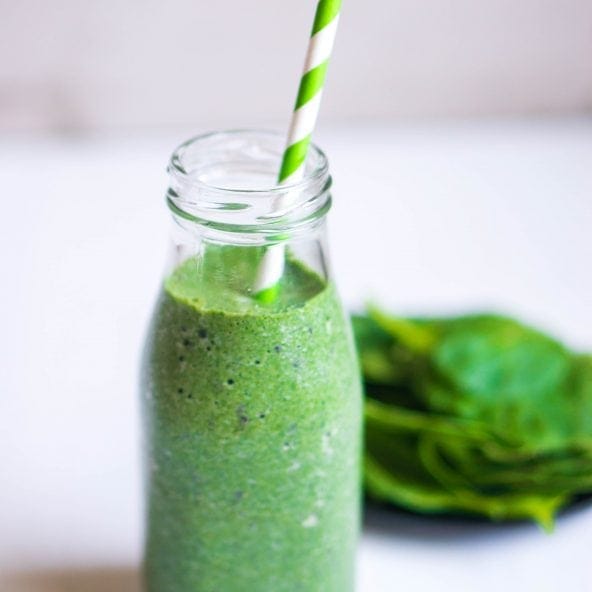 Green Goddess Smoothie
Spinach plus sweet mango, juicy pineapple and grapes, with orange juice balance out the sweet and add loads of vitamin C to this refreshing green goddess smoothie.
Recipe
---
More recipes from Tara Teaspoon:
Newest recipes from Tara Teaspoon!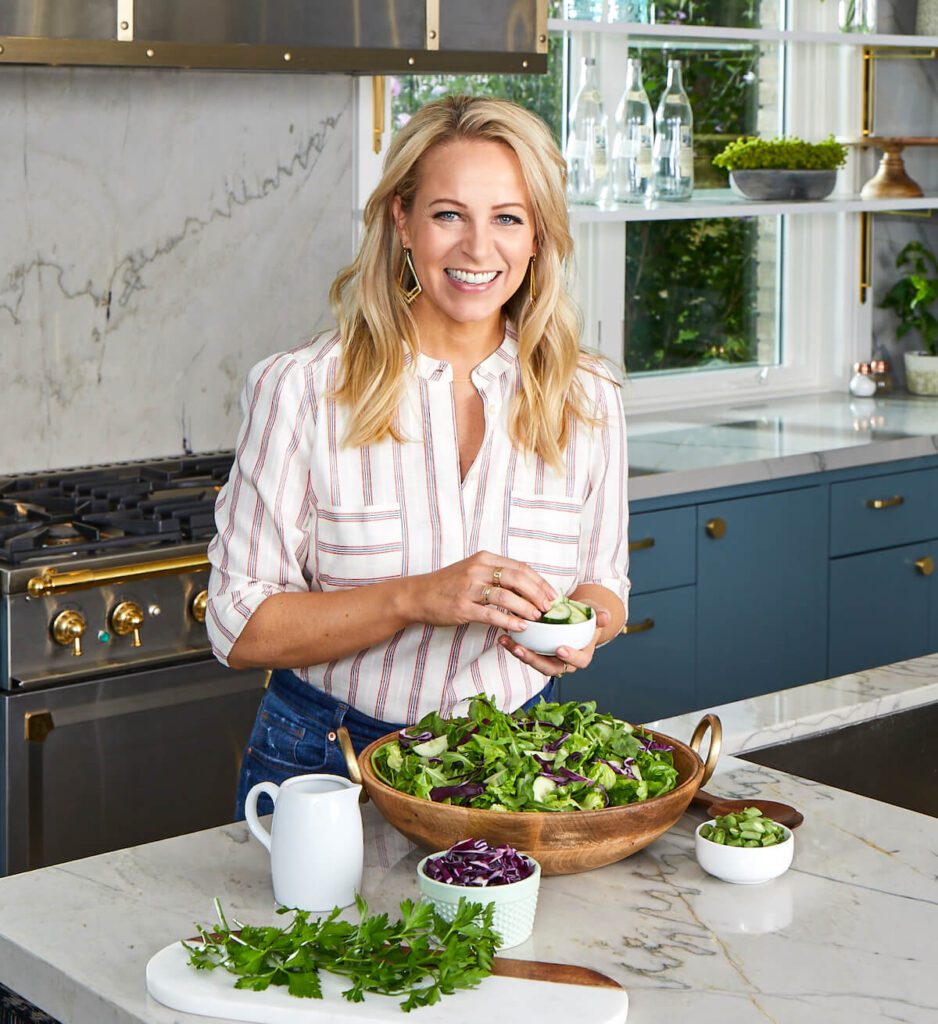 About Tara Teaspoon
I've been in the food publishing business for over 20 years, creating recipes & food-styling for magazines, books, television & advertising. Order my new cookbook & stick around for amazing things to eat.