---
My collection of veggie dinner recipes for weeknights makes delicious use of the season's gorgeous foods. These dinner ideas make your Tuesday, Wednesday, or Friday dinner a little more exciting!
---
These simple and healthy veggie dinners are easy to make, and the entire family will love them. Scroll down to find something for everyone.
And for more recipes with lovely vegetables click to my veggie recipe list.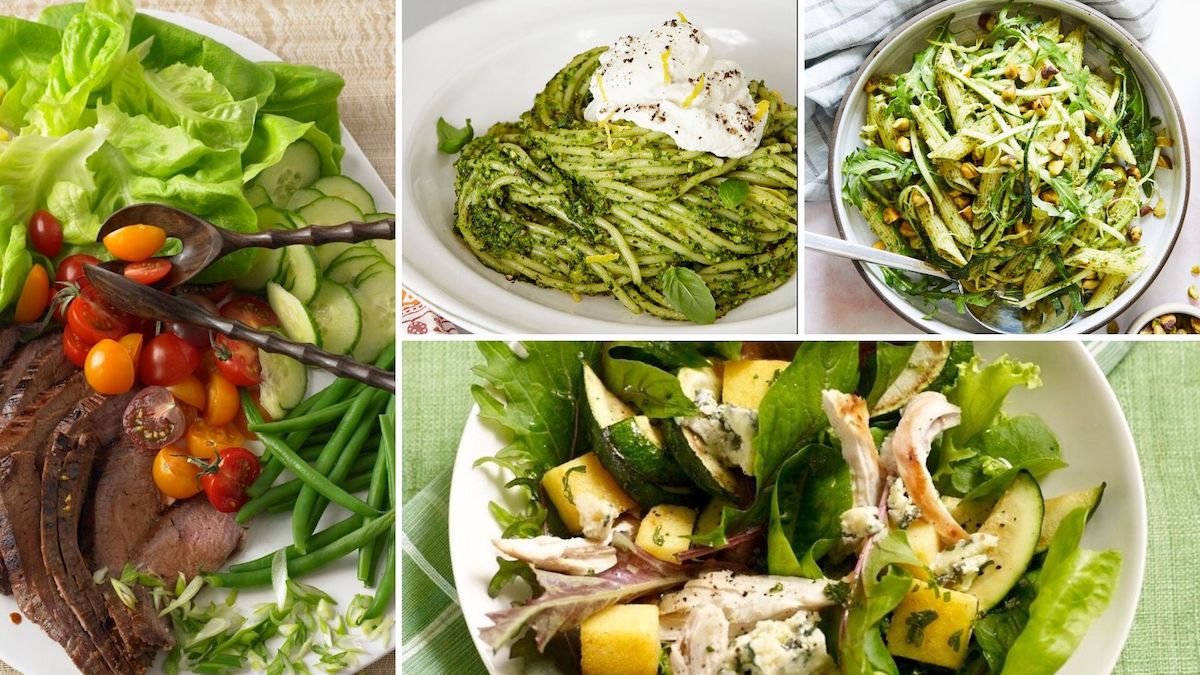 Jump to:
Veggie Spring Rolls

One of my favorite easy vegetarian dinner recipes is a veggie-filled spring roll. I can eat a salad right out of my hand! This will be a family favorite. And speaking of family, get the kids involved making them with you!
Pistachio Pesto Pasta
Of all the veggie dinners, this is one of my favorites! This delicious twist on pesto pairs perfectly with summer zucchini. Make a big bowl, this goes fast!
Thai Beef Salad

This fresh salad is a go-to healthy weeknight dinner. It gets a burst of flavor from authentic Thai flavors, sweet fruit, and crunchy veggies. Arrange on a platter for an impressive, family-style situation that everyone will love.
Chicken and Rice Lettuce Wraps

A tangy, crunchy rice and chicken salad eaten protein-style in a lettuce leaf. Your tastebuds and muscles will thank you. So will your husband, kids, friends, aunts, uncles, cousin Jimmy, and your neighbor Gladys!
Warm Polenta Zucchini Salad

Warm polenta, zucchini & chicken salad gets drizzled with a tangy vinaigrette. You can't resist the tasty, crispy and soft croutons!
Crunchy Chicken Noodle Salad

Crunchy Chicken Noodle Salad with juicy oranges, radishes and snow peas makes eating salad your new favorite thing!
Asparagus With Lemon, Olives and Feta

Asparagus with lemon, olives and Feta can be served hot, cold or room temperature. Making it the most fuss-free side dish for a nice meal.
Spring Green Risotto

Spring has sprung! And this flavorful green risotto brings delicious ingredients from the garden to the table with less than 10 ingredients.
Spring Vegetable Ricotta Tarts

Spring Vegetable Tarts let you create any flavor combination you like. Perfect for an individual serving. Have a tart
Fresh Green Pesto Pasta

Fresh Green Pesto Pasta With Lemon Ricotta Cream makes me swoon. It's is the perfect way to get a fresh taste of summer using winter ingredients during chilly months.
Herbed Vegetable Pasta With Artichokes

Herbed vegetable pasta with artichokes is bursting with fresh veggies and zesty herbs. It's a go-to dinner for Meatless Mondays, or What-To-Eat Wednesdays!
The New Wedge Salad

A take on the best classic with added roasted beets, diced pancetta, and hazelnuts. Keep the bleu cheese in delicious pieces and dress with a light lemon vinaigrette.
Green Goddess Smoothie

Smoothie for dinner? I say yes. A Green Goddess Smoothie makes you feel like just that, a goddess! Packed with spinach and vitamin-rich fruit, it's a fresh way to start your day, or finish a workout.
---
More recipes from Tara Teaspoon:
Newest recipes from Tara Teaspoon!