Whipped chocolate ganache frosting is smooth, rich and melts in your mouth. It's great for spreading and piping on any cake.
• • •
Ganache is that silky chocolate mixture in the middle of truffles. You make it by gently melting chocolate into hot, heavy cream. Once solidified it is a melt-in-your-mouth delight. Often it is poured over cakes before it cools and creates a nice shiny coating.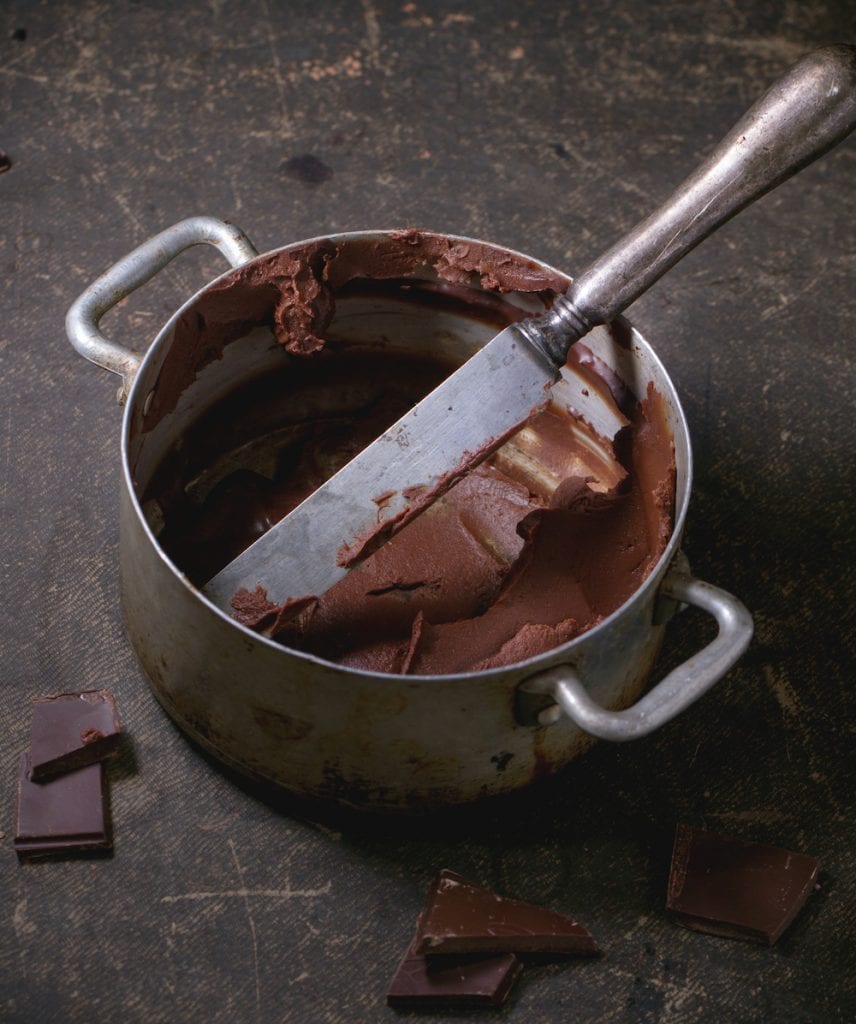 If you whip ganache when it is just cooled, it becomes a spreadable, fudgy frosting. I whip it in a stand mixer or with a hand held electric mixer. It only takes a few minutes and you'll know when it starts to thicken. I use whipped ganache on many cakes or just as the filling on layer cakes.
For this recipe I added a little secret ingredient. Half a cup of confectioners' sugar. While whipped ganache can get stiff enough to spread, I wanted a little insurance for stability in this recipe. The sugar also gives it more of a traditional frosting texture, while the actual frosting still melts on your tongue without the grittiness of a traditional buttercream.
I used this whipped chocolate ganache frosting on my Real Kit Kat Bar Cake.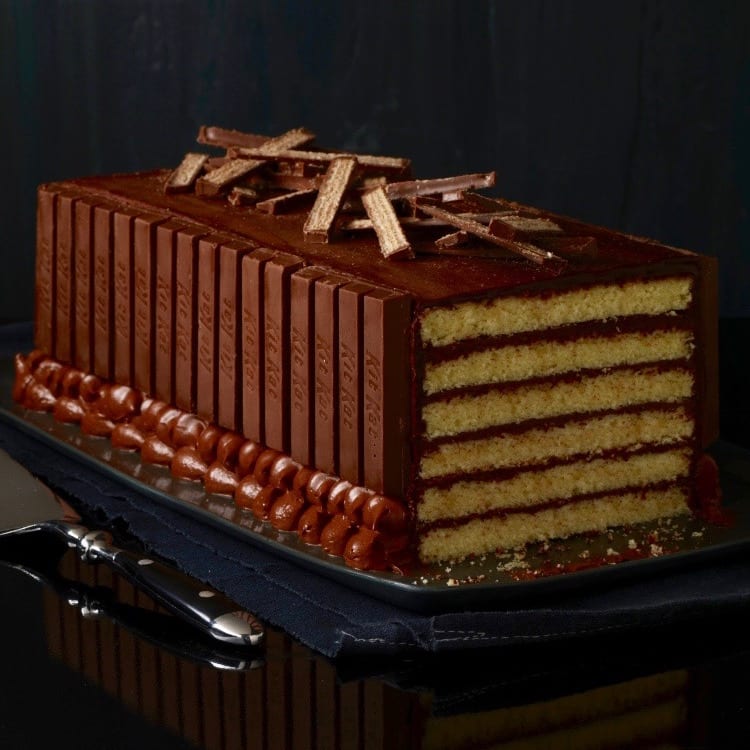 The only trick to success with this frosting is you need to spread and pipe it quite quickly before it sets again. It will maintain that shiny look if you do that. Otherwise it will look a bit rough (although it will still taste delicious).
This frosting is the perfect companion to classic yellow cake for that traditional dessert of yellow cake and chocolate frosting. (My brother's favorite! Although I always have to make a gluten free cake for him.) It makes a genius combo for good, rich chocolate cake as well.
I use whipped chocolate ganache frosting on many cakes or as the filling on layer cakes.
Use this frosting on cupcakes too. If you pipe it, don't attempt to pipe it too tall and high. It's so rich and somewhat softer than buttercream that it won't stand up to a tall pipe. Try my Extra Rich Milk Chocolate Frosting with extra confectioners' sugar for that.
Here's the simple recipe: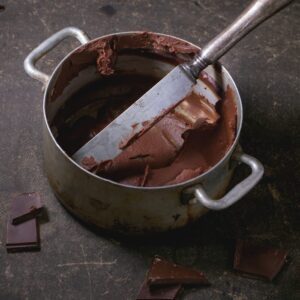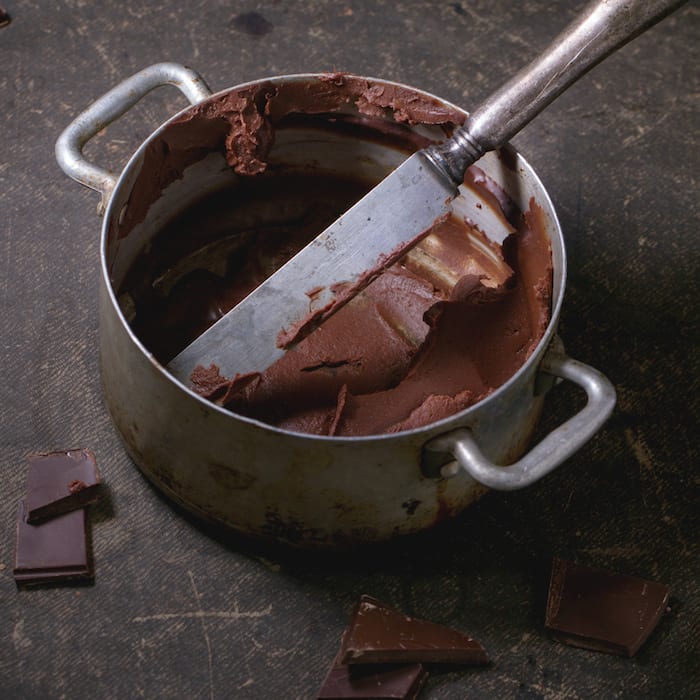 Whipped Chocolate Ganache Frosting • Tara Teaspoon
Whipped chocolate ganache frosting is smooth, rich and melts in your mouth. It's great for spreading and piping on any cake.
Keyword:
chocolate, frosting, ganache
Ingredients
2

cups

heavy cream

½

cup

confectioners' sugar

1

lb

semisweet chocolate, chopped

1

tsp

vanilla extract
Instructions
Heat cream and confectioners' sugar in a saucepan just to a simmer. Remove from heat and pour over chocolate in a mixing bowl. Let sit 5 min, then whisk until smooth. Add the vanilla.

Set bowl over another bowl filled with ice and water (an ice bath), and allow mixture to cool, stirring occasionally. (Stir until ganache is cold to the touch, about 5 min.) Whip ganache in a mixer until lighter in color and just fluffy (don't over whip or ganache will curdle). Use immediately.
Recipe Notes
Don't over whip this frosting or it will curdle. Cut this recipe in half if you just need about 2 cups for cupcakes or filling.
For other recipes you can use this whipped chocolate ganache frosting for, try these:
Sweet Little flower cupcakes have chocolate frosting to mimic dirt under a cute candy flower.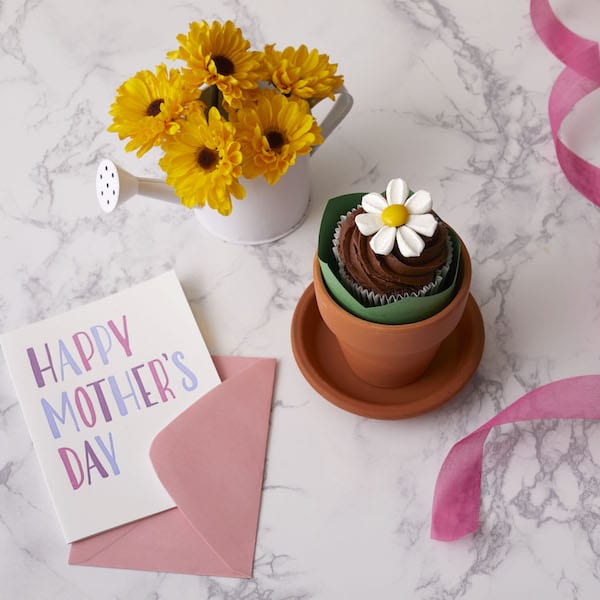 Floating Ghost Cupcakes have a layer of chocolate frosting for the ghosts to sit on.