---
Caramel glazed cake croutons. Yes! CAKE. CROUTONS. You read that correctly. They are also covered in an addictive crunchy toffee! Gasp.
---
These lightly crunchy, cake croutons are delicious on top of ice cream, toppled onto pudding, or just popped in your watering mouth.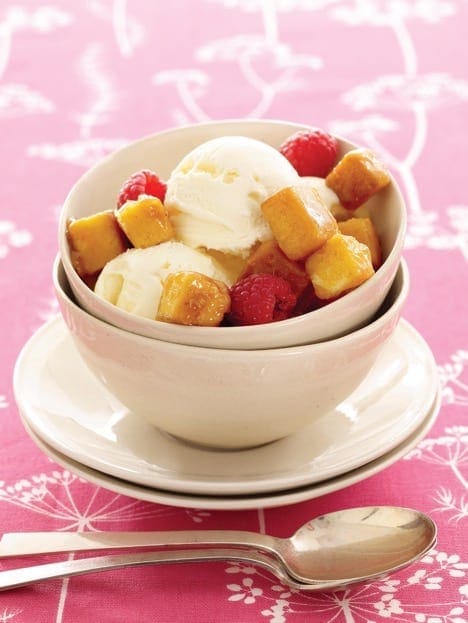 Caramel covered pound cake
Pound cake is just rich and sturdy enough to hold up under the pressure of a caramel coating. I say that because I would feel under pressure if I were coated with caramel. I don't know if I'd do as well as these little cubes of cake. Would you?
Cake cubes covered with caramel make a perfect ice cream topping. Crunchy, sweet and crackly!
Making caramel
Now let's talk some more about this caramel. If you've never caramelized sugar, at home, by yourself...don't worry one bit! The most important thing is washing the sides of the pan with a brush and water. Let me explain:
Once the sugar dissolves in the water, if any of the little granules remain anywhere near the liquid (meaning on the sides of the pan, the stirring spoon, etc.) they will cause the entire batch to crystallize. The easy fix is to have a little dish of water, and a clean pastry brush handy.
All you have to master to make Caramel Glazed Cake Croutons is cooking a little sugar and water to make caramel!
Wash down the sides of the pan to prevent crystals
Once you've stirred the sugar and water until the sugar is dissolved, remove the spoon, and start brushing the insides of the pan with water. The water will wash down the sides, clearing any granules and moving them into the mixture to dissolve along with their friends.
You don't need to be excessive. Just a few rounds of washing and you're done. Then let your mixture bubble. The water is evaporating. You want this to happen. Once the water is evaporated the sugar can begin to caramelize. This is the same method I use for homemade caramel sauces like my Gingerbread Caramel Sauce.
Now, this goes fast! Watch, and swirl the pan so the mixture caramelizes evenly. Take it off the heat when you are happy with the color of the caramel. Use a CLEAN spoon or spatula to scrape any of the caramel out of the pan. You're done. You're a superstar!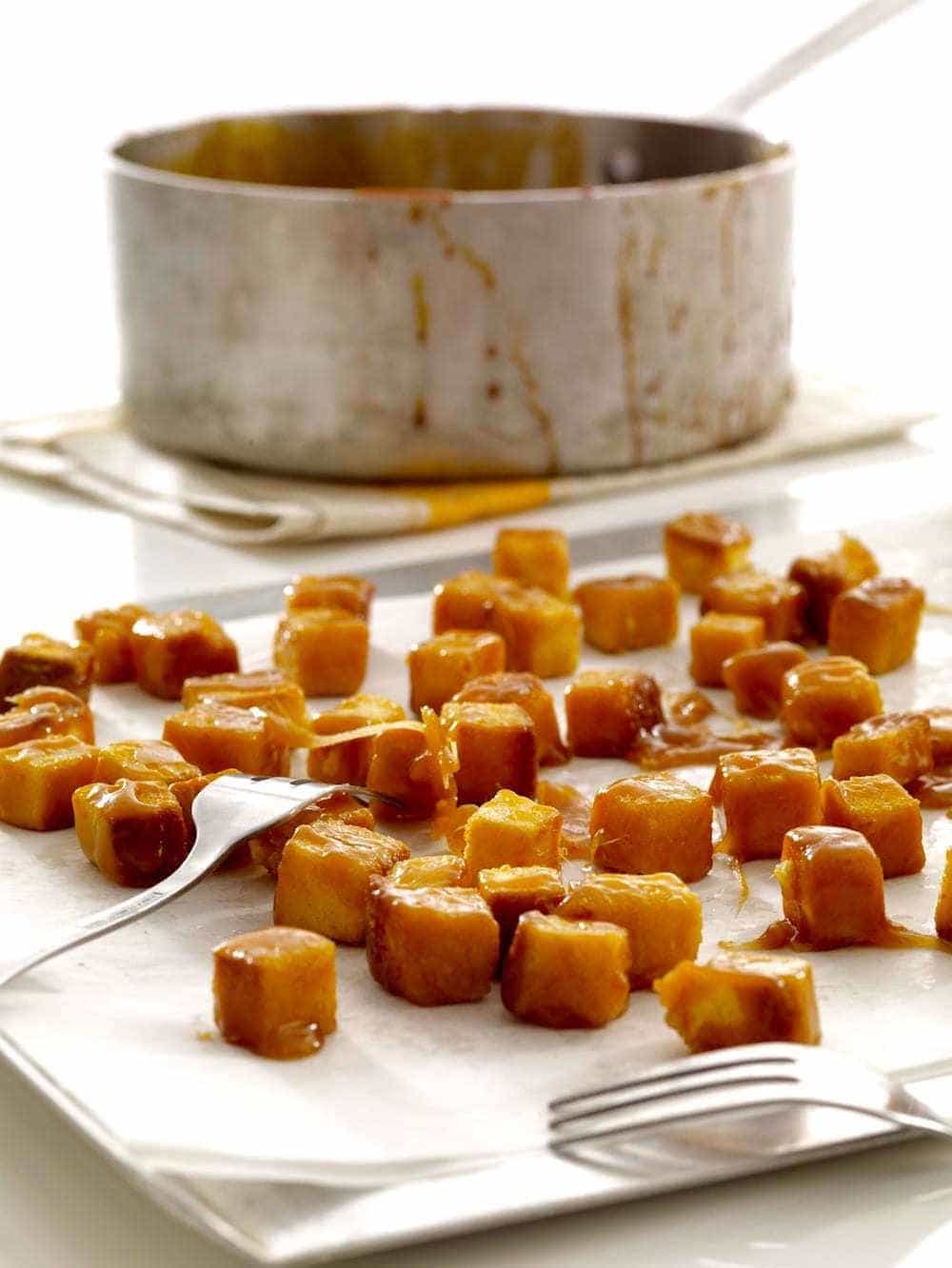 The next step is to make caramel glazed cake croutons by coating every inch of the cake cubes with the delicious stuff. I use two forks, or a clean silicone spatula to separate them. They cool to crunchy goodness on the parchment.
Serving Sweet Croutons:
I think you'll also like my Chocolate Covered Pretzel Pie. It's all the flavors of your favorite chocolate-covered pretzel snack, whipped into a creamy pie!
If you love toffee and caramel and everything nice, you will dig my Pumpkin Cake Roll with Toffee Cream Cheese Filling. It's also one of the most beautiful cakes you'll ever make!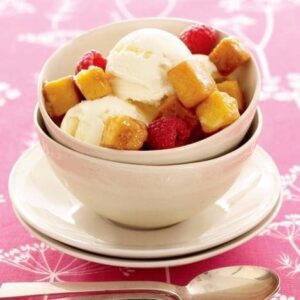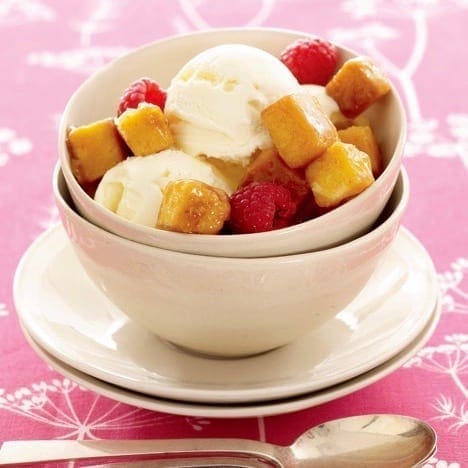 Caramel-Glazed Cake Croutons
Make caramel glazed cake croutons. Yes! CAKE. CROUTONS. You read that correctly. Also you read that they are covered with buttery caramel! Gasp.
Ingredients
1

Frozen or fresh pound cake

cut into ½-inch cubes (about 5½ cups total)

¾

cup

sugar

3

tablespoon

water

4

tablespoon

unsalted butter
Instructions
Heat oven to 350°F. Cut pound cake into ½-inch cubes. Toast in oven on a baking sheet, turning once, until just golden around the edges, about 15 min.

Line another baking sheet with parchment; set aside. In a pot over medium-high heat, combine sugar, water and unsalted butter to make caramel. Stir until sugar dissolves and mixture reaches a boil. (Brush inside of pot with a wet pastry brush to remove stray sugar crystals.) Boil gently without stirring until caramel is medium amber, about 8 minutes.

Remove from heat and immediately add cake cubes to pot; stir very gently to coat. Quickly pour cubes on parchment and separate. I use two forks or spatulas to separate them. Let cool.
Notes
Dress up a dish of ice cream or fruit salad with caramel glazed cake croutons. Yum!
Nutrition
Calories:
371
kcal
Carbohydrates:
67
g
Protein:
3
g
Fat:
11
g
Saturated Fat:
6
g
Cholesterol:
86
mg
Sodium:
324
mg
Potassium:
59
mg
Fiber:
1
g
Sugar:
52
g
Vitamin A:
376
IU
Calcium:
45
mg
Iron:
2
mg
New dessert recipes from Tara Teaspoon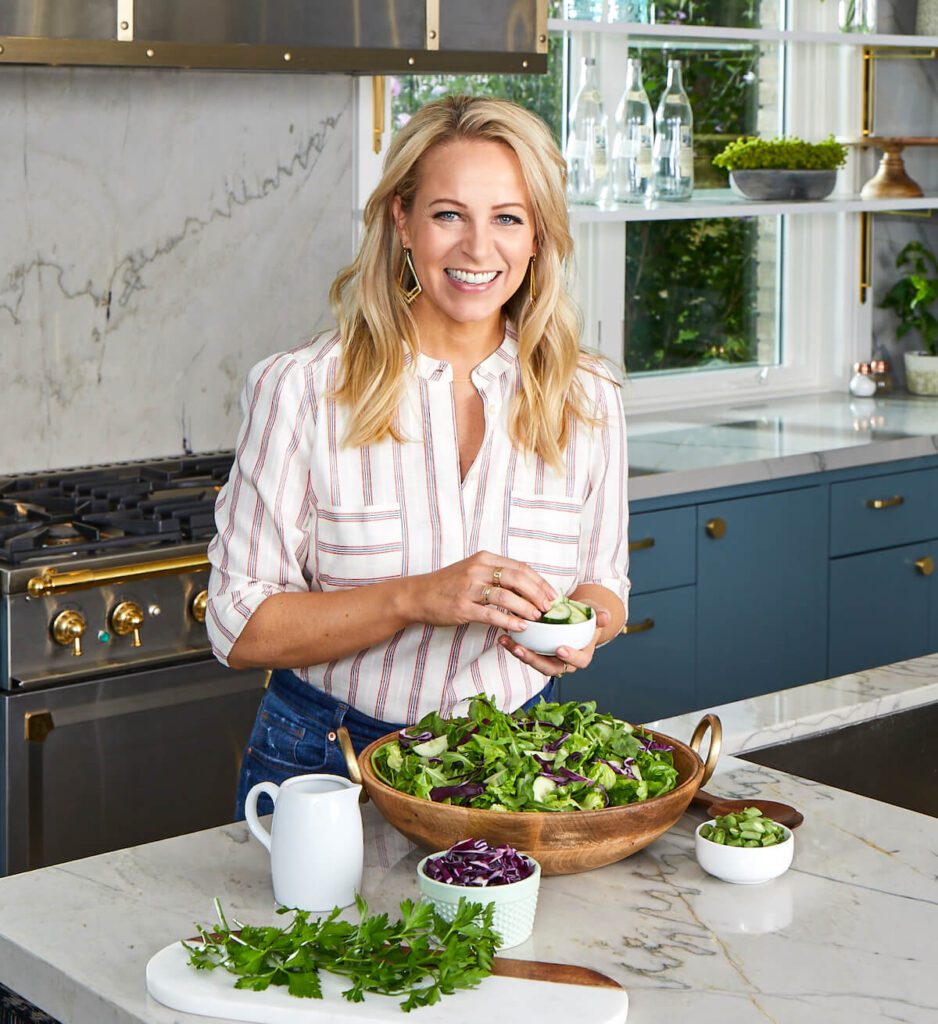 About Tara Teaspoon
I've been in the food publishing business for over 20 years, creating recipes & food-styling for magazines, books, television & advertising. Order my new cookbook & stick around for amazing things to eat.
Recipe by Tara Teaspoon. Photographer Antonis AchilleosOriginally published LHJ July 09.