---
Here you'll find a great collection of Easter dinner sides, including make-ahead recipes, cold side dishes, cheesy potatoes and veggies. Even gluten-free and healthy sides.
This list is a MUST for bookmarking. You'll find new favorite sides, and vegetables for Easter dinner. Spring will be more delicious with the best sides!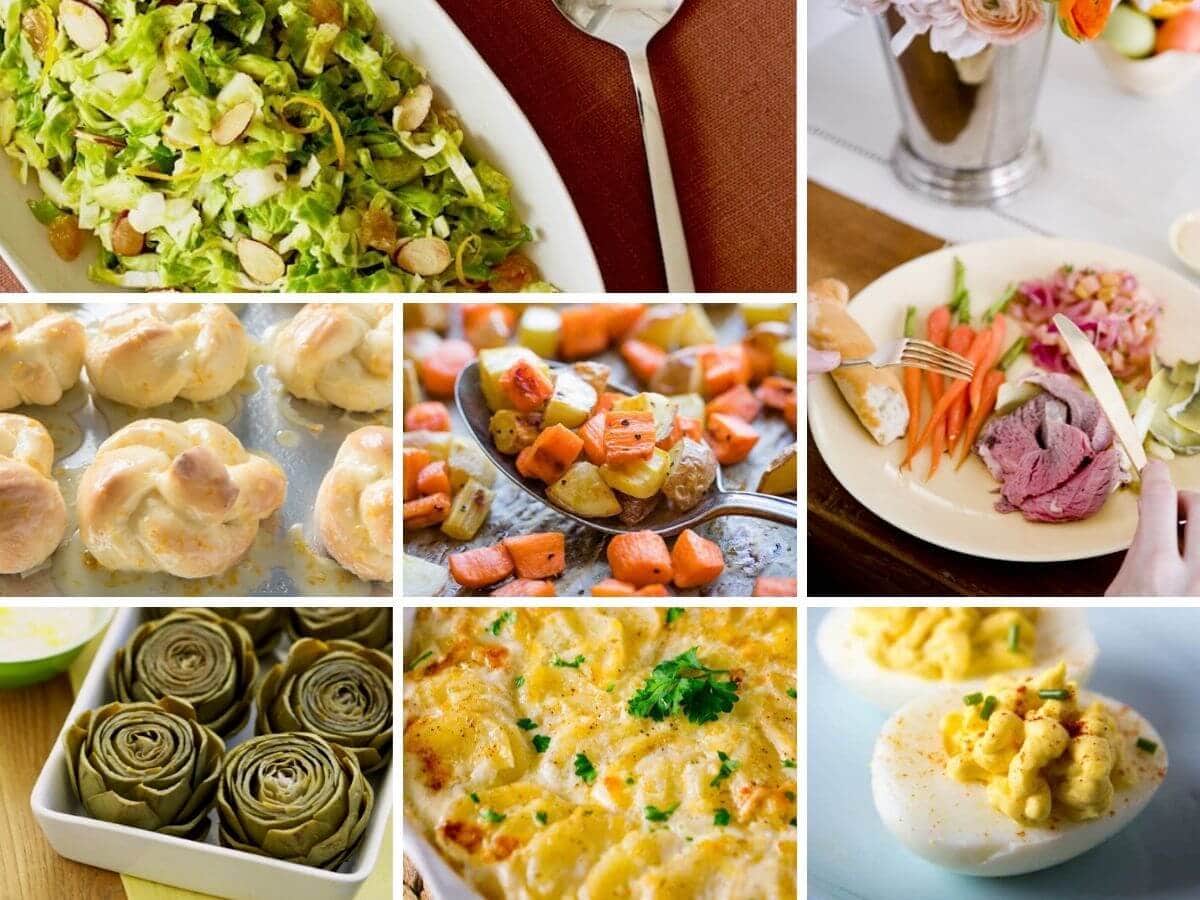 What is your main dish this year? Whether you're making a delicious ham like Roast Ham with Spiced Honey Glaze, or my Holiday Ham recipe, a pork roast, turkey, or going vegetarian, I've got the best make-ahead, cold, hot, and vegetable side dishes from some of my favorite blogs listed right here.
Side Dishes for Easter Dinner
Jump right to, or scroll down for these helpful side dish categories:
Jump to:
Classics
Potatoes for Easter dinner are a true classic. Whether you choose cheesy scalloped or roasted potatoes, you can't go wrong. Plus, any of these roasted carrots recipes are undeniably traditional Easter side dishes. Find a variety of these recipes here.
Vegetables for Easter Dinner
Vibrant, tender, crunchy, and perfectly seasoned vegetable recipes are here! Spring veggies, asparagus, and delicious root vegetables make easy Easter vegetable side dishes.
Healthy Sides
If you're feeding a crowd with different dietary needs, here are some Easter dinner side dish ideas to please everyone. Whether they are Keto, gluten-free, Paleo, Whole 30, or vegan, you'll find some healthy takes on classics.
Make Ahead Easter Side Dishes
These are side dishes that can be made ahead, or cooked in the slow cooker hands-free, for Easter dinner.
Cold Side Dishes for Easter
The classics like Jello, potato or broccoli salad are ideal cold side dishes. And don't forget about the deviled eggs for the spread!
Easy Side Dishes
Let's not complicate matters! Make cooking more fun by including some truly easy sides for an Easter ham dinner.
---
Kitchen tools to help you make side dishes: